Last season I kicked off April with some early trade reviews from the Ottoneu community, and today I'll do the same, hoping to peek under the hood of some early player perceptions as transactions start to take shape across the fantasy baseball world.
As a quick reminder, Ottoneu is a keeper system by design that shifts the balance just short of traditional dynasty leagues, and offers a variety of scoring systems (including H2H).

Let's kick off the year with what is a certifiable blockbuster.  This is one of the more impressive trades I've seen in a long time, and it's so massive in elite talent that it takes a minute to wrap your head around it. Once the initial shock passes, it's fairly clear that Brass Monkeys (receiving Juan Soto, Rhys Hoskins, etc.) is hedging towards 2020 by sending the win-now package headlined by your 2019 AL MVP out the door.  In deep dynasty leagues that favor OBP or wOBA like a lot of Ottoneu leagues do, Juan Soto is the crown jewel of rebuilding efforts, so a swap of this magnitude makes some sense if you're landing a top tier player like Betts or Trout.  Swapping two hot rebound starts in Correa for Hoskins is also a nice move for both parties when considering the cost structure, and the inclusion of Keston Hiura (a 60 FV player and #13 overall on the recent Top 100 prospects list) as a high floor lottery ticket that could pay off as early as late this summer is a nice bonus if you're building a foundation for the future. Still unsigned, Dallas Keuchel is the sore thumb here, but it may actually make sense that he's now more valuable to a rebuilding team than a contender trying to juggle useful roster space.  This is just a fun, fair mega-trade that could go a number of different directions for the next several seasons.



Catch the theme here? No pitcher has forced fantasy owners to hold their breath longer this year than Chris Sale.  These three trades represent three different scoring formats, but the moral of the story is the same everywhere: Sale owners are terrified right now that his diminished velocity and results are just the precursor to an inevitable injury, and the price is dropping quickly for the elite lefty.  It's been a great start to the season for Carlos Rodon, but that last example is particularly telling, and it's possible the pendulum has swung so far in many leagues that it could actually be a nice buying opportunity for Chris Sale if the price is consistently this low.  Everyone will be monitoring his next few starts, but don't be surprised if he continues to be among the most heavily traded assets in fantasy this month.  Chris Sale is a fantasy hot potato right now.

Like Sale, Clayton Kershaw gave fantasy owners plenty of reasons to worry this spring, but his long awaited 2019 debut is now scheduled for Monday, April 15th.  Tommy Pham is an underrated OBP star, but this April trade is more interesting as a potential placeholder of value on Kershaw before he demonstrates what he's now capable of during the crafty phase of his excellent career.

Nolan Arenado has averaged 40 home runs per season over the last four.  As of this writing he has yet to hit his first home run of 2019.  He hit four bombs last April and then nearly doubled that output in each of the next three months.  It's a small sample, but Arenado is striking out at a career-low rate so far (just 7.8% compared to 18.1% last year) despite all other plate discipline indicators looking normal.  Bottom line: Arenado will be fine, and a week or two from now he'll be back to anchoring the lineup of contending fantasy teams everywhere.  It is interesting to see this kind of return for him, however.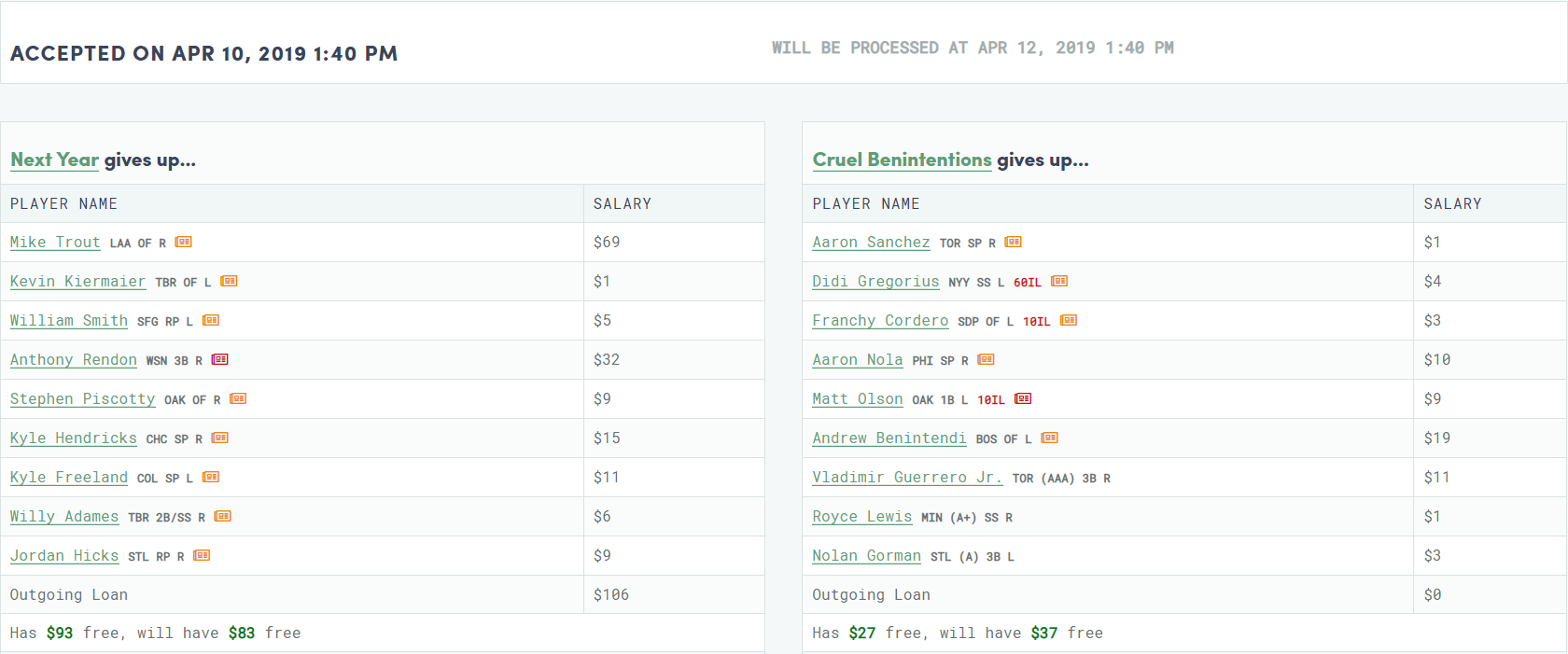 This roto trade seems like a good one to end on.  It's fun all around.  Which side do you want? Vote here.
Want feedback on your own trade? Feel free to post it in the comments and I'll be glad to weigh in.  Even if you don't play Ottoneu you can always check out this live trade feed as it may help to give you a sense of how player valuations are changing in real time this season.
Trey is a 20+ year fantasy veteran and an early adopter of Ottoneu fantasy sports. He currently administers the Ottoneu community, a network of ~1,200 fantasy baseball and football fans talking sports daily. More resources here: http://community.ottoneu.com