With Ottoneu continuing to grow rapidly, I'd like to dedicate some ink to a few tips I've learned along the way.  Entering my ninth season on the popular fantasy sports platform, I've outlined a few things that have helped me gain that extra 1% edge, and with the season just now under way, this is a good time to consolidate a few tricks into a quick guide that should benefit new owners and veterans alike.
Resource: What is Ottoneu?
Prioritize Salary Cap Space
Of all the recommendations listed below, I've learned to prioritize salary flexibility during the season more than any other strategy over the years.  I'm convinced a smart, active owner can find in-season gold on the waiver wire as players and prospects emerge, so it's essential to leave yourself some space to shuffle your roster when needed.  But what if you've already spent your entire salary cap in the auction? That's okay, but you'll want to be conscious of finding opportunities early in the season to free yourself of this roster restriction wherever possible so you have the flexibility to complement your team with mid-season contributions when trades aren't always an option.  Here are a few specific ideas to help you maximize your Ottoneu salary cap space, which may be even more important for Head-to-Head leagues.
Resource: How to Get Started Playing Ottoneu
Aggressively cut expensive, injured players
No one likes losing a key player like Corey Knebel to a season-ending injury, but the value of roster flexibility and regular access to the waiver wire is more valuable than holding onto the hope of his potential 2020 contribution.  While Knebel is just the most recent example, don't hesitate to cut these types of injured players because the sooner you cut them the sooner you can recover more of their lost salary by cutting them yet again in thirty days (or maybe sooner if they are claimed by another owner).  Likewise, be aggressive in cutting other high salary players that look to be out for 30+ days.  Justin Upton would be another good candidate, now out for at least eight weeks with a toe problem.  Upton is a solid player when healthy (89% ownership), but knowing he cannot be utilized in your active lineup for at least two months, you should consider cutting him now to free yourself of his ~$20 salary so you can actively search for his replacement on the waiver wire.  Even a mediocre player can get hot enough for two months to deliver short term value similar to Upton, and the additional cap space at least puts you in a position to get lucky landing one of these short sample breakouts.
If you're on the fence about cutting a specific player (Daniel Murphy?), feel free to join our fantasy sports Slack community, where we have hundreds of owners crowd-sourcing these keep or cut decisions on a daily basis.
Resource: Navigating Salary Cap Space
Trade for injured players
This strategy has been covered previously here, but it's becoming more commonplace that experienced players will at least throw out an offer on injured players if they can get a loan to cover the salary difference in the transaction.  That loan enables the acquiring team to cut the injured player and reap the benefits of the extra cap space, and if the player given up is less than or equal in value to that salary space, it may be worthwhile.
Resource: Maximizing Salary Cap Space
Cut your cut players – again and again
The best practice here is to automate a 30 day reminder to start an auction for any $2+ player you have previously cut during the season.  Owners often forget about this opportunity to continue trimming down their add/drop penalties, but if you're prioritizing cap space, be diligent in staying on top of players that need to be cut again and again.  One easy method is to use Slack or your phone to set a reminder to do so. Don't be ashamed to ask Siri to "remind me in 30 days to cut Corey Knebel". In deep leagues, it may be worthwhile regularly auctioning your $1 players because they too will occasionally get claimed, netting you your full penalty in return.
Load Your Relief Pitcher Off Days
No matter how diligent you are in setting your lineup every day over the course of the next six months, you're going to miss a few days as life gets in the way.  But in competitive fantasy leagues like Ottoneu every detail counts in the long race to the finish line, so one best practice is to sit down early in the season and pre-set your bullpen usage for each day of the season.  This means you pre-load your relievers (assuming you carry more than five, which is another best practice) into any off days where a team would otherwise not have a game.  While this is a tedious practice up front, it helps ensure you maximize your bullpen just in case there are days during the season you can't get to your lineup ahead of the game start times.  Simply click your Lineup page and select each date throughout the season to make sure all five of your RP slots are full on each day of the regular season.
Resource: Roster Management Strategies
Micromanage Your Team Production
A few seasons ago, Ottoneu creator and mastermind Niv Shah added a Production tab to leagues to show in-season productivity by position and player.  You will want to get familiar with this tab – it's a great insight into where your team is clicking and where it isn't.  Use this report to track your pacing for games played and innings pitched (reminder that hitting your 1,944 GP and 1,500 IP maximums for standard Ottoneu leagues is a critical strategy for competitive teams), and your success in platooning players, particularly in the outfield and middle infield.  This report is also important to view the innings contributed from your relievers – you'll want to maximize this number at all times, because every inning thrown by a reliever (even poor ones) is usually more valuable than an inning thrown by a starting pitcher.  The more of your 1,500 innings you can throw with your relievers the better (target 375+ RP innings per season) in standard leagues (in H2H relievers still hold value in offsetting the weekly SP games started limit per league).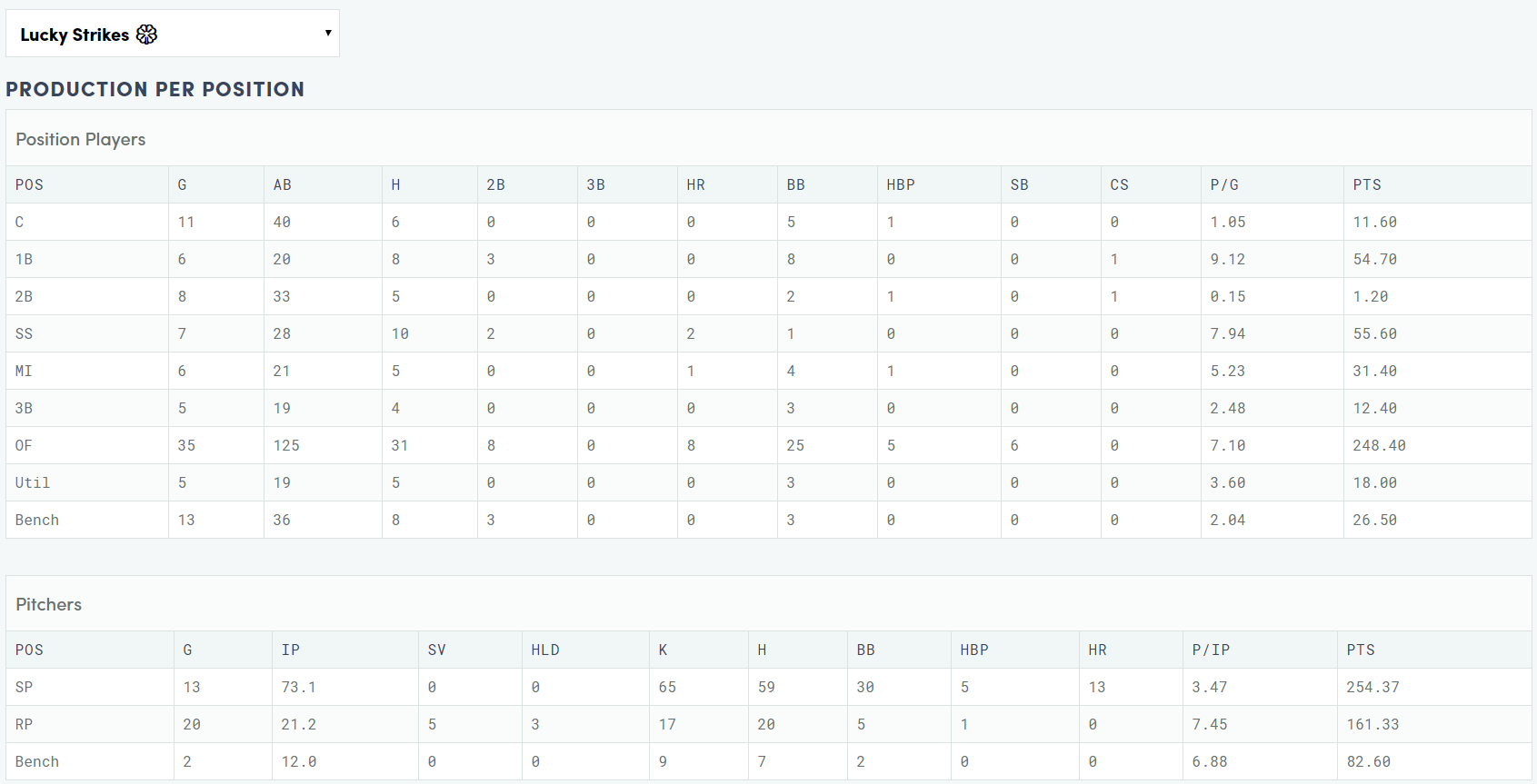 Even more interesting, you can now track individualized point production by players in your lineup, so if you get to the stage where you just can't ever figure out how to deploy a platoon of Justin Bour and Yonder Alonso effectively, it might be all the information you need to switch your strategy and/or search for an upgrade sooner than later.
Stay Engaged
Ottoneu is built for the dedicated sports fan, but the most engaged owners are very often the most successful because they are constantly putting themselves in a position to find value.  Engagement comes in different shapes and sizes, but the reward is often just more bites at the apple of opportunity.  Here are a few ways you can constantly stay engaged with your league:
Review every Waiver claim or Auction add/drop to see a list of other owners who had interest in a particular player
Update your Trade Block regularly and add as much detail as possible so other owners can have the information they need to make you a good offer up front
Keep track of available cap space by owner by periodically reviewing the Finances tab
Add productive comments to every trade rejection so that talking trade in the long run can build league relationships
Occasionally compliment an owner on a great pickup, hot H2H week, or bold strategy that pays off better than expected
Check your player News tab for regular updates (new addition for 2019)
Scout the Free Agents tab regularly and sort by ownership % to get a sense of quality players that might be available in your league
Resource: Ottoneu Strategies for Every Setting
Resource: 10 Tips for Ottoneu Rookies
Do you have other suggestions, tips, or tricks for Ottoneu? Many owners find themselves in multiple leagues every season to try different strategies, so feel free to share.
Trey is a 20+ year fantasy veteran and an early adopter of Ottoneu fantasy sports. He currently administers the Ottoneu community, a network of ~1,200 fantasy baseball and football fans talking sports daily. More resources here: http://community.ottoneu.com