Over this off-season, I have uncovered potential undervalued players by comparing the Steamer projections to the current NFBC ADP. So far I have gone through undervalued speedsters, power bats and outstanding batting average players. The exercise now continues for runs batted in.
In 2019, there were 57 players with least 85 RBI. There were 28 players who exceeded the 95 RBI mark, and 17 with at least 105. Anthony Rendon of the Nationals led all of baseball with 126 runs batted in. Jose Abreu led the American league with 123. Following them were NL East first basemen Freddie Freeman (121) and Rookie of the Year Pete Alonso (120).
As we have seen in batting average, prospective projections are more conservative. Steamer projects J.D. Martinez to lead baseball in the RBI category with only 119. Only six players are projected to knock in more than 110 runs.
For this year's analysis, I will focus on all players with a Steamer projection of at least 85 RBI. This should give us a group of players who can greatly help your team's RBI totals in the upcoming fantasy season.
For today's draft value comparisons, I look at:
The player ranks as computed by the FanGraphs Auction Calculator with Steamer projections (standard NFBC 15 team roto league settings).
The current NFBC ADP (of all non-auction leagues from January 27, 2020 to present). 48 leagues in total were observed.
Below are the players selected within the top 30 ADP, who also have a Steamer projection of at least 85 RBI:
1st & 2nd Round Projected High RBI Contributors
These 19 players are projected to provide an excellent run production base for your draft.
There were only two hitters in the top 30 ADP who are not projected for at least 85 RBI – Fernando Tatis Jr. (81) and Trea Turner (75). Because 19 of the first 21 hitters contribute a large RBI component, you should exercise some caution in taking either Tatis or Turner as your first hitter. If you do, you may be playing in "catch up mode" for much of the draft as respects RBI – but with one less hitter slot to "catch you up."
Below are all of the remaining players in the draft pool with a Steamer projection of at least 85 RBI: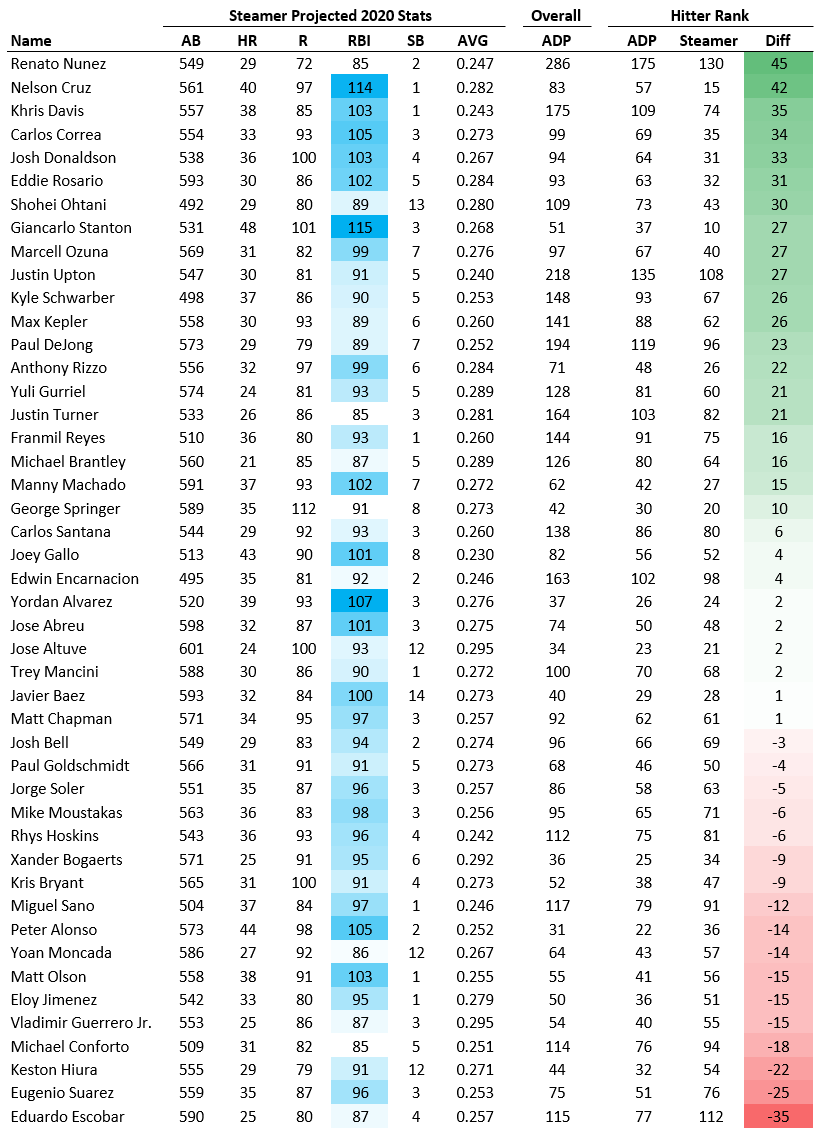 The players above are ordered by their difference in Steamer Hitter Rank versus ADP Hitter Rank. Differences highlighted in GREEN are the players who are going later than their Steamer values indicate that they should; differences in RED show the overvalued players.
In looking at the rightmost column (the difference), you can visually see that it is skewed towards green colored players. This means that the majority of large RBI players after the second round are available at a discount. A fair number of them are being priced by the market 20-30 hitters later than what projections would indicate (a 2-3 round discount). This differs from stolen bases, where you need to pay a premium for the majority of impact SB hitters.
Here is the next observation that jumps out to me. There are only 6 hitters that are available after pick 150 (the 11th round or later).
Player (RBI Projection)
Of those, only two are being drafted after pick 200 – Justin Upton (ADP 218) and Renato Nunez (ADP 286). This essentially means that during your draft, you need to have enough runs batted in through round 10, or it will be hard to catch up in the category.
High RBI Projected Players By Draft Round
| Round | Number of Players |
| --- | --- |
| First 2 | 19 |
| 3rd | 7 |
| 4th | 5 |
| 5th | 6 |
| 6th | 3 |
| 7th | 8 |
| 8th | 5 |
| 9th | 2 |
| 10th | 4 |
| 11th+ | 6 |
Looking at the above table, we can also see that the 7th – 8th rounds of drafts this year contain a large number of the big RBI sources, and most of them are discounted. Using my terminology – the 7th/8th round is an RBI hotspot. In planning your drafts, it would be wise to pencil in at least one player in the 7th/8th rounds that will help you fill up your team's RBI category.
A fair number of players have also appeared on the other 2020 undervalued lists this season. A few such examples of multi-category contributors are Renato Nunez, Nelson Cruz, Eddie Rosario, Edwin Encarnacion and Michael Brantley. Let's now dive a bit further into the undervalued RBI impact bats.
Renato Nunez (Steamer Hitter Rank: 130, ADP Hitter Rank: 175, Overall ADP: 286)
While I've previously written about the Baltimore slugger, I want to point out that Renato Nunez now ranks as the #1 RBI bargain. In the power bargains article last month, he was seen as a 37 batter discount. Since then – his ADP has dropped, and he has become a 45-hitter discount. I showed last year that some of the more profitable players in fantasy often come from the underwhelming real-life baseball teams. Nunez might be a fine 2020 specimen for affirming that result.
Read more about the player I call "The Next Khris Davis," in this year's power bargains article.
Paul DeJong (Steamer Hitter Rank: 96, ADP Hitter Rank: 119, Overall ADP: 194)
I'll tell it to you straight. Paul DeJong is an excellent pick for 2020.
In 2019 DeJong hit 30 home runs. His power skills are quite stable. He has come within one percentage point of his career 44% flyball rate in every single year that he has played. His HR/FB% rate is stable; the 15% mark in 2019 was in line with his career numbers. With full playing time, he should hit right around 30 HRs once again.
As for his batting average – there is upside from his lowly .233 BA. Paul hit for a .259 BABIP, which points to some bad luck in 2019. But despite the poor average this past season, he still managed to get on base frequently with a 9.3% walk rate. I won't promise you that he will repeat the .285 mark from his rookie season, but I would set expectations for just over .250.
Last year, deJong amassed 97 runs and 78 RBI. Depending upon where he bats in the lineup, he may score fewer runs, but he could also knock in more. I expect that his R+RBI will come close to 170, and Steamer agrees. Fantasy owners often discount the value of run production counting stats – which are two-fifths of all hitting points!
On to speed … DeJong stole 9 bases last year, which is quite meaningful in today's game. Expect something similar for 2020.
All in all, we have a potential 30/10 player with 85/85 R/RBI ability going close to the 15th round of deep 15 team mixed leagues. No, there isn't much upside above that – but his median expectation will earn you a couple of rounds of profit.
If you don't fill up your shortstop slot too early this year, strongly consider drafting Paul DeJong in 2020.
Franmil Reyes (Steamer Hitter Rank: 75, ADP Hitter Rank: 91, Overall ADP: 144)
Franmil Reyes 2019 Stats By Month
| Month | G | AB | R | HR | RBI | BA |
| --- | --- | --- | --- | --- | --- | --- |
| April/March | 30 | 82 | 9 | 8 | 14 | 0.232 |
| May | 25 | 96 | 16 | 8 | 14 | 0.271 |
| June | 24 | 76 | 10 | 8 | 13 | 0.237 |
| July | 20 | 67 | 8 | 3 | 5 | 0.284 |
| August | 28 | 92 | 11 | 6 | 17 | 0.228 |
| Sept/Oct | 23 | 81 | 15 | 4 | 18 | 0.247 |
| | | | | | | |
| Total | 150 | 494 | 69 | 37 | 81 | 0.249 |
Franmil Reyes hit 37 home runs last year. At the end of June, he was on the pace for 48 HRs! Other than July (where he traded power for average), his power and run production stats were actually fairly consistent month to month.
Heading into just his age 24 season, his power may not even be fully developed yet. Projecting a repeat of last year should be a low-risk expectation for him. 40 HRs may not be out of the question, as Franmil will no longer be playing his home games at a pitcher friendly ballpark (Petco Park).
Reyes has age, a 47%+ Hard Hit contact rate, and an excellent 8.5% walk rate on his side. Unlike DeJong who doesn't have much more upside than his raw projections, the Indians slugger has got the potential to be a top power bat in the major leagues. With his hard contact, I can also envision a scenario where he hits .270 to .275+. To me, Reyes's outcomes are skewed towards the positive, making this 10th round outfielder a very wise investment.
Justin Turner (Steamer Hitter Rank: 82, ADP Hitter Rank: 103, Overall ADP: 164)
Finally, let's talk about Justin Turner. Year in and year out, I find myself valuing the Dodgers' starting third baseman as a bargain. In the past 6 seasons, he has hit below .290 only once. His career strikeout rate is a phenomenal 14.6%. He walks often, owning a career .367 OBP. All of these facts cap his downside.
Health is the primary issue for Justin, but when on the field, ~25 HRs is his norm. He scored 80 runs in 2019, while knocking in almost 70. If healthy, the 35-year-old is a consistent source of stats for four scoring categories. Even with all of the missed time throughout the years, he typically earns approximately $15 in rotisserie value in the NFBC format.
Turner is an instance where Steamer differs from ATC. He is a case where the Steamer projections are higher than most other projections. ATC only projects Turner to amass approximately 470 at bats, while Steamer projects his ABs to be in the 530-540 range. The Dodgers have a few players that they can slot in at 3B. I can see the scenario where Turner loses playing time for regular rest, as the Dodgers want to make sure that he is ready and healthy for the playoffs.
Playing time is the key here – and the market is principally pricing Turner for the injury risk. Adding to that – Justin is no youngster; he will be 35 for the 2020 season. If your league has IL slots or a deep enough bench – Turner could be a fit if available at a 1-2 round discount. In OBP leagues, Turner may be worth even more of a bargain.
I won't recommend Justin Turner for everyone's fantasy team. Don't reach for Turner, but pounce if he drops further than his current ADP of 164.
–
Happy Valentine's Day to everyone !!!
Ariel is the 2019 FSWA Baseball Writer of the Year. He is the creator of the ATC (Average Total Cost) Projection System. Ariel was ranked by FantasyPros as the #1 fantasy baseball expert in 2019. His ATC Projections were ranked as the #1 most accurate projection system in 2019. Ariel also writes for CBS Sports, SportsLine, RotoBaller, and is the host of the Great Fantasy Baseball Invitational - Beat the Shift Podcast (@TGFBI). Ariel is a member of the inaugural Tout Wars Draft & Hold league, a member of the inaugural Mixed LABR Auction league and plays high stakes contests in the NFBC. Ariel Cohen is a fellow of the Casualty Actuarial Society (CAS) and the Society of Actuaries (SOA). He is a Vice President of Risk Management for a large international insurance and reinsurance company. Follow Ariel on Twitter at @ATCNY.