A new year and in turn, a new decade is now upon us! We have begun the Roaring Twenties once again. More importantly, fantasy baseball draft season is now upon us.
I am not one for paying large amounts of attention to positional rankings. Knowing who is valued as the 7th best shortstop, or who the 11th ranked second baseman is – is helpful no doubt, but that alone will not win you your fantasy leagues. We can spend time debating whether Rhys Hoskins is better than Trey Mancini, but since the duo have similar profiles, the discussion isn't all that helpful on its own.
To me, the task that needs the higher priority – is the comparison of market prices to player valuations. The greater assignment is to determine the players which the market undervalues. One of the first exercises that I engage in – is to find the players which projections foretell a superior year as compared to where they are currently being priced.
The two needed components to complete this analysis are very generally:
As far as the projections go – I start with the ATC projections. They are a powerful tool that provides users with a robust set of rankings of players (and the corresponding auction values). The ATC projections have been accretive in fantasy auctions/drafts over the past few seasons.
For this series, I will focus on the very excellent Steamer projections which were created by Jared Cross. Along with the ATC projections, Steamer is housed on this very site. Last year, Steamer did very well with regards to fantasy use – and since the ATC projections aren't officially published at the moment, Steamer is a great system to employ as our base projection model.
As for the "market" – we will use the NFBC published ADPs (Average Draft Positions). The NFBC runs a fair number of early drafts, where competitors wager non-trivial amounts of money to play. I prefer them to mock drafts, which are far less reliable. There is no money at stake for mocks, and the drafters may not have yet completed much of their own routine draft research. With the NFBC's reliability, uniformity, robustness and accessibility of data – they are currently the best source of available ADP.
For this article's draft value comparisons, I look at:
The player ranks as computed by the FanGraphs Auction Calculator with Steamer projections (standard NFBC 15 team roto league settings).
The current NFBC ADP (of Draft Championship leagues from November 20, 2019 to present).
Today's article focuses on uncovering potential stolen base bargains. Unless you plan on attempting to punt categories at your 2020 drafts, at some point, one must acquire stolen bases. The goal is to look at players who might simultaneously help us in the stolen base category, and additionally who are undervalued by the market.
In 2019, only 5 players stole over 35 bases (Mallex Smith 46, Adalberto Mondesi 43, Jonathan Villar 40, Ronald Acuna 37, Trea Turner 35). Only 3 players stole between 30-34 bases (Elvis Andrus 31, Christian Yelich 30, Jarrod Dyson 30). Only 1 other player stole more than 25 bases (Victor Robles 28). This draft season, anyone with a stolen base projection of 14 or more is going to catch my eye.
Let's talk about players with a substantial SB projection:
1st & 2nd Round Speedsters
Steamer Projections with NFBC Overall ADP
The first item to note, is that several "speed players" are currently being drafted within the first two rounds. In fact, 9 out of the top 45 SB threats as projected by Steamer are being selected as top 30 overall players. All nine of them have an ADP of under 20.
As speed will almost certainly be scarce once again in 2020, and because these top stolen base threats are extremely reliable to return a large portion of their value – one should be prudent, and if possible – draft one of these men in 2020.
However, if you do miss out on one of the above players in the first two rounds, here are the other players available with a projection of 14 SBs or more: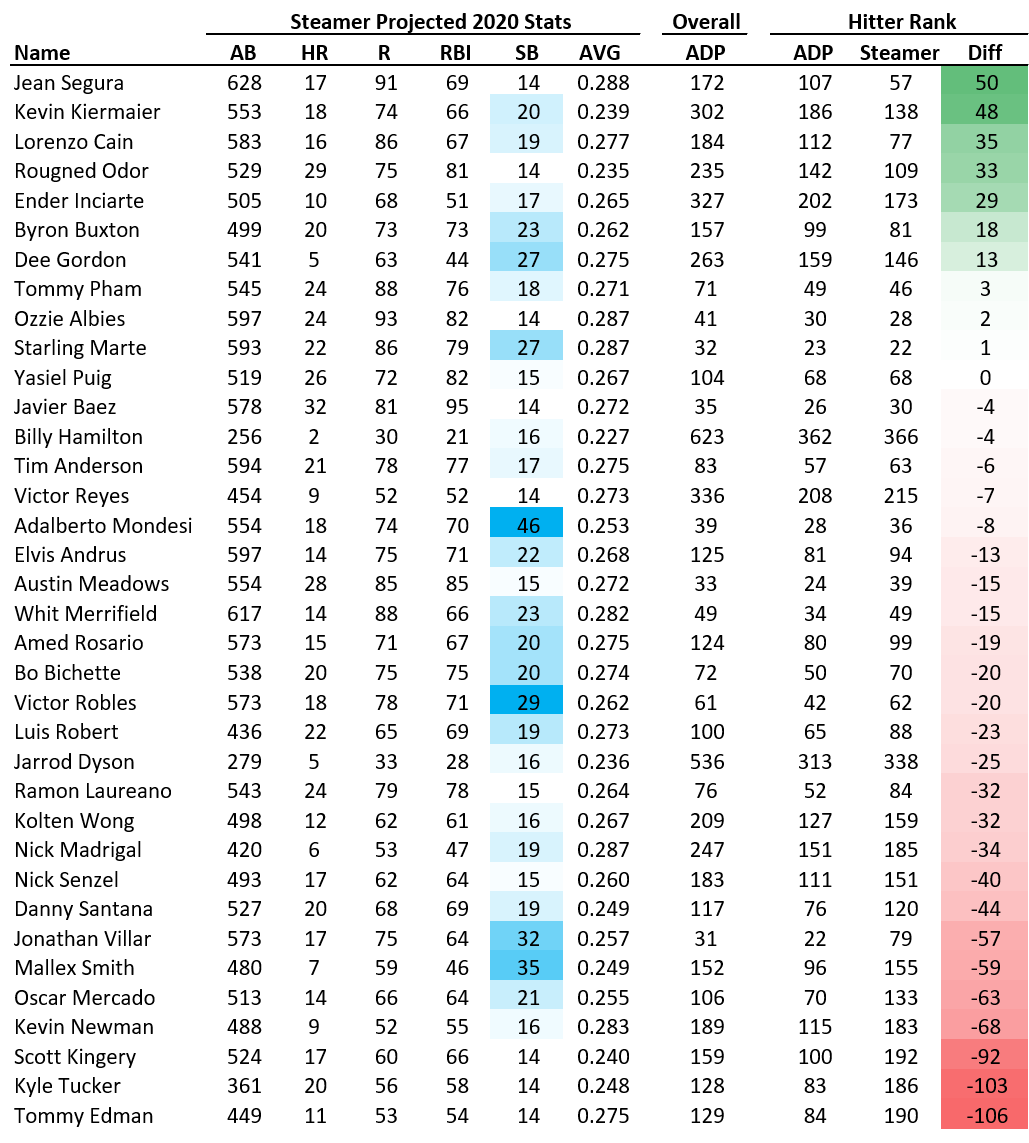 The players above are ordered by their difference in Steamer Hitter Rank versus ADP Hitter Rank. Differences highlighted in GREEN are the players who are going later than their Steamer values indicate that they should; differences in RED show the overvalued players.
As already noted, speed is at a premium this year. Most of the players on this list appear as overvalued. A player who has a difference between Steamer Rank and ADP Rank close to nil (roughly -9 to +9), would mean that the player can usually be acquired in or close to the same round that Steamer values the player. A large negative difference means that you need to reach to buy the speedster, and a positive difference indicates that you can wait a bit (the player is a bargain).
Let's investigate a few of these players further:
Jean Segura (Steamer Hitter Rank: 57, ADP Hitter Rank: 107, Overall ADP: 172) sits atop this list and appears to be a 50-hitter bargain. As Jean is currently being drafted in the 12th round, Steamer is projecting a huge potential profit. It is possible though, that Steamer is a bit too aggressive with Segura's playing time. He is currently projected for a massive 684 plate appearances, which seems to be on the high side. Segura only accumulated that many PAs in a single season once in his career (2016: 694). Should we scale down Segura's playing time even slightly, the effect would knock then him off this list.
Kevin Kiermaier (Steamer Hitter Rank: 138, ADP Hitter Rank: 186, Overall ADP: 302)
According to the Steamer projections, Kevin Kiermaier is being drafted far later than he should be. Despite missing time yet again in 2019, Kiermaier managed to steal 19 bases in 480 plate appearances. Kevin has now stolen double digit bases in each of the past five seasons.
Kevin's career stolen base success rate is over 75%. As a percentage of stolen base opportunities (we will loosely define those as 1B + BB + IBB), he attempted to steal over 21% of the time. Kiermaier also has reached base with a career OBP of .306. Although the past few stats that I listed do not line up exactly in terms of their denominators, the quick math on a 600 PA season would produce nearly 30 stolen bases (600 * .306 * 21% * 75% = 29).
In addition to his speed, Kiermaier has the potential to add to his value by chipping in with some power. With a career flyball rate of 31%, a HR/FB rate of 12%, and with an 80%+ Medium/Hard contact rate last year (which has been increasing over the past few seasons), 15-20 HRs seems well within reach in 2020. A possible 20/30 upside for a player taken outside of the top 300, seems like an excellent draft buy this year. Even at Steamer's 18/20 projection, he's a fantastic bargain.
So why the discount?
This price discrepancy exhibited by the market likely arises from the fear of yet another injury marred season. Kiermaier's issues are not performance related – they are completely health related.
Below is a listing of Kevin's injuries over the past four seasons, totaling over 200 days missed:
Kevin Kiermaier Injury History
| Year | Days Missed | Injury |
| --- | --- | --- |
| 2016 | 55 | Left Hand |
| 2017 | 71 | Right Hip |
| 2018 | 65 | Right Thumb |
| 2019 | 11 | Left Thumb |
SOURCE: spotrac.com
When healthy, Kiermaier will get almost the entirety of the available playing time due to his defense. He's a three-time AL Gold Glove winner, including the past year. So there is little risk of a time share.
Should you price in injury risk before deciding to draft Kiermaier? Absolutely. But Steamer thinks that the risk is greatly worth his current price. He'll now be on the wrong side of 30 this upcoming season, but a late round gamble for the life-long Ray may pay off.
Lorenzo Cain (Steamer Hitter Rank: 77, ADP Hitter Rank: 112, Overall ADP: 184)
The date was March 15, 2019. I was at the very first live NFBC auction of the 2019 draft season, which took place in New York. It was somewhere in the first 8 or 9 rounds, and it was my turn to throw out the next nomination. After confirming our plan for the next player to be bid on with my drafting partner, Reuven – we decided to throw out "Lorenzo Cain for $17."
The room was quiet. The auctioneer started, "Going once, going twice…"
Then, before another team had a chance to utter another word, the gavel went down.
"Sold."
We had successfully frozen the room, and the Milwaukee outfielder was on our roster. At the time, we were elated; we had thought that we banked 25+ stolen bases with little risk, and perhaps we now had a player with close to a .300 BA.
Cain managed to only swipe 18 bases last year, hit for a mere .260, belted only 11 homers, and was by many measures – a disappointment. Perhaps it was his age that caught up to him (he was 33 last year), perhaps there was a hampering injury, or perhaps it was simply a down season.
Digging deeper, his skills last year were not too dissimilar from his typical levels. His walk and strikeout rates were better than his career figures. His hard-hit contact rate was still at an excellent 37%. The dip in BA may have been somewhat BABIP aided, as Lorenzo posted a BABIP 38 points lower than his career average. He was caught stealing more than usual in 2019 – but only 31% of the time, which is still fairly good.
The one area which may be in decline for Cain is his power. His groundball rate has been creeping up over the past three years, and his flyball rate is firmly in decline (33% in 2017 vs. 24% in 2019). Steamer projects Cain to hit 16 HRs in 2020, but that figure may be optimistic.
Cain's projected 19 SBs still seems like a good bet, and his upside may even be 25+ swipes. Steamer's .277 projected BA is not overly aggressive given his sustained batting skills. Early ATC figures (not yet published) project a 13/19 season, with a similar batting average.
A projected near 15/20 player with a plus batting average, along with scoring 80+ runs is a fine value for the 13th round of drafts. If Cain is still available to you at that time, he may be able to sure up your speed totals, give you an average boost, and hold his own elsewhere. Don't forget about Lorenzo Cain this draft season.
Rougned Odor (Steamer Hitter: 109, ADP Hitter: 142, Overall ADP: 235)
Though he is a six-year veteran of the major leagues – most people don't realize that Rougned Odor is still only 25 years old.
Odor has hit 30+ HRs in three of the past four seasons; his fantasy value arises in large part from his power. His contact skills are subpar – he is a career .240 hitter. The poor batting average is largely fueled by a career 23% K% rate, which has grown to 31% in 2019. The near-Mendosa line BA of .205 last year though, was surely aided by a very low .244 BABIP – so do expect a fair amount of regression in 2020.
Odor also generates substantial value from his run production counting stats. Despite predominantly batting in the 6th slot in '19 – Rougned was able to accumulate 93 RBI. Even more impressive, was the fact that he was able to score 77 runs with only a .283 OBP.
Steamer projects Odor for 14 SBs in the coming year. That isn't an overly lofty amount, but in today's game – it is a powerful profile when paired with 30+ HR. He makes today's speedster list as an undervalued player with modest stolen base contributions. Think of him akin to players such as like Kyle Schwarber, Max Muncy or Eduardo Escobar – but with a few less homers, and a few more stolen bases.
Why spend high on Marcus Semien, where a similarly skilled player can be acquired at a fraction of the cost?
Ender Inciarte (Steamer Hitter: 173, ADP Hitter: 202, Overall ADP: 327)
After stealing a minimum of 16 bases in each of his first 5 major league seasons, Ender Inciarte managed to amass only 7 SB this past season. Of course, the 7 swipes came in only 230 plate appearances. Inciarte suffered two major injuries last year – a back injury in May followed by a hamstring injury in August. If we scale his SB output to a full 600 PA, we can see that Ender was on pace for over 18 last year.
What helps Inciarte's stolen base opportunities is a good on base percentage. This past season, Ender raised his walk rate to a terrific 11%, which mitigated some of the batting average drop, which was due to an increased strikeout rate. If some of the new Ks were injury related, and if he can keep up his improving batting eye skill, he may be able to get back to a .270+ BA. Steamer projects him in 2020 for a .265 BA.
Unfortunately for Inciarte (although fortunately for the Braves), Atlanta has some fantastic options to bat high up in the batting order. Acuna/Albies/Freeman was the regular trio to leadoff games down the stretch last summer – and they likely will do so once again next year. Inciarte's best fantasy production typically came when he batted in the leadoff spot, and thus the Braves current batting order does hurt Inciarte's personal stats.
Ender is still on the right side of age 30, and he has a 72% stolen base success rate for his career. As a tremendous glove in center field, Ender should still get plenty of playing time if he can manage to stay healthy in '20. Inciarte is a viable fantasy option if you are lacking speed late in the draft. A possible 10/20 player with a decent average going after pick 300 may provide sneaky value to fantasy owners.
Tommy Edman (Steamer Hitter: 190, ADP Hitter: 84, Overall ADP: 129)
I mention Tommy Edman here not as a stolen base bargain, but rather as an overvalued player according to Steamer. In fact, he is the most overvalued player on today's list. By the projections, Edman is only the 190th best hitter, yet he is being taken as the 84th best with a 9th round ADP.
Is this fully warranted?
Edman is possibly a case where Steamer is somewhat light on the playing time. 489 plate appearances for this highly skilled player may be an under-projection. On the surface, there seems to be a playing time logjam for Edman and the Cardinals – with Wong the starter at 2B, and possibly Tyler O'Neil the starter in LF. Free agency isn't over yet – and the Cardinals may still try to replace Marcell Ozuna, further adding to their depth.
But high skilled players typically win out and outperform playing time expectations. This is especially true in today's game where injuries are rampant. Some examples from recent years include DJ LeMahieu in 2019 and Javier Baez in 2018. At the start of their respective seasons, the Yankees/Cubs each had a perceived infield logjam. With some team injuries, these skilled players were able to quickly gain at bats, went on to have massive seasons, and helped fantasy owners win championships.
Tommy Edman was a 3.2 WAR player in 2019. In the 92 games which he appeared, he managed to hit .304 with 11 HRs and 15 SBs. Early ATC projections present Edman with over 530 plate appearances, while hitting .279 and going 15/20 – quite a valuable profile.
While I don't think that Edman is as overvalued as Steamer indicates, initially, he doesn't appear to be a bargain either. At best, he is still being drafted with a one or two round premium. But if the Cardinals do not sign another OF, and should St. Louis suffer some poor injury fate – Edman's power/speed profile will play and his value will rise.
Ariel is the 2019 FSWA Baseball Writer of the Year. He is the creator of the ATC (Average Total Cost) Projection System. Ariel was ranked by FantasyPros as the #1 fantasy baseball expert in 2019. His ATC Projections were ranked as the #1 most accurate projection system in 2019. Ariel also writes for CBS Sports, SportsLine, RotoBaller, and is the host of the Great Fantasy Baseball Invitational - Beat the Shift Podcast (@TGFBI). Ariel is a member of the inaugural Tout Wars Draft & Hold league, a member of the inaugural Mixed LABR Auction league and plays high stakes contests in the NFBC. Ariel Cohen is a fellow of the Casualty Actuarial Society (CAS) and the Society of Actuaries (SOA). He is a Vice President of Risk Management for a large international insurance and reinsurance company. Follow Ariel on Twitter at @ATCNY.