In my last two columns, I uncovered potential undervalued speedsters and power bats by comparing the Steamer projections to the current NFBC ADP. The exercise now continues this week for batting average.
In 2019, there were 55 qualified players with least a .280 batting average. There were 36 players above the .290 mark, and 19 above .300. Tim Anderson led all of baseball with a .335 BA, followed by National Leaguers Christian Yelich and Ketel Marte who each hit .329.
Though 2019 had almost two dozen players who hit at least .300, you won't find a projection set that will have that many BA studs. Projections are typically more conservative. Steamer only projects 17 regular players to bat over .290 in 2020, and only 5 players to eclipse the .300 mark.
For this year's potential batting average bargains, we will focus on all players with a Steamer projection of a .278 BA or more. This will give us a number of players who can greatly help your fantasy team's batting average in in 2020.
For these draft value comparisons, I look at:
The player ranks as computed by the FanGraphs Auction Calculator with Steamer projections (standard NFBC 15 team roto league settings).
The current NFBC ADP (of Draft Championship leagues from December 4, 2019 to present).
Below are the players selected within the top 30 ADP, who also have a Steamer projection of at least a .278 BA:
1st & 2nd Round High Batting Average Hitters
These 16 players are projected to provide a nice batting average base for your draft. In fact, the top 12 hitters by ADP – all exceed a projected .278. Taking a hitter in the first round will give your fantasy squad a strong base for average.
Below are all of the remaining players in the draft pool with a Steamer projection of at least .278 BA: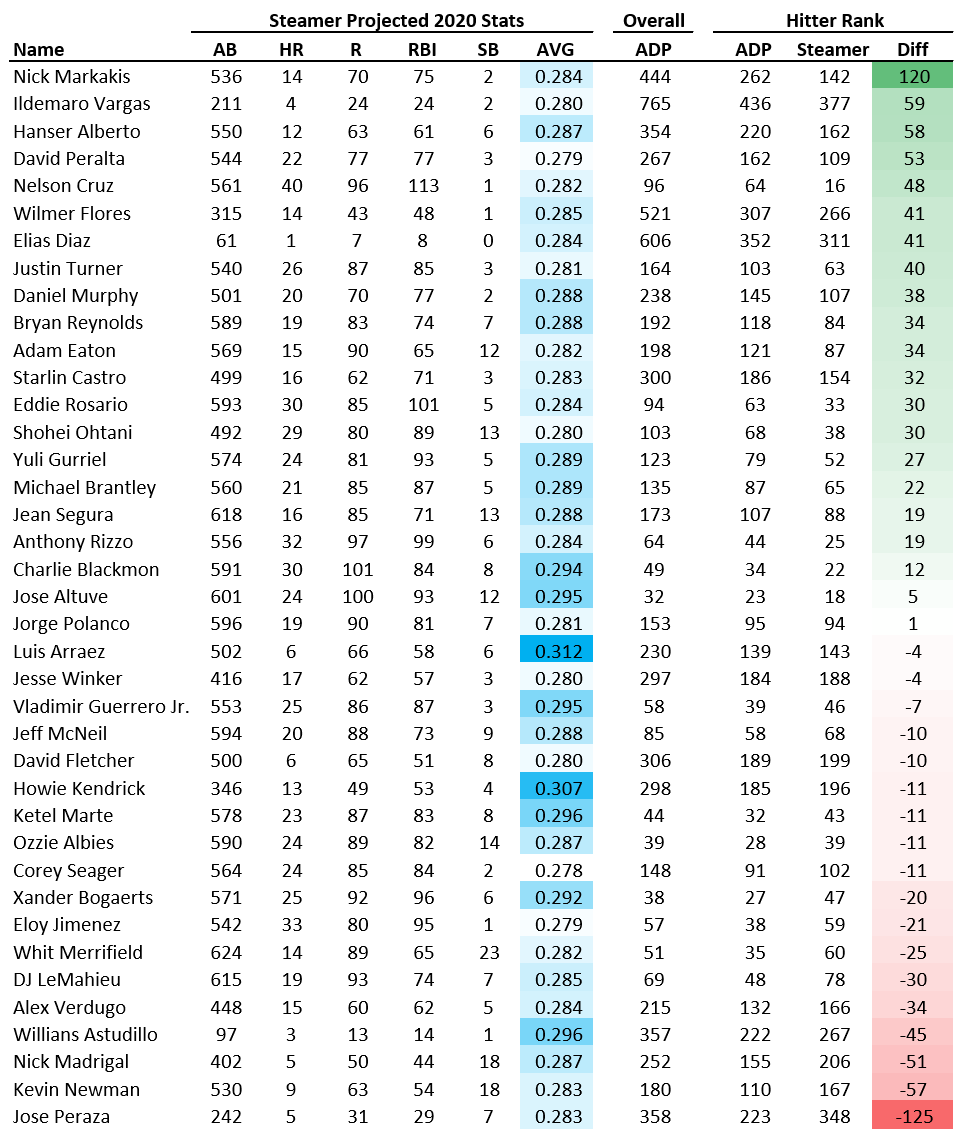 The players above are once again ordered by their difference in Steamer Hitter Rank versus ADP Hitter Rank. Differences highlighted in GREEN are the players who are going later than their Steamer values indicate that they should; differences in RED show the overvalued players.
What I love about the above list is that there is a diverse range of players types included. There are power hitters (such as Nelson Cruz), a few speedsters (such as Whit Merrifield), some part time players (Jose Peraza), catchers (Elias Diaz), one-category players (David Fletcher), and everything in between. Another observation is that these hitters can be found at every stage of the draft. It is true that the first round is chock full of BA hitters, but we can still find some decent sources with an ADP after 400.
Previously in this series, we have spoken about Eddie Rosario. We have touched briefly on Nelson Cruz. Shohei Ohtani, Anthony Rizzo, Charlie Blackmon and Eloy Jimenez have all previously appeared on the power list. Ozzie Albies, Whit Merrifield, Nick Madrigal and Kevin Newman were on the speedster list. The 10 players just mentioned represent batting average "combo" players; they are the high BA players who excel in either speed or power (found after the first two rounds of drafts). Tuck those 10 names away in your pocket.
Elias Diaz (Steamer Hitter Rank: 311, ADP Hitter Rank: 352, Overall ADP: 606)
Elias Diaz shows up as a large bargain according to Steamer, but before we add the new Rockies backstop to our watch lists, recognize that:
With an ADP of 606, he is essentially free. Other than the deepest of mono league formats, there is no difference between an ADP of 500 and an ADP of 600.
Diaz is a catcher. The FanGraphs auction calculator gives a strong positional bump to backstops, which the market does not fully agree with.
Elias Diaz is currently only projected for 61 at-bats, and 17 games by Steamer. That isn't significant enough to help your fantasy team.
Diaz has only hit higher than .241 once in his career. He is far from a perennial batting average champion.
On the flip side, please do recognize that:
Elias Diaz just signed with the Rockies. Anyone playing in Colorado needs to be monitored if playing at home.
Diaz instantly becomes interesting in DFS, or in leagues that employ daily matchups (provided there is a large enough bench).
Diaz becomes a candidate for streaming, for those who might want to stream catchers (more on this in a later article). Should Diaz have 7 home games in COL in a given week, he could be an excellent option for the week as a short-term injury replacement streamer.
Nick Markakis (Steamer Hitter Rank: 142, ADP Hitter Rank: 262, Overall ADP: 444)
Nick Markakis sits atop our batting average bargains list. The primary reasons that Nick is being drafted so low is his lack of upside, and his age. Markakis is set for his 6th season as a member of the Braves, now at age 36. But Markakis has been extremely durable for his career. He only accumulated 469 plate appearances in 2019, but prior to that he averaged 693 for the six preceding seasons. He played an average of 159 games during that span.
Barring injury, Markakis is a lock for a .265+ batting average and will likely hit closer to .275-.280. His low strikeout rate (13% in 2019) combined with a near-50% line drive rate will firmly keep that average up. Add to it a 10% walk rate, and he will also sustain great run production metrics in Atlanta. Josh Donaldson just signed with the Twins last night, so Markakis may get an even better lineup spot than what projections had anticipated (and better than last year).
Markakis is a seemingly unexciting fantasy player, who has diminished power and speed. I love the 'boring' types. In medium to deep mixed leagues – he will be available to fantasy teams as a profitable bench player, accumulating lots of playing time along the way. Along with your upside endgame picks, consider rostering him as a better-than-replacement-level outfield option.
Bryan Reynolds (Steamer Hitter Rank: 84, ADP Hitter Rank: 118, Overall ADP: 192)
Few may remember that Bryan Reynolds batted a whopping .342 in the first half of 2019. He cooled off in the 2nd half of the season, only hitting a mere .290 the rest of the way for a full .314 in his rookie season. True, last year's success came with a .387 BABIP – but that is actually his typical mark that he's shown in the minors. I fully believe in his .288 Steamer projection. In fact, it might be on the conservative side. Throw in a decent 8%+ walk rate, and we have a high OBP player who is projected to score 80+ runs.
Reynolds isn't a one-dimensional player. He has the power to hit 15-20 home runs, which will only grow with age; he will be playing in just his age 25 season in 2020. He will also accumulate some 5-10 swipes.
As compared to Steamer, early ATC projections are even higher on Reynolds – which would make this BA stud an even larger bargain. Should you need a boost of batting average in the 12th – 14th rounds, Reynolds is a fantastic option to balance your team's statistical portfolio, without taking a hit anywhere else.
Wilmer Flores (Steamer Hitter Rank: 266, ADP Hitter Rank: 307, Overall ADP: 521)
It seemed odd to me that a career utility player with a .268 batting average would be listed as a batting average bargain. However, I find that Wilmer Flores is a semi-interesting case worth discussing. First – let's see what happens when we scale his projections to full playing time.
Wilmer Flores Projections
| Perspective | AB | HR | R | RBI | SB | AVG |
| --- | --- | --- | --- | --- | --- | --- |
| Steamer | 315 | 14 | 43 | 48 | 1 | 0.285 |
| Steamer 600 AB | 600 | 27 | 82 | 91 | 2 | 0.285 |
Those are very useable full season statistics in fantasy baseball. I wouldn't cry if I got that kind of production from a player outside the top 500.
Following an injury marred season with the Diamondbacks, Flores currently remains a free agent. 2019 served him well, hitting an encouraging .317 with 9 HRs in just 285 ABs. The key to Flores's makeup has been the ability to hit left-handed pitching. He has a career wRC+ vs. LHP of 116. Last year, that figure had ballooned to 151.
The strides that Flores has made in recent years look legit, albeit not in a full-time role. He hit to a .358 wOBA, vastly improving in both his hard and medium contact rates – 37% and 46% respectively. His line drive rate jumped up to 25% as well. With an extended look, Flores is a player that has 20-25 HR ability, and nowadays is a batting average asset.
Flores is currently without a team and is coming off an injury season. The market has assessed that information and has severely depressed his price. If Wilmer signs with a non-contending team who gives him the playing time, Flores has the opportunity to earn fantasy owners a nice profit. Truth is, there is no reason to draft Flores at this time – but do monitor his team status and situation throughout the offseason.
Michael Brantley (Steamer Hitter Rank: 65, ADP Hitter Rank: 87, Overall ADP: 135)
Is Michael Brantley's bating average projection too aggressive? Well, since 2012, other than the one season (2016) where he only played 11 games – Brantley's lowest full season BA was .284. Since 2014, he hasn't hit lower than .299 in a single season. If any, the .289 projection is likely too conservative.
Brantley's plate metrics are rock solid and is as steady as ever. In 2019, his line drive rate was 24%, his K% rate was just 10%m, and his BB% was at 8%. His hard contact rate was at the highest level of his career (42%). He's one of the safest high batting average players you can find in the major leagues today.
In 2019, aside from his excellent average – the power grew, as he smacked a career high 22 homers. As a member of the AL Champion Houston Astros, his supporting cast gave him plenty of opportunity to knock in and score runs (88 Runs, 90 RBI) – and there is no reason to think that it won't continue in 2020.
I am not quite sure why the market is still under-pricing him. It is possible that the market is still weary of his health woes in 2016 & 2017, but that is long behind him now. He's going into his age 33 season, not his age 36 season.
This is about as low risk a 2-round discount as you will find.
Yuli Gurriel (Steamer Hitter Rank: 52, ADP Hitter Rank: 79, Overall ADP: 123)
Finally, let's talk briefly about Brantley's teammate – Yuli Gurriel. To be honest, amazingly, he profiles quite similar to Brantley. He sports similar contact rates, similar line drive and hard-hit contact rates, and has the same great lineup supporting him. One difference though – he's actually a bit older than Michael.
Though I don't believe he will repeat a 30 HR season, I do believe in his batting average skills. Because of that, I don't believe he's as undervalued as Brantley, but he still qualifies as a discount.
Add in Justin Turner, who is a 40-hitter discount above, and Gurriel/Brantley/Turner now make up a batting average "hotspot." If you are looking for a batting average plug in the mid-rounds, without sacrificing run production or major power – one of these players will be available to provide it.
Ariel is the 2019 FSWA Baseball Writer of the Year. He is the creator of the ATC (Average Total Cost) Projection System. Ariel was ranked by FantasyPros as the #1 fantasy baseball expert in 2019. His ATC Projections were ranked as the #1 most accurate projection system in 2019. Ariel also writes for CBS Sports, SportsLine, RotoBaller, and is the host of the Great Fantasy Baseball Invitational - Beat the Shift Podcast (@TGFBI). Ariel is a member of the inaugural Tout Wars Draft & Hold league, a member of the inaugural Mixed LABR Auction league and plays high stakes contests in the NFBC. Ariel Cohen is a fellow of the Casualty Actuarial Society (CAS) and the Society of Actuaries (SOA). He is a Vice President of Risk Management for a large international insurance and reinsurance company. Follow Ariel on Twitter at @ATCNY.