The draft for League 32 – Fantasy Field of Dreams is scheduled for this Sunday and I'm facing a dilemma. If you've been following along with this series, I've been detailing my journey through rebuilding this team that began last season. In my last entry, I wrote about some general draft strategy for rebuilding clubs, but as I sit just a few days away from actually entering the draft room, I'm having trouble deciding which direction to take my team.
Here's where my roster currently stands:
Hitters: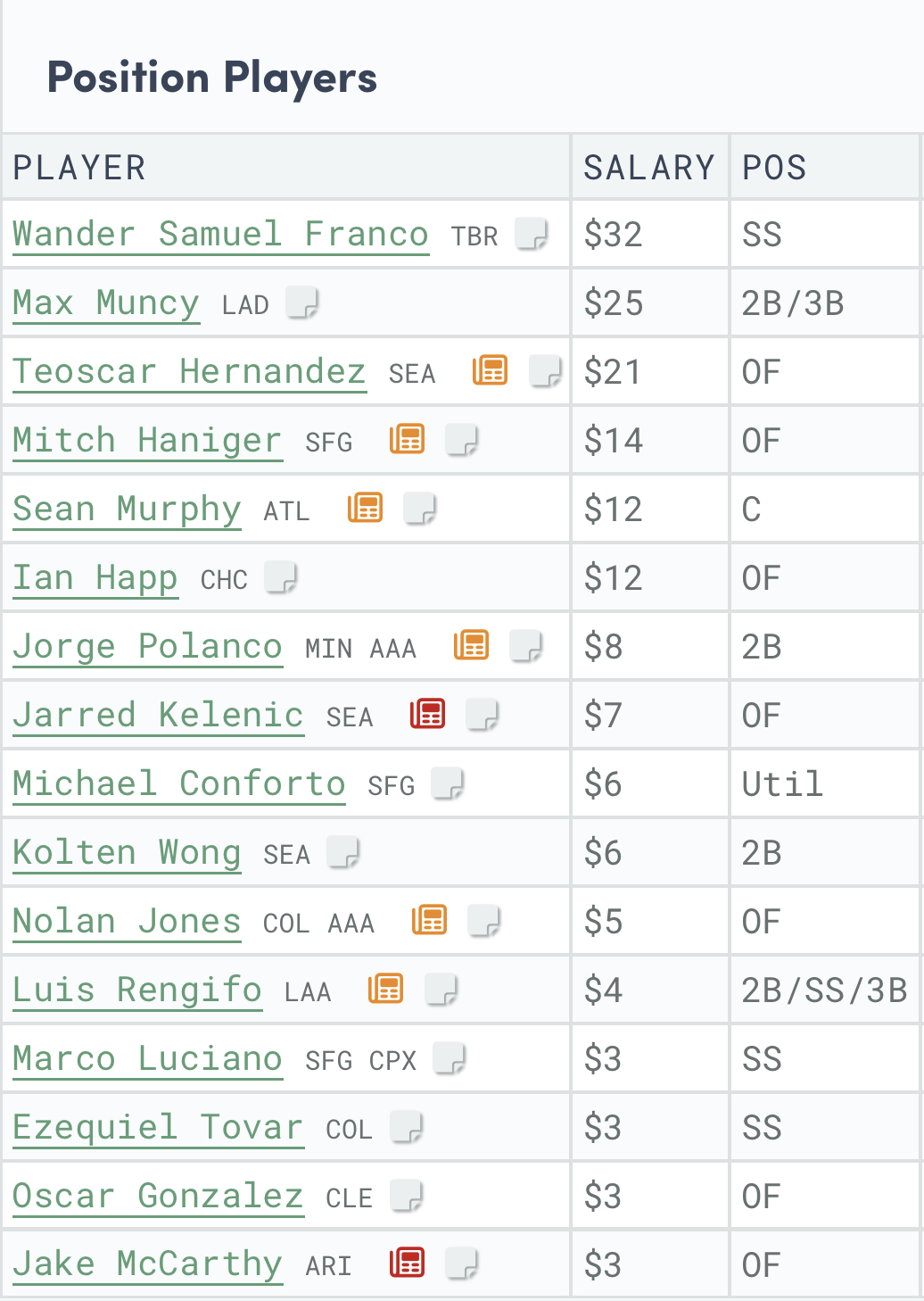 Pitchers: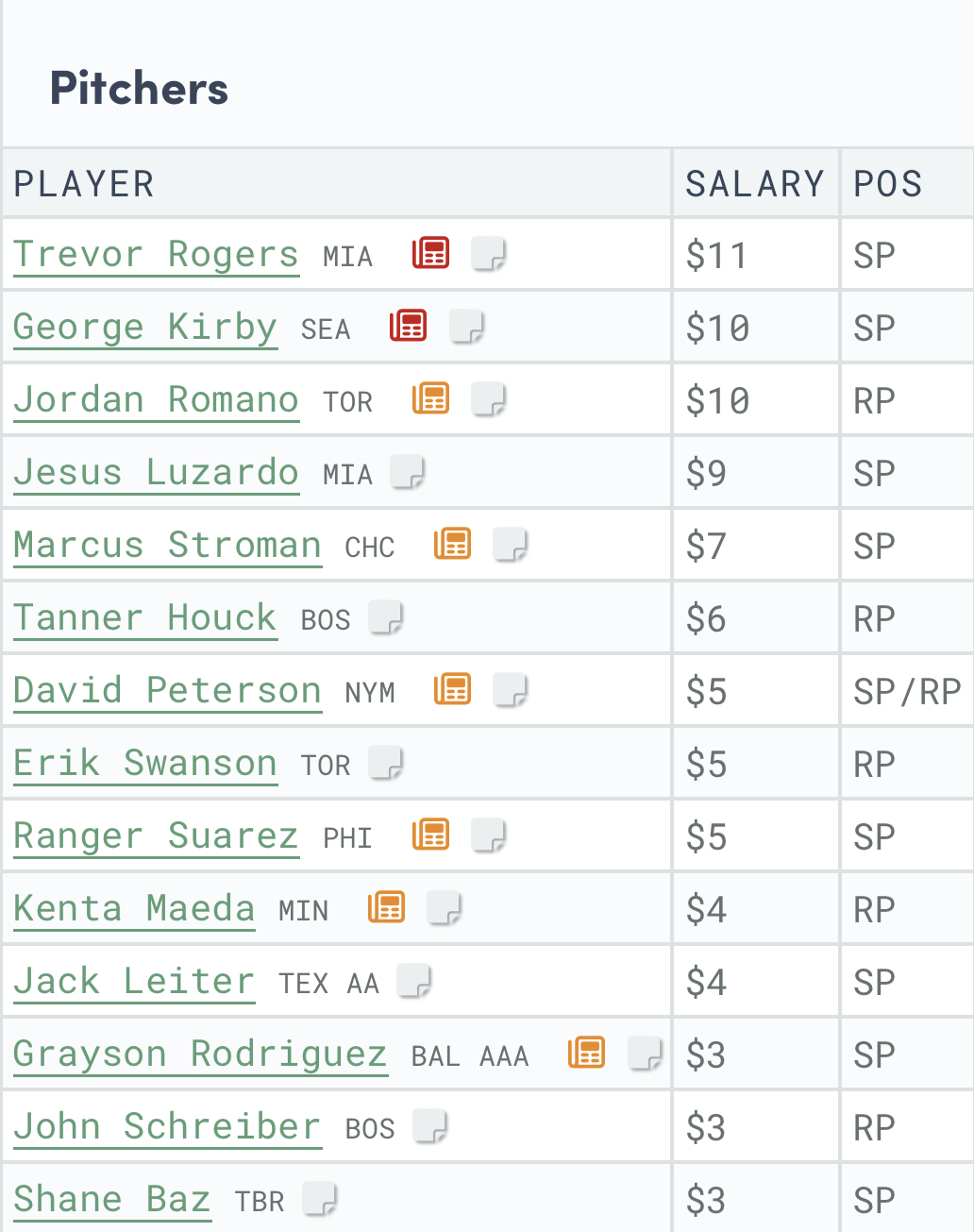 I'm spending $249 on 30 players leaving me $151 to spend on my 10 remaining roster spots. I don't have the highest total available cash in the draft — five other teams have more to spend — but I do have the highest available cash per roster spot by a pretty wide margin, giving me some nice spending power to fill the holes on my roster.
Before we really dive into the available paths forward, I want to take a step back and talk about my approach to draft prep. I'm a big believer in budgeting per position and creating tiered lists of players to give me a pretty easy path towards ensuring I'm wisely allocating my resources across my roster. I really don't want to head into a draft without some sort of plan in place and a decent idea of how much money I want to spend on each roster spot I need to fill. Here's what my ideal budget would look like for the roster spots I need to fill:
If I start out the draft by winning, say, Bryce Harper for $40, based on my budget, I know I've got an extra $10 to either allocate to another position or bank for the waiver wire during the regular season. And if I end up splurging on, say, Mike Trout for $60, I know I'm going to have to reallocate some resources from another position to account for the overage.
The way I see it, I need two first basemen, a starting outfielder, a second catcher, a couple of starting pitchers, and a couple of relief pitchers. Those last two roster spots can be pretty flexible and that's potentially the source of my dilemma. Currently, I've got Jorge Polanco and Max Muncy penciled in at second base and third base but the ongoing injury issues of the former give me some pause. For the latter, Muncy's dual eligibility at second and third give me some options with how to proceed, though he's probably better deployed at second from a value perspective.
Of course, the available talent pool at second is a lot deeper than it is at third which just adds another compilation. The keystone has players like Mookie Betts, Brandon Lowe, Ozzie Albies, Ketel Marte, Gleyber Torres, and Jonathan India all available while the best third baseman in the pool is either Anthony Rendon or Matt Chapman with very few options after that. Spending a bit on a second baseman and playing Muncy at third is probably the best course of action, all things considered.
At first base, I had a solid plan in place until yesterday when Rhys Hoskins tore his ACL. He was clearly the top available option at the position and the rest of the available players are a pretty significant step-down. Spencer Torkelson seems like the best fit for my roster and where it is in the competitive cycle. Beyond him, the options are down to veterans like C.J. Cron and Wil Myers or utility players like Brandon Drury and J.D. Davis. Luckily, most of the money I thought I was going to be spending on Hoskins can now be spent elsewhere because no other first baseman is going to command the kind of salary he would have if he was healthy.
Because I have a lot of cash to spend per roster spot, I can play around in the top tiers of the available outfielders, picking from Mike Trout, Bryce Harper, Betts, George Springer or Masataka Yoshida. But the amount of money I spend on this position will have some pretty significant downstream effects on the kinds of players I can afford later on in the draft. I could go big and grab Trout and spend a lot less on my other roster spots or try and pick up Harper for a discount because of his elbow injury.
On the pitching side of things, there are relatively few top-tier options in the player pool right now; Max Scherzer and Blake Snell are the best available starters and I'm definitely not going to pay top dollar for any relievers at this point in my rebuild. I'm perfectly comfortable picking from the wide range of mid-tier starters that are available and then picking the best $1 relievers with upside I can find at the end of the draft.
I have three paths in front of me depending on how I want to allocate my resources, and I'm asking you, dear reader, to help me decide which way to go.
In this scenario, I'd split the majority of my cash between Betts and Harper while picking up a few solid depth pieces elsewhere. I have a lot of money budgeted for Harper, and while his recovery process has been better than expected, I still expect to get a pretty big discount on him since he's still projected to miss a large chunk of the season. Targeting him is more about trying to acquire him for a reasonable salary so I can keep him next year, a little further into my rebuild. Betts is clearly the top 2B available, and depending on his salary and position eligibility, could be keepable next year too. He'll also make a really enticing trade chip this summer if I'm looking to continue building my team for the future.
The problem with this plan is the lack of planned salary room at the end of the draft. I've budgeted nearly every available dollar, and while I expect some of those players to come in under budget, I probably won't have much cap space to play on the waiver wire during the season.
If I'm going to budget that much money for an outfielder, I might as well go all the way and spend on the best option available. Like Betts, Trout could be a keeper next year if his salary is reasonable, but he's almost certainly going to be used as a trade chip at the trade deadline. India is a solid bounce-back target who is still super young, and with the depth at the position, I could spend a little more on someone like Marte or Torres if I had some extra cash available. I also allocated a few more resources for my starting pitchers in this scenario, but I could save money there too by sticking with my mid-tier plan from the first scenario.
This scenario is all about spreading my resources out as widely as possible across my roster. Rather than targeting one of the top options at any given position, I'm looking to pick up solid contributors at every position. The other benefit of this approach would be a larger amount of cash left over to use during the season. I think if I weren't rebuilding, this would be the way I'd want to go. It gives me a ton of points across the board, lowering my risk in case one of these players doesn't work out as expected.
If you want to try and craft another approach with other available players, here's a list of free agents in the league.
So, which approach should I go with?
Jake Mailhot is a contributor to FanGraphs. A long-suffering Mariners fan, he also writes about them for Lookout Landing. Follow him on Twitter @jakemailhot.