The first cut of the 2020 ATC Projections have arrived! Fantasy baseball draft prep season is now officially ready to be thrusted into high gear!
There are three ways to view and utilize the ATC projections on this site.
Full Projections
Individual Player Pages
Auction Calculator
Full Projections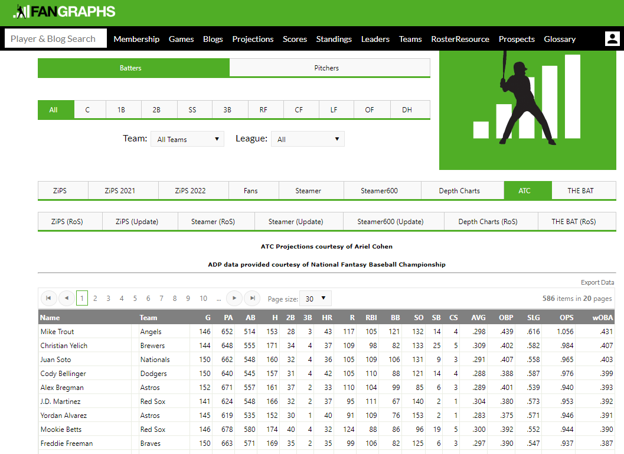 The full ATC projections can be found by heading to the "Projections" drop-down tab on the menu bar by clicking on "ATC."
Full 2020 ATC Hitter Projections
Full 2020 ATC Pitcher Projections
Individual Player Pages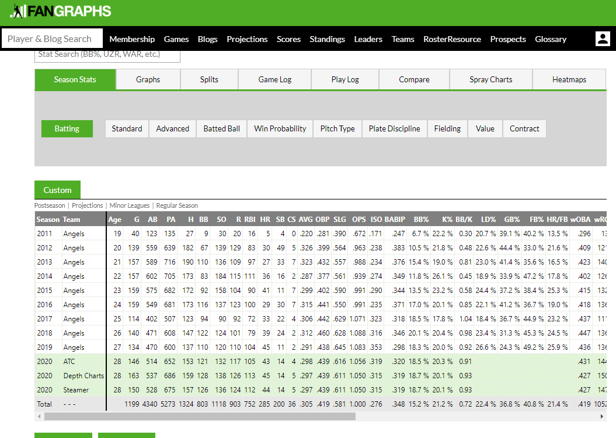 The ATC projections are also available on each individual player page on the site. You can see how it stacks up with other FanGraphs systems such as Steamer. Check out the snapshot of MLB superstar, Mike Trout.
Auction Calculator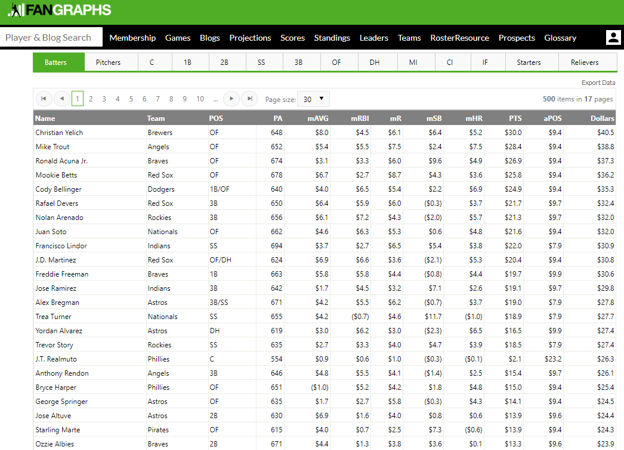 Finally, ATC is also available to use within the FanGraphs' Auction Calculator. On the "Projection" dropdown, simply choose ATC. Enter in the details of your specific league's roster settings, and the calculator will generate both rankings as well as auction dollars for all players.
Methodology
It has been a few years since the ATC projections introductory article, so here is a quick refresher…
The Average Total Cost projection system (ATC) gets its name from the fact that it "averages" many other projection systems together. ATC also happens to be my initials.
Though many others who attempt to aggregate projections typically apply equal weight to all data sources, ATC is much "smarter." Weights within ATC are based on the careful study of historical performance of its underlying projection systems. That's what makes ATC "smart."
As I previously have stated – the methodology behind ATC is similar to what Nate Silver does with his presidential election forecasting at www.fivethirtyeight.com. Nate collects lots of polling data. He assigns credibility weights to each firm in order to know how to combine them.
Silver does this on a state by state level. Quinnipiac polling may equate to 25% of the weight for Rhode Island polls, and YouGov may only get a 5% share in RI. In Nevada, those weights might be totally different – perhaps YouGov has 15%, with Quinnipiac only receiving 3% of the total aggregation.
Similarly, ATC calculates different weights for each statistic. System A might receive 10% of the weight for RBI, but only 4% for SB. System B may receive 5% for RBI and 18% for SB, etc. The ATC system incorporates many freely available projections, plus prior MLB statistics over the past 3 seasons.
To be clear, when I talk about statistics – I model stats as a rate per playing time. Separately, I model each player's playing time in the same smart aggregation manner, and then scale all of the rate stats accordingly.
By studying the strengths of multiple sources of data, in the end, one can create a model which is far more predictive than any one model by itself. Nate Silver does little or no polling of his own … yet his predictive model is the best in the industry. ATC operates in a similar manner, but for baseball. Although mostly automated, there are some manual edits made along the way – mostly for playing time projections. ATC is updated regularly all the way until opening day.
One important note. What is currently up on the site is the first cut of the ATC projections. Not all of the underlying systems that feed ATC are available at the moment, but they will be in the next couple of weeks. The first cut is still very highly credible, and good to use – it will just get slightly better as we approach spring training.
Accuracy
Last year, FantasyPros ranked ATC as the 2nd most accurate fantasy baseball projections. Only their own system came in as more accurate than ATC. In my own game theory projections comparison, of those surveyed – ATC ranked as the top projection system over the past two seasons. Both of those studies are worth a read!
–
What early findings have you discovered from ATC? Let us know in the comments below!
I want to wish all of you the best of luck in the upcoming 2020 fantasy baseball season!
Ariel is the 2019 FSWA Baseball Writer of the Year. He is the creator of the ATC (Average Total Cost) Projection System. Ariel was ranked by FantasyPros as the #1 fantasy baseball expert in 2019. His ATC Projections were ranked as the #1 most accurate projection system in 2019. Ariel also writes for CBS Sports, SportsLine, RotoBaller, and is the host of the Great Fantasy Baseball Invitational - Beat the Shift Podcast (@TGFBI). Ariel is a member of the inaugural Tout Wars Draft & Hold league, a member of the inaugural Mixed LABR Auction league and plays high stakes contests in the NFBC. Ariel Cohen is a fellow of the Casualty Actuarial Society (CAS) and the Society of Actuaries (SOA). He is a Vice President of Risk Management for a large international insurance and reinsurance company. Follow Ariel on Twitter at @ATCNY.