It's time we talked about the pitcher that just doesn't make sense.
Trevor Williams is an anomaly. We like to focus on peripheral numbers to get a better sense of how a pitcher is performing and Williams' under-the-hood numbers since July 2018 paint a mediocre arm:
Trevor Williams' Last 17 Starts
| SIERA | Strikeout Rate | BABIP | LOB Rate | HR/FB Rate |
| --- | --- | --- | --- | --- |
| 4.54 | 18.5% | .259 | 89.0% | 4.7% |
Yet across seventeen starts since July 11th, Williams is flaunting two ridiculous numbers:
1.60 ERA & 1.08 WHIP
How.
Williams' repertoire consists of a seemingly mediocre 91 mph fastball, a changeup that returns a 7% swinging-strike rate, and a slider with a career middling .260 BAA. These are pedestrian numbers for a three-pitch mix, yet 100+ frames have returned only 18 earned runs.
It doesn't make a lick of sense and I love when something doesn't make sense. It means there's something interesting to talk about.
So let's talk about it.
Pitching 101
Let's bring this down to its roots. Williams is a starting pitcher having success. I'm going to simplify successful pitching into three methods:
Strikeout everyone
Induce poor contact
Spin the wheel of fate and pray for its generosity
That's all there is to it. The more that you can get outs without balls in play the better, and if you happen to allow a batter to make contact, you need to do your best to force that ball to find a glove. Sometimes a kind word to the graces above can help.
Pitching is easy, clearly.
We can quickly throw out of the notion that Williams is mowing down batters. His 17% strikeout rate and 9% overall swinging-strike rate across those seventeen starts are below league average and we can pat ourselves on the back for getting rid of this possibility so quickly.
This very moment is a rare one: I can actually tell what you're thinking. This is without a doubt good fortune and nothing more.
That's obviously the case with his low BABIP, stupid high LOB rate, and a minuscule HR/FB rate. The thing is, and this is the actual meat of this article, what if a pitcher could dictate what we label as luck?
We've seen pitchers in the past "Beat their FIP" while we've also seen arms consistently "underperform the peripherals". I outlined last year why I believe Noah Syndergaard's BABIP to always be inflated, while there have been other arguments made about a pitcher's command dictating a better ERA than DIPS would suggest.
It's not far-fetched that Williams has some special sauce constructed by numbers removed from our standard peripherals. Maybe it's a swirl of deception, spin-rate, and command. Maybe the late movement on his fastball is startling and deserving of its .143 BAA thus far. Maybe it does make sense after all.
The Mysterious Command of Trevor Williams
I'm far from the first person to discuss Williams this season, with FanGraph's very own (and very talented) David Laurila detailing discussions he had with Williams himself. There are many notable quotes, and this one in particular stuck out to me:
"My fastball is elite when it's executed properly," opined Williams. "Maybe not the velocity. Maybe not the [2,198 rpm] spin rate. But my ability to put the ball where I want to … that's elite, even if the numbers don't show that. I trust in my ability to locate it, and get outs with it."
Alright! Pack it up boys. It's not spin-rate, it's his "elite" ability to put the ball where he wants to.
I don't buy that for a moment.
Here are three heatmaps of fastballs. Two are from pitchers across 2018, one is Williams over this ridiculous seventeen game stretch.
Williams is the third one. Mild Shock. It's hard to replicate the high-heat approach of Jacob deGrom or the precision of Kyle Freeland to jam right-handed batters, but that's the point. Williams isn't an elite command arm. This is a fastball that is being thrown in the heart of the plate often, which I imagine isn't where Williams wants it to go.
I should note, I'm focusing on his fastball exclusively in these heatmaps. I could bring up his slider and changeup, but what's the point? His fastball is the pitch that is catalyzing his success while his secondary offerings sit in the camp of "not bad enough to make a difference":
Trevor Williams' 2019 Repertoire
| | Usage % | pVal |
| --- | --- | --- |
| Fastball | 69.3% | 6.8 |
| Slider | 15.4% | -0.1 |
| Changeup | 13.4% | -0.9 |
The numbers, tables, charts, all of the spreadsheet data we want is pointing toward luck and not command, and I can feel you getting restless. Worry not, we're going to the video now – it's about time- and this is where it gets interesting.
Are All Outs Created Equal?
Williams is starting just over an hour after this article's release with four starts already under his belt and those that catch this piece prior, I heavily recommend looking at what I outline below.
Jumping back to his previous outings, I first jumped to his game against the Nationals, wondering if there was something we were missing.
Watch this supercut of twelve batted balls of Williams from that evening:
How many of those do you think landed as hits? The answer is zero. None of these pitches resulted in an extra baserunner for Washington, part of the .154 BABIP they held in this outing. Notice the variety of missed gloves, hung breakers, and middle-middle locations that heavily point to luck being a major factor.
Now watch this supercut of twelve batted balls from his April 6th game against the Reds:
All outs once again, but these outs were well deserved. Locations on the edges, good break, jammed fastballs, swings on pitches off the plate, these are solid offerings and Williams' success here is a legitimate product of command. This is a man that seemingly earned a gap between his SIERA and ERA.
There is one element that seemingly distinguishes the outs earned in each of the games outside of their locations, and no, it's not the lineup Williams faced.
In the Nationals GIF, the majority – not all – were somewhat early in the at-bat relative to the Reds' at-bats, which were outs generally earned in deeper counts.
So I went digging. Here is the strikezone plot of pitches thrown within the first three pitches of Williams' at-bats this season: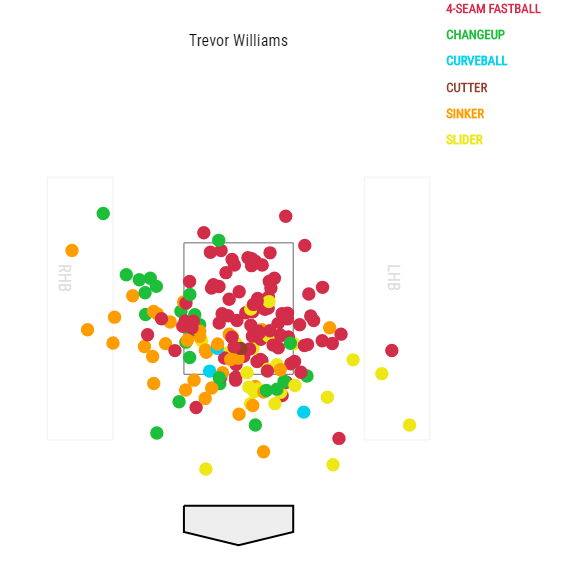 And here's the plot after the third pitch: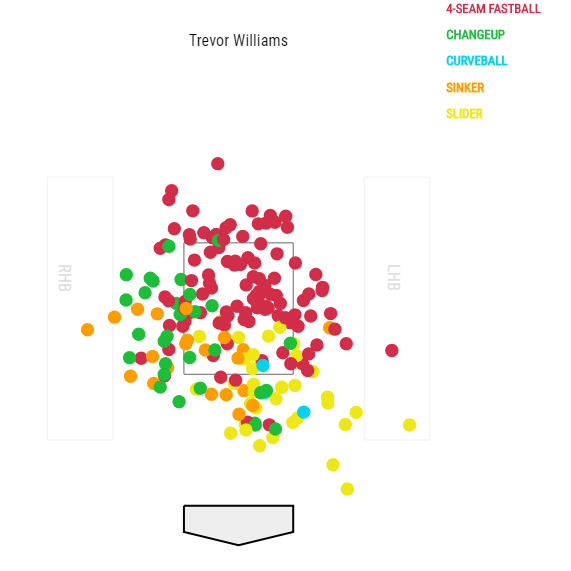 Williams has a strong tendency to pound the zone early – 70.7% First Pitch Strike rate! – and batters who swing early, are often rewarded with better pitches to hit. As the at-bat gets deeper, Williams nibbles more often and induces weaker contact.
This is rudimentary. You already knew that batters have worse averages in deeper counts. Williams should get some credit into feeding into this, though, and it does explain a little as to why there was a significant difference in the pitches that generated outs against the Nationals versus Reds. Williams needed a bit of luck to get through the Nationals lineup, but his success against the Reds was more deserved as the Cincinnati batters forced had patience at the plate.
The strikezone plot featured in the previous section makes sense as well. Williams is unabashedly throwing fastballs over the plate early…and even in later counts as well. It doesn't account for the wider strikezone as the at-bats progress, though, and these two plot hint at better command than I initially believed.
Conclusion
So where does that put us with Williams? It outlines a pitcher who can struggle against aggressive lineups, but can be effective when hitters are patient at the plate. That's not a blueprint for marks close to the 2.56 ERA and 1.03 WHIP we've witnessed from Williams thus far this year, and speaks more to a 3.80+ ERA and 1.25+ WHIP when the season comes to close.
Those numbers aren't inherently poor, especially in deeper leagues, but those thinking Williams has a magical gift are going to be plenty disappointed as the season plays out.
Trevor Williams isn't the next Kyle Hendricks. He's had his fair share of luck, though his heavy reliance of pounding strikes early has allowed him to take advantage of batters swinging on their heels in worse counts. It's working early, but it shouldn't last.
Nick Pollack is the founder of PitcherList.com and has written for Washington Post, Fantasy Pros, and CBS Sports. He can be found making an excessive amount of GIFs on twitter at @PitcherList.