We're still not a full month into the season, but a group of hitters are standing out atop the leaderboards ranging from superstar to fill-in. This week the "The 10" looks at a group that is reaching a level well beyond expectations thus far to see how they're doing it and whether or not it can sustain at a fantasy-relevant level.
Yoan Moncada, White Sox | .314 AVG, 19 R, 6 HR, 18 RBI, 2 SB in 93 PA
Moncada's first full season didn't exactly live up to expectations as he hit just .235 with 17 HR and 12 SB while leading baseball with 217 strikeouts. A breakdown of his bountiful strikeout rate showed that he had the most called third strikes last year (85), just a stunning amount. Jeremy Frank of MLBRandomStats highlighted this fact as well as the fact that Moncada hasn't struck out looking yet this year:
Yoan Moncada struck out looking 85 times last year (most in the 21st Century, likely most ever).

This year, he went his first 86 plate appearances before striking out looking for the first time.

Entering Sunday's game he was one of only seven qualified hitters without a ꓘ.

— Jeremy Frank (@MLBRandomStats) April 22, 2019
Through 21 games, Moncada's strikeout rate is down nine points to 25%. His walk rate is also down three points to 8%, but the tradeoff is worth it as the shift is borne of a more aggressive approach that is yielding massive early season results. A strong walk rate isn't always positive and Moncada may be showing a case where that's true. Sometimes they come from a passive approach meaning the batter may have let his pitch (or pitches) go by earlier in the at-bat, instead being left with an unhittable pitch that results a weak out, strikeout, or walk.
Moncada already has 4 HR in counts where he is ahead after 8 HR all of last year in such counts (255 PA). His work in even counts is more telling, though. He's got a .962 OPS in the 26 PA after a .605 last year (205 PA) and .555 back in 2017 (75 PA). His .500 BABIP in those counts won't last, but it will be interesting to see if he keeps attacking when he gets a pitch in those situations. Moncada's Statcast data is off the charts as he's obliterating everything, netting a 95.2 mph Exit Velocity and 19% Barrel Rate, both of which sit in the top 5% of the league. This may in fact be the arrival of the one-time top prospect.
Tim Anderson, White Sox | .403 AVG, 16 R, 4 HR, 13 RBI, 9 SB in 75 PA
Moncada's keystone partner brought some attention to his fast start with the bat flip heard 'round the sports world. He's riding an utterly absurd .463 BABIP to the batting average, but that's not the only reason for his success. Anderson is showing some punch with those four homers and both his Exit Velocity (87.5 mph) and Barrel Rate (a nice 6.9%) are tracking at career-highs, though they aren't exactly off the charts. His strikeout rate is also its lowest ever at 19%. Even as these factors regress back toward his career norms, he is setting a nice foundation to beat his .249 AVG from the last two years.
Perhaps more important than the batting aspect, Anderson has an MLB-best 9 SB thanks to getting on base so often (.427) and flexing his premium speed (28.7 ft/sec sprint speed – tied for 11th-highest). It would be nice if he walked at all (3% this year and career) to ensure he's getting on first base once when the singles start drying up as the BABIP re-enters the Earth's atmosphere. He stole 26 bags last year with a putrid .281 OBP, so it's fun to imagine what he might be able to achieve with even a .320 OBP, which still would've been in the bottom 40 of qualified hitters last year, but better than his 8th-lowest mark.
Hunter Dozier, Royals | .324 AVG, 12 R, 7 HR, 12 RBI, 0 SB in 86 PA
A couple years back a prospect guy I trust quite a bit tipped me off on Dozier. He told me to hang with him and maybe snag him in some dynasty leagues if possible. I was only in at the time and did just that. It was an inherited team that I've since passed on and I have no clue if the new manager held Dozier, but I haven't forgotten about him. Ever since then, I've been drafting him in 50-round Draft & Hold leagues and keep a close eye on him in case he became redraft viable.
He has become redraft viable.
Dozier wasn't a huge prospect, but did crack some Top 100s and was slotted 2nd in the KC system back in 2017. He had a 50 Future Value that year, but dipped to a 45 projection after stalling out bit before this year's surge. He managed just an 80 wRC+ in 388 PA thanks in part to an ugly 28% K rate backed by a meager 6% BB rate. He had some punch, but often hit it on the ground and chased far too much (36%) to find any regular success.
In just under a quarter of last year's plate appearance count, he's completely flipped the script. His strikeouts are way down (-8 pts to 20%), walks way up (+9 pts to 15%), and results are through the roof (187 wRC+). He's chasing a lot less (24%) due in part to just swinging a lot less (-13 pts to 37%). His Baseball Savant snapshot box is beautifully red: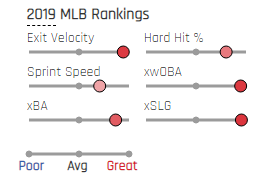 Unlike many power hitters, he puts all six in the red thanks to underrated speed. In fact, I highlighted his speed back in January. He's 0-for-1 so far on the bases, but when you're toting a .324/.430/.676 slash line, you don't necessarily need SBs. If he holds the gains from this new approach and continues to walk at a strong clip, it will sustain him even as he cools down and he will find himself on first base with some opportunities to run.
In that piece from January, I suggested a 20/10 season from Dozier, but with these changes, we can now dream on the potential of possibly emulating Cody Bellinger's 2018: .260/.343/.470, 25 HR, 14 SB. Or maybe Dozier's more like Kyle Schwarber from last year with a few more SBs. Schwarber had 7 HR, 15% BB, 24% K, and 155 wRC+ in April 2018, but ended with 26 HR, 15% BB, 28% K, and 115 wRC+ as well as four chip-in stolen bases. It's early, but these are major approach shifts and I'm really excited about Dozier. He is out of the lineup on Tuesday after leaving Monday's game with back spasms, but hopefully that's a short-term issue.
Christian Walker, Diamondbacks | .347 AVG, 13 R, 7 HR, 13 RBI, 3 SB in 80 PA
Walker is another Statcast darling as he is absolutely mashing the ball. Not even Joey Gallo is hitting the ball hard more often than Walker as he leads the league with a stupid 74% Hard contact rate, though Gallo does have in average Exit Velocity with a 3 mph edge at 98.9 (1st) to 95.9 (3rd) with Aaron Judge squinched in between them (98.4 mph). Walker doesn't have any substantive MLB track record prior to this year and was a fringe prospect in a thin Orioles system, but the power was always notable.
He was blocked by good Chris Davis in Baltimore and then Paul Goldschmidt in Arizona prior to this winter's trade. Even coming into this season, he was seen as a short side platoon behind Jake Lamb before an injury opened up Walker's role. He has taken full advantage and certainly bought himself some time even when Lamb returns. Early on, the 28-year old is looking like a prime candidate to be this year's Jesus Aguilar with a head start, too, as Aguilar only popped 1 HR in 52 PA during April last year before smashing 34 in the final five months. Walker's 74% Hard contact rate, 37% HR/FB rate, and .429 BABIP will undoubtedly come way down, but he could easily end the season with marks of 44%, 24%, and .309 like Aguilar did last year.
Clint Frazier, Yankees | .324 AVG, 10 R, 6 HR, 17 RBI, 0 SB in 73 PA
Frazier was a mainstay on Top 100 lists for four seasons before finally expiring his rookie status in 2017, last hitting 34 on our list. Concussions limited him last year, but he did play a nice 69 games between the minors and majors, including 10 HR, 4 SB, and a 170 wRC+ in 216 PA at Triple-A. He has essentially a full season's worth of time at Triple-A over his career during which he hit 25 HR and had 13 SB in 665 PA. An Opening Day outfield of Giancarlo Stanton, Aaron Hicks, and Aaron Judge with Brett Gardner as the fourth man left Frazier on the outside looking in, but now the three starters are on the shelf and Frazier is getting his chance.
A disjointed 142 PA in the second half of 2017 makes up the bulk of Frazier's MLB time prior to this year and while he managed just an 82 wRC+, there were still positive factors, including a 12% Barrel rate and 28.8 ft/sec sprint speed. He's very open about being aggressive as he made clear to Eno Sarris and I in an AFL interview back in 2015 when he said he's up there to eat. That didn't preclude him from posting a solid 10% BB rate in his Triple-A career, but he's at just 6% in his 256 major league PA. As long as his aggression doesn't lead to chasing chasing (26% career, 4 pts better than league average), he can succeed with a modest walk rate.
As for his playing time when the starters return, we can worry about that later. The fact is that they won't eschew a one-time prospect who is raking so they will find him some reps. Judge may not be back for a month, giving Frazier plenty of time to establish himself. I see it as a battle between Frazier and Luke Voit as the DH gives them the extra spot to play with should everyone come back healthy in a timely manner (which, of course, is faaar from a guarantee). Don't sweat that, just roster Frazier and deal with that down the line.
Jason Heyward, Cubs | .351 AVG, 14 R, 4 HR, 11 RBI, 3 SB
Please let this be real! I really like Heyward just as a player and person so I root for him, but he has been brutal at the dish the last three years. Even with premium defense, he has combined 4.0 WAR in those three seasons. In just 72 PA this year, he's at 0.6. He doesn't have some of the massive profile shifts of other guys in this list, but a host of small changes have added up to produce the surge. Of course, that also means that could just be a blip, something similar to his June of last year when he hit a season-high 3 HR with an .873 OPS, but let's look at the factors you should track as the season wears on.
His walk rate is massive at 17% and he's always displayed a solid eye with a 10% career mark in 5063 PA, but we're still about 50 PA from the stabilization point of walk rate meaning there's still some noise here. I have little doubt he'll hold a 9-10% mark, but whether or not he'll be among the league leaders remains to be seen. Lowering both his swing (-5 pts to 40%) and chase rates (-7 pts to 25%) has aided the walk spike and contributed to the power surge as well. I will be zeroed in on both of these metrics the rest of the way. The 5-point gains in Hard contact and flyball rate are far too noisy to consider as bankable changes right now.
The contract and defense will keep him in the lineup regularly and hopefully the 29-year old has figured some things out to get back into the mold of the guy who averaged 16 HR/14 SB with a 118 wRC+ from 2010-15.
Jorge Polanco, Twins | .392 AVG, 14 R, 4 HR, 9 RBI, 0 SB in 84 PA
Perhaps the weirdest thing about Polanco's early season surge is that his .424 BABIP has come with a 53% flyball rate. Usually a gaudy BABIP comes via groundballs and line drives. His power has exploded with 4 HR and 3 3B, nearly matching his 6 HR/3 3B output from 2018 (333 PA). He also has 6 2B, giving him a 45% extra-base hit rate, which helps explain why he's attempted just one stolen base (and was caught).
Polanco is one of five guys with four 3+ hit games (Anderson is another) and his .833 AVG in those games is the best of the bunch as are his seven extra-base hits. The fact is that we're still at the point where three or four huge games can sustain your line. The depth at shortstop made Polanco more of an intriguing target for the middle infield spot in fantasy as someone capable of a double-double atop a solid Twins lineup. He will obviously come way down from this insane level, but he may be primed to eclipse his home run projections and chase a 20-HR season.
Enrique Hernandez, Dodgers | .275 AVG, 13 R, 5 HR, 14 RBI, 0 SB in 81 PA
Perennial positional flexibility and a sneaky breakout against righties after a career built on bashing lefties made Hernandez a great late-round pick as he was expected to be the super-utility guy for the Dodgers again this year. Then he won the second base job outright and started to get some helium at the draft table. He has paid that off early on, though mostly by getting back to his roots of crushing lefties (.500/.636/.938, 2 HR in 22 PA) while a .216 BABIP has held him down against righties (.208/.271/.434, 3 HR).
I'm heartened by the power remaining, though, and that BABIP should not doubt rise and counter the inevitable drop of his .545 BABIP against southpaws. He's hitting the ball harder than ever, including an 11% Barrel rate and he's keeping it off the ground better than ever with a 34% groundball rate. Even just repeating 2018 makes Hernandez worthwhile in most formats and there's some upside to make him a clear all-formats guy.
Trey Mancini, Orioles | .347 AVG, 22 R, 6 HR, 14 RBI, 0 SB in 106 PA
The bulk of Mancini's sophomore slump was just the BABIP regressing from .352 past the league average around .300 all the way down to .285 which left him with a .242 AVG, down 51 points from his rookie breakout. Otherwise, he hit the same 24 HR and even walked a bit more, jumping a point to 7%. There were no changes in his batted ball profile that suggested he deserved such a stark decline in his BABIP. Everyone knew it'd come down from the .352, but he was probably a bit unlucky in 2018.
So far this year, he's riding sky-high with a .397 BABIP, good for a .347 AVG that has helped push him out to a 175 wRC+ thus far. His strikeout (21%) and walk (9%) rates are career-bests thus far, but I'm not really seeing anything fostering either change. That said, it doesn't mean he will automatically revert to to his 24% K/7% BB career marks as the 21%/9% combo is in the range of outcomes for this particular profile. He's smashing the ball and certainly looks more like the 2017 iteration than 2018. Smooth out the luck a bit and we could be looking at a mid-20s HR total with a .270ish AVG.
Brandon Lowe, Rays | .278 AVG, 11 R, 6 HR, 16 RBI, 2 SB in 86 PA
Lowe is selling out for power in his early season surge as his six homers has already matched what he did in 148 PA last year, but they have come with a 35% K rate, good for 5th-highest in the league and oddly one of three Brandons in the top 5!  A .364 BABIP has helped him maintain a .278 AVG despite all the swing-and-miss, but he'll become a batting average liability as the BABIP comes down if he continues to whiff like this. The downside could be something like Brian Dozier's 2018: 21 HR/12 SB, .215 AVG, but if he curbs the Ks, it could be more like Gregory Polanco's 23 HR, 12 SB, .254 AVG campaign.