Most times it's easier to get an idea of how a veteran pitcher will perform because of years of examinable data. With Gio Gonzalez and Julio Teheran, they have tons of data and each has beat their ERA estimators for years with no obvious reason why. They've beaten luck for years. Both are free with Teheran going with an average draft pick of 352 and Gonzalez with pick 632, so cost isn't an issue. So is either one worth a roster spot at no cost?
Gio Gonzalez signed by Chicago White Sox
Gonzalez posted a reasonable 3.50 ERA with a 1.29 WHIP in 87 innings of work with the Brewers. He's been able to walk the fine line walking too many hitters (3.8 BB/9 in 2019 and his career) yet limiting hard contact (0.9 HR/9 and .277 BABIP for 2019, 0.8 and .293 BABIP for his career). While he used to generate a decent number of groundballs (54% in 2015), he's no longer on either end of the batted ball spectrum. His pitches have some batted ball split with the change and curve over 50% GB% and four-seamer at 26% GB%. The combination is nothing special to explain the difference.

Also, since his peak production, he's lost almost 4 mph off his fastball and threw it at a partly 89 mph this past season. He's been able to remain relevant by throwing his effective changeup (8% to 32% usage) more and fastballs less (71% to 51%).
The problem with this past season, he threw great early on until arm fatigue and a shoulder injury caught up with him. From the first half to the second half, his velocity dropped about 1 mph and his walk rate nearly doubled (2.6 BB/9 to 4.5 BB/9). While he was able to limit the damage to his ERA (3.67), his ERA estimators were about a run higher, as they've always have been.
The big question for 2020 is which version of him will show up, if at all. While he had made over 30 starts for four straight seasons coming into last season, it's about impossible to get even a little bit excited about a 34-year-old coming off two arm injuries. But the first half did happen with his 14% K-BB% comparable to Jose Quintana and Marcus Stroman. And the White Sox have been known for keeping pitcher healthy. For the chance he returns healthy and productive, he shouldn't be ignored and someone should use a reserve round pick on him in any 15-team or deeper league.
Julio Teheran signed by the Orange County Angels
I've never fully understood how Teheran thrives as a pitcher. His career ERA (3.67) is over a half run lower than his FIP (4.23) and xFIP (4.37). Even with velocity (< 90 mph) at a career worse and his walk rate (4.3 BB/9) tied for his worst, he had an ERA (3.81) lower than his ~5.00 ERA estimators. Even more than Gonzalez, he's been able to suppress his BABIP (2.66 in 2019, .268 for his career).
Like with Gonzalez, Gio's low BABIP doesn't come from an extreme batted ball profile with a 39% GB%. Gonzalez's four-seamer does produce its fair share of flyballs (29% GB%) which end up as outs or homers. His sinker is decent with a 55% GB%. His non-fastballs are in the 40% GB% range. It's acceptable, not game-changing.
He does bring a couple of factors that may help him out. The first, which has been tested, is that he throws a diverse arsenal of pitchers (two fastballs, slider, curve, and change) each over 8% of the time. He keeps hitters guessing on which pitch is coming next.
This next advantage I have not verified statistically, but many times when I notice a pitcher is generating soft contact (see Johnny Cueto) is a constant pitch mix in every count. It's even hard for hitters to guess the pitch.
The best place to view this information is at Brooksbaseball with their pitch mix tables. The more it looks like Christmas (more variation), the worse the pitcher. For example, here is Gonzalez's plot from this past season.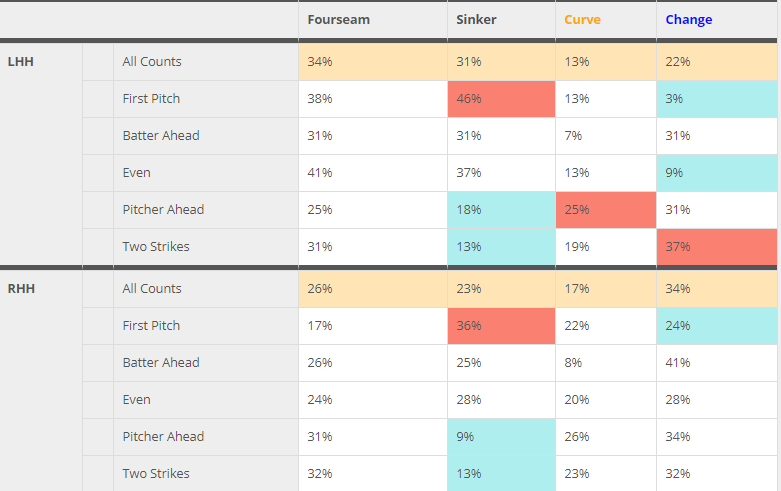 Look at all that red and green. Now, here is Teheran's table.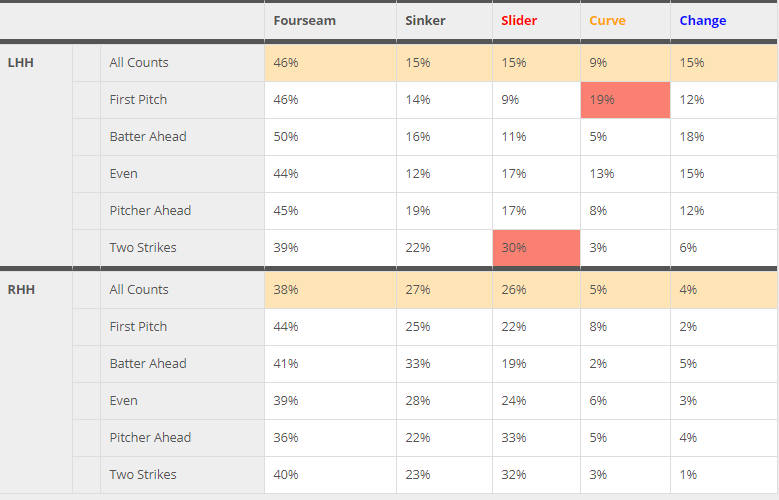 It's about as decorated as my place is for the holidays.
Teheran is able to keep hitters off-balance since he can't dominate them with velocity. It's a theory that may be hard to prove but it's slowly moving to the top of my to-do list.
While our projections have him for a mid-5.00s ERA and 1.45 WHIP, I think both are high and would be comfortable giving him a mid-4.00s ERA. It's not a great number. With his average strikeout rate and too many walks (4.3 BB/9), he's just a streaming option in deeper leagues. One "advantage" is that the Angels have few options at starting pitcher, so he'll be starting every five or so days.
I'm not going to recommend drafting Teheran. The past two season results are the upside to me. He'll be facing a DH more and his walks can be a WHIP killer. More importantly, there is no upside. None. I'd rather take a chance on Gonzalez's first half repeating than Teheran gaining 3 mph on his fastball and staying healthy … on the Angels.
While some beat your favorite author leagues will be starting soon, feel free to go to the NFBC and sign up for their Draft or Online Championships. Also, for those with deeper pocket books, the NFBC Main Events are quickly filling up.
Jeff, one of the authors of the fantasy baseball guide,The Process, writes for RotoGraphs, The Hardball Times, Rotowire, Baseball America, and BaseballHQ. He has been nominated for two SABR Analytics Research Award for Contemporary Analysis and won it in 2013 in tandem with Bill Petti. He has won three FSWA Awards including on for his MASH series. In his first two seasons in Tout Wars, he's won the H2H league and mixed auction league. Follow him on Twitter @jeffwzimmerman.