A team in the throes of a rebuild isn't expected to do much in the offseason, but the Marlins quietly put together a nice set of moves, acquiring a group of players they can either look to flip and strengthen their system or be some of the veteran pieces of their next quality team years down the road.
OTHER TEAMS:
3 QUESTIONS
Is there any hope for Lewis Brinson?
Remember when Brinson hit 5 HR in Spring Training and got a bunch of fantasy managers excited about his 2019? I guess we glossed over the 32% K rate. Or the fact that he put up OPS totals of .937, .973, and .951 in the three Spring Trainings prior to 2019. The spring surge proved to be indicative of nothing positive as he went on to be literally the worst hitter in baseball (min. 245 PA) somehow hitting 0 HR in 248 PA. He now has 709 MLB PA over which he's been – yep, you guessed it – literally the worst hitter in baseball (min. 700 PA) thanks to an impossibly bad .183/.238/.293 line in that time.
So you've probably figured out that I'm not about to do a 180 on the tenor of this write up and suggest there's some great hope for Brinson going into his age-26 season. Looking for comps from the 2000s who have put up a sub-50 OPS+ (using OPS+ since I'm going through the BRef Play Index) in 600-750 PA over their first three seasons returned nobody but Brinson so I bumped it to sub-60 OPS+ (or I guess 60 and below to be more accurate) and got these gems: Jason Tyner (55 in 742 PA), Ronny Cedeno (58 in 741 PA), Michael Saunders (60 in 635 PA), and JaCoby Jones (60 in 649 PA).
Yikes.
Saunders is the best-case scenario as he followed it up with a three-year stretch of a 111 OPS+ with an average of 13 HR and 13 SB per year, though injuries limited him to just 1284 PA in that span (2012-14).
How many SB can Jon Berti get as a part-timer?
Berti curried quite a bit of fantasy favor with 16 stolen bases in the final two months of the season while also hitting .282/.355/.415 and scoring 39 runs in 217 PA. After the Marlins offseason moves, Berti is left without a spot but with major league time at shortstop, third base, second base, and the entire outfield, he should find semi-regular opportunities as a spot starter and regular in-game substitute. This shouldn't stop him from swiping enough bases for fantasy relevance in all formats.
Consider him the present-day iteration of what we regularly saw from Rajai Davis and Jarrod Dyson during their careers and they were always limited to just the outfield to garner their playing time. Davis averaged 30 SB across 329 PA in his 14 seasons, which includes two essentially dead seasons during which he had 17 and 26 PA. Take those out and he averaged 34 SB in 380 PA. Dyson had 25 SB in 262 PA across 10 seasons.
Steamer tabs Berti for 236 PA, but just 10 SB in that time. I think that's 4-5 SB short with that playing time total, but I'm planning for more like 300 PA and also wouldn't rule out a plate appearance count north of 350 with the upside for more should an injury or underperformance create a long-term opportunity for him. Put him down for 17-20 SB with a real shot at 30+ if things open up.
Can Sandy Alcantara improve into an all-formats arm?
A bumpy start to his 2019 left Alcantara with a 5.11 ERA through his first eight starts before a May 19th shutout against the Mets kickstarted a 24-start run with a 3.52 ERA and 1.23 WHIP in 153.3 innings. Obviously, that's an arbitrary start point with a great start, but it did mark the beginning of some changes that he carried through the run. The sinker and slider got much better from that point on going from a .988 OPS (thanks to a .411 BABIP) in his first eight to a .677 (and .245 BABIP) in the final 24.
Some of that – as evidenced by the BABIP change – is his luck smoothing out, but as you know if you've been reading me for any amount of time, I don't like using BABIP as a luck-o-meter so it wasn't just happening to him without any influence of his own, on either end. His biggest change with the sinker was working it inside a lot more while he started to use his slider as an in-zone called strike monster. The zone rate went up 13 points while the called strike rate went up eight points. He did lose three points on his swinging strike rate with it, but it was still a better pitch overall.
Despite the extended run, he still only finished 87th among SPs in Razzball's Player Rater, likely due in large part to a paltry 18% K rate. That makes him valuable in 15-team leagues, fringe useful in 12'ers, but not exactly an automatic in 10 team formats. A sinker-slider guy is unlikely to completely transform his arsenal and become a strikeout-per-inning guy, but can he push into the 21-24% level while also cutting the WHIP and becoming someone to roster in all league types?
As-is, he has some K upside, but probably only for a tick or two, up to about 20%. To hit that next level that starts to approach a K-per-inning (or about 25%, usually), the slider needs to get better as a swing-and-miss weapon. He showed flashes with it, but not yet enough to bank on it. I'm hoping to see another step forward in his age-24 season this year.
While I'd love to also see some more four-seamers instead of sinkers, it's hard to suggest a guy throw fewer of his best pitch and that sinker has been a weapon for him. It just so happens to cut into his fantasy viability at the same time. So, I've taken the long way here, but I do believe he can improve into an all-formats option and it isn't just via the slider becoming a strikeout weapon. His changeup could be the avenue, too.
Alcantara should consider the changeup more in 2-strike counts. He only used it 14% of the time in such situations last year despite showing some strikeout ability with it, including an above average 42% K rate in 2-strike counts during his 24-start run. The 50 guys who had 80+ changeups thrown in 2-strike counts from May 17th on (I know, a lot of qualifiers) averaged a 40% mark. He can get whiffs with it in the zone and chases so if he's deadest on using the slider in-zone as often as we saw over the summer, then the changeup could be his strikeout pitch.
There's some upside here, but it requires some development in his arsenal. Thankfully, his cost doesn't assume such development as he's just 98th pitcher (including relievers) and 255th overall pick in NFBC Draft Champions leagues since the New Year. He's a good last SP option in 15-teamers, reserve pick in 12-teamers, and either reserve if have 7+ backups or at least a watchlist guy in 10 team formats. Don't sleep on the intriguing flamethrower.
THE RISER
Topps has this card set called Topps Now that highlights special moments across the year and makes them available for a limited time and they can range from something insane that has signatures of Albert Pujols, Shohei Ohtani, and Mike Trout on a single card making it worth nearly $10,000 to a free Card of the Month that highlights an electric run like Austin Riley's first 14 games.
The video game MLB The Show decided to incorporate a bunch of these into the game this year giving us a chance to get a better iteration of players to use on our virtual teams. One such card was an Isan Diaz that highlight his first career homer, which actually occurred while his father was being interviewed. And that's how I became more aware of Diaz. I knew the name. I knew he was sent to Milwaukee in the Jean Segura-to-the-D'Backs deal and then to Miami in the Christian Yelich deal, but that was about it.
I raked with this card so I started to follow him a bit more. In my Twitch stream he's nicknamed "Icin' These Fools" Diaz (even though it's pronounced E-sahn) because if you pitch to him, you're gonna get iced. The exciting debut homer was about all that went right in his debut, but the 24-year old second baseman definitely has some upside.
He's the "average-everywhere-making-him-an-above-average-composite"-type of player and I don't think the .224 BABIP and he can improve upon the 29% K rate he had in his 201 PA. His 26% Chase rate is much better than the 32% league average and his 10% swinging strike rate is just below the 11% league mark. In 2512 minor league PA, he averaged 21 HR and 14 SB per 600 PA with a .263/.360/.467 line including 29 HR, 9 SB, and an .885 OPS in 590 PA at Triple-A.
Diaz is unquestionably better than the 200 PA sample we saw in 2019, but how much better remains to be seen. I think he could be a sneaky .265/.350/.440, 22 HR, 10 SB option this year with a full allotment of playing time. He could lose time against lefties given their surprising bench depth and positional flexibility, but with 600 PA, I like him as a deeper league reserve and solid-average MI in NL-only leagues, especially at a thin 2B. If he does take a step forward this year, you could be Icin' the Fools in your league with Diaz in tow.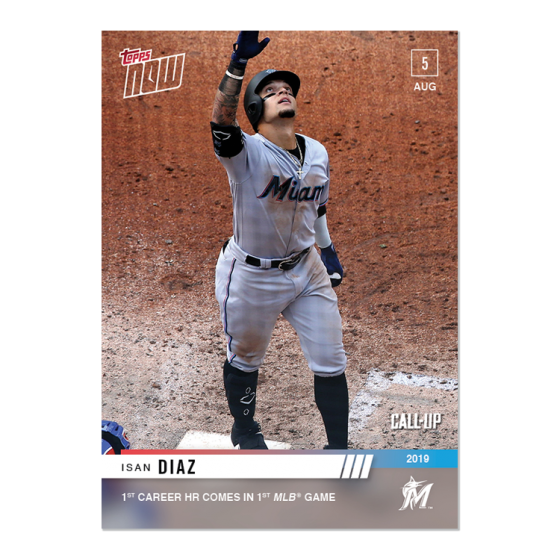 THE FALLER
This is 100% playing time related or else he'd have been in the section above. So while I respect the moves the Marlins have done to take themselves from embarrassment to simply a bad-but-rebuilding team, I'm bummed that it cuts deeply into the playing time of both Cooper and Ramirez, two guys I'm intrigued by, especially the former.
I don't want to overstate the .287 AVG/25 HR/80 R & RBI full season pace that Cooper had over the final five months of the season as it's not exactly something that will propel your 10- or 12-team league to a title, but as someone who leans toward 15-team leagues, these glue guys who can either be set it and forget it 5th OF/UT types or spot starters who can you supplement injured star talents for 2-3 week chunks with are very useful.
Injury or underperformance could get Cooper back into a longer-term role in LF, RF, or 1B, but as it stands now, he's on the bench and thus my faller after an impressive 2019 season.
A MOVE TO MAKE
Honestly, they've made enough moves and some really good ones at that. I think the additions of Villar, Aguilar, and Dickerson were all sharp. I'm not sure there's really a viable move I can predict for them at this juncture of the offseason.
PLAYING TIME BATTLE(S)
Center Field: Lewis Brinson v. Harold Ramirez
It was hard to envision Brinson getting worse than his 56 wRC+ output in 406 PA during the 2018 season, yet he blew well past that and cut more than in half with just a 25 mark in 248 PA last season. Yikes. He now has a career mark of 43 in 709 PA and he's still 26 years old, the likelihood of him coming out of this is slim. That said, he's penciled in as the CF starter as of now.
I imagine the fact that he has barely over a full season's worth of playing time and was regarded as the key piece in the Yelich deal is what gives him the leg up on the battle heading into 2020. His only perceived advantage over Ramirez is defense, but the metrics aren't even sure about that. Ramirez only has 162.3 innings out there compared to Brinson's 1431, but they've both ranged from average to just below.
Heading into 2020, I'd give Brinson the edge in defense with nearly 10x the playing time, but it's not a big enough edge to cover the Grand Canyon-sized split between them in hitting, even with Ramirez only posting a 92 wRC+ in 446 PA debut. Brinson had a speed edge from their prospect days, but that has been closed as their sprint speed was just 0.6 ft/sec apart in 2019 and their home-to-first time – which is more important for fantasy purposes given its relation to SBs – was identical.
I mentioned Ramirez in the faller section with Cooper because he's also been displaced by the additions, but Brinson's tenuous hold on the CF job puts Ramirez in a position to get playing time and even a full-time role relatively early into the season if the incumbent doesn't start showing some major improvements. Continuing the theme of these Marlins that I like; Ramirez is a great deep league reserve pickup as he offers the asset toughest to find late in drafts: AVG.
He hit .276 in 2019 and with his above average speed and decent contact ability, he could push it even higher. Plus, that speed could foster some more SB opportunities. He did average 19 SB per 500 PA as a minor league and it's not at all impossible to see him netting that much time.
PROSPECT CONTRIBUTORS FOR 2020
Hitter: JJ Bleday
I've spent a lot of this piece pointing out how crowded the Marlins outfield is so I understand if you're puzzled by me highlighting an outfielder here. Of course, it was him or one of two other OF – Monte Harrison or Jesús Sánchez – so I just chose my favorite of the bunch. The fact is you never know how things will play out with injuries or performances so mentally blocking off a prospect is always dangerous. One of the biggest examples of this was Cody Bellinger on his way up. Bleday isn't Bellinger, but I'll focus on discussing the skills and letting the playing time chips fall where they may.
He was draft 4th overall just seven months ago, but the 22-year old Vanderbilt product could find himself on a fast track if he hits the ground running in 2020. He should start in Double-A so it's hardly a stretch to see him up at some point. His fantasy profile won't jump off the page because he doesn't have any elite tools, at least not any that translate into huge fantasy production.
His power, speed, and hit tool all project to be average or better. That adds up to a really nice player, capable of upside that yields a .280+ AVG, 25+ HR, and 10-15 SB. He only has 151 pro plate appearances under his belt, though, so his development path could surpass what we currently have in our minds… or in our 2020 prospect list for the Marlins.
Pitcher: Sixto Sanchez
The gem of the J.T. Realmuto trade, the 21-year old righty has a real shot at debuting this year, particularly if he picks up where his 2019 left off. He closed the Double-A season with a 0.95 ERA and 0.74 WHIP in 47.3 innings with 39 strikeouts and 7 walks. He's ticketed for Triple-A to start 2020 after 103 total innings of a 2.53 ERA and 1.03 WHIP and it could take a couple months, but as long as he doesn't implode, he's up this year at some point in the summer.
I love prospect arms with a changeup ready to go and his change might the best pitch in his arsenal. Given his upside, he'll be one of those prospects who is worth a look in FAAB for every format just because he could go off so stay tuned during the summer.
UP NEXT: Minnesota Twins