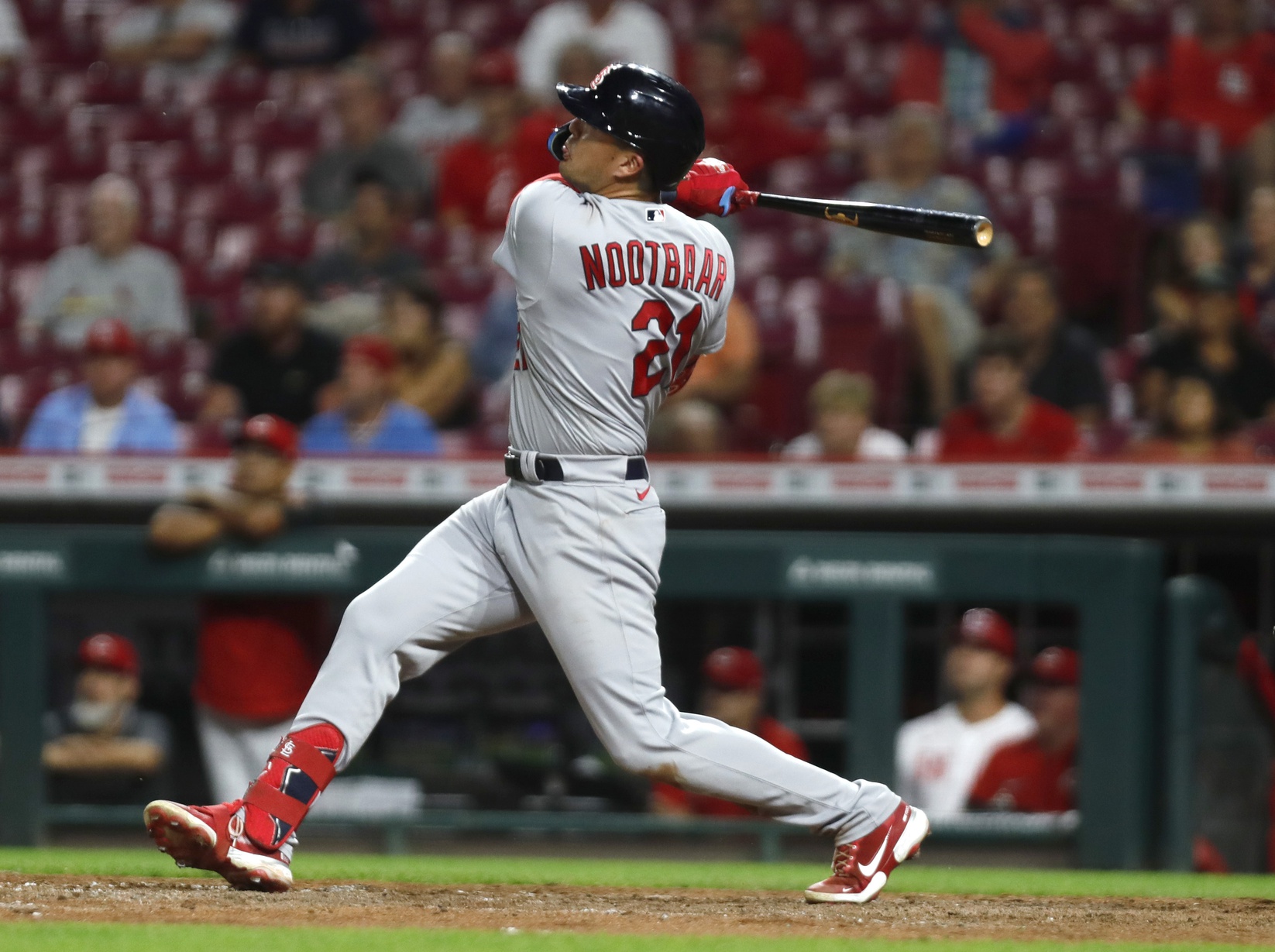 As I did in the 1B piece, I'll ask that we not get too hung up on the actual phrasing of "breakout". These are guys I like above their market price and have them easily outperforming their draft cost.
Lars Nootbaar | STL  
My Projection: .267/.357/.451, 23 HR, 76 R, 69 RBI, 8 SB in 583 PA
Yep, I'm on the Noot Train. I'm just a sucker for a plate profile like that (0.72 BB/K – 16th highest among hitters with 300 PA, tied with Nolan Arenado). He's got enough pop to chase down a biiig homer number, too (30+). I thought he was going to be a Wide Awake Sleeper – sleepers on every list, robbing them of any real draft value – but the early Main Event drafts saw him dropping so you can still get him as a reasonable price (ADP 188). He does have 6 SBs in 471 MLB PA, too, so I wonder if he could be a sneaky double-digit guy by taking advantage of the new rules. He is 2-for-2 on the bases in the WBC.
Jake Fraley | CIN
My Projection: .251/.347/.451, 19 HR, 63 R, 63 RBI, 14 SB in 501 PA
I had to have a Red, I've put half their damn team in these breakout write ups! This is simply a continuation pick from last year because he didn't get the chance to finish the breakout. He was good when he played (121 wRC+, 12 HR, 4 SB in 247), but was limited to 68 games due to injury. He's healthy and dominating this Spring with 3 HR/4 SB in 44 PA and if his body cooperates, there's a big season coming this year, especially in that ballpark.
Kerry Carpenter | DET
My Projection: .239/.291/.442, 23 HR, 60 R, 64 RBI, 4 SB in 525 PA
Looking for some pure power late in drafts? Carpenter is your guy. He was a non-prospect 24-year-old when he clubbed 36 HR at AA/AAA/MLB last year, including a capable 126 wRC+ with 6 HR in his 113 PA debut. It's definitely of the "all-or-nothing" variety, with a meager 0.19 BB/K and 28% K rate at the big league level (0.36, 22% were the MLB averages). Riley Greene gets all the attention when discussing the alterations at Comerica Park, but Carpenter is a lefty who will also benefit and could easily crack 25+ HRs in a strong side platoon role. If you miss out on Kyle Stowers, just take Carpenter right after (or vice versa, I like both!) as they are just 10 picks in Main Event ADP (Stowers 429, Carpenter 430).
Oswaldo Cabrera | NYY
My Projection: .246/.307/.411, 12 HR, 54 R, 60 RBI, 15 SB in 430 PA
Cabrera impressed in a super utility role last year, playing RF-LF-SS-1B-2B-3B across 44 games while putting up some solid numbers with a 111 wRC+, 6 HR, and 3 SB in 171 PA. The early injury to Harrison Bader has him in line for the RF starting role (shifting Judge to CF). He will likely shift back to the super utility when Bader is healthy, but this is a veteran team that doesn't exactly scream "Healthy!" at several positions. Even still, I planned for a conservative 430 PA. If he falls into a long-term everyday role, there is tons of upside in volume, let alone if he is able to play like the guy who had 26 HR and 21 SB per 500 PA in the high minors (AA/AAA).