This past weekend, I missed out on one of my favorite weekends when I head to New York for the Tout Wars 15-team mixed auction and the NFBC Main Event. While the NFBC Main Event was postponed, the Tout Wars auction went on but from the confines of our homes. Here are a few observations on a team I may not get to manage this year and how can these industry drafts help the people in their own leagues.
Thanks to Fred Zinkie and Tanner Bell who both jumped on Skype with me to bounce ideas off and at least giving me someone to talk to.
Preparation
Simply, I have a whole book on how I prepped for the auction. I didn't deviate from it except in the following few ways. Each will be incorporated into future editions of The Process.
First, I split apart the player pool into four groups: Catchers, non-catchers, starters, and closers. The tendencies of the league are set with each group having their own valuations. The big change for me is a separate catcher group. I didn't go through the whole replacement level valuations that boost up some catchers into the top-20 players and mess with the auction dollar distribution. Instead, I made them their own player pool. After catchers messed up my hitter valuations in LABR, I adjusted and fewer in auction adjustments were needed.

The second change I made was preparing for some overspending on starting pitching. It was not so much an adjustment but more of a mindset that I need to be more prepared for owners to change the league spending habits. In Rudy Gamble's LABR draft review, he noticed some teams going all-in with pitching in the draft. I needed to be ready for a similar herd mentality. In the end, it didn't matter with the historic split being 66/34 hitting/pitching and this auction at 67/33.
Next, I wanted to have an idea of the market value on the players. The NFBC ADP provided a great source for the pitchers but since Tout Wars is an OBP league, the only available option was the LABR draft. After I created my auction values, I compared them to the LABR draft. A huge contrast. It was like just a couple owners adjusted their valuations for it being an on-base league. Every deal I found involved a high-OBP hitter. In the end, none of these deals existed in my auction.
At least some of the owners I was up against spent the time to correctly evaluate players. With auctions, it may have just been five to six of us price inforcing the OBP valuations. It's tough to know. In leagues with one-off categories, it pays to correctly evaluate players. The advantages may disappear in auctions where a few owners may be fighting over the "values".
Finally, I changed how I set my final auction values. Historically, I've set them just off he projections and just trusted my projections. What I found was that some players had higher valuations than others that I draft before them for reasons like injury downside. So, I locked down the auction values and then moved some players. In most instances, the values didn't change by more than one or two dollars but at least I could bid off the values.
The Auction
The auction went over great as I perfectly implemented a "lesser stars-and-scrubs" approach. Instead of paying top dollar for the game's stars, I just held back and lived in the 5th round picking up players at or below my valuations. Here is the final team.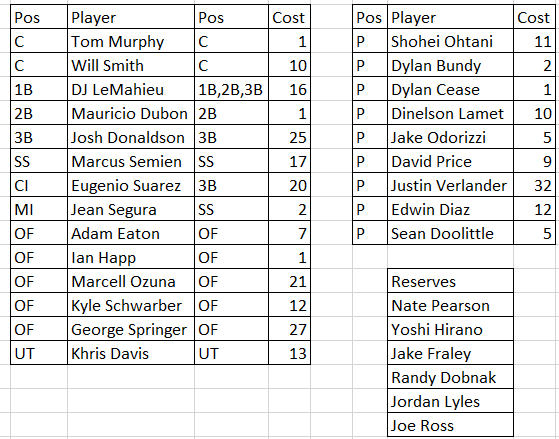 In all, I rostered $316 of (my) value for $260. My glaring weakness is my pitching anchors. I need Verlander and Ohtani to get healthy by the season's start.
My only two regrets were Dylan Cease (nominated for $1 and expected to go for more) and Jake Odorizzi (several pitchers I liked more went for less).
Also, I had to implement the five to 15 stolen base approach to try to be competitive in the category. The prices from any 20 SB player was out of wack. I had Dubon tagged as a negative player but took a chance on him breaking out. If he doesn't, LeMahieu can play first or second allowing me to added either position to help my team.
And then those beautiful reserves. All of the pitchers I had ranked over Cease. I had to decide between Fraley and Happ as my last $1 hitter and thought Fraley would drop to the reserves. He did and all the way to the third round.
Enough about my team and more about how the fantasy analyst participants can help.
The Twitter Question
During the auction, this question came across my twitter feed.
@karabelleric @KyleSoppeESPN @enosarris @jeffwzimmerman As I'm following along, I'm convinced that there is significant content that people would consume around following expert fantasy leagues. Not sure the medium or exactly what it looks like, but I think people would follow.

— m cas (@matthias_cas) March 15, 2020
Speaking for myself, I'd love to help but what exactly are people wanting.
Two responses came out of the thread. First, could the contestants' actions be live-streamed?
Good question. I could imagine people watching experts conduct commentary on drafts in a livestream. Maybe that's happening on Sirius (not able to follow there). I could also see demand for a podcast/YouTube of analysis of expert leagues. Content like would be fine for sports

— m cas (@matthias_cas) March 15, 2020
Yes and no. Most of the time, the auctions are live events that make it hard for someone to comment on when they have to vocalize their bids. The other issue with an auction is that the owner must make a decision on every nominated player. Between the bookkeeping, roster management, and player bidding, a ton is going on. They don't have time to answer keeper questions that appear in a chat.
Another response was for us to critique each other.
I'd be interested to read experts analyzing other experts drafts: Mistakes they see, forecasting, things they'd do differently etc.

— Gary Wise (@GaryWise1) March 15, 2020
This is not going to happen. While I happily take a public beat down, most of the people participating rely on others for writing opportunities and pay and will hold grudges … for years. Most take too much shit from the general public to also rip on each other. There are a few exceptions, but going against each other is not healthy.
If a non-participant wants to dive in, feel free. I'd love to discuss my choices. If someone feels they tear apart each team, know that some future doors may be closed from hurt feelings.
My question is, what information and hints can the general public take from these industry drafts and auctions that can be used in home leagues? Are we just bloating up our own egos or can value be extracted? Please let me know in the comments or on Twitter (@jeffwzimmerman). The fantasy industry wouldn't exist without the participants and we should try to provide the best content. Sometimes we just need a little help.
Jeff, one of the authors of the fantasy baseball guide,The Process, writes for RotoGraphs, The Hardball Times, Rotowire, Baseball America, and BaseballHQ. He has been nominated for two SABR Analytics Research Award for Contemporary Analysis and won it in 2013 in tandem with Bill Petti. He has won three FSWA Awards including on for his MASH series. In his first two seasons in Tout Wars, he's won the H2H league and mixed auction league. Follow him on Twitter @jeffwzimmerman.