Velocity Readings
● I'm continuing to track all fastball velocities on this spreadsheet which is updated when I feel like it.
● Martin Perez's made a few changes to his delivery and as a side effect, his fastball is up a couple of ticks.
Pérez said he's using his hips more in his delivery after working with new pitching coach Wes Johnson and his knowledge of biomechanics. Though Pérez insists he's not necessarily focused on adding velocity, his fastball showed consistent velocity around 95 mph for the second straight start — up from an average of 92.8 mph last season, per Statcast.

"Before, I just used my arms," Pérez said. "Now, I'm using all my body, and you guys can see the results. I don't miss inside anymore. One or two, but before, I missed — like I was trying to use all of my upper body. Now, I just stay on the line and just throw the ball in front of my eyes."
It could be an improvement in his results with his fastball getting the following results at different velocities.
MPH: SwStr%
90: 3.7%
91: 3.9%
92: 3.5%
93: 5.5%
94: 4.9%
95: 7.4%
96: 10.1%
It was nearly twice as effective at its new speed than the previous one. One problem is that no matter how much his fastball improves, his other pitches are lacking. His best non-fastball is his change but it just gets a 13% SwStr%. His curve (4% SwStr%) and slider (10%) are below average.
● Only one Spring Training facility has publicly available Trackman and luckily Jakob Junis threw at it. His fastball jumped by over 2 mph and he was trying to throw his change more.
Results on Junis's fastball at different velos:

MPH: SwStr%, GB%
89: 3.9%, 34%
90: 4.2%, 34%
91: 5.3%, 37%
92: 6.6%, 40%
93: 8.3%, 44%

— Jeff Zimmerman (@jeffwzimmerman) March 10, 2019
Junis went the full "Corbin" last season by throwing his slider 39% of the time so there was little room for improvement there. But he found another way. He's now in play in all formats, even he if starts the season as a bench option.
● Dellin Betances's fastball is down near 91 mph with him sitting near 98 mph during the season. He knows about the drop.
"I won't be all the way until May,'' Betances said of when the velocity — which routinely pushes the gun to near triple digits — will return. "I have done this already. It's always been a topic. Whenever Dellin Betances is throwing 88 to 90 everybody freaks out and panics.''
It's not even in Spring Training he has the lower velocity. It starts down during the regular season.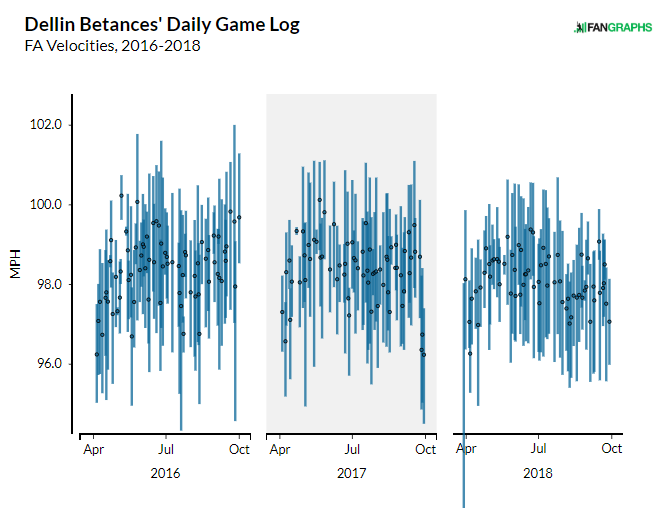 Knowing this trend (4.91 ERA in April last season), I'm completely out from rostering him. He's a middle reliever and others will be going full effort while he ramps up. There is no way I'll carry and middle reliever on my bench for a month.
● Michael Fulmer is sitting 88-92 after several appearances which is down 6 mph from last season. He may not be draftable at this low velocity.
Other notes
● While I need to catch Merrill Kelly's last appearance, here is a small taste of his four scoreless innings.
● Unless there is an injury to a major leaguer, Clint Frazier will start the season in the minors.
● Ian Kinsler will leadoff for the Padres … at least until he's forced to move spots.
● Shohei Ohtani backs off hitting to concentrate on pitching. I'm still amazed at how early he goes in drafts (234 NFBC ADP) with so much playing time downside.
● Marwin Gonzalez will replace Miguel Sano as the Twins third baseman until Sano returns in May.
● Brad Peacock is the leading contender for the Astros 5th rotation spot. Right now the rotation looks to be Verlander, Cole, McHugh, Miley, and Peacock.
Jeff, one of the authors of the fantasy baseball guide,The Process, writes for RotoGraphs, The Hardball Times, Rotowire, Baseball America, and BaseballHQ. He has been nominated for two SABR Analytics Research Award for Contemporary Analysis and won it in 2013 in tandem with Bill Petti. He has won three FSWA Awards including on for his MASH series. In his first two seasons in Tout Wars, he's won the H2H league and mixed auction league. Follow him on Twitter @jeffwzimmerman.