A few days ago, I did a deep dive on several hitters I felt that I needed to personally adjust their projection. Today, I'm going through a few more. This analysis is focused on the player's talent profile changing and not on playing time.
The reason Dejong popped up on my radar was his broken hand from mid-May to early July. It seems like he may have returned a little too early and his results suffered.
Month: OPS
Apr: .866
May: .728
June: DNP
July: .589
Aug: .726
Sep: .777
And here is a visual representation of the drop and rebound.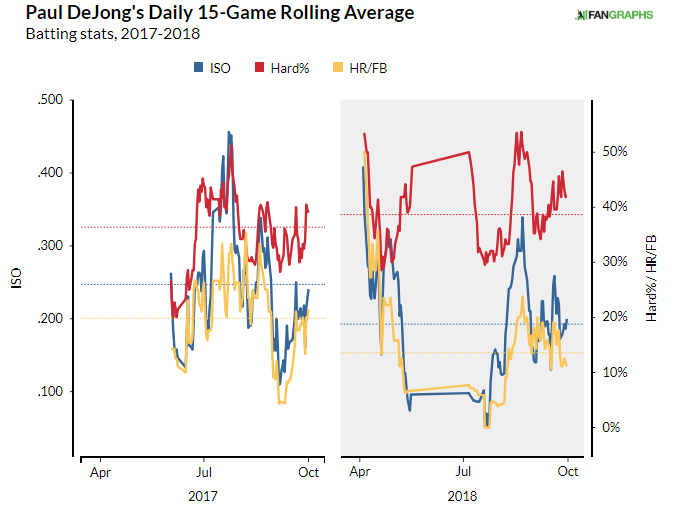 Steamer projects him for a .253/.311/.449 triple slash after hitting .241/.313/.433 last season. The Steamer projection (.760 OPS) was similar to his "good" months but less than his .857 OPS posted in 2017. I might take injury into account as a tiebreaker, but I don't see a reason to really boost his value.
The 24-year-old started the 2018 season off on a sour note with a broken pinky and was limited to 460 combined games between AAA and majors In those games, he stole 18 bases but also hit 19 homers which were a career high for a combined season across various levels.
I spent some time to see if any major changes where behind the power bump and I didn't find any. His projections are being dragged down by a disappointing (.227/.298/.369) 2017 season in AA which forced the trade from the Astros to the Athletics. The 2017 season seems to be more the exception than the rule with Laureano.
I'm not going to adjust his projection, for now, but be he's someone who I may move if any more information becomes available.
The 25-year-old Winker is a tough player to evaluate. He's a high average (.299 AVG in 471 PA) and on-base hitter (.397 OBP) with some pop (14 homers). His projection is tough to nail down with some indicators going up and some down. On the positive, he dealt with two shoulder injuries (mid-April and mid-July) with the first one sapping his power and the second costing him his season. After the first injury, his power continued to climb until the second injury. There may be more power in his profile than previously seen. A .300 hitter with 20 homers with the 200th pick sounds enticing.
The first problem is that shoulder. Will it continue to be an issue going forward sapping his power. Winker mentioned a couple months ago that the shoulder was doing fine. I'd still like to see his spring training power to see if he's 100%.
Also, Winker can't hit lefties. In his two major league seasons, he's posted a .924 OPS against righties and just a .595 against lefties. The split makes him a candidate to get platooned. His overall projection should get worse as his playing time increases.
His .284/.377/.439 with 15 HR projection seems reasonable considering the possible missed time and injured shoulder. I wish his price was a little cheaper where I could easily roster him and move on without reservation. I'd prefer to own the next hitter I'm going to examine ….
Dickerson falls into the same theme with the previous three players, changing skill set but I'm not sure how much it changes his projection. First off, like Dejong, he dealt with a mid-season injury (ankle in late-July) and struggled after coming back. He posted an August OPS of .468 OPS in 94 PA while hit a .920 OPS in September.
Additionally, the left-handed hitter had shown some extreme platoon issues before 2017 but it has been two straight seasons of reasonable splits (.827 OPS vs .735 in '18).
The biggest change was lowering his strikeouts from three straight seasons of a 24% rate to just 15%. The catalyst behind the change was his in the zone contact rate going from 74% to 85% mainly on four-seam fastballs. Here are his yearly four-seam swinging-strike rates.
Year: SwStr%
2015: 16%
2016: 16%
2017: 19%
2018: 9%
While I'm only looking at talent changes, the lack of a split helps his playing time. Additionally, how much did the August struggles bring down his projection? Some and I'll at least give him a 5% bump in his power across the board. As for the gains in strikeout rate, Steamer has him keeping most of them (19% K%). It's tough to know if 2018 will be the exception or the rule going forward but I like him as late gamble.
Jeff, one of the authors of the fantasy baseball guide,The Process, writes for RotoGraphs, The Hardball Times, Rotowire, Baseball America, and BaseballHQ. He has been nominated for two SABR Analytics Research Award for Contemporary Analysis and won it in 2013 in tandem with Bill Petti. He has won three FSWA Awards including on for his MASH series. In his first two seasons in Tout Wars, he's won the H2H league and mixed auction league. Follow him on Twitter @jeffwzimmerman.