I've got the draft and auction for two 12-team leagues coming. The Beat Jeff Zimmerman league is this Sunday night at 8 EST and also the mixed LABR auction in Florida. I've been grinding down the top-360 players (12 teams x 30 players per team). In these shallower formats, playing time is key for any mid to late-round targets. The following four teams are giving me pause when considering rostering some of their players.
Reds
The Reds have two or three too many players and several players will end up in the 450 to 550 PA range. When healthy, I believe Joey Votto, Mike Moustakas, Nicholas Castellanos, and Eugenio Suarez are safe. Freddy Galvis should be but his bat is so bad, he could lose playing time to possibly Nick Senzel.
The congestion starts in the outfield. Senzel is going to try to play center with Shogo Akiyama, Phillip Ervin, and Travis Jankowski as backup options. That leaves Akiyama along with Aristedes Aquino and Jesse Winker fighting it out for the right-field job.

I have a feeling Senzel is just going to get messed around. He could stick in center field or not. If not, does he get added to the right-field mess? Or does he go to shortstop? Or does he go to second if Suarez or Moustakas gets hurt? And what if Senzel can't stay off the IL? Who is moving to his Position of the Month? If he struggles, does he just go to the bench? I like Senzel, but I'd like to see his position and playing time be assured.
I'll roster the first four around their ADP but am moving Senzel to my reserve rounds.
Rays
Once a mess, always a mess.
When healthy, I feel good about Willy Adames and Austin Meadows getting full-time at-bats. That's it. Of the other two outfield spots, Kevin Kiermaier and Hunter Renfroe, one will be in a platoon with Yoshitomo Tsutsugo. Both are below against right-handed pitching (career 65 wRC+ for Kiermaier, 90 wRC+ for Renfroe), but so is Margot (75 wRC+). The other rookie options are also right-handed. If the Rays find another left-hander to fit into the mix, the other outfielder's playing time will drop.
Besides Adames, the infield continues where it left off last season with platoons across the board. Our Depth Charts are giving Brandon Lowe a little more love than I can. Lefty pitchers just tore him up with a 46% K%. One of the other righties will fill in for him when a southpaw starts. It's the Rays way. Third base will likely be a Joey Wendle and Yandy Diaz platoon. And the first base and DH situation have Ji-Man Choi, Nathaniel Lowe, Jose Martinez, and the DH flavor of the day (11 players at DH last season).
None of the platoon bats are worth drafting in a 12-teamer. Since they need a platoon partner, they are borderline talents, and the playing time drop makes them unownable.
Cardinals
I didn't see the Cardinals having playing time concerns until I really started investigating Tommy Edman. At the moment, he doesn't have a full-time job but has an average draft position (ADP) of 138. In 12-team leagues, he is a top-12 round pick. While the double-digit steals could be nice in the projected 450 PA, the R+RBI total barely goes over 100. Carlos Santana, who is being drafted a few picks later, has an R+RBI total over 200.
The key to Edman's value jumping is Matt Carpenter's health which isn't as bad as some people make it out to be. He's averaged 589 PA over that past four seasons. Before then, he had three straight seasons of at least 665 PA. Last season, he went on the IL for a lower back strain and a bruised foot. The back could be a chronic issue since it has flared up in the past. I could see owners shying away if they need to count on him but he was great in 2018 and could lock down third base.
Edman also has the opportunity to play in the outfield where none one stands out. The three spots need to be shared between Tyler O'Neill, Harrison Bader, Dylan Carlson, Dexter Fowler, and Edman. Who out of that group has the talent to obviously demand a job no matter how much they struggle? I can't see one. In this shallow of a league, it's impossible to count on any of these suspect talents. I'll gamble on Edman if he falls but someone will draft him before I can.
Bonus Call: Austin Dean will be this year's Cardinals mystery breakout player. The ex-Marlin is projected to have the fifth-highest wOBA on the team.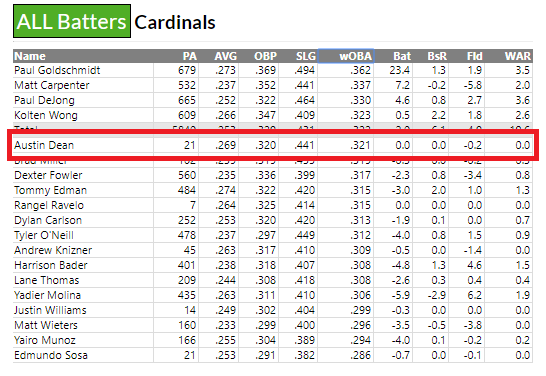 Orioles
Figuring out the outfield playing time is tough. At least until Chris Davis is released or several bodies go on the IL. The playing time issues start at third base where Rio Ruiz pushed Renato Núñez to the DH. With the DH spot full, Chris Davis will need to show off his ineptitude at first. Trey Mancini is pushed to the outfield. When Ruiz and Davis fail, Mancini moves out of the outfield mix.
In addition to Mancini, the other outfield options are Anthony Santander, Dwight Smith Jr., Ryan Mountcastle, D.J. Stewart, Austin Hays, and Cedric Mullins II. They all have enough talent to be interesting, especially Hays who could hit 20 homers and have 10+ steals. I believe a couple of players out of this group will be useful by the season's end. It's just impossible to know who gets the majority of the playing time. I'm going to closely monitor the Spring Training lineups to get a better idea of the Orioles plan.
Jeff, one of the authors of the fantasy baseball guide,The Process, writes for RotoGraphs, The Hardball Times, Rotowire, Baseball America, and BaseballHQ. He has been nominated for two SABR Analytics Research Award for Contemporary Analysis and won it in 2013 in tandem with Bill Petti. He has won three FSWA Awards including on for his MASH series. In his first two seasons in Tout Wars, he's won the H2H league and mixed auction league. Follow him on Twitter @jeffwzimmerman.