With people already participating in 2020 drafts, I thought it was time to see where and if any positional tiers exist. I don't believe in making up a tier where a dropoff doesn't exist. I'm more looking for spots where for two or more rounds, a position should not even be in consideration to be drafted. Also, is there a point where the position just falls off and no one decent is left?
To set up the tiers, I used this 15-team Roto setup and our Depth Chart projections. I know everyone won't agree with all the projections. I don't, but they'll provide a nice guideline for this discussion. It's time to start with catchers.
Catcher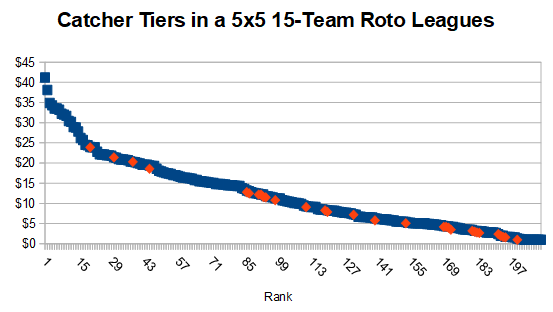 Tiers
Tier 1. It's four options and then wait.
Tier 2. The rest of the options are evenly spaced until the end.
First Base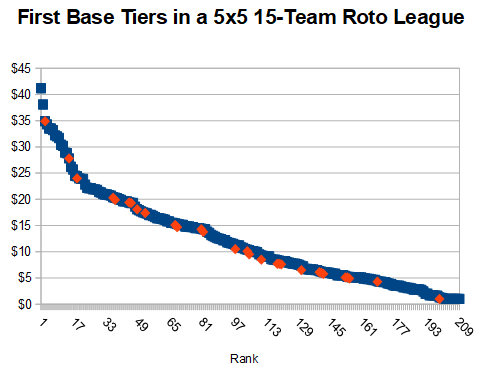 Tiers
Tier 1: Three options are in the steep initial drop.
Tier 2: Five guys make up this tier in the $19 to $20 range.
Tier 3: Four more guys are clumped in the $14 to $15 range
Tier 4: The spacing between is even in the $10 range but the options are suspect (see Joey Votto).
Second Base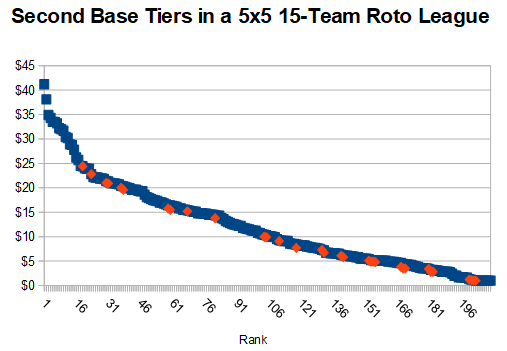 Tiers
Tier 1: Six options fill this grouping from $20 to $24. No one player makes the steep drop with Altuve's stolen base drop costing him.
Tier 2: Just four options between $14 and $16
Tier 3: If an owner missing out on the few top options, they have several chances under $10. In a 15-team league, at least five teams rostering a second baseman from this range.
Short Stop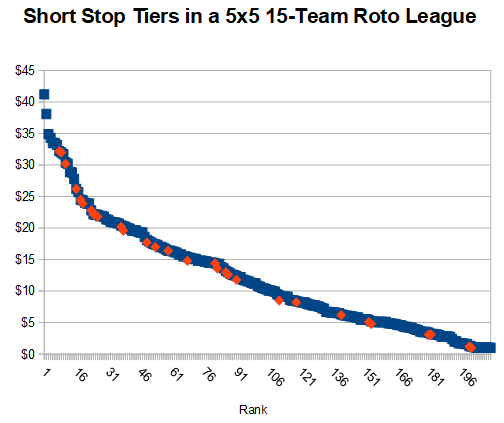 Tiers
Tier 1: It's a huge tier from $12 and up consisting of 21 players. There really is no gap. For a comparison, here are how many players the other infield positions have at $12 or more. Catcher: 8. First base: 13. Second base: 10. Third base: 18.
Tier Oh Crap: It's just a handful of guys under $10 and if a team couldn't get one of the 21 shortstops before now, they messed up.
Third Base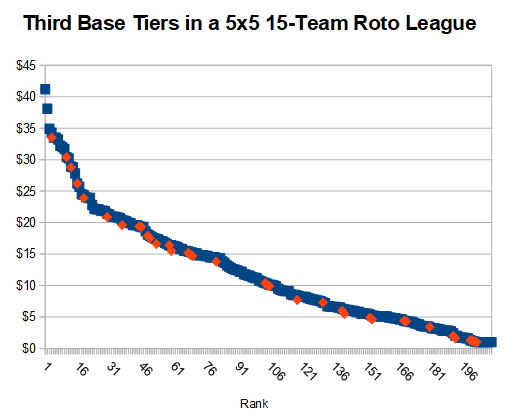 Tiers
Tier 1: If it wasn't for shortstop, third base would be getting all the love. The options are evenly spread down to the $14 level. Like with shortstop, teams need to probably grab their third baseman and stay out of the bottom options.
Tier 2. It's just a slow even decline starting around the $10 point.
Outfield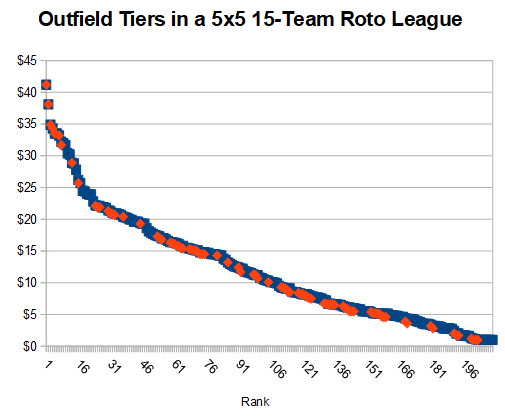 Tier
Just one which is pretty even throughout the entire player pool. No need to reach or worry about an outfielder being available.
Overall thoughts
Catcher is easiest to wait on. Every team is going to have to pick someone out of the bottom unless they double-tap the first few.
While I won't reach for a shortstop or third baseman, I would like to fill both before the bottom of the draft where the options dry up. I may have to fill my middle and corner infield spots from these two positions.
I need to accept that I may have a crappy 1B. Half the teams will. I might need to dig a bit through the later options for a couple of upside plays.
I'll need to accept picking off the bottom at second base. It's another player pool I need to be familiar with.
And all the preceding takes could be complete rubbish by season's start since the offseason has just started.
The paperback version of The Process (@FantasyProcess) is now available at Amazon. Any customer reviews would be greatly appreciated. The .PDF version is available from the website. Thanks to all new and returning customers.
Jeff, one of the authors of the fantasy baseball guide,The Process, writes for RotoGraphs, The Hardball Times, Rotowire, Baseball America, and BaseballHQ. He has been nominated for two SABR Analytics Research Award for Contemporary Analysis and won it in 2013 in tandem with Bill Petti. He has won three FSWA Awards including on for his MASH series. In his first two seasons in Tout Wars, he's won the H2H league and mixed auction league. Follow him on Twitter @jeffwzimmerman.