Catchers … what a dumpster fire for a fantasy position. I can't remember it being worse. It probably was at some point but with the increased knowledge of pitch framing, more horrible hitting catchers are accumulating plate appearances. Today, I'm going to go through the natural catcher tiers for various league types and show where owners need to buy for the best values.
Before I go any further, I need to explain a few concepts. I'm going to be using Standing Gain Points (SGP) to differentiate the various players. The main reason I like to use SGP is it takes all of player's Roto stats and combine them into a single value. This important with differentiating the value of a speedster leading off or a middle of the lineup slugger. Additionally, I'm using The Process's 15-team, two-catcher formula for all the following comparisons. It may not be the perfect formula when comparing different league types but it will provide a nice baseline.
To put into perspective how bad catchers are, I'll start with my recent non-adjusted hitter rankings. The first catcher, Gary Sanchez, was valued as the  88th hitter. The next two were J.T. Realmuto at 169th and Buster Posey at 170th. Overall, the position is a mess but I need to start the analysis by finding the talent range within the position before bringing in other hitters.
There is no better way to start the catcher discussion than the following graph of the top-40 ranked catchers.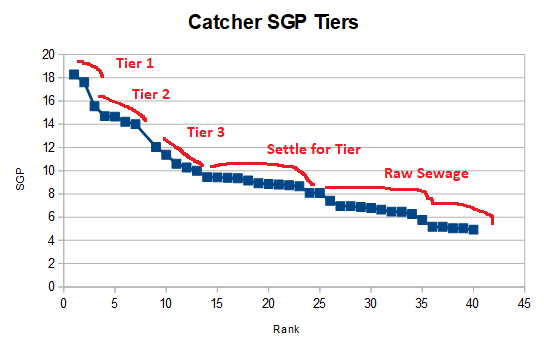 Before I go on, here the top-31 with the SGP for various leagues sizes.
Catchers Grouped by League Type & Ranking by SGP
The drop from the first tier to the second and second to the third is about 2 SGP which equates to about $4 in auction value (more on this in a future article) using a 67/33 split. These are significant breaks.
While I personally may be out of the top two who both have an NFBC (15-team, 2 catcher league) ADP (average draft position) of 59. The next five have ADPs of 105, 141, 144, 148, 156. I would like to emulate my closers strategy, I want to own one from this tier but hopefully, pay for just the last one.
The participants in the NFBC have also noticed this gap with the next catcher going at pick 243 and eight more going before pick 276. The similarity in pick and these values are almost eerie.
The talent really begins to thin out with catchers 14 to 23 separated by just 0.7 SGP. From there on, the talent pool just drops as playing time becomes harder to come by.
Using the above table, the replacement level talent in the tiers can be seen. "Talented" catchers with "decent" better replacements can normally be found in both one -catcher leagues. In two-catcher, 12-team leagues, the talent starts dropping off right at the last pick so the key here is to not be the last person taking a catcher. Finally, in two-catcher, 15-team leagues, there are the same top-23 guys and then raw sewage. My goal is to stay out of the sewage and get two of the top-23.
For a comparison of the various replacement levels, here are the stats for the three catchers at and around the last catcher picked for each league type.
Replacement Level Catcher Stats
| League Type | AB | R | HR | RBI | SB | AVG |
| --- | --- | --- | --- | --- | --- | --- |
| 12T/1C | 392 | 45 | 10 | 48 | 3 | .253 |
| 15T/1C | 363 | 42 | 13 | 45 | 2 | .231 |
| 12T/2C | 302 | 37 | 10 | 37 | 3 | .239 |
| 15T/2C | 337 | 33 | 7 | 34 | 2 | .236 |
The one advantage of getting one of the top-12 is a higher batting average and more counting stats.
The final step is to determine how much of a replacement adjustment should be included in for catchers. The key is to stay away from having to roster sewage, especially in both of the two-catcher formats. Here are the replacement level values for catchers and the rest of the hitter pool assuming 14 hitters with an extra Utility spot in the one-catcher leagues.
Replacement Level Catcher SGP Adjustments
| League Type | Non-C SGP | C SGP | Diff |
| --- | --- | --- | --- |
| 12T/1C | 14.7 | 10.0 | 4.7 |
| 12T/2C | 15.1 | 8.1 | 7.0 |
| 15T/1C | 12.4 | 9.4 | 3.1 |
| 15T/2C | 13.0 | 6.8 | 6.2 |
IMPORTANT NOTE. In the two-catcher formats, the replacement level for the catcher drops but also, the non-catcher adjustment increases. This increases because fewer non-catchers need to be rostered. The biggest replacement-level adjustments exist in two-catcher, 12-team leagues.
Going back to Sanchez, he is ranked as the 88th overall hitter but is going off the board as the 38th hitter in NFBC because of this adjustment. His value was at 19.1 SGP and adding in a 6.2 adjustment places his value at 25.3 SGP or the 16th most valuable hitter between Nelson Cruz and Bryce Harper. Catchers carry with them some extra perceived injury risk, so owners are going to let them fall some, but not too far.
Hopefully, everyone has a better understanding of the catcher landscape and when I post some overall rankings in a few days, I'll have this article to reference why catchers are so high. It's a win-win for everyone.
Jeff, one of the authors of the fantasy baseball guide,The Process, writes for RotoGraphs, The Hardball Times, Rotowire, Baseball America, and BaseballHQ. He has been nominated for two SABR Analytics Research Award for Contemporary Analysis and won it in 2013 in tandem with Bill Petti. He has won three FSWA Awards including on for his MASH series. In his first two seasons in Tout Wars, he's won the H2H league and mixed auction league. Follow him on Twitter @jeffwzimmerman.