While the NFBC Main Event garners most of the attention, there are a handful of leagues with even a larger entry fee ($2.5K to $15K). They get originally named "High Stakes Leagues" and this year there are nine of them. With so much money on the line, these fantasy managers are going to try to gain any advantage. Most of the time, these managers will be a week or two ahead of everyone else on their adds. Here are the players and some information on the ones added in four or more of these leagues.
Batters
Matt McLain (9): I ranked him as the best free agent add this past weekend and where possible, put in big bids for him including 41% of my full-season budget in NL LABR. The reason behind the agression was that his Steamer600 (ROS) comps looked great (ranked as 123 hitter using this method).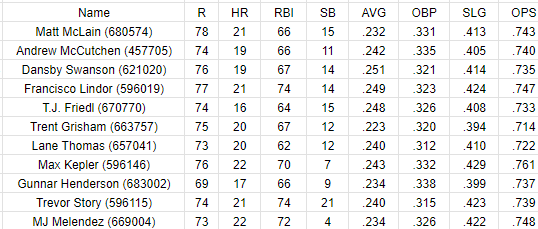 Edouard Julien (8): While Julien is struggling with contact in the majors (33% K%, .219 AVG), I expect a turnaround at some point with because of his AAA results (.287/.442/.481, 4 HR 3 SB). The reason that he's struggling in the major is ath pitchers aren't throwing him fastballs (38%, league average is 48%). He struggles against all non-fastballs, but especially changeups (47% Swstr%). It looks like he didn't chase them in the minors but major league pitchers are pounding the zone with them (60% Zone%).
One of my biggest issues with paying up for Julien was that he was there to replace an injured Jorge Polanco. Also Royce Lewis (1.313 in AAA) is about done with his rehab assignment. While there could be some upside with Julien, I just considered him to be a streaming option and limited my bidding.
Mark Vientos (8): Like McLain, my comps for Vientos were decent.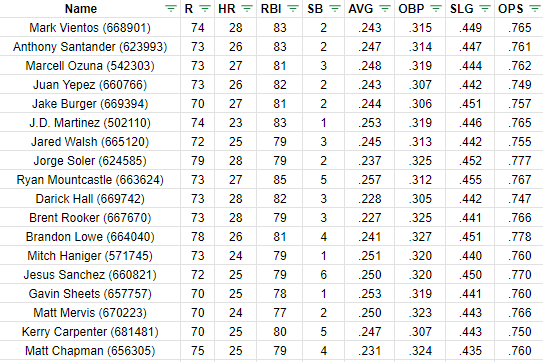 One issue with Vientos is that he's in a part-time role.
"We'll see how that role evolves"

Buck Showalter talks about what Mark Vientos' role with the Mets could be and the reports he's gotten from Triple-A: pic.twitter.com/RsIUtIGCHX

— SNY (@SNYtv) May 17, 2023
Since being recalled, he's started every other game. None of the above hitters would be rosterable with only 50% playing time.
The other issue is that he's only Utility qualified in some formats and will need five to ten games to qualify at third (at one game right now). In weekly or bi-weekly lineup leagues, he can't be positive contributor.
Garrett Hampson (8): There was no way Hampson was going to get by this group of managers. Hampson (.239/.272/.375, 1 HR, 3 SB) has started in seven of the last eight games. There is always the hope he could start running and carry a fantasy team in steals.
Additionally, he gets four games in Colorado. It is a perfect week to take him for a test drive.
Brenton Doyle (7): Even with a 35% K%, Doyle has a been a roto darling with 4 HR and 7 SB in just 71 PA. On top of that, he is getting seven games at home (.879 OPS at home, .734 on the road) this week.
Additionally, he has started in eight of the last nine games in center field. I'm a little surprised he wasn't added the previous week.
Jose Caballero (5): A Sunday 1 HR and 3 SB game will put anyone on these manager's radar. The 26-year-old wasn't on any prospect lists but some great plate discipline (30% BB% in AAA, 11% BB% in the major) was getting him some major league at bats. He was being block at second base by the struggling Kolten Wong (.468 OPS) but Wong has now headed to the bench. While only batting ninth, Caballero has started in five straight games.
He is projected to steal 25 bases over a full season and that's playable since he's a not a complete void in power. His stock could move even higher if/when he starts to move up the lineup.
Nick Fortes (5): In these two catcher leagues, about any catcher is rosterable, especially one with four games in Colorado.
Paul DeJong (5): For a bit, DeJong looked to be splitting time with Brendan Donovan and Tommy Edman, but sometime over the last two weeks, DeJong became the only option at short and has started 14 straight games.
DeJong's batting average used to be a liability with his pull heavy approach (49% Pull%), but the lack of the shift has him at a career-high .289 AVG (career.235 AVG). Additionally, he has 8 HR in just 93 PA along with 2 SB.
A shortstop power bat who is getting close to being a must-roster across all leagues.
Starters
Matthew Liberatore (9): He has been covered in detail by others, but I backed off my bids this past weekend when he threw out of the bullpen on Sunday. And quotes from the team confirm future bullpen usage.
On the #STLCards' plan for Matthew Liberatore: "In the short-term, he might be used out of the bullpen over the weekend, and then get another start down the road."

Full quote below.

Link to podcast: https://t.co/E08uKc3aDV pic.twitter.com/r281Gvw1OA

— Brandon Kiley (@BKSportsTalk) May 18, 2023
I'd not be surprised if he's a frustrating pitcher to roster with his role and usage up in the air.
Brandon Williamson (8): I did not understand this add, but it's probably that he has two scheduled starts against the Cubs and Cardinals. The 25-year-old survived a start in Colorado (1 HR over 5 IP, .091 BABIP) and posted an ERA and ERA estimators were under 4.00. The problem is that he has always struggled with walks.
In AAA this year, he had a 5.3 BB/9 (1.88 WHIP). Last year in AAA, it was a 5.3 BB/9 (1.63 WHIP). So regression came quick with him walking four guys on Monday thereby pushing his walk rate up to 5.4 BB/9.
While projections aren't everything, they project his ERA to be 5.00 or higher. Easy avoid.
Ryan Weathers (7): This was another guy I was generally avoiding. If a team was desperate for Wins, the start against Washington was somewhat intriguing. While his 3.42 ERA looks enticing, his xFIP and SIERA are over 5.00. The issue is that he's not missing bats (5.3 K/9, 8% SwStr%) and walking too many guys (3.4 BB/9 in the majors, 7.9 BB/9 in AAA).
None of his pitches are getting even average results so with all the walks, he projects to be a well below-average arm.
Ben Lively 라이블리 (5): I was a little intrigued with the 31-year-old Lively. In three games, one start, he has a 2.45 ERA, 3.19 xFIP, 0.73 WHIP, and 8.2 K/9. Those numbers will play over an entire season. While, he's struggled in the past (career 4.60 ERA), he has changed up his approach.
The big and most obvious change is that he's not throwing his well below-average fastballs as much. He has thrown them 60% of the time coming into 2023 but just 48% this year (42% in his last start). He's is focusing on his slider and its 15% Swstr%. Also, he has an OK change (11% SwStr%) and horrible curve that he needs to ditch.
There are some interesting parts to his profile and I wanted to see how he do against the Cardinals before a two-step the next week.
Dylan Dodd (5): Dodd falls into the same boat has Lively in that I'm interested in some aspects of his game but there are some obvious red flags. I like that in his last three minor league starts since his last demotion he has a 13.3% K%-BB% (Marcus Stroman at 13.2%). The problem with Dodd is that over the three game stretch, he posted a 3.7 HR/9. In three major league starts, he has just a 4.1 K/9 so the strikeouts haven't translated over.
I think he's a fine roster-and-bench and see how he approaches his next start.
Relievers
Matt Strahm (5): I'm not sure where to put Strahm but he's become a decent arm not make the role. As a start, he has a 3.51 ERA and 3 Wins. As a reliever, he has not yet allowed a run with two Wins and a Save. At least in 15-team legues, he's at the point of just rostering and streaming as needed.
One issue against him this week is that he's an Opener on Tuesday (no Win or Save chance) but hopefully he gets in once more during the week.
Kendall Graveman (5): With Liam Hendriks having some setbacks in his recovery, Graveman is still the closer and has two Saves over the past two weeks. A one week stream, but for teams needing Saves, he's a fine option.
Players Rostered in NFBC High-Stake Leagues
Jeff, one of the authors of the fantasy baseball guide,The Process, writes for RotoGraphs, The Hardball Times, Rotowire, Baseball America, and BaseballHQ. He has been nominated for two SABR Analytics Research Award for Contemporary Analysis and won it in 2013 in tandem with Bill Petti. He has won four FSWA Awards including on for his Mining the News series. He's won Tout Wars three times, LABR twice, and got his first NFBC Main Event win in 2021. Follow him on Twitter @jeffwzimmerman.