Zack Wheeler, prior to about two weeks ago, was an enigmatic starting pitcher on whom many fantasy owners had started to lose faith. (Such faith might again be lost after Sunday's start, which is another issue all together.) After missing two seasons recovering from Tommy John surgery and related setbacks, Wheeler returned to the mound in 2017 only to be sidelined once more and miss almost the entire second half of that season. The prospects of him succeeding in 2018 were, frankly, not great.
Wheeler, however, came out firing, his four-seamer and two-seamer averaging 95.9 and 96.1 mph, respectively, up from 94.8 and 94.3 mph — a moral victory in its own right. The added velocity helped both pitches play up in way completely unseen the year prior, as measured by expected weighted on-base average (xwOBA) allowed:
FF/FT xwOBA
| Pitch Type | 2017 | 2018 |
| --- | --- | --- |
| Four-Seamer | .345 | .307 |
| Two-Seamer | .389 | .232 |
SOURCE: Statcast
Underpinning the xwOBA gains were wholesale changes to each offering's batted ball profile: the four-seamer became a pop-up machine, the two-seamer a ground ball machine, both ranking roughly in the upper third of their pitch types by each metric. Additionally, and perhaps most importantly, Wheeler displaced his change-up with a splitter, my favorite pitch. While the splitter itself was not particularly good relative to other splitters last year — or even relative to his other pitches, inducing the worst xwOBA of any of them in 2018 — it would prove to be a fortuitous addition to his arsenal.
It's 2019 now, and Wheeler has ceded much of the gains on his two-seamer from last year, going from his best pitch to his worst, as measured by xwOBA. The flip-flop in effectiveness has been exacerbated by a fundamental change in Wheeler's approach that has favored his two-seamer, thus far his worst pitch this year, almost as if he tried to optimize his approach based on last year's numbers. Incidentally, it's the splitter, his worst pitch last year, that has both been his most reliable offering this year and kept him afloat…
Wheeler xwOBA
| Pitch Type | 2017 | 2018 | 2019 |
| --- | --- | --- | --- |
| Four-Seamer | .345 | .307 | .305 |
| Two-Seamer | .389 | .232 | .324 |
| Slider | .284 | .247 | .305 |
| Splitter | n/a | .319 | .268 |
SOURCE: Statcast
… which, to me, is a sensible turn of events. Splitters are arguably baseball's best pitch type league-wide; four-seamers and two-seamers, the worst. Compared to the league-wide xwOBA on each pitch, Wheeler's splitter is slightly worse than average; his four- and two-seamers, actually better than average; his slider, exceptionally bad. Sadly, a "better-than-average" fastball doesn't mean all that much. The average breaking ball usually is significantly better than the above-average fastball. Ultimately, the gains have only partially offset the losses, resulting in an added 20 points to his overall xwOBA allowed (.276 in 2018, .296 in 2019). With each pitch being resoundingly average, Wheeler himself has been resoundingly average.
In 2018, Wheeler benefited from above-average outcomes by measure of batting average on balls in play (BABIP) and home run-to-fly ball rate (HR/FB). Even though his excellent 2018 outcomes were validated by xwOBA, they violated the basic sabermetric laws by which we abode before the advent of the Statcast EraTM. A HR/FB rate in the single digits, let alone one roughly two-thirds that of the league average (8.1%, versus the league's 12.7%), screams reversion to the mean.
In an attempt to mentally simplify things (the use of Statcast often achieves the opposite), it seems more reasonable to me to expect Wheeler to continue to pitch more closely to his 2019 outcomes than his 2018 outcomes by virtue of traditionally sabermetric thinking. Besides, "deserved" outcomes in one season do not necessarily guarantee the same "deserved" outcomes in the next. This is why I maintain we, constituents of the fantasy baseball community, still have a lot to learn with regard to how Statcast should be wielded as an analytical tool. That's a discussion for another day.
Wheeler, being resoundingly average and all — that's fine. In the current run-scoring context, you could do much worse than Wheeler in his 2019 form. His wOBA-minus-xwOBA differential (wOBA–xwOBA) of –.003 suggests Wheeler has effectively pitched to his skill level, much as he did last year (–.005). The only difference — again, aside from giving back perhaps undeserved HR/FB and BABIP gains — is what appears to be a bad-luck strand rate (LOB%). With an ERA at least 67 points higher than any of his ERA estimators (3.65 FIP, 3.81 xFIP, 3.98 SIERA), it stands to reason Wheeler's strand rate is almost exclusively the culprit for his lackluster season.
Keep in mind, despite Wheeler's shellackings this season, his xwOBA, which accounts for both contact quality permitted (which, by design, accounts for him grooving pitches or any other ill causes to allow ill effects) as well as strikeouts and walks tallied, validates his wOBA-allowed this season. His .313 BABIP is a slight eyesore, but the 13.8% HR/FB bests the league average of 15.1%. Generally, the ERA estimators assume league-average rates of BABIP and HR/FB. A little bit of give-and-take to each suggests the deviations from the mean cancel out each other. In other words, Wheeler should be pitching commensurate to those sub-4.00 ERA estimators. In other other words, what other culprit could there be beyond a bad-luck strand rate?
Sometimes, the answer is as simple as that. There's an argument to be made that Wheeler performs worse with men on base and in scoring position — and, indeed, that is true — yet he has performed to expectations in those situations. I might've expected his wOBA–xwOBA to be significantly worse with runners on base, but there's really no evidence in favor of it. It points even more strongly toward unfavorable event sequencing, brought on more by bad luck than anything self-inflicted in unfavorable base-out situations.
If I were to diagnose Wheeler's lack of effectiveness this year, beyond any issues borne of luck or the juiced ball, it seems Wheeler is getting less extension on all his pitches…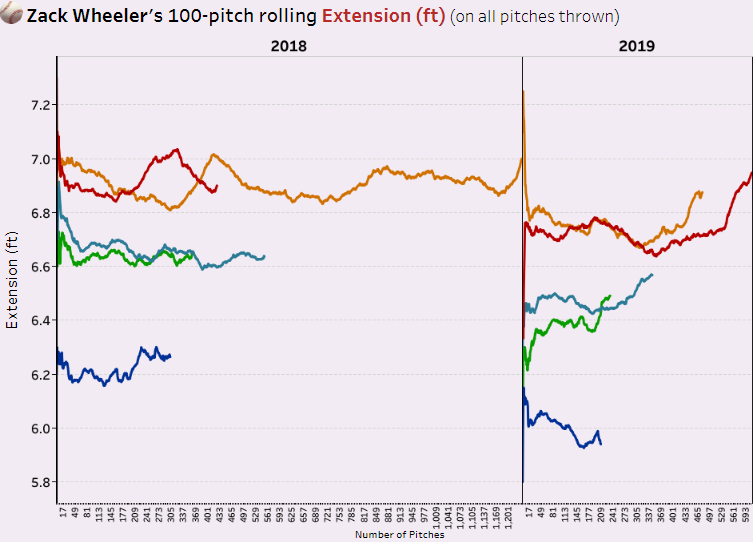 … despite, or perhaps because, he is generating more spin on all his pitches.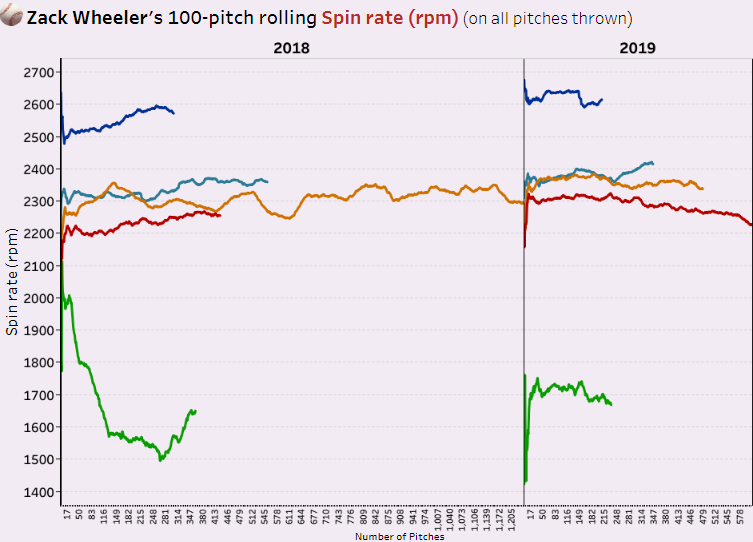 I imagine the improvements to Wheeler's splitter can be largely, if not fully, attributable to the offering's augmented spin rate — the only one that increased in rpms relative to 2018 and a silver lining in what appears to be the trade-off with less extension. Given the changes to his extension and spin rates, it seems unlikely his pitches will begin to resemble their superior forms of yesteryear, lest Wheeler makes a mechanical adjustment. Then again, the outside chance he does make an adjustment makes a buy-low more enticing, even if only slightly so.
Ultimately, I think Wheeler's 4.69 ERA will converge on his ERA estimators, all of which sit under 4.00 and paint a much prettier portrait of the beleaguered starter. It's always possible it doesn't — no matter how large and stable a sample 200 innings seems, nearly anything can happen in that time — but, were I betting man, I'd put my money where my mouth is. Your window to buy low on Wheeler is slowly closing, although yesterday's start should keep it open a little longer. Despite yesterday's outcome, he remains an especially solid bet to cash in on some good luck and be a top-40 pitcher rest-of-season.