We have all been wrapped up in the deadline deals for the last few days, so we could have easily missed something potentially relevant to fantasy owners over the weekend. Back on Sunday, the Reds beat the Phillies, 4-0, and the victors departed for their road trip with a three-game win streak. Gabe Kapler even said a whole bunch of nice stuff about the team that just took a series from his Phillies.

More significant for us fantasy owners is that it may have marked a shifting tide for the two starting pitchers who dueled in the series finale. Luis Castillo has spent all season trying to find consistency, and Sunday's start was not only his first scoreless appearance of the year, but now for first time in 2018, he has posted back-to-back starts with one run or less allowed. Zach Eflin is still widely owned, but he is finding himself on some most dropped lists due to underwhelming results in his two starts since returning from a DL stint for a blister.
Can Castillo's fantasy owners finally breathe a sigh of relief? Is it time to cut bait on Eflin or an opportunity to buy low? Let's see what the numbers tell us.
Two Good Starts: Luis Castillo
Luis Castillo's Two Good Starts
| Date | Opponent | IP | H | R | ER | BB | K |
| --- | --- | --- | --- | --- | --- | --- | --- |
| Jul 23 | vs. STL | 5.1 | 4 | 1 | 1 | 1 | 5 |
| Jul 29 | vs. PHI | 7 | 4 | 0 | 0 | 1 | 9 |
What's Different: The most obvious change for Castillo recently is a decrease in his swing rate on pitches in the strike zone. The dip actually goes back three starts. In each of those outings, he had a Z-Swing% below 64.0 percent, and cumulatively, he compiled a 62.2 percent rate.  That's in contrast to a 71.0 percent Z-Swing% over his first 19 starts. Castillo has been particularly effective at getting batters to freeze on his four-seam fastball, posting a 26.9 percent called strike rate on the pitch over this three-start stretch.
Interim pitching coach Danny Darwin has worked recently with Castillo on his command, and the results are apparent. As the before-and-after heatmaps below show, Castillo has been pitching on the edges of the zone more in his last three starts than in his prior 19 turns in the Reds' rotation.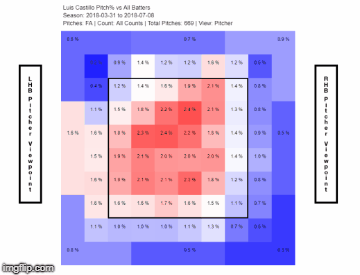 Castillo's last two starts have been a cut above most of his performances this year, but the July 14 start at the Cardinals that began this trend wasn't bad either (5 IP, 5 H, 2 R, 0 BB, 2 K). While Castillo's results have been particularly encouraging in his last two starts, we should note that he was still not especially stingy with well-struck balls. He registered a 92.9 mph average exit velocity on flyballs and line drives, which is only slightly lower than the 94.1 mph average from his previous 20 starts.
Recommendation: The two teams that Castillo has faced in his last three starts — the Cardinals (twice) and the Phillies — are among the nine teams with the lowest Z-Swing rates. His next scheduled start is against the Nationals, who have been much more aggressive on pitches in the zone. A wait-and-see approach might be warranted with that start. However, it's worth trying to add or trade for Castillo now in the event that he further builds on his turnaround.
Two Bad Starts: Zach Eflin
Zach Eflin's Two Bad Starts
| Date | Opponent | IP | H | R | ER | BB | K |
| --- | --- | --- | --- | --- | --- | --- | --- |
| Jul 23 | vs. LAD | 2.2 | 5 | 3 | 3 | 3 | 1 |
| Jul 29 | at CIN | 5.1 | 7 | 4 | 4 | 1 | 4 |
What's Different: Eflin created a stir after his first few turns in the Phillies' rotation, as the erstwhile contact pitcher was suddenly looking like a strikeout pitcher. Not only had he brought up his swinging strike rate a couple of ticks from last season, but his fastball velocity had risen by nearly 2 mph. While Eflin's velocity has yet to fade, the strikeouts have waned, particularly in his last two starts.
One of those two starts was far worse than the other, though. Eflin got only four swings-and-misses and one strikeout against the Dodgers, but they're a tough matchup in that regard. The Dodgers are one of only eight teams with a swinging strike rate below 10.0 percent. Just as Eflin's rough start against them can be chalked up to the matchup, so can at least three of his good starts from earlier in the season. He has made four starts in which he recorded a swinging strike rate above 11.5 percent, and two came against the Brewers and another one was versus the Orioles. Eflin picked up 21 strikeouts over 18 innings in those starts against whiff-happy teams. If we subtract those starts plus the Dodgers start from his game log, Eflin has 50 strikeouts in 56 innings this season. That ratio is an upgrade, but it also shows that Eflin's strikeout appeal may have gotten overblown.
Where Eflin really excelled over his first 10 starts this season was in avoiding home runs, allowing only four over his first 56.2 innings. He is a flyball pitcher in a hitter-friendly park, so it was critical that Eflin was superb at preventing hitters from pulling flies. During the months of May and June, there were 100 pitchers who allowed at least 50 flyballs, and among them, only Zack Greinke, Fernando Romero and Mike Clevinger had a flyball pull rate lower than Eflin's 14.5 percent. In July, Eflin's rate has mushroomed to 30.0 percent, and he has allowed six home runs and six doubles in just 20 innings.
Recommendation: Maybe Eflin can get back to limiting damage on flyballs, but if that's his best route for building fantasy value, it does not allow him much margin for error. Because he has shown the ability to miss bats against lineups that don't excel at making contact, Eflin should not fall off our radar entirely. He will be useful for certain matchups like the Mets, Padres and Diamondbacks, all of whom the Phillies will play in next three weeks.
Al Melchior has been writing about Fantasy baseball and sim games since 2000, and his work has appeared at CBSSports.com, BaseballHQ, Ron Shandler's Baseball Forecaster and FanRagSports. He has also participated in Tout Wars' mixed auction league since 2013. You can follow Al on Twitter @almelchiorbb and find more of his work at almelchior.com.