The following is the second part of my 2020 Tout Wars Head-to-Head Points League recap. You can read Part I of my recap here.
For the second straight year, I had the honor and privilege of participating in one of the most prestigious fantasy baseball industry leagues – Tout Wars (toutwars.com). This was my very first live Tout Wars auction. Due to the COVID-19 outbreak, we drafted online on the Sunday of March 15, 2020.
In Part I of my recap, I discussed the league rules, some of the homework that I had done on last year's auction results, and how I obtained my auction values. I also talked about some of my other adjustments made due to the postponing of the MLB season.
Part II of my recap will be different than the typical recap article you tend to see. It will certainly differ from my usual writing style.
In today's article, I will go through some of the intel that I had gathered on my opponents. I will dictate to you what I was looking for from the other touts and how I picked up on particular strategies during the auction. I will talk about what went right for me at the auction table and what went wrong. Finally, I will give a brief overview on my player selections.
The Touts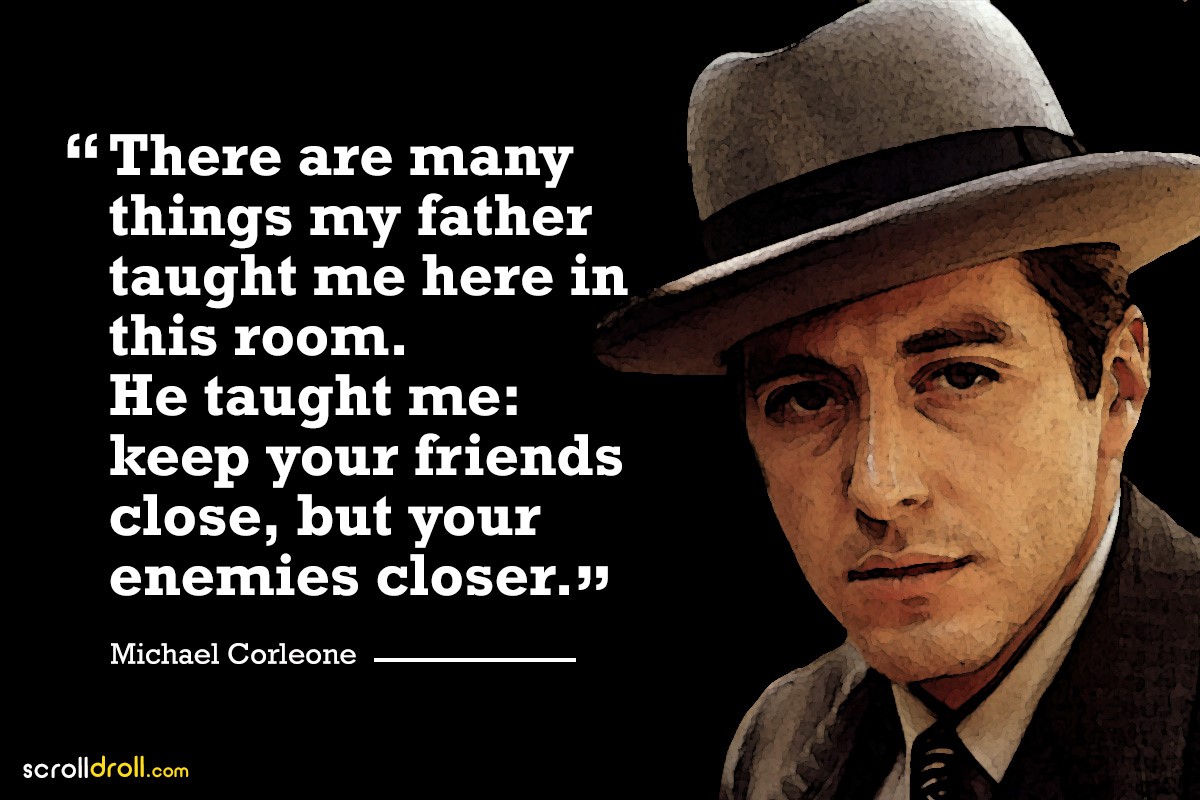 Well, I'm not sure that I would call members of the Tout Wars Head-to-Head Points my enemies. However, they most certainly were my opponents … at least for that Sunday afternoon in March. The quote above has appeared in folklore from many cultures, and of course, was one of the great lines of the movie "The Godfather."
Fantasy baseball is largely about the numbers. If you often read my articles, you likely already know the importance that I place on projections and valuation.
Almost as important … perhaps even more important … is knowing your opponents. It is an advantage to be aware of the types of players that they bid on, how high they press bids, whether they nominate players they want to buy, the typical construct of their fantasy squads, etc.
As one of the newcomers to this league, I entered the field of play with an informational disadvantage. I did my best to try and overcome any hole that I was in.
In no particular order – here is some of the intel that I was able to accumulate on my opponents, as well as tendencies that I learned as the online auction went on. Mostly, my hard work in preparation did pan out. Sometimes it did not.
Alex Chamberlain
As I mentioned in Part I of my recap, as a fellow RotoGraphs writer, Alex was one of the Touts that I was most familiar with heading into the auction. I had more tidbits of info on him than any other player. I'll go through a few of them.
I heard the following story from Alex and others last year (I apologize if I don't get all of the details exactly correct). Alex put in a successful bid for Nelson Cruz in last year's HTH auction. Unfortunately, it was revealed afterwards that he did not have a utility slot available for Cruz's purchase. Cruz was then returned to the available player pool. With Clay Link's first pick in the reserve rounds (yes, he somehow lasted all the way there), Clay snagged the Twins power DH – a move which haunted Chamberlain for the next 12 months.
Due to this, I crossed Nelson Cruz off of my likely targets. If Vegas would have had a line on Alex drafting Cruz – I'd have bought that bet … and won. Chamberlain bought Nelson Cruz at $16. I was the $15 bidder – I pumped him up as high as I was willing to tempt him. Regret is quite a powerful psychological force.
Chamberlain has some favorite players of his that I was fairly certain he would push for. He did. I was pretty certain that he would draft Mike Tauchman at some point. I was tempted to nominate the Yankee outfielder and Chamberlain favorite for $1 just to see what would happen, but I didn't have the guts to do that. Chamberlain snagged him for $1.
I've heard Alex talk about his love for Kyle Hendricks, and he even convinced me about the stability of Hendricks – especially in this format. Unfortunately, at the point in the auction when Hendricks had come up, I did not have nearly enough money left to make a run at the veteran Cub. Alex won him for a mere $6.
Earlier this year, I had purchased Aaron Judge in Mixed LABR at a discount and recently noted that Judge's fantasy value jumped as a result of the horrible virus outbreak. The night before this auction, Alex commented to me about the poor words and timing of my tweet (of attributing a profit to the virus). I was then fairly certain that Alex would then make a push for Aaron Judge, and he did just that – a $20 winning bid on the Yankee slugger.
I also thought that Alex might bid on Lance McCullers, Jr. – but to my surprise, Andy Behrens won him for just $2.
As far as what I picked up on Alex during the auction … he tended to wait until the last minute to chime in and bid on players – and then typically went the extra dollar to obtain them. Any time that Chamberlain bid only towards the end of nominations, price enforcing him the extra dollar worked quite well!
Andrew LaMont
For Andrea LaMont, I based most of my intel off of two auctions:
Last year's Tout Wars HTH results
This year's Mixed LABR auction (a league that I participated in)
My sense was that Andrea often has her favorite players and pushes when she wants to. It would be hard for me to buy any of her favorite players at bargain prices. For example, I recall getting into a bidding war with her on Paul DeJong earlier this year, and Andrea once again snagged her from me late in Tout HTH.
Looking at her purchasing patterns, Andrea tends to play the middle; she stays away from high priced players where she can. In last year's Tout HTH, she purchased Giancarlo Stanton at $36. Her next largest spend was $28. She made only one single $1 purchase. For this year's Mixed LABR auction, her largest purchase was Anthony Rendon for $28.
So, what happened in this draft?
For hitting, she played the part. Just as in LABR, Anthony Rendon was her highest spend … this time at $32.
However, for pitching – she didn't end up following her normal routine. She purchased four starting pitchers for $24 or more and dropped down to three $1 pitchers. That deviation hurt my plan, because I was planning on buying a pitcher or two in that mid to upper $20 range.
Procedurally, I noticed that Andrea sometimes likes to nominate a player roughly at or slightly below replacement level. She does this early in the auction for $1 to see if she can sneak them through. For LABR, she snuck in Manny Margot. For Tout she threw out Kevin Pillar for $1, and crickets ensued.
Paul Sporer
I hadn't done an in-depth review of Paul Sporer's rankings vs. ATC rankings. If this had been a rotisserie contest – a format more familiar to me – I might have done a more thorough review. I also didn't directly have Paul's head-to-head rankings.
But the main reason that I didn't pay particular attention to Sporer's favorite players is the following:
I recalled a conversation that I had with Paul last year immediately following the Tout Wars HTH draft. He told me that in his 2019 pricing model – for this particular format, hitting was worth a lot more than pitching. The comparison that I clearly remember him stating was that Max Scherzer was worth as much as Josh Bell. Sporer spent 90% of his fantasy capital on his offense in last year's auction.
What did that tell me?
That informed me that I would not be able to outbid him on any batter that he was in on.
Mathematically, Paul constructed prices using a 90%/10% H/P split. If he wanted a player – he would buy the player. Surely, almost every single batter on Paul's list would be valued at a higher dollar amount than the value that I (or anyone else) had assigned. I rarely go over my values – so I wouldn't be able to compete with a Paul Sporer bid. Conversely, my pitcher values would all be higher than Paul's pitcher values – for almost every single player. I should easily be able to outbid Paul on pitching.
This isn't a knock against Paul in any way. To the contrary, I greatly respect him. But with a vastly different pricing split between offense and defense, I didn't need to concern myself with what he was doing during the auction. Not at all.
Sometimes, the intel tells you to simply ignore a player.
I went into 2020 thinking that Paul would price players quite similarly as he did in 2019 – and I was right. He spent a league high 88% of his fantasy dollars on offense, and only $31 on his pitching.
Ian Kahn
I met Ian Kahn for the first time just two weeks prior to this league's auction – at First Pitch Florida (presented by BaseballHQ). His energy is high, and positivity continually emanates from him. I have listened to a number of his podcast episodes – which are great listens!
What I have gathered about Ian is that the psychology of the auction is quite important to him. By trade, he is as an actor – which also plays into his personality, and further verifies my intuition on him.
At First Pitch Florida, Ian participated in AL LABR. I observed the entire auction from start to finish – to gather many elements of intel. I had noticed that Ian often nominated players that he did not want to purchase. Perhaps he wanted to set the market values for players that he did not want to draft, or perhaps he intended merely to drain excess value (over his valuations) from the table.
Whatever the reason, I decided to place attention to his player nominations. Here were his first few:
Ian Kahn's 2020 Tout Wars Nominations
The pattern is pretty clear.
Ian started only nominating pitchers.
He never bought any of the players that he nominated.
Ian did his best Lenny Melnick impression for nominations #3-7 by nominating only closers (Melnick is well-known for doing this in expert leagues).
The question is … why?
Why did he nominate only pitchers, and can we discern a pattern?
One other note before answering these questions – In observing last year's Tout auction, similar to Andrea – Ian does prefer to play in the middle. He seemed to prefer a "balanced team" to a "stars and scrubs" team.
The starting pitchers that Ian nominated were typically the highest priced pitchers still left on the board. The closers were also largely high-priced. It stands to reason that Ian was likely trying to get money off the board early on, so that he could play his "middle" game later.
Those who are familiar with my work, know that in order to get even more money off of the board, I advocate nominations which induce the splitting of a tier. I prefer to leave the top one or two players alone in order to generate an economic box.
Ian likely found upper-tiered starting pitching to be overpriced – significantly higher that his computed auction values. It tells me that Ian is most likely a "value drafter."
Further, with all of the closer nominations, Kahn likely believed that relief pitchers were not valuable in this format – a conclusion that I had similarly reached. He likely believed that other owners would price closers more similarly to the standard roto format.
Indeed, he was correct. All of his early closer nominations were purchased for at least $8 (not by Ian), and sometimes for a low teen cost.
As I too tend to play the middle of drafts (I am also mostly a "value drafter"), I knew that I might be battling Kahn for a few players at some point or another. Knowing that he and Andrea would likely be playing in some of my "space" – I made the decision (pre-draft) to shift some more money to higher tiered players. I deemed it advantageous to pay the market premium on one or two players – in order to avoid excessive bidding wars later on.
Clay Link
I have great respect for Clay. He is one of the best fantasy players out there today. His strategies are well thought out, and pre-planned. He is also quite a nice fellow.
As previously mentioned, I was in the same division of TGFBI with Clay two years ago (in 2018). I have followed his expert drafts ever since, and he typically does NOT go after star pitching.
My intel was faulty.
On the very first nomination of the auction (made by Kahn), Clay Link purchased Gerrit Cole for $42 <insert head scratching emoji here>. I didn't think much of it at the time, as it was the premiere selection of the draft. It is simply hard to stop and think about changes to your intel after just one selection.
On the 10th nomination of the auction, Clay purchased yet another high-priced starting pitcher – Walker Buehler at $42.
Brief pause.
It was clear then that Clay concocted a vastly different strategy for the 2020 HTH auction – going after high priced pitchers.
At the time, I still had hope that I would be able to obtain a few of my target starting pitching options such as Jose Berrios and Yu Darvish. With Cole and Buehler already purchased by Link for a combined $84, I would have one less player playing in the 1A/2 starting pitcher market, right?
Then, just nine turns later – I put up Jose Berrios for nomination. I did so (as I've previously imparted) because I needed the information. I needed to know if I would be able to execute my Plan A for starting pitchers, or if I would have to proceed fully with Plan B, which was middle-middle-middle. To my great surprise, Clay Link won Berrios once again with a bid of $28 – about $6 over my listed auction value for him.
Then, just seven selections later – my final Plan A option was nominated – Yu Darvish. Guess who won the bid for Darvish?
Clay Link. $29.
Gulp.
This is a moment that I wished I'd have been able to see a player's change in strategy right away and immediately react – which is a very hard tactic to implement. After two of my top pitching targets (players I had thought might be available at a bargain price) were gone, it was too late to go back and pay the market prices for one of the top tiered starters. Clay played in both the elite and the upper starting pitcher tiers.
Sometimes faulty intel works against you. Thanks, Clay.
Ralph Lifshitz
And sometimes faulty intel can help you … to no credit of your own!
I didn't know much about Ralph's playing style other than looking at last year's draft results. Last year, Ralph paid for three high-priced starting pitchers – Max Scherzer, Justin Verlander and Noah Syndergaard. He played the middle tiers of hitting – spending only 50% of his auction budget on his offense.
But to my surprise, Ralph switched it up this year and tilted heavily towards hitting. In fact, he spent the second most money on his hitting at $187 – second to Paul Sporer, of course.
I was initially worried that he would be going after the same batters as me in the lower-middle tiers. However, after he snagged Mike Trout for $48, Cody Bellinger for $43, J.T. Realmuto for $23 and Yordan Alvarez for $20, I was now in the clear!
Due to the flip-flop of hitter/pitcher spending – Ralph wasn't able to play in the same pitching price ranges as I played. It was almost as if he was not in the same draft as me.
To top it all off, Lifshitz purchased Chris Archer towards the end for $1.
I smiled.
Nick Pollack
This was Nick's first year in Tout Wars.
I recently had Nick Pollack on an episode of my show – The Great Fantasy Baseball Invitational – Beat the Shift Podcast. I had him on to discuss (among other items) the Mixed LABR auction in which he competed against me. Alex Fast was his proxy drafter for the event, but Nick had heavily discussed drafting procedures with Fast in advance, and I am sure that Alex succeeded quite well in meeting Nick's wishes.
It was clear early on in Mixed LABR that Pollack is a strict "value drafter." He will rarely bid for a player if the price exceeds his projected valuation.
As the head of Pitcher List, he also prides himself on his pitching knowledge. Nick is quite the believer in streaming starting pitching (which is indeed an excellent idea in this format). I knew that he wouldn't be spending for elite or even upper tiered starters.
This came true. Nick spent a total of $75 on pitching, which was the third lowest total of all teams.
In following Nick's work, the three pitchers that I believed that would end up on his roster were Yu Darvish, Zack Wheeler and Matt Boyd. He acquired all three of them in Mixed LABR. As we learned above, Darvish was bought by Clay Link for a high price. Surprisingly, yours truly bought Boyd for $8! I was shocked that Nick didn't go to $9 for him. Pollack did manage to obtain Wheeler at $18.
As far as in-auction dynamics, what surprised me was the lack of many bidding wars between Nick and myself. In LABR – we had quite a few scuffles. Franmil Reyes was one of the few players that we both went after in this contest.
Ryan Hallam
I didn't have much intel on Ryan Hallam, who also participated with me in Mixed LABR.
In LABR, Hallam grabbed one ace starting pitcher, one strong starter, one mid-starter, etc. He played in every starting pitching tier. Additionally, he also grabbed one elite closer.  For offense – Hallam spent a lot of money on his middle infield. Otherwise, he played in the middle or lower tiered ranges.
There wasn't much I was looking out for in Tout Wars for Ryan. I didn't plan on playing for expensive middle infielders. Hallam purchased Fernando Tatis and Ozzie Albies in Tout Wars. He purchased a top starter in Jack Flaherty.
But he did make one of the largest purchases of the day in Ronald Acuna. Otherwise, he virtually stuck to the same blueprint as he did in LABR, which didn't massively conflict with my strategy.
Andy Behrens, A.J. Mass, Frank Stampfl
For these three players, I did not have much to go by as far as intel. I simply looked for in-draft information.
I noticed that Andy nominated a number of catchers at $2. He seemed to be trying to fill up his catcher position on the cheap, yet not leave the position to the end. He didn't want to be stuck with any low-end catchers. He ended up buying Robinson Chirinos and Omar Narvaez at $2 apiece.
A.J. Mass seemed to have an infatuation with speed players. He acquired Christian Yelich, Mallex Smith, Trea Turner, Jose Altuve, Bo Bichette, Tommy Edman and Wil Myers. I'm not quite sure why he put so much emphasis on speed players in this OBP/Power heavy points league format – but I did notice his tilt. Perhaps he felt that speedsters could be obtained at a discount?
Mass also purchased a ton of relief pitchers – Nick Anderson, Edwin Diaz, Kenley Jansen, Roberto Osuna and Drew Pomeranz. In the reserve rounds, he further selected Dellin Betances, Chris Martin, Ryan Pressly and Craig Stammen. My valuations indicate that relief pitchers are worth far less than starters, so I was happy to see him purchase all of these players. They are far overvalued from my perspective. Mass did not do that in last year's auction, so I wasn't sure quite what to make of it.
Frank Stampfl seemed fairly disciplined throughout the auction. He played the spots that he wanted, and often got into bidding wars with me. He played in many of the same ranges as I did – going after and purchasing some of my target players such as D.J. LeMahieu, George Springer, Eduardo Escobar and David Price – all at very reasonable prices. According to my in-house software, in terms of auction dollars, Frank's team ended up with the second most in value (2nd to my own, of course). Touts like Frank are the players that worry me the most – the ones that I can't predict beforehand, and what's worse … the ones who execute a similar strategy to my own.
Ariel's Tout Wars Roster
Ariel Cohen's 2020 Tout Wars Roster
Above is my Tout Wars Head-to-Head roster. A few player notes:
I thought that Alex Bregman at $33 was a steal. He was the 4th player nomination of the auction. The $33 compares very favorable to Bryce Harper at $37 and to Jose Ramirez at $32, etc. Having Bregman on the team as a SS/3B eligible player also enabled me to not pay attention to position balance for almost the entire auction. That was valuable.
I spent a little more for Rafael Devers than I wanted to, but it wasn't a crazy price. Devers is underrated, and I value his consistency in this format.
German Marquez seemed to be a bit of an overspend. At the time, he was my very first pitching purchase. In retrospect, I should have demonstrated even more patience, as there were better bargains available later on.
I like Chris Paddack / Luis Castillo as my 1-2 punch at the top. With starting pitching going very high, they were relative bargains.
Max Fried is my #5 starter. I was happy about that. He has the potential to win many games in Atlanta; he is a valuable asset in this format.
Rhys Hoskins at $18 was on overpay, but I believe in a rebound for him.
I have a stellar middle-middle outfield with Ozuna, Pham, Rosario, Benintendi and Reynolds.
I am quite happy with my catchers – $15 in total for Yasmani Grandal and Carson Kelly. I believe that both are #1 catching options for 2020.
I have a number of RP eligible starting pitchers – Ryan Yarbrough and Mike Montgomery. I also drafted two closers. The total spend for all four pitchers was $6 and just two reserve round picks. I should have a high return on investment for RPs in this league.
I am quite happy with the team that I put together. Including the reserve rounds, I calculate that I drafted close to $100 of excess fantasy value ($360 of values drafted for $260 auction dollars).
I surely hope that I will be able to utilize this fantasy squad in 2020. Here's to a short-lived pandemic. Good luck to all of you in your remaining drafts of 2020. Stay safe and stay healthy.
Ariel is the 2019 FSWA Baseball Writer of the Year. He is the creator of the ATC (Average Total Cost) Projection System. Ariel was ranked by FantasyPros as the #1 fantasy baseball expert in 2019. His ATC Projections were ranked as the #1 most accurate projection system in 2019. Ariel also writes for CBS Sports, SportsLine, RotoBaller, and is the host of the Great Fantasy Baseball Invitational - Beat the Shift Podcast (@TGFBI). Ariel is a member of the inaugural Tout Wars Draft & Hold league, a member of the inaugural Mixed LABR Auction league and plays high stakes contests in the NFBC. Ariel Cohen is a fellow of the Casualty Actuarial Society (CAS) and the Society of Actuaries (SOA). He is a Vice President of Risk Management for a large international insurance and reinsurance company. Follow Ariel on Twitter at @ATCNY.