I'm headed back from a weekend in New York City after participating in the 15-team Tout Wars mixed auction and a NFBC Main Event league. It was great catching up with everyone and meeting some new faces such as our first president. The weekend didn't completely consisit of bagels and beers. I had work to do and compiled a couple of teams. Here are my thoughts which other fantasy owners may find helpful.
Pre-weekend thoughts (written before either event).
Historically the Tout Wars hitter/pitcher split has been a steady 70%/30%. With pitchers being taken earlier and earlier this season, I wonder if this split will change. I'm creating my values with the 70/30 split but know I may need to adjust the split on the fly.
In Tout Wars, the participants don't take position scarcity into account and push up middle infielders well past their values compared to other positions. If I go a dollar or two extra on a player, it will be on a middle infielder. Otherwise, I will just pick up values as they fall to me.
For the Main Event, I need to just pick a balanced team to aim for the overall prize and be prepared for insane starting pitcher prices.
Results
Tout Wars (full results – mixed 15-team auction tab)

As planned, I grabbed Jose Ramirez as my hitting anchor and can use his duel eligibility (15 games minimum) to play second or third. Then, I wait for values to start popping up which happened around the $15 to $25 range.
Before the auction, fellow league mate, Zach Steinhorn asked me about what I thought about the split. I know he was trying to get a read on my thoughts. I brought up the historical values and said I had no idea what was going to happen. Truth. An adjustment occurred with the hitter/pitcher split shrinking to 68%/32%. The money came from the pitching end game with the top hitters still going for a decent dime.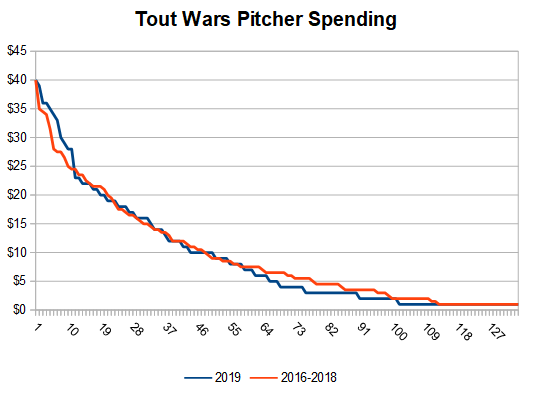 Pitchers started out higher than my values, but I didn't over play for any one. I may be short on Wins and Strikeouts but Greinke, Mikolas, and Morton will provide a decent rate base, so I can stream two-start guys for the extra Strikeouts and Wins. Early this season, I wondered if I could pull this low-WHIP approach off in a draft and had my doubts. I pulled it off perfect in this auction as seen in this projected standings.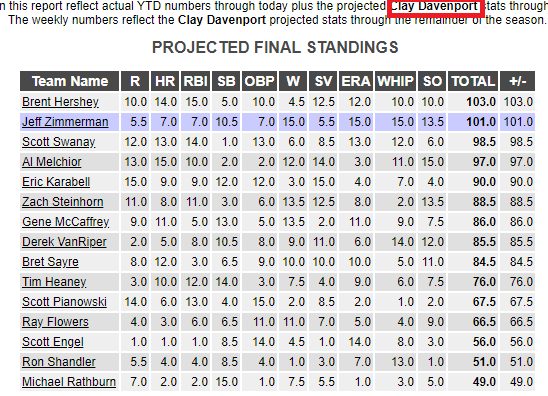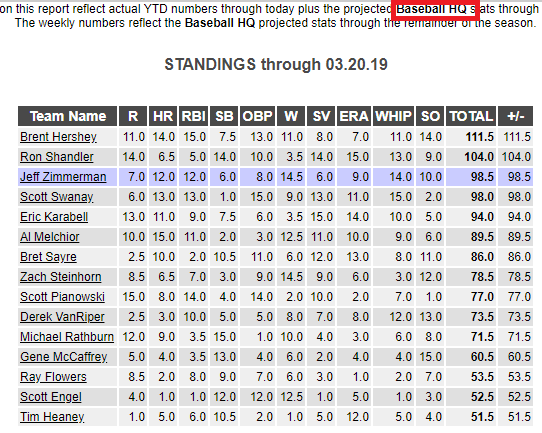 The Grichuk price was the accumulation of errors. I put Andujar in my software at $24 vice $14 dollars. For a while, I thought I had fewer dollars to spend than was the case. Once, I figured out the error, I wasn't sure I would be able to spend what I had left. I said to hell with any pitcher/hitter balance and found my top guys at each position. Then I shoved around my weight. The buying spree accumulated with Ron Shandler, who also had a nice pot left, and I taking Grichuck to $13. With that buy, I spent every dollar while Ron left a handful of dollars on the table.
That was fun, and unexpected. I kept thinking "why is Jeff chasing a sub-.300 OBP guy?" And then I realized, "heck, Shandler, you are too."

— Ron Shandler (@RonShandler) March 18, 2019
I had no plans on rostering on Vlad Jr. I had a $25 value on him and was happy getting him at a discount. It seemed that his oblique injury tempered some owners' enthusiasm. All reports place his bat better than Acuna (who has some steals) and Soto and they are top-30 hitters. Why not Vlad?
Senzel was added for the same reason. I expect the Reds to call him up in a couple weeks, so I'll bench him until the quick callup. I had the pair's price combining 75% of their full-season projection and 25% replacement level production. I'd not be surprised if either rookie provides 2nd round or better value by season's end.
After the work on The Process, I found the value grinding usable starters. Seasonally, starters are so fickle that the breakouts aren't known. I just threw darts at the end and hope some starters will be useable. If not, off to the waiver wire they go.
I don't like to reserve hitters, but I needed Flores and Hernandez to take the spots for Polanco, Senzel, and Vald Jr. I could have used the waiver wire but I had the two reserves at $5 value, so I figured I might get a little better than replacement level value from them.
NFBC draft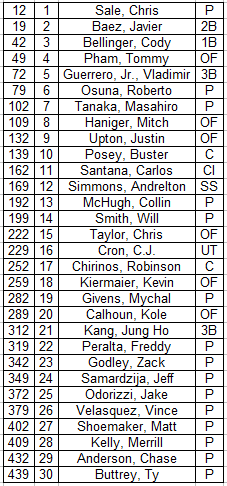 After drawing the 12th spot, I came in with a plan to take either Sale or Verlander with our first pick and then get Stanton in the second round. The plan went awry when Stanton got sniped right before my pick. I went with balance and took Baez instead. I like to pick a team with middle of the order bats who provide both home runs and stolen bases.
With the picks of Baez and Bellinger as my first two hitters, they gave us a ton of roster flexibility.
In the 8th round, it was a tough decision between Haniger and Upton. Haniger got the call since I feel I have been over exposed to Upton already. It didn't matter as Upton made it back 22 picks later.
While Posey at catcher isn't ideal, the team needed batting average help and he is way above average for a catcher.
While I don't not like to take a closer in the 6th round, a small run started and there was a chance none of the top arms made it back after 22 picks. It was the right call. I took a chance on 2.5 other closers since it's cheaper to spend picks than FAAB on them.
Another share of Vlad. I had him as a 4th round value, so getting him in the 5th was fine.
Besides Sale, I was a little light on elite pitching. I decided to take nine straight darts at the end. If even two hit … great. If not, they go to the wire for other arms.
Conclusion
None really. All I know is I'll combine both approaches this upcoming weekend in Las Vegas for my NFBC auction league.
Jeff, one of the authors of the fantasy baseball guide,The Process, writes for RotoGraphs, The Hardball Times, Rotowire, Baseball America, and BaseballHQ. He has been nominated for two SABR Analytics Research Award for Contemporary Analysis and won it in 2013 in tandem with Bill Petti. He has won three FSWA Awards including on for his MASH series. In his first two seasons in Tout Wars, he's won the H2H league and mixed auction league. Follow him on Twitter @jeffwzimmerman.