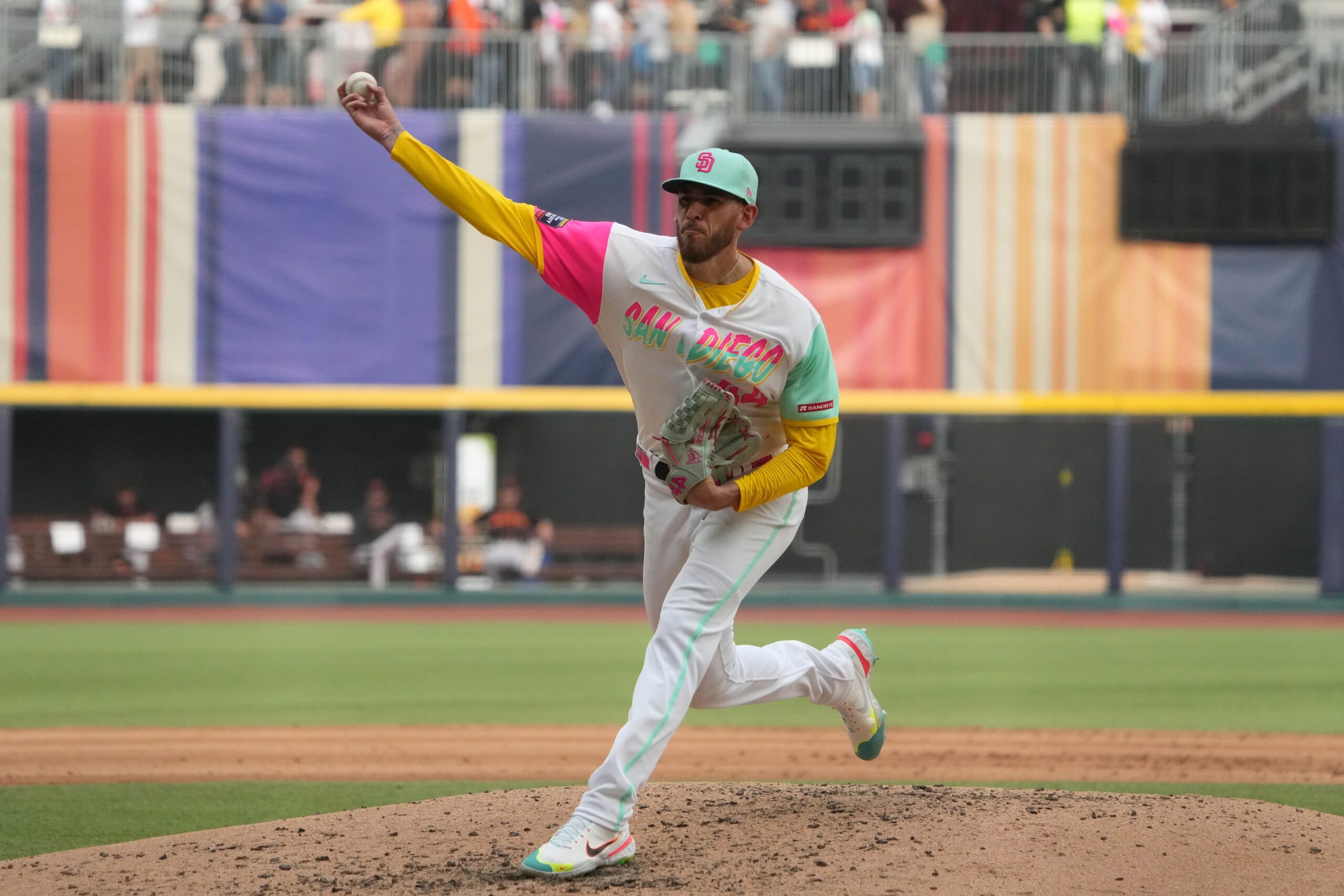 Daily SP Chart archive
The chart includes their season performance, their opponent's wOBA versus the pitcher's handedness over the last 30 days, my general start/sit recommendation for 10-team, 12-team, and 15-team (or more) leagues, and then a note about them. Obviously, there are league sizes beyond those three so it's essentially a shallow, medium, deep. If a pitcher only has an "x" in 15-team, it doesn't mean there's no potential use in 10s and 12s, but it's basically a risky stream for those spots.
These are general recommendations, and your league situation will carry more weight whether you are protecting ratios or chasing counting numbers. This is for standard 5×5 roto leagues. The thresholds for H2H starts are generally lower, especially in points leagues so I thought there would be more value focusing on roto.
Friday, May 26th Starter Notes
| RK | PITCHER | TM | | OPP | 10 | 12 | 15+ | IP | ERA | WHIP | K-BB | wOBA RK | NOTE |
| --- | --- | --- | --- | --- | --- | --- | --- | --- | --- | --- | --- | --- | --- |
| 1 | George Kirby | SEA | | PIT | x | x | x | 58.1 | 2.62 | 1.01 | 18% | 26th | Remarkable results even though the Ks haven't materialized as his drafters likely hoped |
| 2 | Mitch Keller | PIT | at | SEA | x | x | x | 62.2 | 2.44 | 0.97 | 25% | 19th | More is less w/the fastball as he's dropped the usage 10 pts & surged in performance (.507 OPS is 3rd best on heat, min. 70 BF) |
| 3 | Hunter Brown | HOU | at | OAK | x | x | x | 50.2 | 3.20 | 1.26 | 19% | 29th | What a dream getting OAK in back-to-back starts |
| 4 | Jon Gray | TEX | at | BAL | x | x | x | 50.2 | 3.02 | 1.16 | 10% | 11th | Has quickly shaved his ERA from 4.40 to 3.02 over the last 3 starts a solid 20% K-BB and 0.90 ERA |
| 5 | Kevin Gausman | TOR | at | MIN | x | x | x | 63 | 3.14 | 1.08 | 28% | 10th | Probably deserves even better than the 3.14 ERA he has so far |
| 6 | Chris Sale | BOS | at | ARI | x | x | x | 50.1 | 5.01 | 1.17 | 23% | 15th | Looking strong of late with a 3.05 ERA & 0.89 WHIP in 38 IP with 43 Ks |
| 7 | Reid Detmers | LAA | | MIA | x | x | x | 40.2 | 4.87 | 1.43 | 20% | 8th | Maybe the regression of Bieber's LOB rate can shift over to Detmers who should be able to improve upon his tiny 61% mark |
| 8 | Justin Steele | CHC | | CIN | x | x | x | 61.1 | 2.20 | 1.01 | 15% | 9th | Has traded Ks for BB improvement so while his K9 makes it look like a plummet (1.7 K drop), it's a 2.5 pt drop in K% |
| 9 | Jesús Luzardo | MIA | at | LAA | x | x | x | 56.1 | 3.83 | 1.37 | 19% | 16th | Allowed 1 HR in his first 4 starts (0.4) and then 7 over his last 6 (1.9) |
| 10 | Freddy Peralta | MIL | | SFG | x | x | x | 52 | 4.15 | 1.31 | 14% | 16th | Rocking a hot 0% K-BB in his last 2 starts at STL & at TBR which isn't cool… obviously not sitting him anywhere, though |
| 11 | Shane Bieber | CLE | | STL | x | x | x | 64.1 | 3.08 | 1.21 | 12% | 2nd | I know the skills are light for this ERA and his 81% LOB will dip, but I'm not sure this is just who he is going forward so I'm sticking with him |
| 12 | Matthew Liberatore | STL | at | CLE | x | x | x | 6 | 3.00 | 1.33 | 11% | 30th | Looked good in his season debut w/improved stuff from last yr; should have staying power if they commit to him at SP |
| 13 | Joe Musgrove | SDP | at | NYY | x | x | x | 24 | 6.75 | 1.58 | 14% | 13th | Hasn't fully found his groove, but has had to face LAD x2 and BOS since the Mexico City nightmare |
| 14 | Alex Wood | SFG | at | MIL | x | x | x | 20 | 4.05 | 1.45 | 14% | 27th | Good spot to stream him; HRs are his biggest risk but MIL's .138 ISO isn't best-suited to take advantage of him |
| 15 | Max Scherzer | NYM | at | COL | x | x | x | 33.2 | 4.01 | 1.19 | 13% | 6th | I'm going for the World Record of recommending guys pitching in Coors this week! |
| 16 | Lance Lynn | CHW | at | DET | | x | x | 57.1 | 6.28 | 1.47 | 19% | 23rd | Soft spot in the schedule has helped (CLE, KCR before this) him get back on track… if he's great here, are you trusting him for LAA next wk?? |
| 17 | Louie Varland | MIN | | TOR | | x | x | 28 | 4.18 | 1.25 | 20% | 4th | Feels a bit like early career Bailey Ober w/the impressive core skills but a considerable HR issue which does make this matchup a bit scarier; I'm still in for most lgs |
| 18 | Jared Shuster | ATL | | PHI | | x | x | 19.2 | 5.49 | 1.42 | 4% | 29th | Splendid outing last time out v. SEA (6 IP/1 H/1 ER/7 Ks) & wasn't terrible v. TEX before that (5 IP/3 ER)… I'll ride the favorable matchup here |
| 19 | Patrick Corbin | WSN | at | KCR | | x | x | 56.1 | 4.47 | 1.38 | 10% | 14th | Hasn't allowed more than 3 ER in any of his L7, posting a 3.40 ERA and 1.14 WHIP but a meager 12% K-BB… I'm rolling with him |
| 20 | Hunter Greene | CIN | at | CHC | | | x | 50 | 4.68 | 1.50 | 22% | 15th | After allowing 1 HR in his first 6 starts, he has allowed 11 in the last 6 and his 1.4 HR is still an improvement over last yr's 1.7 |
| 21 | Brandon Pfaadt | ARI | | BOS | | | x | 20 | 7.65 | 1.55 | 7% | 7th | HRs have smoothed out w/just 1 in his L2 starts after 6 in the first two; there's still plenty to like about this rookie arm |
| 22 | Grayson Rodriguez | BAL | | TEX | | | | 42 | 6.21 | 1.64 | 17% | 9th | The 4.03 SIERA gives some hope, though until the 2.1 HR and .363 BABIP improve he won't get anywhere near that SIERA |
| 23 | Taijuan Walker | PHI | at | ATL | | | | 46.2 | 5.79 | 1.44 | 10% | 18th | Maybe in the best of matchups, but no shot against Atlanta |
| 24 | Randy Vásquez | NYY | | SDP | | | | #N/A | #N/A | #N/A | #N/A | 25th | Making his debut from Triple-A where he had a 4.85 ERA, 1.57 WHIP, and 14% K-BB in 43 IP |
| 25 | Joey Wentz | DET | | CHW | | | | 38.2 | 7.45 | 1.63 | 10% | 11th | Has shown some elements over his 71 MLB innings but also faaaarrr too much risk to consider him in many spots |
| 26 | Noah Syndergaard | LAD | at | TBR | | | | 41.1 | 5.88 | 1.33 | 14% | 3rd | Hard to trust him in even the lightest of matchups let alone one of the absolute toughest |
| 27 | James Kaprielian | OAK | | HOU | | | | 28 | 8.68 | 1.86 | 8% | 27th | Remember when he was kinda deece back in 2021? Feels like ages ago! |
| 28 | Connor Seabold | COL | | NYM | | | | 31.2 | 5.97 | 1.64 | 9% | 20th | No thanks |
| 29 | Jordan Lyles | KCR | | WSN | | | | 56.2 | 7.15 | 1.34 | 9% | 17th | No format or situation where I land on a Lyles start |
| 30 | Jalen Beeks | TBR | | LAD | | | | 25 | 4.68 | 1.20 | 9% | 10th | Likely just opening for a couple innings here |
Recommendations for Roto 5×5 Leagues