Perusing the names atop early-season leaderboards is always fun. Take, for example, earned run average among all starters who have thrown at least ten innings this year. Three pitchers are tied for first, having not given up a run this year. Mike Clevinger was ace-like last year, and he's been otherworldly in 2019. Matt Moore was good, and then he was hurt. CC Sabathia was hurt, and now he's good. But the surprising name is the guy who's fourth: Jordan Lyles.
Lyles is a former well-regarded prospect in the Rockies system who flamed out because he couldn't miss bats. After signing on with Pittsburgh this offseason as rotation depth, the righty has suddenly taken off. Lyles checks in with a 0.53 ERA across three starts and seventeen innings for the upstart Pittsburgh Pirates, and has quickly gone from depth arm to third in the rotation behind stalwarts Jameson Taillon and Chris Archer. With pitching always in short supply in fantasy, it's worth looking at whether ace Lyles is sustainable, or at least worth a pickup.
Let's start with the bad, because you know that's coming. Small sample considerations aside, Lyles has been allowing way too much hard contact this year. The former top prospect used to be a pretty good contact manager, with Barrel% rates in the top 5% of MLB in both 2015 and 2016. Those days are no more; Lyles is allowing hitters to barrel the ball 10.3% of the time, a rate that would easily be a career high. Accordingly, hitters' exit velocity against Lyles is also at a career high at 89 miles per hour. Lyles' ground ball rate, whilst still good at 46.2%, is continuing a four-year downward trend. So Lyles is allowing harder contact and more contact in the air. That seems like a bad combination.
At the same time, Lyles wasn't so good when he allowed lots of weak contact. In 2015, Lyles posted an elite 2.5% Barrel%. He also allowed a .326 xwOBA and posted a 5.14 ERA. In 2016, Lyles again posted an elite 1.4% Barrel%, but posted a 5.83 ERA and 4.58 FIP. Why? Because, in those days, Lyles didn't miss any bats at all, striking out just 14.2% of hitters in 2015 and 11.7% of hitters in 2016. Jordan Lyles, contact manager, allowed way too much contact to be effective. This year, he's flipped the script, striking out 29% of hitters he's faced. Take a look: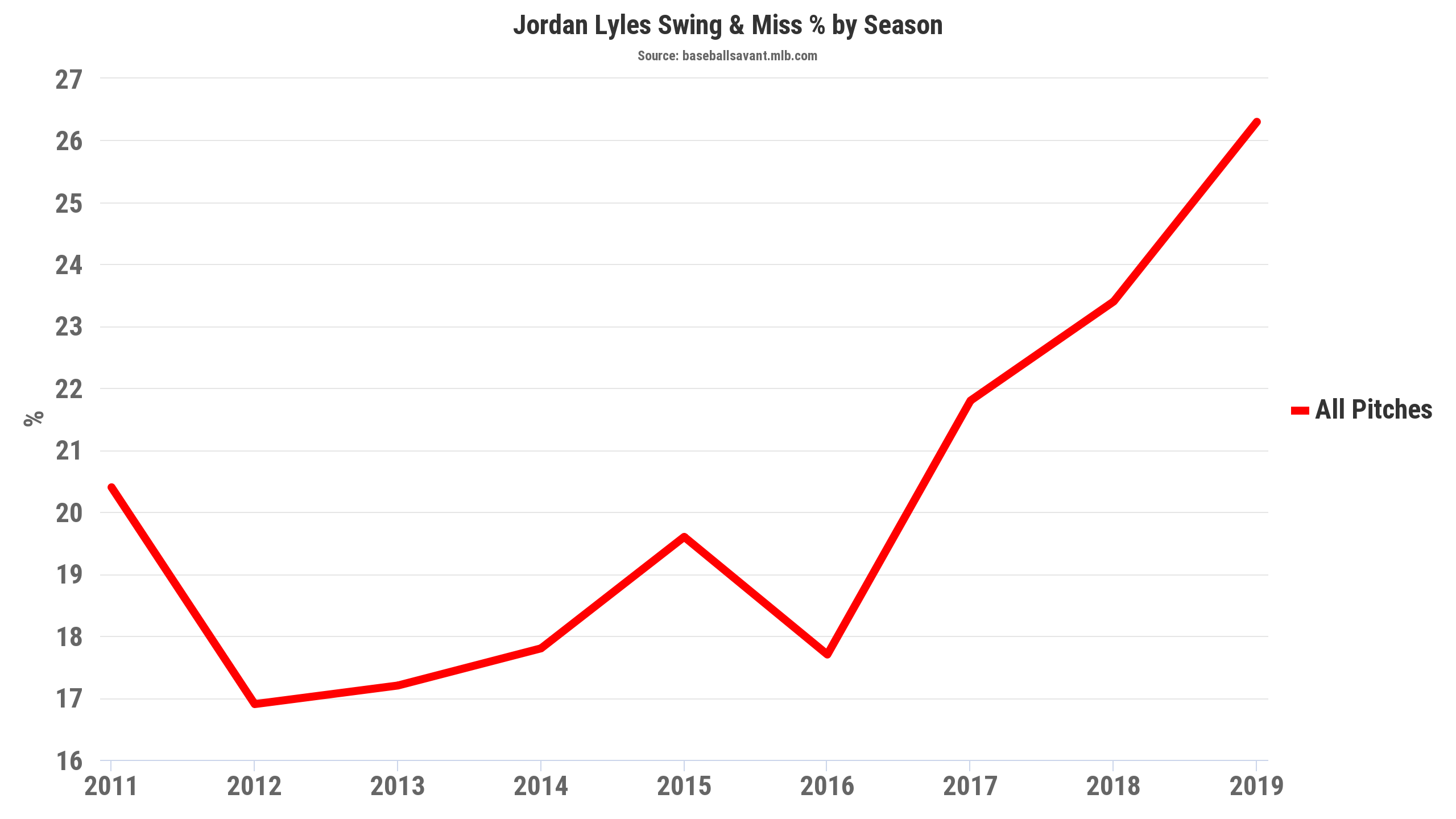 You can see the transformation actually began last year, when Lyles was with the Brewers' bullpen. Jeff Sullivan wrote about how Lyles abandoned his grounder-generating two-seam fastball in favor of a whiff-generating four-seamer. That trend has continued this year. Take a look: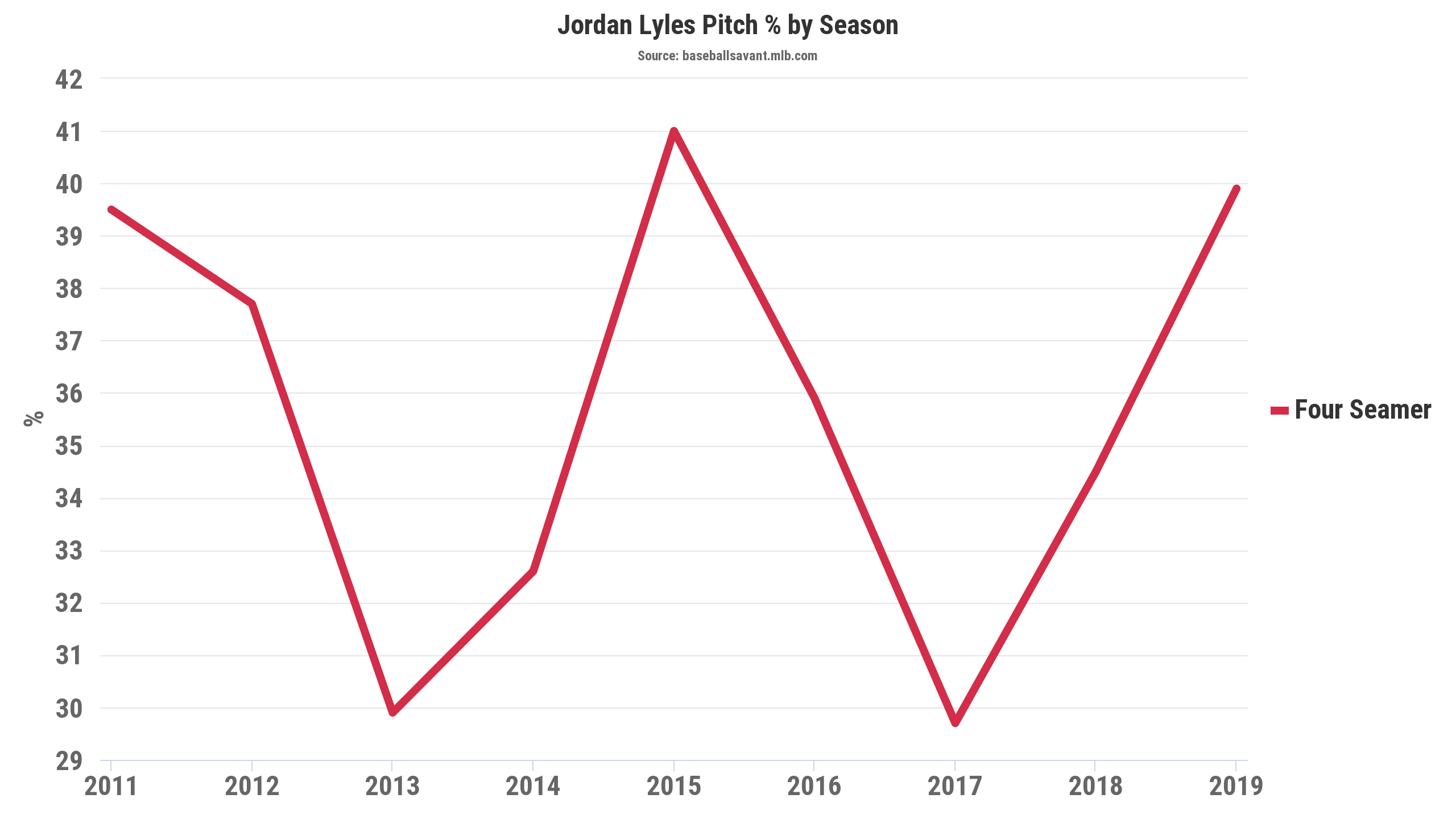 And Lyles is generating more whiffs on that pitch than ever before.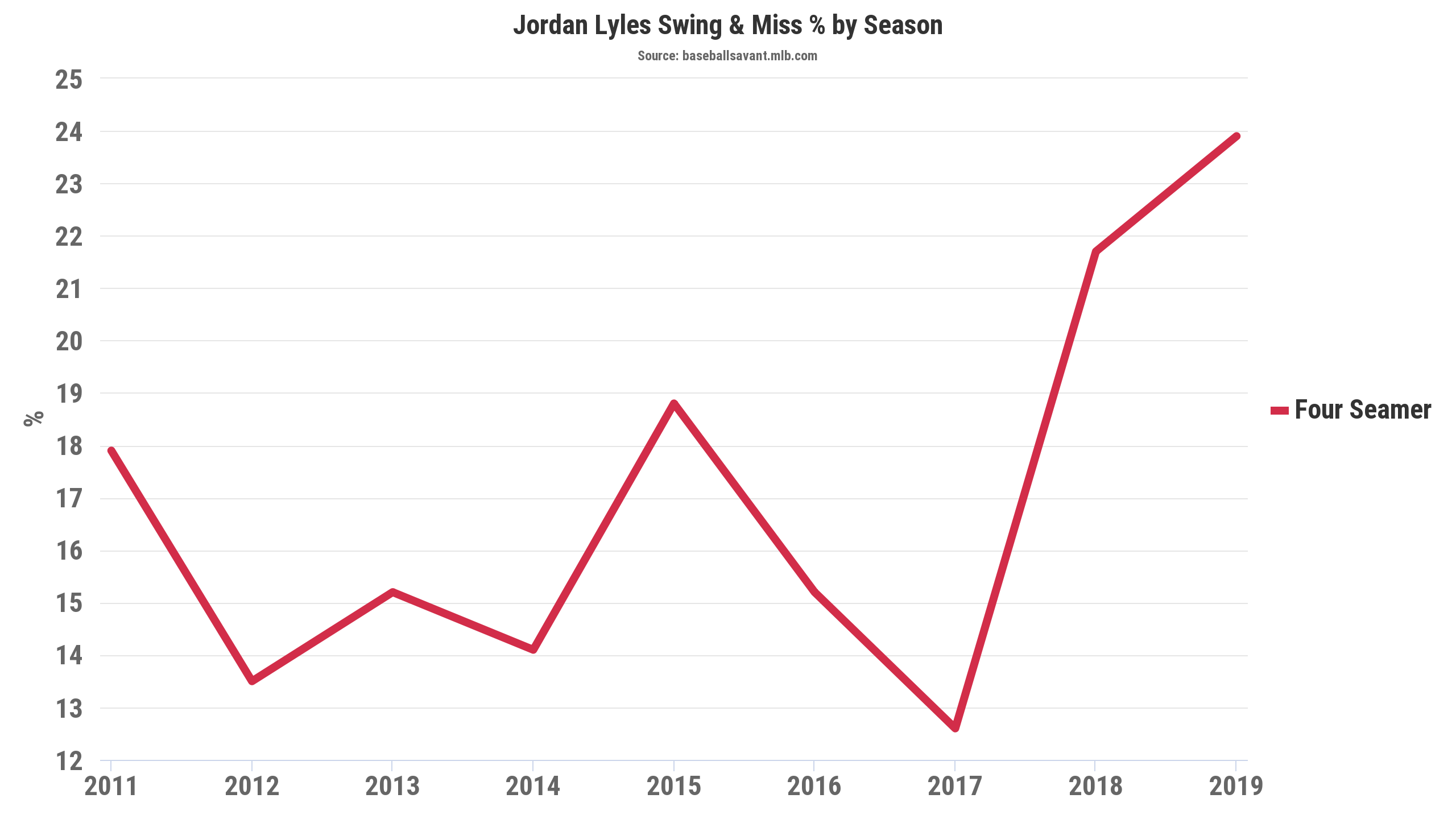 In fact, Lyles' increased usage of the four-seamer has also benefited his whiff rates on his secondary pitches. Look at what's happened to the whiff rates on his curveball, now Lyles' go-to out pitch:
\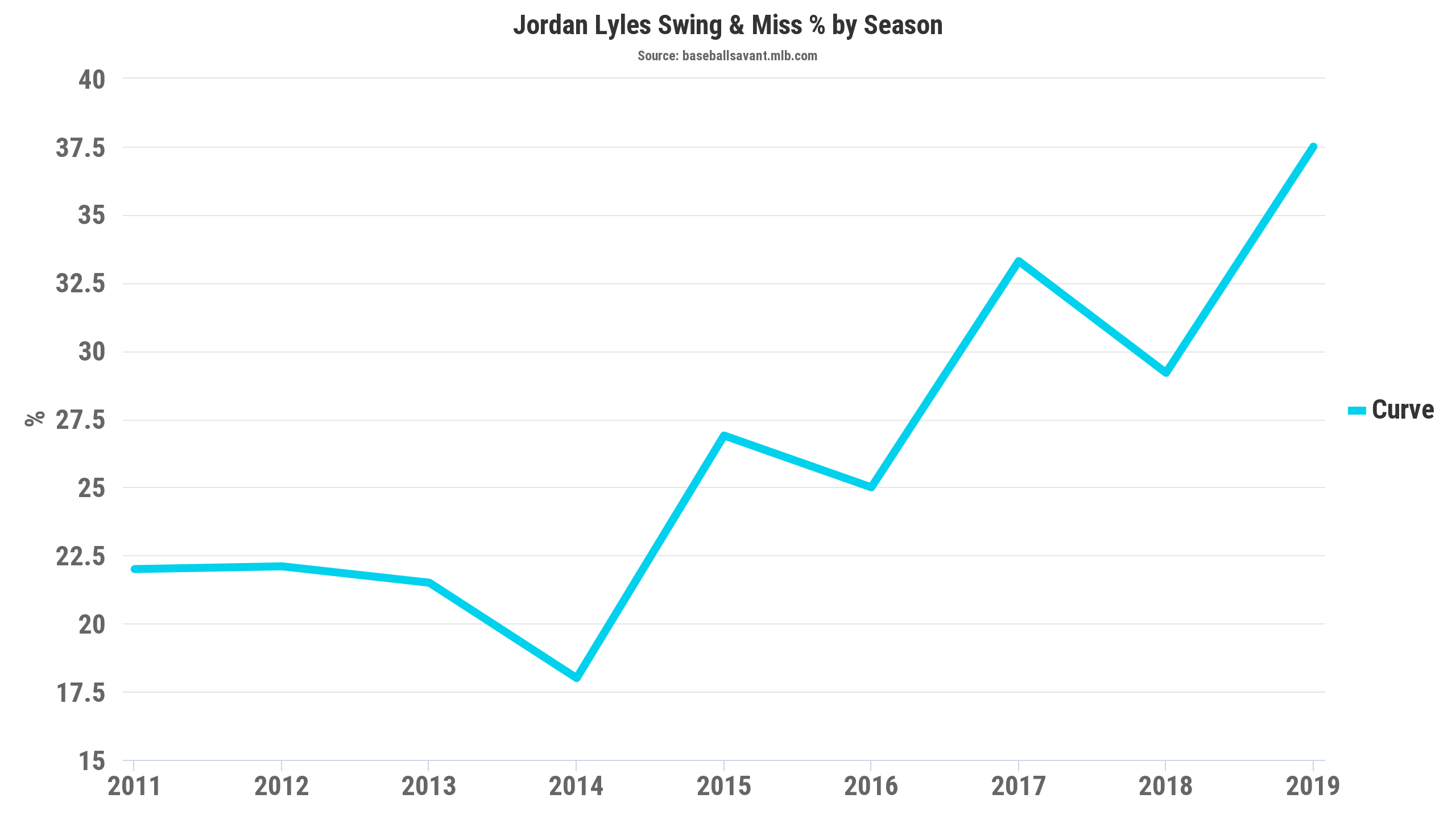 And Lyles' changeup has become a legitimate weapon as well, with a 2019 whiff rate almost 44% and a spin rate of 600 rpms less than his four-seamer.
So what is Jordan Lyles? It seems as though Lyles has made the same tradeoff as another former Pirate, Charlie Morton. Morton sacrificed contact management for missing bats, and became a top-of-the rotation starter. Lyles is doing much the same. Lyles' penchant for allowing hard contact is a problem, but starters like James Paxton and Max Scherzer allow hard contact and are still top-of-the-rotation studs. Lyles isn't that, yet, but a good portion of his metamorphosis appears, at least, to be a sustainable change. And though Lyles has lost a tick on his fastball from last year, that may simply be from transitioning back to the rotation from the bullpen.
Now, there are some warning signs. Lyles won't strand 100% of base runners all year. He won't maintain a 5.9% HR/FB% allowing that much hard contact. And his .237 BABIP will most certainly rise. In other words, there will be some rough multi-homer outings this year. Still, Lyles has decent control, does a good job staying out of the middle of the zone, and pitches half his games in a pitcher-friendly ballpark. All told, that makes Lyles an attractive streaming option at worst. If Lyles has become a poor man's Charlie Morton, that has value at the back of your rotation.
Sheryl Ring is a litigation attorney and General Counsel at Open Communities, a non-profit legal aid agency in the Chicago suburbs. You can reach her on twitter at @Ring_Sheryl. The opinions expressed here are solely the author's. This post is intended for informational purposes only and is not intended as legal advice.