Today's edition is abbreviated but I felt I needed to draw a line from the first Spring Training to the second one whenever it occurs. A few tidbits snuck through before everything came to a halt.
For the next few articles, I'm going to grind through the velocity gainers and losers next, cross-check those with Jason Collette's new pitch tracker, and find some possible breakouts.

American League
Angels
• When Shohei Ohtani was to return from his Tommy John rehab, he was to slot into the Wednesday rotation slot.
Once he's ready to join the rotation, Ohtani will pitch once a week just like he did as a rookie — but it could come on a different day than when he exclusively pitched on Sundays during his Rookie of the Year campaign in 2018.

"That's a nice day," Maddon said with a smile when asked about Wednesday starts. "I think if you look at it, there's a lot of common sense."

It makes sense because the Angels have a plethora of Thursday off-days once Ohtani is scheduled to return, which would give him a built-in day off after throwing and he could then be ready to be the DH on Friday.
This mid-week spot is ideal because if a rainout does occur, he still pitches for owners who started him in weekly formats. We have no idea what the schedule will look like when games resume, so hope for a middle-of-the-week start in order to not take a zero from him if a start gets pushed back.
Athletics
• Daniel Mengden … W T F.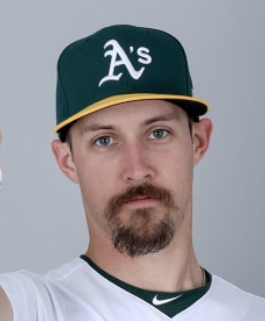 He a nobody in my book without the curled mustache.
Blue Jays
• Randal Grichuk's hold on the center field job is tenuous at best.
The Jays have decided to go with Randal Grichuk as their primary centre fielder this year, but they have no illusions about the potential flaws in their outfield and the fact that it may need to be meaningfully addressed in the near future.

"We do feel he's capable of playing probably an average major league centre field — not better than that," Shapiro said of Grichuk. He then added that if Grichuk's productivity "stabilizes towards the upper end of what he's done over his career," he "could be a very productive centre fielder."
Red Sox
• Must-read on why Chris Sale is not to the point of needing Tommy John surgery, but he could be close.
The concern with him, his UCL, I'm sure it's not perfect. The question is, is this just part of an inevitable cascade? Like he has a flexor strain, eventually he's going to completely blow out his UCL and need surgery? But it's the kind of thing where they've had the MRIs, they've had people look at them, it's probably a partial tear of his ulnar collateral ligament and the flexor muscle got irritated. They probably had a previous MRI of his elbow and the ligament probably looks very similar. It's not perfect, but it's not at the stage yet where it needs an operation.
National League
Rockies
• Raimel Tapia added some bulk and his results have improved.
But this spring, Tapia is up about 15-20 pounds (to around 190) from last season, thanks to his dietary changes, a training program and a maturing 6-foot-3, 26-year-old frame.
…
But so far this year, Tapia's exit velocity on his four extra-base hits has measured an average of 105 mph. Last season, Tapia's 37 extra-base hits (nine home runs, including one inside-the-parker, five triples and 23 doubles) averaged 95.3 mph.
Jeff, one of the authors of the fantasy baseball guide,The Process, writes for RotoGraphs, The Hardball Times, Rotowire, Baseball America, and BaseballHQ. He has been nominated for two SABR Analytics Research Award for Contemporary Analysis and won it in 2013 in tandem with Bill Petti. He has won three FSWA Awards including on for his MASH series. In his first two seasons in Tout Wars, he's won the H2H league and mixed auction league. Follow him on Twitter @jeffwzimmerman.