A couple of items before digging into projection adjusting news.
1. I've started collecting spring training fastball velocities and will update them as I find the time.
The Spring Training fastball velocity tracker is live. I'll update it when and if I feel like it, but I can always use some help. If anyone sees a velocity available in a Tweet or article, just tag me and I'll eventually add it. Thanks for the help. -Jeffhttps://t.co/2LaJ5uCDGJ

— Jeff Zimmerman (@jeffwzimmerman) February 22, 2020
One name which immediately sticks out is Alex Wood with a 2 to 3 mph jump. Wood lives off his sinker (50%+ usage). While it's not a huge swing-and-miss pitch, it does better at 93 mph and higher.
While healthy, he's a must-own in all formats.

2. In several instances, I bring up potential changes in lineup position. Most of the time, the only item to adjust is the plate appearances lost with the ratio of Runs-to-RBIs is constant. Unless it's the top two spots in the lineup where the Runs scored can be 40% higher than the RBI totals. Here are last season's ratios.
The Ratio of Runs to RBI Per Lineup Slot (2019)
| Split | AL | NL |
| --- | --- | --- |
| Batting 1st | 1.41 | 1.45 |
| Batting 2nd | 1.21 | 1.30 |
| Batting 3rd | 0.96 | 0.97 |
| Batting 4th | 0.90 | 0.92 |
| Batting 5th | 0.90 | 0.94 |
| Batting 6th | 0.95 | 0.92 |
| Batting 7th | 1.03 | 0.91 |
| Batting 8th | 1.00 | 1.02 |
| Batting 9th | 1.17 | 1.00 |
American League
Astros
• Austin Pruitt is in contention with Josh James for the 5th rotation spot.
The competition for the fifth starter spot is a three-man race between right-handers Austin Pruitt and Josh James and left-hander Framber Valdez. Valdez has the worst odds of the three, but he can't be ruled out because of the quality of his sinker-curveball combo.

With his power fastball-changeup-slider repertoire, James definitely has more upside than Pruitt, a soft-tosser whose calling card is his command. James' past control issues makes Pruitt the safer bet among the two, but James will have ample opportunities to win the job through his performance in Grapefruit League games. The loser among Pruitt and James will be in the bullpen.
• Yordan Alvarez fouled a ball off his knee and struggled to run in the second half.
Alvarez, who clubbed 27 homers and drove in 78 runs in 87 games last year en route to being named the American League Rookie of the Year, dealt with knee problems in the second half of last year after he fouled a ball off his knee in June. Alvarez started 74 games at designated hitter last year and nine in left field, which was typically in National League ballparks to keep his bat in the lineup.

"I'd like to see him play a little more outfield, but I've been told that his knees are barking sometimes is the reason why he doesn't get more work in the outfield," Baker said. "If his knees are barking and he can't hit, then he's not doing us or himself any good. I'd like to see him play some outfield, if nothing else to give him some weapons other than just DHing and also to give some other guys time off to DH. It's two-fold. We have our eyes on him."
• George Springer will continue to bat leadoff.
Blue Jays
• Trent Thornton is implementing several new improvements to his repertoire including a changeup.
At the end of the 2019 season, the rookie hurler made some upgrades to his repertoire, aided by the assistance and advice of veteran hurler Clay Buchholz. Thornton took the tidbits he gleaned and implemented them into his curveball, sinker and changeup, "so I stole a lot of his pitches," the 26-year-old said.

Thornton's most evidenced improvements were in his changeup, a pitch that he would love to lean on more often and with more effectiveness, after "stealing" it from Buchholz.
• Lourdes Gurriel Jr. is working on his plate discipline.
But in 2019, Gurriel also struck out at an above average clip (25.1 percent) and walked at a below average rate (5.8 percent). For this reason, Gurriel has been working on his strike-zone recognition and his two-strike approach.
Indians
• Francisco Lindor may not bat leadoff.
On Monday, Francona discussed the possibility of shifting Francisco Lindor out of the leadoff spot after spending the majority of the last two seasons at the top of the order. And while Lindor seemed to agree that it may be a good idea when he was asked about it later that afternoon, Francona clarified on Wednesday that the two will be heavily involved in conversation about the lineup as we get closer to Opening Day.
• Jake Bauers has revamped his swing.
From there, the position battles will begin. Jake Bauers, who has revamped his swing to prove he deserves a place on the 26-man roster …
Mariners
But don't be surprised if second baseman Shed Long gets penciled in frequently in the leadoff role this spring as the Mariners look to see if the 24-year-old can provide the same combination of pop and on-base percentage he showed in a trial run last September.
Orioles
• Ryan Mountcastle should play all over the field.
The short answer is: All over. The Orioles have been zigzagging Ryan Mountcastle all around the field since full-squad workouts began, giving the now-23-year-old (his birthday was Tuesday) reps in the outfield and both corner infield spots. Mountcastle was grouped with the outfielders during regular workout hours Monday and Tuesday, then received individualized first base work afterwards. On Wednesday, he was part of the infield alignment, playing mostly first base with Chris Davis out sick.

Once games start, expect Mountcastle to see time in both right field, left field, third base and first. Manager Brandon Hyde said Tuesday the club has not discussed working Mountcastle out at second base, though EVP/GM Mike Elias floated the possibility at a fan event this winter.
Rays
• Brendan McKay is still dealing with some shoulder stiffness for last season.
Brendan McKay (left shoulder stiffness) said he came in feeling "really good" after throwing from 120 feet on Friday. McKay, who was shut down from throwing on Tuesday and Wednesday, is tentatively scheduled to throw a bullpen session on Sunday.

If that goes well, McKay could throw his first live batting practice session during the week, though that's still unclear.

"It was kind of the same thing I had at the end of the year last year," McKay said. "Throughout the offseason, it really wasn't there, and then [it] just kind of popped back up with the intensity and a lot more throwing. Now that we got it all situated, I feel good about it."
What the hell. The team and he had all offseason to take care of the issue and didn't. McKay was borderline unrosterable and now he's off all my draft boards.
• Tyler Glasnow is hoping to incorporate his effective change (13% career SwStr%) more and more.
Cash said Glasnow threw his four-seamer, curveball and the changeup he has been working on during the spring. He threw the change 3.5 percent of the time last season but went away from it toward the end of the season after it caused some discomfort in his forearm. But now that Glasnow has made the necessary mechanical adjustments with the pitch, he's looking to incorporate it into his repertoire.
Red Sox
• Ryan Weber seems to have the inside track to the Red Sox fifth starter spot.
Roenicke was asked about the fifth starter opening each of his first two days on the job, and each time he singled out Weber as a strong candidate. Weber throws strikes, goes after hitters, and when his command is right, Roenicke said, he generates some easy outs.
Royals
• Brad Keller developed a curveball over the offseason. He only had a slider as a non-fastball, so the curve can't hurt.
In the meantime, as the changeup has remained in the works, Keller has hammered away on the curveball. That work has paid off. He has been able to throw the pitch in the mid to high 70-mph range for strikes.

"I was very surprised," Holmes said. "It was very quick. … For him to develop the curveball in a little over a month is very impressive. It shows he has a great feel for where his hand is when he's releasing the ball."
Tigers
• Miguel Cabrera isn't as fat as last season.
Cabrera is lighter — by how much, we don't know, since his listed weight hasn't changed in recent years — but the difference is noticeable in the way he moves around the field. More importantly, with his knees carrying a little less weight, he's recapturing the back-leg push that put power in his swing over the years, a swing he had to alter last year to put more weight on his front leg. We'll learn more once Cabrera faces live pitching in game situations, but so far, so good.
Twins
• Aaron Gleeman of The Athletic thinks Jhoulys Chacín will get the Twins fifth rotation spot.
No clear favorite yet. I'd probably give Chacin the best odds, because the Twins think his slider is the building block for a bounce back and the 32-year-old was a solid mid-rotation starter for most of the past decade. Lewis Thorpe, Randy Dobnak and Devin Smeltzer are the non-veteran options, but they can each be stashed at Triple-A. We've seen how this regime loves stockpiling depth, and the easiest (or maybe only) way to keep all four candidates in the organization is for Chacin to get the Opening Day job.
We'll see since I believe he is the least talented of the three pitchers vying for the job.
• Devin Smeltzer has added a slider during Spring Training.
The competition for the Twins' open fifth rotation spot is off to a fast start, and left-hander Devin Smeltzer arrived in Bradenton on Saturday equipped with a new toy that he hopes can be a difference-maker in his bid for the Opening Day roster.

Smeltzer said that new bullpen coach Bob McClure told him last week to simplify his thinking, turn his fastball grip a little bit and let the ball fly as a new slider that he threw three times in two perfect innings against the Pirates in Saturday's 2-1 win.
White Sox
• Luis Robert will bat from 7th to 9th after being the leadoff hitter while advancing through the minors.
Hitting lower in the order, somewhere in the 7-9 range, actually would benefit the multi-talented Robert, as the 22-year-old gets his big league legs under him. White Sox manager Rick Renteria has talked of easing Robert into the lineup by starting him lower at the season's outset.
National League
Braves
• If anyone has a sub to The Athletic, read this article on the all the stuff Freddie Freeman went through to deal with his elbow pain. I'd want to grab about half the article but here are just a couple of bits.
It wasn't like the game days last season when he was coming off two hours of sleep. Or the times when, if he wasn't careful with the timing of his medication, that his vision went blurry. Or the time in Philadelphia when the elbow throbbed so much that he couldn't shampoo his hair. Or the night in Washington when he used his right hand to brace his fall after a fielding play, and "I was pretty much tearing up on the field."
…
He took shots. He took pills — two before almost every game for six weeks. Do the math. He said he thought he could get by "with adrenaline and the pain pills."

Pain wasn't the issue. The meds took care of that. It was the peripheral issues. He had gotten into bad habits, cutting his swing short, because of the injury. The lack of sleep and accompanying stress made things worse.
I hope he didn't hurt his body too much by playing through the pain. He mentions altering his swing. Hopefully, the old, healthy swing returns.
• Austin Riley worked on his balance and plate discipline.
Austin Riley spent the offseason making mechanical adjustments aimed toward creating more balance at the plate. But more importantly, the Braves third baseman must now prove he can gain the plate discipline necessary to avoid an extension of last year's sudden decline.
Cardinals
• Harrison Bader reworked his swing and approach this offseason.
Harrison Bader spent the offseason in Miami, working on his swing with hitting instructor Lorenzo Garmendia. After a down year at the plate that included being optioned to Triple-A Memphis for three weeks, the Cardinals' center fielder knew he needed to rework his swing and get back to driving the ball.
…
"I see Harrison more under control," Shildt said. "The difference in the swing, it's more of a controlled swing, but he's under control. He's under control with his eyes and under control with his body, and he's just letting the game come to him a little bit. Like most guys when they do that, they're in a good spot."
Cubs
• Tyler Chatwood gained confidence in his curve during the second half of last season.
After using the curve minimally in April and May last year, Chatwood started to lean on the pitch more. In September, his curveball usage jumped to 26 percent, a monthly career-high and only the second month he'd ever reached 20 percent. The result? Chatwood saw more swing and miss than he'd ever had in his career.

In July, Chatwood posted a 22.2 percent strikeout rate. It was just one of a handful of times he'd gotten strikeouts at such a high clip for a full month. In August and September, it only got better as he set career highs in consecutive months with 29.8 and 32.7 percent rates, respectively. His previous career-high in a month was 25.4 percent in May 2013.
The adjustment had his ERA dropping from 4.40 in the 1H to 2.84 in the second which were inline with his ERA estimators. Right now, he is projected to be the Cubs 5th starter. I'm not sure many 5th starters are draftable in 12-teamers, but he's a must own in deeper formats.
• Kris Bryant may leadoff for the Cubs.
The goal of that initial closed-door conversation for Ross was to see how open-minded Bryant would be about being the Cubs' leadoff hitter in 2020. That crucial slot in the lineup has been a revolving door for Chicago in the three seasons since Dexter Fowler's departure and Ross is seeking a more solidified solution.
• Craig Kimbrel's results are directly linked to his fastball velocity.
That was an issue last year, when the disjointed offseason, missed Spring Training and abbreviated ramp-up after signing with the Cubs was all followed by injury setbacks. Kimbrel sustained a right knee issue in early August and then a right elbow problem in early September. Each issue got in the way of any positive momentum when it came to his fastball velocity.

The fastball has dropped in each of the past two years, and hitters have feasted on the pitch as a result.

Kimbrel's average fastball velocity (via Statcast):
2017: 98.3 mph
2018: 97.1 mph
2019: 96.2 mph

wOBA vs. Kimbrel's fastball
2017: .198
2018: .299
2019: .488
The results start falling off once his velo plummets.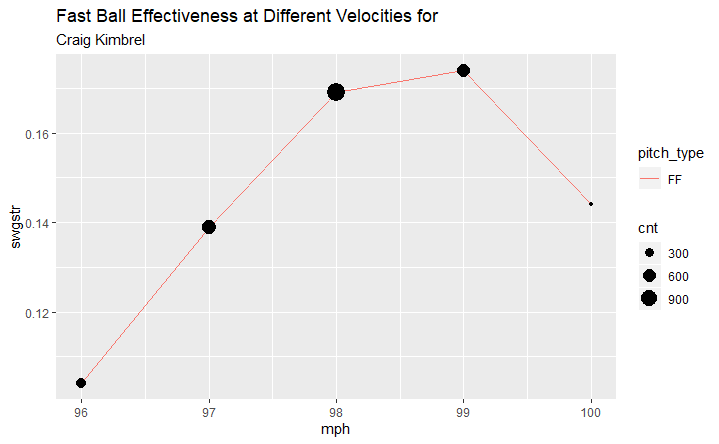 Dodgers
• If everyone stays healthy, the Dodgers have already set their regular season rotation with Julio Urias and Alex Wood getting the last two spots.
Clayton Kershaw, Walker Buehler and David Price are assured spots if healthy. Manager Dave Roberts said Saturday that he expects Julio Urías to open the season among that group. And Alex Wood said Sunday that he is "fully cemented" in the opening-day rotation.

That makes five, as many as most rotations hold. Right-handers Dustin May, Tony Gonsolin, Ross Stripling and Jimmy Nelson are all still starters theoretically in the competition as of now, but it appears the Dodgers plan to open the season with four left-handers and Buehler as their five.
• Mookie Betts will leadoff for the Dodgers.
Dodgers manager Dave Roberts confirmed that Mookie Betts will be his primary leadoff hitter this season. Betts has hit leadoff in 562 of his 780 MLB starts.
Giants
• Maria Guardado of MLB.com believes Yolmer Sánchez will be the team's second baseman pushing down the values of Wilmer Flores and Mauricio Dubón.
If Mauricio Dubón shows that he's comfortable moving around and emerges as a capable center fielder, I think Sánchez could end up drawing regular at-bats at second base during the season. Not only does Sánchez bring Gold Glove-caliber defense, but he's also working on making some tweaks to his swing that the Giants hope will allow him to produce at a higher level than he's shown in the past.

Dubón and Wilmer Flores should also factor into the second-base mix to some degree, especially when the Giants face left-handed pitching.
I have a tough time believing it since Flores signed a two-year MLB contract and Dubon could be useful for seasons to come.
• Steven Duggar and Jaylin Davis have both been making swing adjustments. Also Yolmer Sánchez.
Duggar has been tweaking his swing this spring and still has plenty of upside at age 26.
…
Blessed with impressive raw power, the 25-year-old Davis has been tapped as a potential breakout candidate after making some adjustments to his swing over the offseason …
…
Non-roster invitee Yolmer Sánchez hit only two home runs for the White Sox last year, but he has been working on some adjustments to his swing, and he seemed to show signs of progress when he crushed a long blast off left-hander Wandy Peralta during live batting practice on Thursday.
Mets
• Jake Marisnick is working on improving his plate discipline.
This winter, Marisnick said, he spent significant time working on his offense. Mets hitting coach Chili Davis has encouraged him to focus less on his mechanics and more on hunting pitches in locations he can handle. For example: an 87-mph Adam Wainwright fastball that leaked over the inner half of the plate.
Nationals
• The Nationals want to see if Victor Robles can hit (and walk) enough to be the leadoff hitter.
But if Turner were to shift to the three spot, Victor Robles is a potential candidate to take over in the leadoff spot. He has hit .333 in 60 at-bats over his career in that role. Martinez believes if Robles continues to drive the ball and focuses on taking walks and swinging in the strike zone, "he can make things happen."

"I want to see how Robles reacts hitting up at the top of the order," Martinez said. "If he can start honing in on the strike zone and taking his walks … could you imagine having him, Eaton, Turner, [Juan] Soto? I think that's pretty dynamic. But we've got tons of time. We've got a lot of options."
Padres
• Trent Grisham as the inside track to be the Padres center fielder.
Ultimately, Trent Grisham might be the biggest beneficiary of the Margot trade. Margot was destined to start in center field against left-handed pitching — forming a platoon with either Grisham or Franchy Cordero. Now, there's a spot open for one of the Padres' young left-handed hitters to play every day.

Grisham is the safest bet for that role. Cordero has a long track record of struggling against left-handed pitching. Grisham wasn't great last season, but he's had plenty of success vs. lefties in the Minor Leagues. And if Grisham is playing every day, there's not much reason for him to play anywhere but center.
Phillies
• Aaron Nola got away from throwing strikes last season and it hurt every aspect of his game. He vows to correct the problem.
Aaron Nola is focused on the big picture this spring. He wants to "fill up the strike zone," which means getting ahead in the count and staying ahead in the count. He wants to keep the ball down in the strike zone. He wants to throw his fastball for more strikes. He wants to reestablish his changeup.
…
Consider his changeup's in-zone percentage over his career:

2015: 41.1 percent
2016: 40.3 percent
2017: 47.6 percent
2018: 42.9 percent
2019: 30.6 percent
• Nick Pivetta is trying to mix in a serviceable change.
Pivetta believes his more compact delivery and shorter arm action has him using his legs more and driving the ball better to home plate. He believes the changeup will make him better for the obvious reason that starting pitchers need more than two pitches to succeed.

"That's going to be the pitch that's really going to get me over the edge," Pivetta said. "I'm not just going to go out there and start [Luis] Castillo-ing it. The guy from the Reds. I'm not a changeup pitcher. But I think I'm just going to go out there, utilize all four of my pitches in those counts to get guys out early."
Pirates
• Mitch Keller plans on being less predictable by not throwing his fastball as much.
Over the winter, Keller began diving into situations — who's batting, what are his tendencies, who's on base, who's positioned where in the field behind him — and learning how to modify his pitch usage. That work continues this spring. He's also tinkering with his fastball grip, trying to coax more spin.
• Joe Musgrove is planning on keeping some of his late-season magic.
Around the time he took off in late August, Musgrove shortened his arm action, keeping his throwing arm closer to his body during his delivery. He immediately found that the simplified mechanics led to more consistency in his release point and landing spot on the mound, and the movement and life on all his pitches improved as well.

Musgrove's fastball velocity also shot up, but that wasn't just a product of the delivery change. He had abdominal surgery in October 2018, and while he was healthy from start to finish last season, he didn't truly feel like his body was operating at full capacity until late in the year.
• Ke'Bryan Hayes should be getting called up mid-season.
Given the Pirates' increased emphasis on defense, Hayes, the Pirates' top position-player prospect, could be in the majors sooner than later. He has three minor league Gold Glove awards to his name, but the eye test is just as definitive: He is a wonderful third baseman.

I'd expect the Pirates will give Erik González, who is out of options, a long look early in the season, deploying him frequently at third base, and if his hitting doesn't come around they'll turn to Hayes this summer.
He is a glove-first third baseman with limited offensive skills. There is no reason to roster him in any format but 50-player draft-and-holds. He's just not going to provide much fantasy help.
Rockies
• Bud Black plans on Ryan McMahon starting over 150 games.
Manager Bud Black expects McMahon, who played in 141 games last season, to push into the mid-150s the way Charlie Blackmon, Trevor Story and Nolan Arenado have in recent seasons.
If true, Garrett Hampson's value takes a huge hit if this comes to pass.
Jeff, one of the authors of the fantasy baseball guide,The Process, writes for RotoGraphs, The Hardball Times, Rotowire, Baseball America, and BaseballHQ. He has been nominated for two SABR Analytics Research Award for Contemporary Analysis and won it in 2013 in tandem with Bill Petti. He has won three FSWA Awards including on for his MASH series. In his first two seasons in Tout Wars, he's won the H2H league and mixed auction league. Follow him on Twitter @jeffwzimmerman.