This series is moving weekly. Just too much to keep up with to go any longer than that.
• While Orlando Arcia will start the season as the Brewers shortstop, the team plans on Luis Urias taking over the role once healthy.
Luis Urías vs. Orlando Arcia for Opening Day shortstop duties was supposed to be Milwaukee's marquee battle when Spring Training gets underway Wednesday. That changed after Urías underwent surgery Jan. 28 for a broken hamate bone in his left hand, a procedure expected to sideline him from games for eight weeks.

With Opening Day set for March 26 against the Cubs at Miller Park, and Urías certain to need some exhibition games to get ready for Major League competition, it's unlikely he will be active to start the season. So, Arcia will get a head start on what was expected to be an intriguing matchup of young players with much to prove.

"We're certainly going to give Urías every shot to prove he can play shortstop for us," Brewers manager Craig Counsell said in January, before the ill-timed setback. "That's why we traded for him."
• Johan Camargo will start the season as the Braves third baseman.
Unless Camargo suffers an injury during Spring Training, I don't see any reason to put Riley on the Opening Day roster. As I mentioned a couple weeks ago, even if Riley hits .400 with seven homers during Spring Training, it would be in everyone's best interest to give him at least a couple weeks' worth of at-bats with Triple-A Gwinnett.
• The Reds outfield playing time situation is a mess to figure out.
The club is expecting Senzel to return as its center fielder — assuming he returns without issue from right shoulder surgery, which he underwent in September. Cincinnati has 10 outfielders — not including two-way reliever Michael Lorenzen — on its 40-man roster. Even if the team carries five, plus Lorenzen, Bell will still have quite a bit of position juggling to do. He's already on record that Akiyama — like Castellanos — will be a regular part of the lineup, but it could require moving around to accommodate everybody.
• Tyler Glasnow is developing a splitter.
Glasnow — who featured a four-seam fastball, curveball and changeup last season — is ditching the changeup in 2020, and he is looking to replace it with a splitter. He has worked on it throughout the offseason, and he threw it a couple of times in his first bullpen session of the spring on Monday in Port Charlotte.
• Hyun-Jin Ryu could be limited to 150 innings.
Meanwhile, because of his injury history, Ryu will be monitored closely. From the team's point of view, there's no expectation Ryu will be a 200-inning guy. More likely, 150 innings of elite pitching would satisfy the club.
• Chris Archer went back to the pitch mix that worked for him in Tampa in the middle of last season.
You can see the moment when Chris Archer decided to change. It was in the first inning of an afternoon game last summer, June 22, against the San Diego Padres. The PNC Park scoreboard showed Archer's 5.85 ERA. He ignored it. Catcher Jacob Stallings called for a sinker low and away. Archer missed badly, buzzing the 95 mph heater high and inside, and hitter Hunter Renfroe bailed from the batter's box to get his head out of harm's way.

The reinvention wasn't working.

At his best, with the Rays, Archer's bread and butter was a four-seam fastball paired with a wicked, wipeout slider. As numbers steadily worsened, however, Archer attempted to alter his pitching identity. Two years ago, he adopted a curveball and reincorporated the sinker he had toyed with earlier, adding elements to his pitch mix that might exploit hitters' weaknesses. But there he was last June, lost on the mound, out of answers, sending Renfroe running.

So, right then and there, Archer junked the sinker.
From the beginning of the season until June 22, he had a 5.56 ERA, 9.6 K/9, and 1.48. After the change, he posted a 4.68 ERA, 12.4 K/9, and 1.32 WHIP. I guess it helped.
• Tommy Edman is expected to accumulate 450 to 500 plate appearances.
The Cardinals' plan entering spring is to find everyday playing time for Edman, but not with an everyday position. As a switch-hitter, Edman could get five starts every seven games just by being the complement at five different positions for the Cardinals – spelling Kolten Wong one day, getting Paul DeJong a break the next, and then moonlighting in left or right or center before starting at third on the day Matt Carpenter gets a break or a fierce lefty starts. Such a schedule would put him on pace for at least 110 starts, and he would easily get between 450 and 500 plate appearances that way. He'd be a regular.
• Kevin Kiermaier reworked his swing this offseason.
In order to become more consistent at the plate, Kiermaier, who is a career .249 hitter, spent the offseason working with a coach from another MLB team. He wouldn't say who the coach was, though it was approved by the organization. The focus of the workouts was on his body position and control, which could help him become more consistent at the plate.

If Kiermaier begins to use all fields more consistently, he could force opposing teams to stop shifting him as often as they have in previous seasons.
• The A's have no idea who is going to play second base but Tony Kemp seems to have the inside track.
Beane said at FanFest that Kemp's versatility (and left-handed bat) will land him a spot on the roster and the chance to platoon at second base. But that doesn't necessarily mean he'll play second long-term — which could open a spot for a Machin platoon with either Barreto or Mateo.

On a team sorely in need of left-handed bats, it's easier to imagine the A's keeping both Machin and Kemp than it is keeping Barreto and Mateo. Both have pros and cons; Barreto has proven he can hit at every level of the minor leagues, but has yet to experience a long-enough stint in the majors to really establish an offensive rhythm. Mateo, who is fresh off a Caribbean Series win with the Toros del Este and who is considered one of the fastest players in the minors, could be an enticing candidate for the leadoff spot. He's yet to play a big-league inning, but is a proven Triple-A hitter, slashing .289/.330/.504 with Triple-A Las Vegas — in a bandbox, but still — in 2019.
• Noah Syndergaard is hoping to throw his slider faster.
One focus for Syndergaard this month is his slider — a pitch he regularly threw in the low- and mid-90s as recently as 2018, but which dropped to an average of 89 mph last season. Syndergaard not only hopes to reclaim his old slider velocity, but he also believes he showed glimpses of it in his final '19 start.
Over his career, his slider is quite a bit more effective at higher velocities.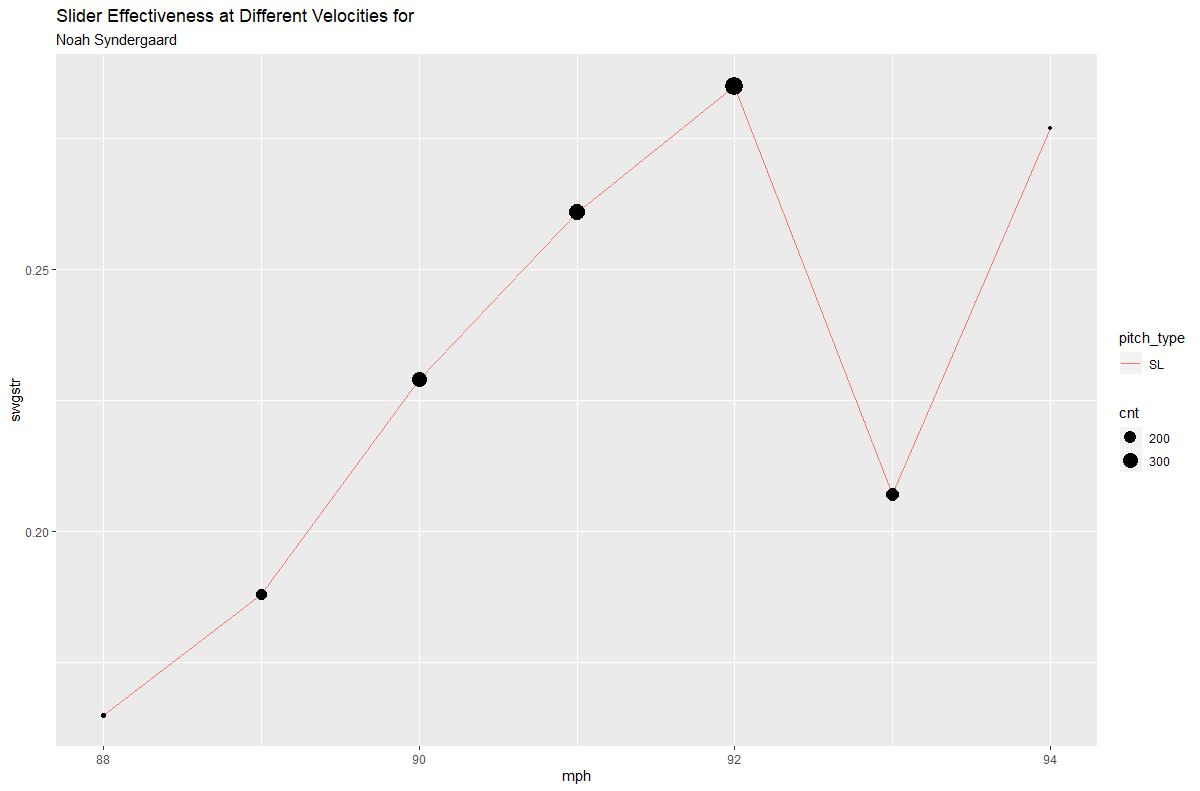 • As of right now, Ryan Braun and Justin Smoak will be splitting time at first base.
The plan going into this season is that Braun will see some time at first base, since Avisaíl García and Yelich are expected to see most of the time at the outfield corners, and Cain has center. So what would a first base platoon look like? Might it be something like 80/20 in favor of Smoak? Closer to 50/50? We just don't know, especially coming off a 2019 season in which Braun, Cain, Smoak and Yelich all missed time with injuries. The most important thing is that they are covered at all of those positions.
• The Brewers are likely to start the season with timeshares at shortstop and third base.
Right now, it looks like Luis Urías won't be ready for March 26 at Miller Park (that could change, however), so Arcia is the frontrunner at shortstop. Eric Sogard is a possibility to man the position on a short-term basis, as well. And yes, it looks like third base will be a timeshare of Gyorko and Sogard at the start of the season.
• Dee Gordon will get little playing time for the Mariners. He's undraftable at this point.
The problem is they never found a partner, and now they've got to find a way to utilize him this spring that keeps him engaged and upbeat. He'll still get some reps at second base, he'll even play some shortstop (he's played 173 games there in the big leagues) and get a look in the outfield, where he opened the 2018 season as the starting center fielder when Robinson Canó was still here.

"There will still be some opportunity to Dee," Dipoto said recently.

Seattle manager Scott Servais will have to be creative in how and when he deploys Gordon, who still could be potentially moved, as injuries with teams always come up in spring. "As far as having a plan laid out, I think we have to be open," Servais said.
• As much as I like Nico Hoerner, he may start the season in AAA to work on his game.
Hoerner will have every opportunity to open the year at second, but he also skipped Triple A entirely as the Cubs strayed from his developmental plan out of necessity. Hoerner is only in this spot because both Báez and Addison Russell went down with injuries last September and the Cubs were forced to call-up their 2018 first-round pick with no other options at shortstop available. It wouldn't be a shock if the Cubs decide that Hoerner needs more seasoning at Iowa to start the season, but he did prove capable during a 20-game big-league stint, hitting .282 and only striking out 13.4 percent of the time. But his walk rate was just a measly 3.7 percent, he hit for minimal power (.154 ISO) and he chased breaking pitches out of the zone far too often. So there is room to improve.
• Ian Happ may end up as the Cubs centerfielder.
Every day that passes without a trade increases Happ's chances to be the Opening Day center fielder. The switch-hitter looked like he'd made the necessary adjustments after coming up in August from Iowa. If he can deliver anything close to the 25 percent strikeout rate, 127 wRC+ and .300 ISO he posted in 50 games last year, Happ will have certainly earned everyday playing time in center, which is what many evaluators believe what Happ needs to really find a rhythm at the plate.
I used to be off Happ since he couldn't hit fastballs but he's gotten a bit better. His biggest change has been swinging more (43% to 52%).
• The Cubs fifth rotation spot comes down to Tyler Chatwood and Alec Mills (out of options).
Mills is out of options, so in the end, the battle between him and Chatwood will not only come down to who performs best but also who the team believes could help out of the bullpen as well. Regardless of Chatwood's role, pitching coach Tommy Hottovy made it clear that he'd be used in meaningful innings — so either starting and hopefully eating six-plus innings an outing, or working high-leverage moments as a reliever late in games. Ultimately, Mills and Chatwood are locks, barring a trade.
• Dominic Smith and J.D. Davis will be competing for the Mets left-field job with who plays better defense as the possible difference-maker. At least it's not Lucas Duda out there.
With New York pointing to Jeff McNeil as its primary third baseman, the assumption has been that J.D. Davis would get the majority of the reps in left. Davis, of course, had an excellent first season in Queens — but he didn't become a regular until late July when Dominic Smith went down with an injury. With Smith back in the fold, the Mets have the makings of an offensive-minded platoon in left, which could mean Smith actually sees more time out there.

Davis' offensive numbers were slightly better than Smith's across the board, with an emphasis on slightly. And both guys countered pesky rumors of an inability to hit at the major-league level and against same-handed pitching. Given the similarity of their offensive seasons in 2019, maybe the difference comes down to who navigates left field better defensively having had an offseason to work on it.
• Franchy Cordero projects to be the Padres centerfielder.
I think we can start calling Franchy Cordero a center fielder. If everyone's healthy and everyone's producing to their capabilities, Cordero is probably the one getting the bulk of the reps in center. That being said, he has spent most of the past two seasons on the injured list, and when he's been healthy, he's been dreadful against lefties. Clearly, the Padres need some cover in center.
• Jon Berti does not have a starting job for the Marlins but is a backup about everywhere.
Third base
Backups: Brian Anderson, Jon Berti, Miguel Rojas.

Shortstop
Backups: Berti, Villar.

Second base
Backups: Villar, Berti, Rojas.

Center field
Backups: Berti, Villar.
• The Marlins closer job is a three-player race.
Hill didn't commit on a closer, mentioning Steckenrider and Stanek as candidates along with Kintzler, whom the Marlins signed to a one-year, $3.25 million deal.

Steckenrider is coming off an elbow injury that ended his 2019 season after only 14.1 innings. Stanek struggled in the ninth inning with a 7.27 ERA in 8.2 innings pitching in the ninth.

Kintzler was an All-Star in 2017, recording 28 of his 29 saves for the Twins that year. He was a high-leverage reliever the past two seasons with the Nationals and Cubs.
• Rob Biertempfel of The Athletic has Luke Maile starting over Jacob Stallings at catcher.
A ridiculously early guesstimate of the opening-day roster
First base: Bell
Second base: Frazier
Shortstop: Newman
Third base: Moran
Catcher: Maile
Outfield: Reynolds, Heredia, Polanco
Bench: Stallings, González, Riddle, Osuna, Kramer.
• Cedric Mullins reworked his swing over the off-season and hopes to compete for one of the Orioles outfield jobs.
Square one wound up being the Midwest, where Mullins pulled double two-hour sessions daily for two weeks, sometimes hitting until "I was getting blisters on my hands." With the help of Blast Motion sensors and other technology, Strickland and Mullins reimagined both of the switch-hitter's swings from the ground up. Mullins said introducing a leg kick to his left-handed approach was the most drastic adjustment made.

The result? What Mullins hopes amounts to "a clean slate," both in his mind and the organization's. The fact that he remains on the 40-man roster means he might achieve it, and DJ Stewart's ankle injury makes Mullins' path clearer in the short term. As it stands now, he'll have to beat out at least Dwight Smith Jr. to win the fourth outfielder job, though No. 13 prospect Ryan McKenna poses competition as well.
• Félix Hernández and Sean Newcomb are battling for the fifth rotation spot in Atlanta
When the Braves begin Spring Training on Wednesday, the most intriguing roster battle will be waged between Hernández and Newcomb, who stand as the top two candidates to open the regular season as the fifth starter. The runner-up, especially if it's Newcomb, could also fill the final bullpen spot.
• The Rockies will go with the hot-hand in left field with Ian Desmond, Raimel Tapia, and Sam Hilliard as the front runners.
"It depends on who potentially is swinging the bat well," said Black. "In Desi's case, when we started playing well in May and into June, he got close to .300 and we saw some production there.

"But the more good players you have playing well, that's a good thing, right? The hard choice is what you want."
• Buster Posey admitted that he could barely run last season and is in better shape this season.
Posey also stands to benefit from improved health this year. He spent last offseason rehabbing from August 2018 hip surgery, and while he returned in time to start behind the plate for the Giants on Opening Day, he was still dealing with some physical challenges last spring.

"The way my hip feels right now compared to last year is night and day," Posey said. "This time last year, I was having a hard time running. I'm running sprints four days a week now. Just from a strength standpoint, I think that's helpful as well."
• As of now, it looks like Jean Segura will play second base and Scott Kingery third. If either one struggles Alec Bohm is ready to take their place.
It sounds like Segura is the early favorite to play second.

But there is a wild card in the mix, too. Alec Bohm is the No. 30 overall prospect, according to MLB Pipeline. He will not open the season with the team, but if he plays well in Triple-A Lehigh Valley, he could push for a promotion by the summer. Bohm's presence in Triple-A puts a little more pressure on Kingery and Segura in that one of them could lose playing time if Bohm is playing well and they struggle.
• For those in AL Central-only leagues, the Royals first base job is between Ryan O'Hearn and Ryan McBroom.
Indeed, the camp's lone position battle will be between first basemen Ryan O'Hearn and Ryan McBroom.

While new skipper Mike Matheny has raved about O'Hearn's potential this offseason, the job hasn't been won yet. There seems little doubt that Matheny would like O'Hearn to grab the job.

But the front office also was impressed with McBroom's short stint with the Royals last season (he hit .293 in 23 games). McBroom was acquired from the Yankees on Aug. 31.
• Byron Buxton will likely not be ready by Opening Day.
Baldelli said the target remains having him ready for Opening Day, but for spring training "the goal is to get ready for the middle of March so he can get into some games and play." That all represents good news, but it does seem like the timetable is such that any kind of setback would make it tough for Buxton to be ready March 26. It's especially key because, in addition to everything you said about how important Buxton is on both sides of the ball, his status could play a big factor in determining who gets the final bench spot(s).
• Kyle Gibson may not be ready for the start of the season. He'll have extra time to work on Paul's landscaping.
General manager Jon Daniels said the Rangers could take it slower with Gibson than the other four starters this spring. The Rangers are even preparing for the possibility Gibson might not be ready for the start of the season although he shouldn't be too far behind.
• Brandon Workman is the Red Sox closer.
After the All-Star break, Brandon Workman took care of the ninth inning and emerged as one of the top relievers in the game. Does that mean Workman will start the season as the closer?

"I think so," Roenicke said. "I think what he did last year deserves that shot to be the closer. I think it's always more ideal if you have roles for those guys."
The beat Jeff Zimmerman Online Championship league has been setup for Febuary 23rd at 8 pm ET, feel free to go to the NFBC and sign up for their Draft or Online Championships. Also, for those with deeper pocketbooks, the NFBC Main Events are quickly filling up.
Jeff, one of the authors of the fantasy baseball guide,The Process, writes for RotoGraphs, The Hardball Times, Rotowire, Baseball America, and BaseballHQ. He has been nominated for two SABR Analytics Research Award for Contemporary Analysis and won it in 2013 in tandem with Bill Petti. He has won three FSWA Awards including on for his MASH series. In his first two seasons in Tout Wars, he's won the H2H league and mixed auction league. Follow him on Twitter @jeffwzimmerman.