Lucas Giolito is just 24 years old. It might seem like he's older due an effect called "prospect fatigue" as he's been in the baseball consciousness since being drafted back in 2012. He went 16th overall to the Washington Nationals thanks to concerns about his elbow that eventually led to Tommy John surgery. He cruised through the low minors and soared up prospect lists, eventually landing top 5 before his MLB debut in 2016. He sputtered through 21 innings as a 21-year old and was subsequently dealt that winter with Reynaldo Lopez and Dane Dunning for Adam Eaton. His prospect stock fell a bit on the heels of the ugly debut, but he was still a solid top 25 prospect as he joined the Chicago White Sox.
It these last three years with the White Sox where the fatigue has set in. A modest full season effort in Triple-A gave way to a positive seven-start run to cap off 2017, though the skills didn't marry well with the 2.38 ERA/0.95 WHIP combo. A brutal 2018 (6.13 ERA/1.48 WHIP) left him as an afterthought on the fantasy landscape coming into 2019, but now he's worth a closer look. He opened his season with a gem against the Royals, followed quickly by a pair of four-walk efforts that fueled nine runs allowed in 9.3 innings. He was dealing again versus the Royals in his fourth start before a hamstring injury cut him down and led to a two-week IL stint.
That brings us to the intriguing portion of this young season.
In his two starts since coming off the IL, he threw a capable five innings against the Red Sox and last night's gem at Cleveland. The Boston start did see him allow nine base runners and three runs, but also fan seven and walk just two. He settled down after a bumpy third inning and netted four strikeouts against just two hits in his last two innings of work. His 7.3 scoreless inning effort against the Indians was his best start of the season despite the fact that not everything was working for him.
Giolito has four pitches: fastball, changeup, slider, curveball, but he's struggled to find that one elite pitch. It was supposed to be his fastball, which some outlets tabbed as an 80-grade offering in his prospect days, but consistent command has been an issue. When he's on, the fastball-changeup combo reminds us why he was such a heralded prospect.
That was the case in Tuesday night's start at Cleveland as he threw just four breaking balls, instead decimating the lefty-heavy lineup with a 94 mph fastball and 82 mph changeup. With several switch-hitters starting, Giolito faced eight of nine batters from the left side with Roberto Perez being the only righty. Fastballs in, changeups away kept them off-balance all night as they couldn't square Giolito up.
He didn't light it up with a ton of swinging strikes, but these kind of in-between swings like the one below from Jose Ramirez led to 11 swinging strikes, 20 called strikes (2nd-highest season total behind 21 in his season opener), and just three well-struck balls (95+ mph exit velo: 2 were outs, 1 was a 2B by Jason Kipnis).
Giolito still walked three in this beautiful outing, an 11.5% rate for his 26 batters faced which matches his season mark. Not all walks are bad as I'd rather a pitcher walk someone via a competitive pitch on the outer portion of the zone as opposed to just laying a meatball in on a 3-2 or 3-1 count.
Let's take a look at the walks in this outing.
The first was to Jake Bauers in the bottom of the 2nd with two outs. He was 3-1 before challenging him with 94 mph middle-in and getting a whiff. On 3-2, he threw another fastball way below the zone that Bauers never considered. I would've really liked a heater at the top of the zone or a changeup dipping below where that strike two whiff wound up.
The next inning he walked Mike Freeman, the nine hitter, after getting him into a 1-2 count. Nobody on, 1 out, and a guy with a 46 wRC+… you cannot walk this guy. Again, it didn't come back to hurt him, but this is the kind of frivolous base runner that can spark an inning. He threw out of the zone on 1-2 looking for the chase, a challenge heater that Freeman fouled off on 2-2 (stay with this, it's Mike Freakin' Freeman!), a looping changeup that he missed way outside to make it 3-2, and then a competitive fastball down and in for the walk that I would love against someone like Francisco Lindor, but there's no need to be that fine against Freeman.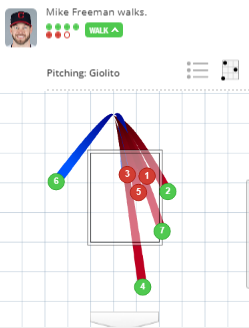 The last came in the sixth. Freeman grounds out, Lindor singles, Kipnis whiffs and now Ramirez is up. He opened with a fastball top of the zone taken for strike one – a theme of the night. Giolito had a 73% first-pitch strike rate, so he got ahead often and stayed in control throughout the night. Horrible call on the second pitch, a fastball down and in, should've been strike two. He tries to go to the same spot with pitch three, but yanks it too far in, 2-1 count.
An amazing changeup leaves Ramirez completely tied up for strike two (tried to make a GIF of it, but literally every time I did a screen capture, it'd freeze through the pitch and I got remarkably frustrated but trust me it was a great pitch). Giolito was looking to double up on the changeup low but spiked it. It got away from James McCann and advanced Lindor to second. The 3-2 pitch was a third straight changeup, this one down and in where the spiked one was likely supposed to be earlier. It wasn't a bad pitch and could've likely gotten a swing over the top on a lesser hitter (yes, Ramirez is still a beast despite his brutally slow start).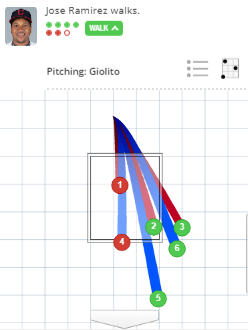 This walk was the best of three. It was against a premium hitter with a runner in scoring position and first base open. Make him hit your pitch or show the patience to take it. Carlos Santana was due next and he's been far and away the team's best hitter so it's not like Giolito was pitching around Ramirez to face Santana. Just don't get beaten a weak pitch.
This was a nice start for Giolito. He had some nice starts last year, too. In other words, this isn't necessarily a coming out party. But what I took away as a big positive from this start was being able to thrive with just two pitches, neither of which was a breaking ball. He even acknowledged that this start might not have been as good as his season opener precisely because of how many pitches he had working against KC.
He's had two and a half great starts (accounting for 60 of his 130 batters faced), two duds, and a solid-if-unspectacular outing (the Boston one… 5 IP/3 ER/9 BR/7 K) wherein the seven strikeouts made it a lot more palpable for us in the fantasy baseball realm. I had him on the Do Not Draft list as I wanted to see something worth paying attention to instead of spending draft capital.
Through 31 innings, I've seen enough to bring him back on the radar. First, an improved strikeout rate, not fueled  by a single big out, but rather by logging more strikeouts than innings in all six starts. He's backed the 29% K rate with a career-best 12% swinging strike rate. His 12% BB rate is matching last year's output and is in line with the 11% career mark.
However, he's getting a first-pitch strike 61% of the time, up from 55% last year, and toting a career-high 51% Zone rate. The changeup has been a huge pitch for him and he's leaning into it with a 22% usage rate, his highest to date. The velo is back up to 93.5 mph and when he's commanding the fastball and mixing with the change, he's sharp. This outing coming against such a lefty-heavy lineup was especially nice as lefties ripped him to the tune of .271/.372/.461 with 13 HR and 49 BB in 402 faced.
A two-step at Cleveland and Toronto got me to take the plunge in a 15-teamer and I'm likely to going to hang on if the Sunday start goes well. After that, he gets Toronto at home, a trip to Houston (or Minnesota if it's pushed back for any reason, so either way a tough outing), and then hosting Kansas City. The added boost of being in the AL Central helps, too.
Minnesota is the only one of the other four teams in the division with a top 10 wRC+ against righties while Detroit (25th) and Cleveland (29th) are in the bottom six. As is his opponent in his next two starts (Toronto, 26th), a team that also happens to be tied for the highest strikeout rate against righties at 27%. Giolito isn't close to a set-and-forget yet, but he's someone to watch start-to-start and track his development.