I took a look at the batting leaderboards since the start of the 2018 second half (July 19th). I didn't set out to find anything in particular, I just wanted to see what's been going on over the last three-plus months of games. I used a 300 PA cutoff which gave us 170 hitters. Here's a few interesting nuggets I found on the AVG & HR boards:
BATTING AVERAGE
Christian Yelich | .357 in 457 PA – Yelich is unsurprisingly lapping the field with a 16-point advantage (he also has a 111-point OPS advantage over Mike Trout) over the next guy. I haven't looked at every category yet, but I'm sure Yelich has substantial leads in several of them given his utterly insane finish that has carried over into this year.
Jeff McNeil | .341 in 407 PA – McNeil has remained a fantastic AVG asset this year, hitting .360 so far this year. The acquisitions of Robinson Cano and Jed Lowrie left McNeil fighting for playing time in the outfield, but now he's taken over the starting leftfield job and leadoff spot in the lineup. He also has triple eligibility (2B/3B/OF).
Melky Cabrera | .311 in 332 PA – The Melk Man was toting a .432 AVG through his first 13 games thanks to a .455 BABIP which we all knew would come back to earth. He's hitting .276 over his last 23 games (.306 BABIP), but the main reason I included him is because he's sitting 12th in the league over this time period and that isn't just on the back of the first two weeks of this season. Cabrera quietly hit .302 in 212 over the second half last year. He's still widely available, likely because it's an empty batting average, but if you need some help there, he's not a bad 5th OF option.
Josh Bell | .290 in 371 PA – This no doubt built off his .324 mark so far this year, but I wanted to include him as a way of highlighting that his re-emergence may've began back in September. He closed the season with a .265/.390/.470 line and 4 HR (his most in a single month), raising his bottom line OPS 19 points. His 25% HR/FB rate is high, but not egregious given what he's doing around it. His Baseball Savant snap shot is blood red as he's just decimating the opposition and validating his fast start quite well: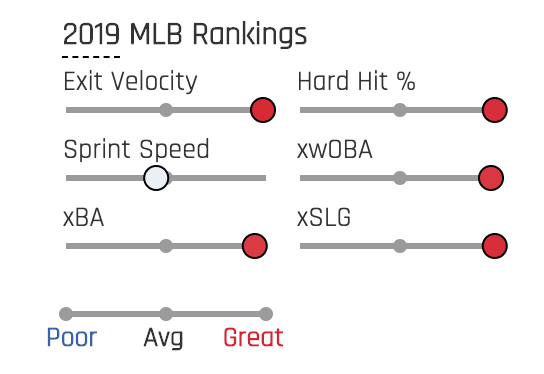 I'll also note that he maintained a 19% HR/FB in 2017 without nearly the support in his batted ball profile. The 26-year old is being more aggressive on pitches in the zone so the corresponding strikeout gain and walk rate dip make sense and don't stand out as problems to me. This is someone to consider buying high on. That doesn't mean his 1.050 OPS will hold all season, but the advancements he's made on his previous track record have me thinking a high-.800s/low-.900s OPS is very possible from here forward.
HOME RUNS
Hunter Renfroe | 29 in 367 PA – Pair Cabrera with Renfroe for a pretty strong player. The two have a .279/.325/.514 line with 38 HR, 102 RBI, and 76 R in 699 PA since the second of half of last year. Yes, it takes two roster spots, but their strengths match very well. Renfroe closed 2018 with back-to-back 9 HR months and has opened the season with 10 in 120 PA (which essentially a month's worth of playing time). Only four players have more homers than him in that time: Yelich (41!!), Khris Davis (39), Rhys Hoskins (31), and Joey Gallo (30).
Joc Pederson | 24 in 313 PA – Pederson is tied for the 9th-most homers despite having one of the lowest PA outputs in the sample. He's clearly selling out for the power he has just a .237/.316/.550 during the stretch (and the bulk of the time comes against righties so it's not just bad work vL holding him back). Like Renfroe, Pederson is ripe to be paired with someone to offset his AVG deficiency like perhaps the aforementioned McNeil.
Obviously, we're all building our teams to balance out strengths and weaknesses, but I'm not sure that guys like Renfroe and Pederson are always viewed as guys needing specific player types on the team to make sure they're not hurting you in exchange for the homers. We know about Joey Gallo in that realm or ensuring that we have power to compensate for a Dee Gordon-type, but we should always be mindful of pairing skillsets to maximize roster performance.
Luke Voit | 24 in 319 PA – Voit has a similar output to Pederson with his big homer total coming in a far fewer than PA than those around him in the rankings, but his slash line is markedly better than Pederson's at .282/.382/.575. He closed 2018 with an electric 39-game sample in New York (1.095) and he now has 39 games played this year during which he has a substantially lower output, though it's still strong at .831 and slots him 12th among qualified 1B. That's after spotting the league 13 games during which he was hitting just .184. Since then, he's at .261/.384/.489 with 6 HR in 112 PA. He was taken between the 15th and 21st 1B off the board so he's more than earning his draft spot.