To begin my 2020 preseason, the elephant needs to be addressed, "What to do about projecting with MLB's juiced baseball (i.e. Happy Fun Ball).
Is Freddy Galvis going to continue to jack 20+ home runs or will he maxing out at dozen or so? Every projection can't be a Choose Your Own Adventure story. If the ball is still juiced, he'll do X, if not juiced, he'll do Y. In my analysis, I'll pick a lane.
I believe four options exist for next year's baseball.
2014 or early (1.00 HR/9)
2016 & 2018 Ball (1.15 HR)
2017 & 2019 Ball (1.35 HR/9)
Even more juiced (>> 1.35 HR/9)
Just taking a quick pulse of my Twitter followers, they believe the ball with stay the same, with a small de-juicing as the second choice.
Two polls setups with the same question: Which MLB baseball is the league most likely to use next season?

Please go to: https://t.co/1agXl80OkZ
and vote five times. With only four choices, the options will repeat quickly.

— Jeff Zimmerman (@jeffwzimmerman) September 25, 2019
In the second poll, which matches up just two options at a time, the results are the same.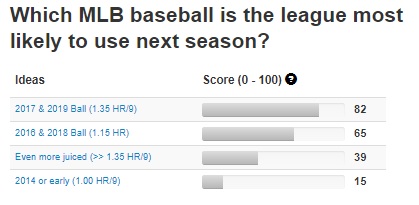 Besides everyone's gut feeling, there have been a couple of articles on the ball. On August 2nd, USA Today's Josh Peters reported the following
"The smoking gun may very well have been found,'' said Alan Nathan, chairman of a committee of scientists that includes [Lloyd] Smith and was formed by MLB in August 2017. "As I told Lloyd, 'You're going to be a big hero for doing this.' "

Smith said modified baseballs could be ready for the 2021 season, but MLB spokesman Pat Courtney said the league has yet to commit.

"We are still in the process of gathering information and have not planned any production changes at this time,'' Courtney told USA TODAY Sports via email.

Within a matter of weeks, according to Smith and Nathan, MLB Commissioner Rob Manfred could be ready to present the research findings and explain what has caused the baseballs to drive up the home run totals — not to mention fuel conspiracy theorists who have accused the league of juicing up the balls.
Three big points. First, there is something different about the ball. Second, Rob Manfred is getting the information. Third, any change will likely not occur for the 2020 season.
Moving onto September 25th, Maury Brown of Forbes reported a few more details. About two months before his statement, the
"We have reconvened the group of scientists that worked with us before [on the initial study]," [Manfred] said. "We've asked them to take a fresh look at everything that is occurring with the baseball. We expect to get this new report shortly after the World Series."

Manfred said that he believed the report would contain some recommendations, but he sees the need to address the ball given the abnormal increase in home runs.

"The only thing I'm prepared to say at this point and time is I do think that we need to see if we can make some changes that gives us a more predictable, consistent performance from the baseball."
First, I'm calling bullsh*t to Manfred saying he hasn't seen the report. About two months before the statement, the committee said they were within weeks of being done. I believe Manfred has the report but is waiting until the postseason is over to say what it says to limit any controversy.
And then he may make some changes. With MLB-owned Rawlings continuously cranking out baseballs, many of this past season's Happy Fun Balls have already been produced and MLB is not going to throw them away. They'll use them.
Considering the statements from the two articles, I believe that the 2020 baseball will continue to be happy. The only exception I could see is if they start making a less juiced ball and have it ready mid-season.
By taking this stance, I do believe three occurrences could change my mind. First, Manfred says after the postseason that a deadened ball will 100% be used. Second, a report out of Spring Training that the ball has changed. And finally, once in-season StatCast information is available, the ball can be tested.
In my opinion, I need to pick a lane going into next season on which ball is going to be used to correctly evaluate both pitchers and hitters. If I go with a middle-of-the-pack decision, I'll end up with middle-of-the-pack results. For at least one more season, home run records will be shattered and flyball pitchers will struggle. At least I hope so.
Jeff, one of the authors of the fantasy baseball guide,The Process, writes for RotoGraphs, The Hardball Times, Rotowire, Baseball America, and BaseballHQ. He has been nominated for two SABR Analytics Research Award for Contemporary Analysis and won it in 2013 in tandem with Bill Petti. He has won three FSWA Awards including on for his MASH series. In his first two seasons in Tout Wars, he's won the H2H league and mixed auction league. Follow him on Twitter @jeffwzimmerman.