This season, Yoán Moncada narrowly surpassed Kris Bryant as the most valuable Chicago third baseman in 5×5 Roto value. Figuring out whether he is likely to keep the crown in 2020 is not an easy task.
Even though Moncada made 75 fewer plate appearances than Bryant did, as he missed three weeks in August with a strained hamstring, he outearned his North Side counterpart, $18.0 to $17.0. Moncada made up deficits of 25 runs and six homers by driving in two more runs, stealing six more bases and, most important, hitting .315, which gave him a 33-point advantage in batting average. He improved in every category, other than steals, but Moncada's surge from a .235 batting average in 2018 played the biggest role in catapulting him into the top 10 at third base (he ranked ninth and Bryant ranked 10th).

Bryant didn't decline in 2019. In fact, it was a minor rebound from a 2018 season in which shoulder inflammation cost him playing time and extra-base power. He bumped up his wRC+ from 126 to 135, but in some important ways, he has been fading as an offensive force. Bryant's .282/.382/.521 slash line wasn't far off from those of his peak 2016 and 2017 seasons, but then again, with the overall increase in offense this past season, standing still was the equivalent of falling behind. Worse yet, Bryant's xBA and hard-hit rate have now declined in three straight seasons, leaving the latter mark in the bottom 25 percent among major league hitters. His average exit velocity of 87.4 mph was also in the bottom quartile. He was able to post a 31-homer season due to strong flyball (43.2 percent rate) and pull (46.5 percent rate) tendencies, but he didn't wind up paying a price in terms of his batting average, which settled at .282.
While we can frame this comparison as a matchup of third basemen heading in different directions, it's not obvious as whether those trajectories will continue. Moncada has performed at his 2019 level for just this one season, having only two-plus seasons under his belt, whereas Bryant has been fairly consistent from his 2015 rookie season on forward. Fantasy owners likely have questions about the sustainability of the level Moncada set this year, and particularly of the major league-leading .406 BABIP he recorded. Bryant had yet another injury-plagued campaign, as he dealt with a balky knee throughout the latter half of the season. That can be viewed either as an explanation for his slightly-disappointing output that can be overcome in 2020, or as a reason to view him as a health risk.
It's hardly surprising, then, that when put to a Twitter poll, there were large contingents of respondents supporting both Bryant and Moncada. Bryant prevailed with 58 percent of the vote, but it's still meaningful that more than two out of every five respondents thought that Moncada would be the better third baseman to draft next season, even with his relatively limited track record and a freakishly-high BABIP to follow up on.
Poll: Cost being equal, which third baseman would you rather draft in 5×5 Roto next year, Kris Bryant or Yoán Moncada?

— Al Melchior (@almelchiorBB) November 1, 2019
Both players figure to hit in the heart of their respective teams' order, though as of now, the Cubs appear to have the better offense. Even if that were to be the case, Moncada has a chance to at least keep pace with Bryant as a run producer if he can outperform him in batting average. Winning that category and enjoying a spillover effect of enhanced run production would give Moncada a path towards outearning Bryant in Roto value for a second straight year.
In sizing up Moncada and Bryant in terms of their expected fantasy value in 2020, the comparison mostly boils down to two factors: which player will be healthier and which one will hit for a higher average? As the fantasy community considers both of these players this offseason, the focus may be on Moncada's chances for substantial regression, but our skepticism should also be directed at Bryant. His reliance on pulling the ball over the last two seasons has not shown up in his actual batting average, but he posted a .255 xBA in 2018 and a .241 xBA in 2019. Despite this trend, respondents to another Twitter poll backed Bryant as the more likely of the two hitters to reach the .280 threshold in 2020. Though only a slim majority of respondents gave Bryant the better chance to hit .280, only one in four saw Moncada as the more likely of the two to reach that level next season.
One more poll Q…Who has a better chance to bat .280 in 2020, Kris Bryant or Yoán Moncada?

— Al Melchior (@almelchiorBB) November 1, 2019
I would not argue that Moncada will hit .400 or better on balls in play again, but he may not regress as much as his lofty average would lead us to think. For one thing, he became a more aggressive hitter in 2019, and the resulting reduction in called strikes helped him to lower his strikeout rate from 33.4 percent in 2018 to 27.5 percent. He also profiles as a legitimately good hitter on balls in play. Moncada ranked third out of 175 hitters with at least 300 batted balls in average exit velocity on ground balls (91.2 mph). He also finished in the top 10 percent in hard-hit rate, average overall exit velocity and, believe it or not, xBA. No, that stat didn't have him near his actual .315 Avg, but at .289, it showed him to be a potentially reliable contributor to the batting average category.
If that makes you scratch your head, given his still-somewhat-inflated strikeout rate, you have good reason to be skeptical. In regressing xBA against K% from 2019, Moncada was one of the biggest outliers, and he was the only hitter to have a strikeout rate above 26 percent and still have an xBA above .280 (Bryce Harper and Ronald Acuña Jr. were the next closest at .276). The relationship, incidentally, was significant at the p < .0001 level. If Moncada is to maintain an average of at least .280 without lowering his strikeout rate or increasing his home run rate, he is going to have to continue to be one of the best hitters in the majors at making hard contact, especially when he puts the ball on the ground.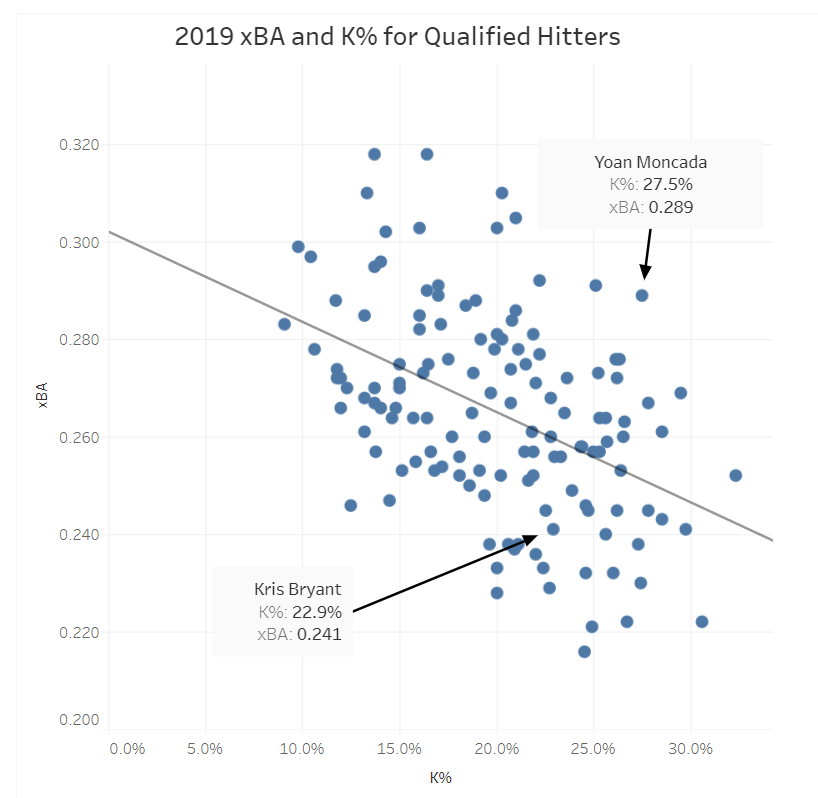 Bryant was an underachiever in terms of xBA, which was likely due to his flyball and pull tendencies. If he does not adjust those in 2020, that could translate into a lower actual batting average. With less luck, he could wind up with his first-ever sub-.270 batting average, and he could miss .270 by more than a little.
It shouldn't be easy to rank these two hitters, given the uncertainty surrounding the likelihood that they come close to their 2019 numbers. As of now, I am still undecided as to who to rank higher. Pending further research, it's too close to call. The consensus in the early rankings (with Paul Sporer being a notable exception) appears to be to value Bryant substantially more than Moncada. In the #2EarlyMocks, Bryant went 41 picks ahead of Moncada on average. This suggests to me that Moncada could be undervalued in next year's drafts.
Statistical credits: FanGraphs, Baseball Savant.
Al Melchior has been writing about Fantasy baseball and sim games since 2000, and his work has appeared at CBSSports.com, BaseballHQ, Ron Shandler's Baseball Forecaster and FanRagSports. He has also participated in Tout Wars' mixed auction league since 2013. You can follow Al on Twitter @almelchiorbb and find more of his work at almelchior.com.