Today, I am going through some fantasy-relevant information which could change several player projections.
• Dan Hayes of The Athletic ($$) stated the following on Martín Pérez.
The Twins believe the keys to Pérez's great early performance this season were working with increased velocity and filling up the strike zone. For the past few weeks, Twins pitching coaches have encouraged Pérez not to worry about conserving energy in order to pitch deep into games.

Air it out. Let them worry about the late innings. And on the days when the velo isn't there, locate and attack.
It's good advice. First, here are Perez's three-year fastball velos.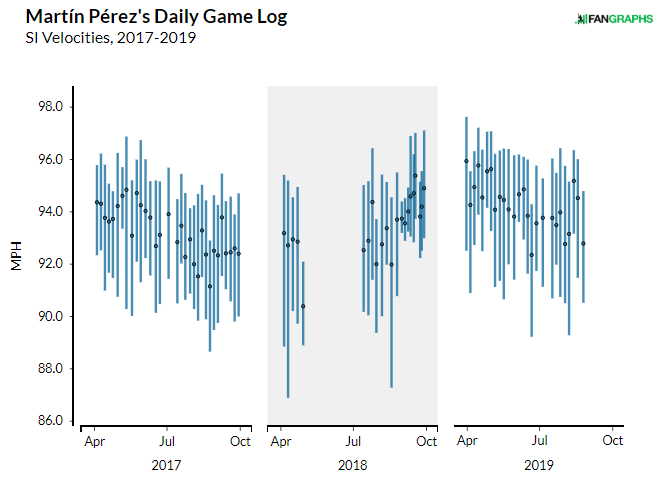 While the trend is generally down this season, there are a few individual jumps up along the way. The results change by the individual game velocities.
Avg Game Velo (mph): ERA
>= 95: 1.55
94 to 95: 4.60
< 94: 6.07
While he just had a 94.8 mph and a 95.0 mph game, it's impossible to guess which version is going to show up each game.
• Reynaldo López found some velocity and improved results have followed as noted by James Fegan of The Athletic ($$).
Before he got pulled from Sunday's outing after five innings and strapped to an IV, López was averaging an extra 2 mph on all of his pitches since the All-Star break, which he mostly attributed to a small mechanical tweak to raise his glove arm higher in his delivery to generate more momentum down the mound. Every scout doesn't traverse the country with a radar gun because velocity is secretly unimportant, so when López points to it as the difference-maker for 2.82 second-half ERA, it shouldn't be ignored.
All the facts are correct:
Stat: 1H, 2H
K/9: 7.9, 8.6
BB/9: 3.5, 3.0
HR/9: 2.1, 0.7
ERA: 6.34, 2.82
xFIP: 5.72, 4.67
GB%: 33%, 38%
FBv (mph): 94.8, 96.7
A pitcher doesn't see his ERA drop by 3.5 points based on the observed improvement in strikeouts and walks. The ERA dropped because of his home run rate got cut by a third. While he has raised his groundball rate some, all the changes point to just an improvement in xFIP by 1.00.
López was just unlucky in the first half of the season and lucky in the second half. His season-long ERA is near 5.00 with ERA estimators to match.
• Jordan Bastian of MLB.com reported on how José Quintana has been more productive according to Joe Maddon:
Well, it's raining here in Chicago today, so let's dig into it. First, here was Maddon's assessment of what Quintana has been doing for the past two months or so:

"Utilizing all his pitches. That's it. And from that, confidence develops. Now, you've got a guy that is not just out there trying to fit that fastball in all these different quadrants of the strike zone. He's now dumping that curveball in there. The changeup is a pertinent pitch. And that makes that fastball even better. So, command of his curveball and the willingness to throw the curveball behind in the count matters. When you get behind and they know it's just going to be a fastball, they still win that mental moment. So, I think he's become more wide open and he understands the importance of not just, again, pitching with one pitch."
There is no good way to determine the full effects of the pitch mix change without going into a full-blown article. There a ton of moving parts.
The other part of Maddon's quote specifically deals with approach when a batter is ahead in the count (or in "fastball counts" as you hear players, coaches and managers say). Before June 29, Quintana threw his sinker 41.2 percent of the time in batter-ahead counts. That has plummeted to 26.3 percent in his past 10 starts. At the same time, he's upped his four-seam, curve and changeup use in those situations.
While I've previously looked at the advantages of having more pitches but added it to my offseason to-do list to see if I can create a diversity index to easily find more subtle changes in pitchers.
• Tim Anderson talked to MLB.com's Tim Merkin about his improved production.
"Timing was one of the biggest things. Position, timing and eliminating some movement to be able to recognize and execute his swing best he could," Steverson said. "He always had a knack to hit balls all over the zone coming up from the Minor Leagues."

"Sometimes that's a help and sometimes a hindrance. He can hit a ball away that's a ball and a half off the plate or up or underneath. You don't want him to lose that, those types of traits. You also have to reel it in a little bit and understanding some of the things suppressing you in terms of consistent contact or putting you in bad counts."
Anderson worked to improve during the offseason and has lowered strikeout rate from 27% to 25% to 21% and his OPS from .676 to .687 to .844 over the last two seasons. It'll be interesting to see if he regresses off his 2019 gains or continues to improve.
• A pitch mix change by Trevor Richards was noticed by Kenny Kelly of Beyond the Boxscore.
The cutter doesn't appear to have made it to Tampa as he didn't throw one in the 71 pitches he threw in Sunday's start. He threw just six curves and didn't get a whiff or a called strike on any of them. If this start is any indication, Richards might primarily be a two-pitch pitcher who only occasionally mixes in the curve for the rest of 2019. For the time being, the cutter is retired and that might be for the best.
While none of Richards pitches generate groundballs. They vary quite a bit in swinging-strike rate.
Pitch: SwStr%
Change: 17%
Four-seam: 9%
Slider/Cutter: 6%
Curve: 5%
The pitch mix change is probably the right move even though two-pitch pitchers struggle. He needs to go and design another average-or-better third offering.
Jeff, one of the authors of the fantasy baseball guide,The Process, writes for RotoGraphs, The Hardball Times, Rotowire, Baseball America, and BaseballHQ. He has been nominated for two SABR Analytics Research Award for Contemporary Analysis and won it in 2013 in tandem with Bill Petti. He has won three FSWA Awards including on for his MASH series. In his first two seasons in Tout Wars, he's won the H2H league and mixed auction league. Follow him on Twitter @jeffwzimmerman.