First, sorry about no drop list article last week… more on that later. Second, today's experiment stems from HappyFunBall's comment from a couple of weeks ago.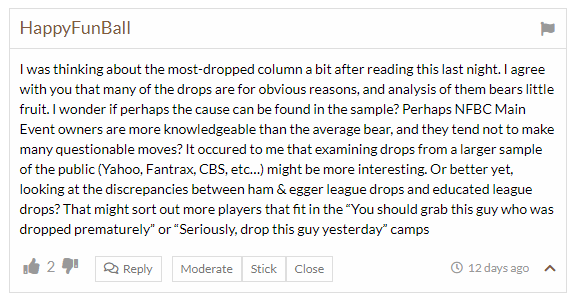 I was well into the analysis last week and found I was not answering the right question and had the wrong data. The drop comparisons need to be a little forward-looking, not backward. The data collected from the sites was after the NFBC FAAB ran. The other sites I used allow daily or quick-draw pickups, so some of the news from the Monday was getting baked in. I wanted the rates to be taken from similar timeframes.
My original question focused on which players I should analyze so owners can gain an edge. The edge could be knowing who to drop because they are no longer fantasy-viable. Also, the hope is to find some players whose owners gave up too early on. The hope is that one of the other platforms can provide more insight than the NFBC Main Event.
Several issues exist with this study. First, it's just one week and a busy week at that with the trade deadline. The increased activity may help to offset the lack of moves since it's later in the season. I'm not 100% sure but I may run the same analysis again but I need to do it before the head-to-head playoff start and main teams get abandoned.
Finally, the table is a mess. A big one. What Happy Fun Ball and I hoped for didn't materialize but a few interesting observations can be made.
Here are sample sizes of the drop lists with at
Fantrax: Every player dropped (52 samples used)
CBS: Top-50 pitchers and hitters (55) [Note: Drops are a count, not a percentage]
ESPN: Top-25 pitchers and hitters (34)
Yahoo: Top-25 most added and dropped players (30)
NFBC Main Event (15 teams) and Online Championship (12 teams): Every player dropped (71 for Main Event, 82 for Online Championship)
Here is the data and each column can be sorted by clicking on the top cell.
Various Platform Drop Rates (8/4/19)
Notes:
There are generally three groupings of drops. CBS, FanTrax, and the two NFBC leagues. Then ESPN. Finally Yahoo. I understand the Yahoo disconnect because they only look at adds and drops from the last 24 hours. ESPN is on its own little island with mainly injury drops and Austin Riley.
Besides a few players in the ESPN list, no site seems to be dropping obviously talented players.
ESPN seems behind the news on drops. If I only had ESPN leagues, I'd try to follow another site's ownership rates to stay ahead of the curve.
Since Yahoo is a quick drop league, I think I'll make sure to check their top drops before doing my weekly FAAB. While I try to get all the news, I might miss some and that day's movement can help point to who are being dropped. Then I can dive into the news for why.
Also, I will try to look at the top-20 or so drops from CBS or Fantrax. Both have similar drop rates (CBS a little higher) and point to drops in the two NFBC leagues.
Go and sort the Main Event column and scroll down to the 10% to 25% (5% to 15% for Fantrax and CBS) dropped range. I find these drops the most interesting for who owners might be tiring on. It might be the sweet spot between obvious and not. Maybe I'm way off. I'd love to hear your thoughts.
That's it for today. I'm sure more information can be extracted from the table but just getting the rates lineup drained me. Just let me know in the comments what else sticks out and I can analyze them in the comments or tomorrow's article on who is being dropped.
Jeff, one of the authors of the fantasy baseball guide,The Process, writes for RotoGraphs, The Hardball Times, Rotowire, Baseball America, and BaseballHQ. He has been nominated for two SABR Analytics Research Award for Contemporary Analysis and won it in 2013 in tandem with Bill Petti. He has won three FSWA Awards including on for his MASH series. In his first two seasons in Tout Wars, he's won the H2H league and mixed auction league. Follow him on Twitter @jeffwzimmerman.