I've been writing some variant of this pitcher transformation article from the beginning of spring training containing information from spring training velocities to pitch mix changes. With a new pitch or extra velocity, a pitcher can quickly change from one talent level to another. With the season now in full gear, the major preseason changes are known but now it's time to start finding those pitchers who are slowly transforming themselves mid-season. Every week I hope to focus on these pitchers.
The 33-year-old Price continues to be a fastball/changeup pitcher. He keeps hitters off guard by throwing three different fastballs (cutter, sinker, four-seam). As his velocity has dropped, he's started relying on his changeup increasing its usage from 14% in 2017 to 22% last year and finally 29% this year. The pitch has been dynamite with a 21% SwStr% and helped propel his strikeout rate from a 9.1 K/9 last year to career-high 10.5 K/9 this season. He's pulling the old-man trick of throwing his non-fastballs more to stay relevant.
Rant: I'm not sure why pitchers wait until they start declining to make the change. Why not make the change immediately and become an ace.
Besides throwing his change more, he has adjusted his fastball mix. Here are his fastball usage changes (percentage points) from 2018 to 2019 and their current swinging-strike rate
Pitch: Usage, SwStr%
Four-seam: +8%, 13%
Sinker: -7%, 10%
Cutter: -12%, 9%
He's simply throwing his best fastballs more. Rocket science at its best
I didn't decide to analyze Price because of his overall 2019 changes. Instead, his fastball is losing velocity.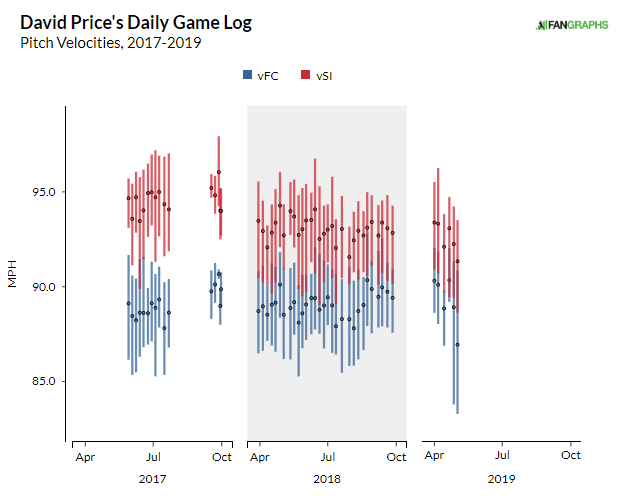 And these kinds of drops are key to finding in-season injuries as Price just recently headed to the IL. When he returns, that initial velocity will be key on determining his rest of season health and talent. If he can keep the velocity up, the early season gains should return.
Sometimes it's easy to find the reason a pitcher is struggling and then there is Mr. Nola. Let just piece together the good and bad changes.
● Some of his velocities are up from last year. His changeup is up 2.5 mph. His sinker and curve are up 1 mph. The four-seamer stayed constant.
● His pitch velocities have been going up during this season.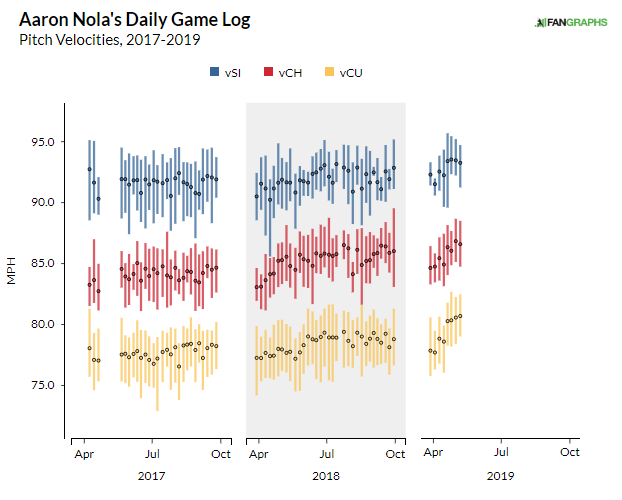 ● He's throwing his sinker 5% point more with his four-seamer down the same amount. Otherwise, the pitch mix is constant.
● His per pitch Bauer Units are down.
Aaron Nola's Bauer Units
| Pitch | 2018 BU | 2019 BU |
| --- | --- | --- |
| Changeup | 18.0 | 17.4 |
| Curve | 32.8 | 32.6 |
| Four-Seamer | 23.7 | 22.8 |
| Sinker | 23.5 | 22.5 |
Bauer units are the ratio of spin to velocity. With Nola, three of his pitches sped up but their spin didn't. Normally, the ratio is constant since the harder a person throws a pitch, more spin is created.
● He can't find the plate.
Aaron Nola's Command & Control Stats
| Stat | 2018 | 2019 | Difference |
| --- | --- | --- | --- |
| BB% | 7% | 9% | 2% |
| BB/9 | 2.5 | 3.5 | 1 |
| Zone% | 48% | 42% | -6% |
| First Strike% | 69% | 55% | -14% |
● Even with the higher velocity, his pitches are performing worse.
Aaron Nola's Pitch Results
| Pitch | 2018 SwStr% | 2019 SwStr% | Diff |
| --- | --- | --- | --- |
| Changeup | 17% | 12% | -5% |
| Curve | 18% | 15% | -3% |
| Four-Seamer | 8% | 4% | -4% |
| Sinker | 5% | 2% | -3% |
Conclusion
I think there are three possibilities. First, he's hurt, knows it, and is throwing harder to try to compensate for the lack of command. The other is that the new baseball has thrown him off his game and he's trying to compensate. Or a combination of the two. Until the cause is known, monitor this graph to see if he's getting back to his 2018 production levels.
Preseason, I grouped Cahill in with Matt Shoemaker and several Dodgers starters, they are productive if healthy. Cahill has been healthy so far his season but the results have been horrible (6.95 ERA and 1.46 WHIP). Like with Nola, a lot changed so I will put out the facts and draw a conclusion at the end.
● He's more flyball-prone (53% GB% to 38% GB%) and the home runs have skyrocketed (0.7 HR/9 to 3.2 HR/9).
● He's throwing his sinker (59% GB%)less while throwing his four-seamer (32% GB%) more. Additionally, he's dropped the usage of his change 12% points and upped the usage of his curve. Historically, the last two pitches have performed similarly but this season neither one has a swinging-strike rate over 10%.
● On average, his pitches have lost 1 mph in velocity.
● He's pounding the strike zone with his Zone% going from 42% to 50% and First-strike% from 58% to 61%.
● He's dropped his arm slot a few inches and moved about a half foot closer to the first base side of the pitching rubber.
● While losing velocity, his spin rates have stayed the almost the same while his cutter has gone up a bit while losing closer to 2 mph. Normally, they should drop with the velocity drop.
Conclusion
He's dropped his arm slot for some reason (hidden injury or an off-season adjustment) and it has thrown everything off. He's throwing slower flyball-inducing pitches and hitters are taking him yard. He probably doesn't deserve a 3.2 HR/9 but he's a new pitcher and the "juiced" ball is punishing him. He needs to make some adjustments fast to stay in the rotation.
Jeff, one of the authors of the fantasy baseball guide,The Process, writes for RotoGraphs, The Hardball Times, Rotowire, Baseball America, and BaseballHQ. He has been nominated for two SABR Analytics Research Award for Contemporary Analysis and won it in 2013 in tandem with Bill Petti. He has won three FSWA Awards including on for his MASH series. In his first two seasons in Tout Wars, he's won the H2H league and mixed auction league. Follow him on Twitter @jeffwzimmerman.