After going over the pitchers who changed their velocity from 2018 to 2019, the pitchers who have seen changes this year get highlighted today. For the first week or so, pitchers who saw major adjustments were in the crosshairs of the fantasy community. But who from that list kept the changes? A pitcher's talent shouldn't get anchored to one early-season report. It's time to dive in.
About the data
I use the fastball's average spin rate and velocity along with the pitcher's overall Zone% to come up in the Injury metric. With spin rate, I've seen pitchers try to keep up their velocity while dealing with an injury and the pitch's spin changes. As for Zone%, if a pitcher is having issues finding the plate, they may have something mechanically wrong.
The Injury value ranges from a -100 (several negative forces are at work) to +100 (major improvements).
A pitcher can have more than one fastball in the table
When examining the 2019 data, I'm comparing velocities from the past week to fastballs thrown before this past week.
All the numbers are available in this overall spreadsheet.
First, here are the pitchers who have seen their fastball improve after some early season struggles and my thoughts on a few of them.
● Chris Sale: Everyone and their mother has a hot take on Sale. All, I have to say is that his velocity and spin were back to 2018 levels in his last start. His fantasy value is slowly creeping up.
His perceived value is down with most recent one-for-one trades at Yahoo (list updates as new trades come in) he was traded from Zack Greinke (x2), Masahiro Tanaka, and Clayton Kershaw. I would trade any of those three for Sale, especially now that Sale looks to be improving. Here is how my Twitter followers responded when I posed the question to them.
At Yahoo's Trade Market, Chris Sale has recently been traded straight up for Zack Greinke (x2), Masahiro Tanaka, and Clayton Kershaw.https://t.co/V9pDExtFTa

Which one would you prefer in a 5×5 Roto league ROS?

— Jeff Zimmerman (@jeffwzimmerman) April 18, 2019
● Aroldis Chapman: His fastball started the season averaging under 97 mph and his last six pitches averaged 99.9 mph. No worries for now.
● Eduardo Rodriguez: Rodriguez was another Red Sox pitcher struggling with early season velocity but it's now headed up.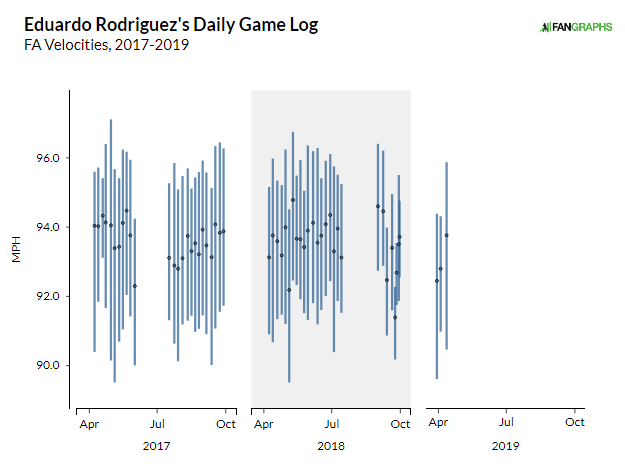 I'm encouraged with the rebound as it returns in 2018 levels
● James Paxton: While Paxton came into the season throwing as hard as he did in 2018, he's decided to ramp up his velocity by over 1 mph in his last start. He's had games like this in the past, so the key is to see monitor the next few starts.
● Martin Perez: The 28-year-old left was getting some preseason hype with his +95 mph fastball. His value took a hit when he started the season in the bullpen but he finally got a start. With that start, he averaged over 95 mph on his fastball and racked up five strikeouts in six innings of work allowing only one run.
The strikeouts are not a concern, but the walks are as seen by his weirdly nice 6.9 BB/9. He needs to drop this rate by a third to really jump up in the starter rankings. He's on my roster-but-bench list of pitchers.
● Mike Fiers: He's at the new velocity over the last two games but he's allowed 12 Runs in 6.2 innings of work. Pass.
● Yu Darvish: He's back to his 2018 fastball velocity but this was after the  "just throw hard" experiment. With all the changes, it's tough to put an accurately set his talent level.
● Other notables with fastball velocities on the rise: Kirby Yates, Reynaldo Lopez, Aaron Sanchez, Carlos Rodon, Dereck Rodriguez, Jack Flaherty, and Chris Archer
● Ken Giles: His fastball velocities have been all over the places to start this season.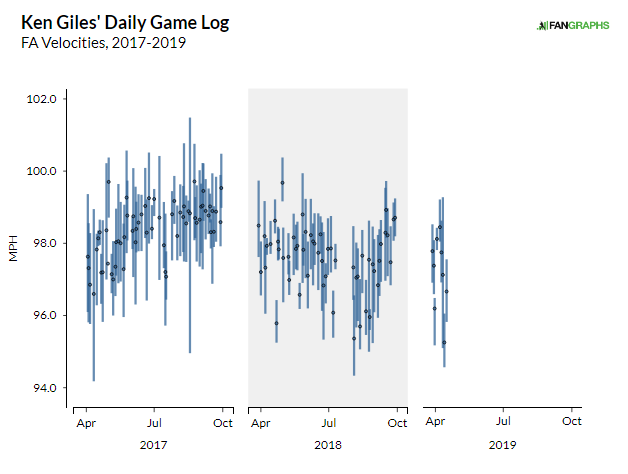 If anything, the inconsistency worries me.
● Joey Lucchesi: Any decline in Lucchesi's profile is discouraging. He's just a two-pitch arm and a slower fastball could accelerate the decline.
● Daniel Norris: His velocity is heading straight down like it did last season before he went on the DL.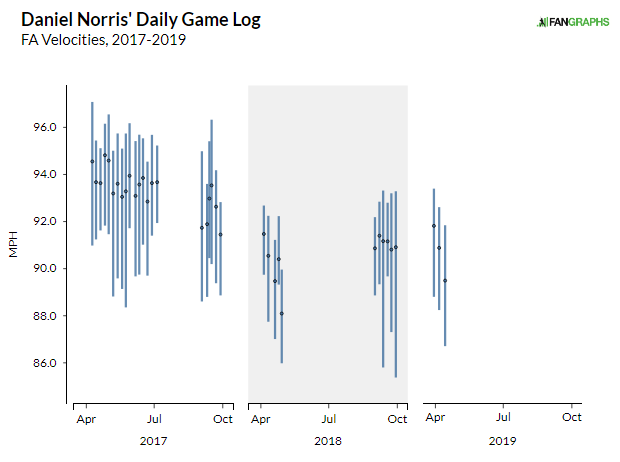 He is unrosterable at this point.
● Carlos Carrasco: His velocity dropped two starts ago but rebounded in his last start.
● Jacob Junis: He started the season with added velocity, but those gains have quickly disappeared.
● Corbin Burnes: He has a 0.5 mph drop from his first start. That doesn't worry me as much as the 300-rpm decline. Usually, the ratio of velocity and spin (Bauer units) decline together but his spin fell more than expected in his last two starts.
Jeff, one of the authors of the fantasy baseball guide,The Process, writes for RotoGraphs, The Hardball Times, Rotowire, Baseball America, and BaseballHQ. He has been nominated for two SABR Analytics Research Award for Contemporary Analysis and won it in 2013 in tandem with Bill Petti. He has won three FSWA Awards including on for his MASH series. In his first two seasons in Tout Wars, he's won the H2H league and mixed auction league. Follow him on Twitter @jeffwzimmerman.