Every week for Sportsline, I write an article on available starting pitching and I lucked into a nice find. Using the criteria of owned in 60% or fewer leagues, increasing ownership, and they've never been profiled, Joe Ross met the criteria. I noticed Joe Ross reinvented himself as noted here by MLBDream.
Joe Ross throwing a curveball [h/t @jeffwzimmerman] and upping his sinker usage

👀 @JSpauny 👀 pic.twitter.com/LtkrEQc1CI

— MLBdream (@MLBdream) August 14, 2019
Today, I going to go through some lowly owned starters (in the majors and not on the IL) and see if any have made any positive or negative changes to their repertoire to utilize for the final quarter or the season. I'm going to look at pitchers owned in 16% to 30% of Fantrax leagues (Joe Ross was at 31% ownership).
Daniel Norris (29%): By throwing his change (6.3% in April to 23% in August) more, he has raised his K/9 from 7.1 in the first half to 9.4 K/9 in the second half, but his 91-mph fastball just gives up too many home runs (1.7 HR/9).
Asher Wojciechowski (28%): Decent starter (10.5 K/9) but he's too flyball prone (24% GB%) to be pitching for Baltimore with MLB's Happy Fun Ball (2.2 HR/9). I'd have no problem using him with the right road matchup.
Kolby Allard (28%): Fastball velocity up over 3 mph from his 2018 appearances and the fastball's swinging-strike rate jumps from 3% to 15% in the small sample. Also, he's throwing a slider and change which he didn't throw last season. Interesting follow.
Sean Reid-Foley (28%): Walking everybody (5.4 BB/9) but still has a 2.36 ERA (ERA estimators in the 5.00 to 6.00 range). His fastball velocity is down 1 mph from 2018. He's dropped the usage of his fastball over 10% points and throwing his slider more. It is too many walks for a 7.8 K/9 to be interesting.
Tyler Beede (26%): Beede was a hot commodity in early July when he introduced a slider and results were being noticed (3.34 ERA in July). He has since blown up in two August starts (at COL, vs PHI) with an ERA over 10.00. The slider didn't help with his strikeouts but he could throw it for strikes lowering his walk rate from 5.6 BB/9 in the first half to 2.1 BB/9 in the second half. For now, I think he's a matchup play.
Trent Thornton (25%): He's falling apart with fastball velocity dropping from 93.9 mph to start the season to 91.5 mph in his last start. The results have jumped with his first-half ERA estimators around 4.50 to around 6.50.
Jalen Beeks (24%): No changes.
Ariel Jurado (22%): Sell. Drop. Just get him away from any roster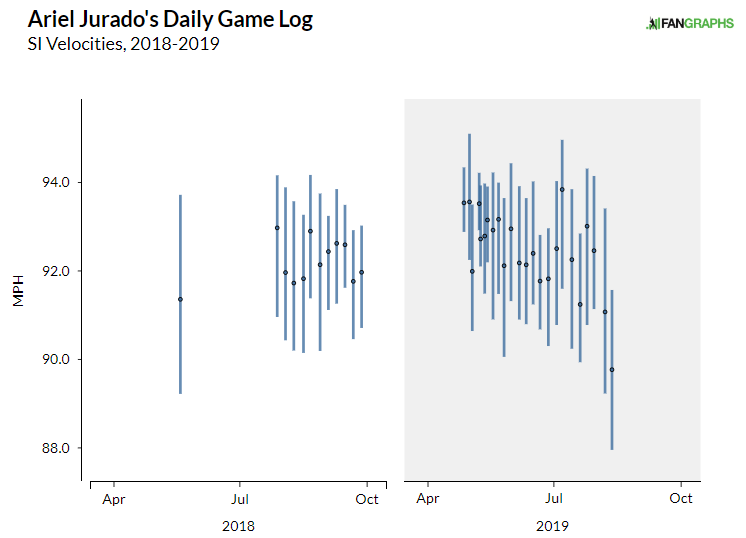 Adam Plutko (22%): He's been slowly backing off his high-flyball fastball usage each month (62% to 60% to 48% to 45%) and his ERA has also dropped (6.35 to 4.32 to 4.58 to 3.97). He remains a spot starter with a good WHIP and a chance for a Win.
Jaime Barria (22%): No changes.
Erick Fedde (20%): He can never keep his velocity up. It just continuously falls.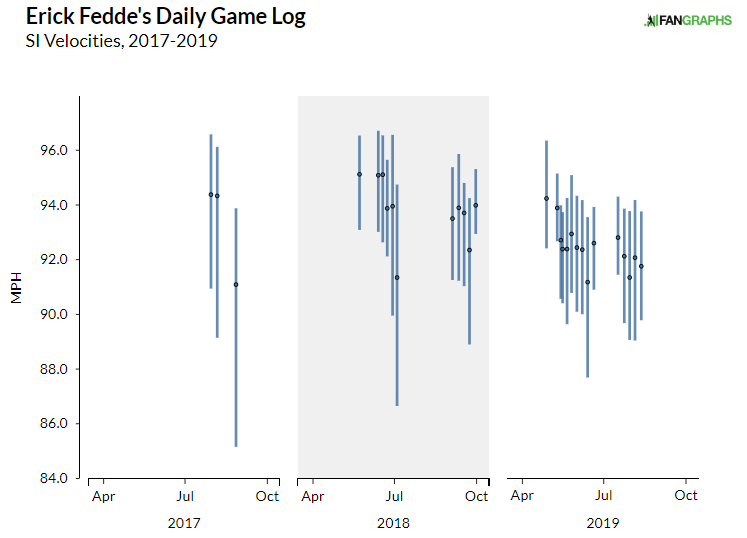 Wade LeBlanc: No changes
Peter Lambert (18%): His fastball velocity has dropped 1 mph from June to August.
Adrian Houser (17%): He's showing some interesting trends. His overall fastball rate has been dropping from around 70% to under 60%. He did throw more four-seamers early on but with the Happy Fun Ball, he's throwing his sinker (75% GB%) more. Also, he's moving away from his curve (19% to 11% usage, 6% SwStr%) and to his slider (12% to 21%, 14% SwStr%). His xFIP has gone from 3.67 in the first half to 3.28 in the second half.
Steven Brault (16%): Stay away. He lost almost 2 mph from his fastball until he went on the IL. Since returning, he's featuring his sinker (only 2% SwStr%) over his four-seamer (8% SwStr%). Also, he's throwing his slider (21% SwStr%) and change (8% SwStr%) less and going with his fastball. It's like he's trying to get worse.
Jose Suarez (16%): For some reason, he's throwing his curve (10% to 23% usage, 9% SwStr%) more and change (37% to 28%, 20% SwStr%) less.
Jeff, one of the authors of the fantasy baseball guide,The Process, writes for RotoGraphs, The Hardball Times, Rotowire, Baseball America, and BaseballHQ. He has been nominated for two SABR Analytics Research Award for Contemporary Analysis and won it in 2013 in tandem with Bill Petti. He has won three FSWA Awards including on for his MASH series. In his first two seasons in Tout Wars, he's won the H2H league and mixed auction league. Follow him on Twitter @jeffwzimmerman.