After just going over the National League lineups, it's time for the American league. Again, my analysis was to focus on the lineups used, not manager speak.
Note: This article was submitted late on Wednesday for editing so the second Oakland-Seattle lineups were not available to analyze.
Baltimore
Boston
With Devers hitting a .975 OPS in Spring Training, the Red Sox have been batting him 2nd or 3rd in the lineup. The rest of the lineup seems similar to last season.
Cleveland
Chicago
Detroit
Houston
Kansas City
Minnesota
New York
Oakland
With the A's, a regular season lineup exists against a lefty: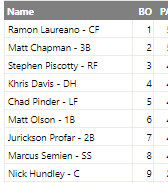 Orange County
There are some unknows for sure with Justin Upton not being available but on Tuesday he led off. Check up on it in a few days to see any consistency emerges.
Seattle
Besides Oakland, the Mariners have given everyone a peek under the curtain sans Mallex Smith lineup.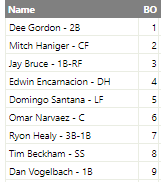 I'm not really surprised by anything.
Possibly Gordon and hold the leadoff spot this year.
Tampa
I hate figuring out the Rays this year is no different. Only Tommy Pham is set in the #2 spot.
Texas
Toronto
Jeff, one of the authors of the fantasy baseball guide,The Process, writes for RotoGraphs, The Hardball Times, Rotowire, Baseball America, and BaseballHQ. He has been nominated for two SABR Analytics Research Award for Contemporary Analysis and won it in 2013 in tandem with Bill Petti. He has won three FSWA Awards including on for his MASH series. In his first two seasons in Tout Wars, he's won the H2H league and mixed auction league. Follow him on Twitter @jeffwzimmerman.