Note: This article was written in two parts, with the first half being before the draft and the second half after completion.
Prep
Tonight, I'm participating in a 1999 retro with several other industry analysts. The premise is simple: the owner drafts a 5×5 roto team based on the 1999 season's final player stats. That's where the simplicity ends.
I knew these drafts were going on but as I was busy with other projects, I hadn't dived into them. Then Fred Zinkie contacted me to do an idiot check on his valuations for the draft that happened last Wednesday. I'm a fan of using SGP (standings gain points) for my normal evaluations, but none were available for 1999. Instead, I had to break out a copy of The Process and create the player valuations based on the Z-score method. (Z-score looks at how much a player's real or predicted stats are above or below the league average for the draftable player pool. It takes several passes to get the correct valuations since the final player pool is unknown. The z-score method is helpful when no league history exists.)
After I was done, we noticed two differences. Fred used a modified SGP for the season and was valuing stolen bases a little more. We aren't sure of the cause, but he gave catcher and middle infield a little more of a bump. I think the difference was from the different stolen base values.
After going through the evaluations, a few things were clear:
The offense production from 1999 was wild, with hitters providing ludicrous numbers for all offensive stats.
The bottom tier of catchers and middle infielders needed a replacement level boost. My plan is to add elite options early when given the choice between several players.
The pitching is horrible. It's probably worse than can be imaged and some suspect pitchers will be rostered.
Randy Johnson and Pedro Martinez should go No. 1 and No. 2 in the draft. The first two people picking will be at a huge advantage because of the availability of that pair and everyone else will be fighting to catch up. Here is how highly the pair ranks above everyone else.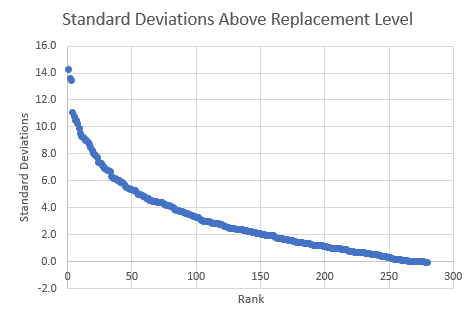 At some point during the last draft, I checked to see how it was going for Fred (he did OK). The biggest difference I noticed from a normal draft is that I needed to quickly find a player at a particular position who provides a certain stat (e.g. a third baseman with power). I decided to use some Excel filters to quickly add or remove players, along with filtering any stat (I may make it publicly available if it works):

With my valuations and a sense of how one of these draft works, I came in with the following plan:
Early on, I'm going to focus on the best player and deal with discrepancies later. In looking at past winners, they dumped one or two categories. Fred only got six points from Saves and Home Runs. Jeff Erikson came in second with last-place finishes in ERA and WHIP. I don't plan on dumping a category but if any asset seems to be overvalued, I know I can still win if I falter in a couple of categories but shove in the rest.
To help with the preceding plan, I'm going to try to add five-category hitters while trying not to fall behind in AVG or Stolen Bases early on.
I'm likely to roster Kevin Millwood or Kevin Brown with my first pick. With pitching so thin, I'm more willing to take a small hit in batting than miss out on an ace.
I'm going to save one pitcher and a hitter (OF or Util) spot for my last two picks. At that point, I'll know the categories I need to add to move up in the rankings.
Have fun. What else am I going to do without the regular season going on?
Results
That could have gone better. Here are the final standings: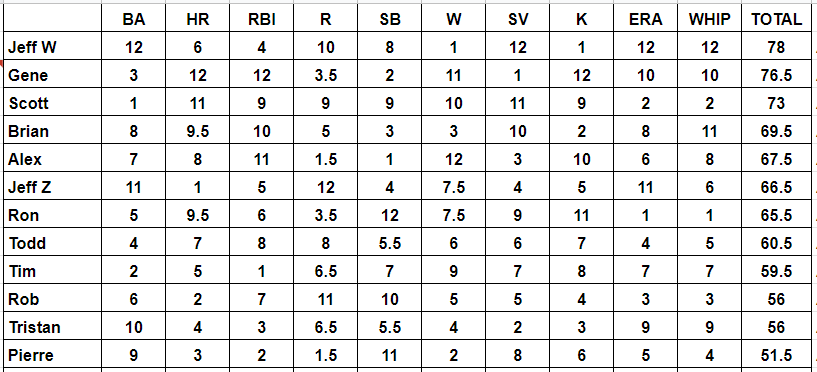 It wasn't embarrassing, but I was disappointed with the final results and I can only be mad at myself. In a standard 5×5 league with 23-person rosters, I used these 12 catchers to set the replacement level: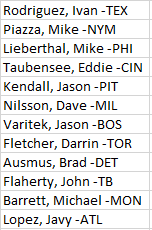 Yep, in a 12-team, two-catcher league, I set the replacement level for the 12th ranked catcher. The difference would have been an additional 1.5 standard deviations to my values for them.
The error led to two issues that may not have kept me from first place, but definitely dragged me down. The first issue was that I had no idea how many catcher deals I passed on. Just looking at the third round, the 1.5 standard deviation increase would have pushed Mike Lieberthal from 5.9 to 7.4. He would have been ranked just after Bernie Williams … who I drafted. The outfield position was extremely deep, and I would have draft Lieberthal and started with a catching anchor.
I didn't notice the problem until about 15th round or so. I noticed some catchers coming off the board earlier but the same was happening with middle infielders. I wasn't going to push certain positions higher than their value and figured I would just grab them when a deal became apparent. I sorted by the top remaining catchers and just one was above replacement level. And then the second problem showed up. I tilted … badly.
First, I remembered that Fred and I had different catcher values. I should have found the cause for the difference. I had an idiot check and failed to take advantage of it:
I spent a few rounds trying to figure out the error and a solution. I decided to just wait on drafting a catcher until the 20th and 21st rounds. I decided I would just roster the highest-ranked catchers on my board and assume they were at least replacement-level buys. I would save my Utility and last pitcher spot for my final picks to target category needs.
Looking back, I believe the catcher strategy was the correct one. The inexcusable error on my part was not paying attention to the draft. I ended up with a middle-of-the-road pitching staff that never picked a lane. Also, I fell behind in stolen bases, and with only catchers to add, there was no way to catch up.
The biggest lesson I learned from this draft is that if I misvalued a position (or a stat) to keep drafting and deal with the issue at the end of the draft and/or with weekly adds. Seeing how the winners have worked out, I now know that if I miss out on a category like Saves, I don't need to panic and push up suspect talent. A league can still be won with a '1' in a category. I can't turn one mistake into many. Lesson learned.
Here are some other notes on the league:
Jeff Winick took an early, commanding lead and held off a late charge by Gene McCaffrey. Jeff followed my same strategy of not aiming for home runs and RBIs, and dominating the other two. He just did it better. The second and third place teams both dumped three categories and almost won. And a middle-of-the-road team will end up with a middle-of-the-road finish.
I picked Jeff Zimmerman in the eighth round. Had to.
It ain't easy picking right after @jeffwzimmerman. Especially when you want to draft Jeff Zimmerman. https://t.co/BazzE8Ul8c

— Tristan H. Cockcroft (@SultanofStat) May 21, 2020
While I messed up valuing catcher, I caught myself almost filling my Util with a middle infielder. Since I increased their replacement level, they should not have been a consideration for the Util slot.
In round nine, I gave up trying for home runs. Those players with the highest totals kept getting pushed up. The problem was that I didn't aim for steals until it was too late to make a difference in the standings.
The spreadsheet worked great but I plan on making a few improvements before taking it public.
Overall, the draft was great, except for that whole I messed up part. I can't wait to take one more shot before the season starts.
Jeff, one of the authors of the fantasy baseball guide,The Process, writes for RotoGraphs, The Hardball Times, Rotowire, Baseball America, and BaseballHQ. He has been nominated for two SABR Analytics Research Award for Contemporary Analysis and won it in 2013 in tandem with Bill Petti. He has won three FSWA Awards including on for his MASH series. In his first two seasons in Tout Wars, he's won the H2H league and mixed auction league. Follow him on Twitter @jeffwzimmerman.