After a 2018 breakout season, Kyle Freeland gave us a lot to be confused about on draft day. As a rookie in 2017, Freeland defied conventional wisdom about Rockies pitchers, posting a lower-than-average HR/FB ratio at Coors Field (10.3 percent), and then he did it again last season (12.6 percent). He even took a relatively modest 92.0 mph average exit velocity on flyballs and line drives (EV FB/LD) at home and lowered it to 91.2 mph. While Freeland had been especially effective at limiting homers with his four-seam fastball, last season, he was able to hit another level by getting more whiffs on his cutter.
We owners didn't know exactly what to do with a pitcher who had consistent success at Coors Field. We didn't treat him like the top 25 starter that he was in 2018, and for good reason. Skepticism about his home splits aside, Freeland benefited from an 82.8 percent strand rate that he was almost sure to regress from significantly. He had earned enough trust to be among the top 175 players taken overall on average, according to both FantasyPros and NFBC ADP. Even with a lower strand rate on the horizon, Freeland's 3.67 FIP and 200-plus innings showed the potential value he could have for owners this year. To buy into the FIP and the innings, though, you had to buy into his homer-thwarting abilities.

Seven starts into Freeland's 2019 season, skeptics have to feel like their doubts were well-founded. His ERA has more than doubled from 2.85 to 5.90. While Freeland has gone towards the opposite extreme in terms of strand rate (63.1 percent), he has gotten pounded at Coors Field, allowing four home runs in 17 innings, yielding a .250 ISO and compiling a 7.94 ERA. His troubles have extended to the road as well, though not to the same degree, as he currently owns a 4.37 ERA and 1.59 HR/9 away from Colorado.
Yet if you try to pinpoint what is different about Freeland so far this season, there's not much to find aside from the lower strand rate. His pitch mix is virtually unchanged, as is his average fastball velocity (91.4 mph, as compared to last year's 91.6 mph). There is about 1 mph less of separation between his fastball and cutter velocity. Freeland's ground ball rate is half a point lower and his SwStr% is 0.4 percentage points higher. He is actually getting whiffs on his cutter at a higher rate this year than he did a year ago.
The one big difference in terms of factors Freeland is likely to control is in how he has been allowing more extra-base hits, particularly on his four-seam fastball. Between 2017 and 2018, Freeland had 538 plate appearances that ended with a four-seamer, and he allowed a total of 10 home runs and 27 extra-base hits. So far in 2019, in just 63 plate appearances, he has already allowed three home runs and seven extra-base hits on a four-seam fastball.
As a Freeland owner, I may be viewing these stats through the lens of recency bias, as the pace of extra-base hits has accelerated over his last two starts. On April 18, Freeland was coming off his best start of the season against the Phillies (at Coors Field, no less), and he had a respectable 4.23 ERA, an even more encouraging 3.68 FIP and an 0.98 HR/9 that was in the vicinity of last season's 0.76 mark. After returning from a brief IL stint for a blister, Freeland gave up a total of nine extra-base hits, including five home runs, over two starts. Two of those homers and two doubles were off his four-seam fastball.
So did something change after Freeland's stay on the IL? Should we wonder if his blister issues aren't behind him? Or could we be missing a problem that was lurking, even before he went on the IL?
A look at Freeland's average vertical movement on his four-seamer by start gives us something to think about and to be puzzled by. It's not surprising that the three starts where he had the greatest amount of movement were at Miami, Tampa Bay and San Francisco — all venues where you would expect a pitcher to get more movement. There is quite a bit of variation among Freeland's three home starts. The two starts in which he had the least movement — against the Braves and Diamondbacks — were his two worst starts of the season. For his six scoreless innings against the Phillies, he achieved a level of movement that was similar to that of his two most recent road starts.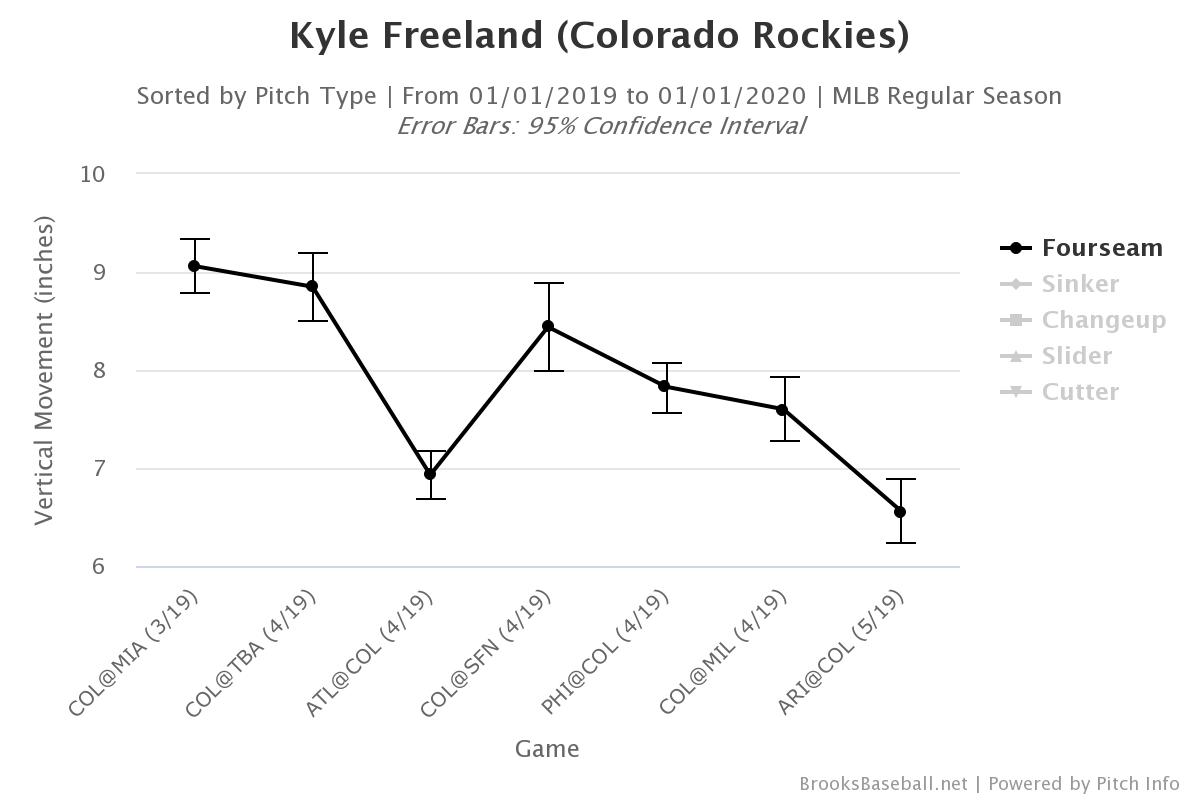 This raises more questions than it answers. Should we expect Freeland to get less movement in the thin air of Denver (which would make sense), and if so, then what did he do differently against the Phillies?
I don't have answers to these questions, but in trying to answer them, I came across something that seems relevant. Looking back at the same vertical movement trend for last season, Freeland was remarkably consistent in terms of how much movement his four-seamer generated from start to start in July and August. Even when he had more dramatic start-to-start variation, both earlier and later in the season, it didn't seem to vary based on the venue where the start took place. In fact, he was pitching at Coors Field for two of his four starts that featured the most vertical four-seamer movement. He achieved his highest level of vertical movement at Chase Field — also at high altitude. In the five games where he averaged less than 6.0 inches, one was at home and four were on the road.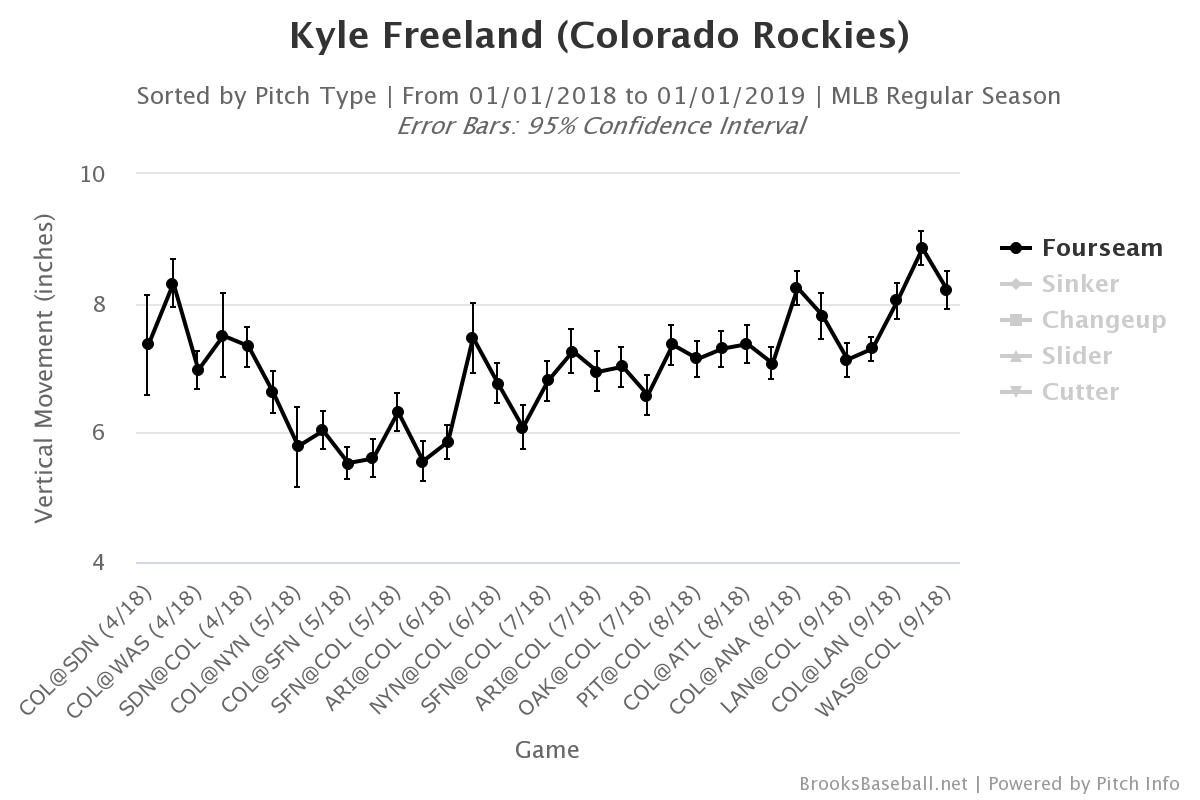 Contrast that with the pattern established by his teammate, German Marquez. He had a great deal of game-to-game fluctuation, particularly in the latter half of last season. Marquez had 10 starts where he dipped below an average of 8.0 inches of vertical movement on his four-seamer. Eight of those occurred at Coors Field, and each one of his four starts with an average vertical movement below 7.5 inches was at home.
It is probably not a coincidence that Marquez was saddled with a 4.74 ERA, a 1.31 HR/9 and a 93.2 mph EV FB/LD at home in his own 2018 breakout season. The latter two marks aren't all that bad by Coors Field standards, but they were not in Freeland's neighborhood.
This doesn't tell us much about what to expect from Freeland going forward, but it does give us a better idea of what is still reasonable to expect. Somehow, Freeland was able to get his four-seamer to behave at home the same way it did at lower altitude. While he is getting more movement overall on the pitch so far this year, that hasn't been the case in two of his home starts to date. Freeland's performance against the Phillies offers some hope that he can replicate the consistency he showed last season, so if you're thinking of dropping Freeland (as I was this past weekend), it's probably best to wait until he pitches this Thursday at home against the Giants. We should pay attention to the results as well as to how much movement he can get on his four-seam fastball.
Al Melchior has been writing about Fantasy baseball and sim games since 2000, and his work has appeared at CBSSports.com, BaseballHQ, Ron Shandler's Baseball Forecaster and FanRagSports. He has also participated in Tout Wars' mixed auction league since 2013. You can follow Al on Twitter @almelchiorbb and find more of his work at almelchior.com.