A total of 53 players were non-tendered prior to Monday night's deadline, and a number of fantasy-relevant players were included in that group. Domingo Santana and C.J. Cron fit that description, and if they can successfully come back from injury, so may Steven Souza Jr., Taijuan Walker and Aaron Sanchez.
What is less clear is whether Blake Treinen, José Peraza and Kevin Gausman can still be called fantasy-relevant. They certainly were as recently as 2018, but each of them fell so far in 2019 that they failed to make the top 500 in ADP in the 2 Early Mocks. Yet, upon closer examination, all three have the potential to have comeback seasons in 2020. Even though they may not get much attention in fantasy circles this offseason, I'll make the case as to why each is deserving of a spot on your late-round flier or watch list.
Blake Treinen
In 2019, Treinen lost all of the gains he made in his strikeout and swinging strike rates in 2018, and he even lost his long-held knack for getting grounders. This combination led to the escalation of Treinen's ERA from 0.78 to 4.91 and to him losing the Athletics' closer role to Liam Hendriks. The loss of whiffs is likely related to a decrease in average sinker velocity from 98.0 to 96.7 mph, as well as a drop in average sinker spin rate form 2371 to 2250 rpm. He was generally locating his pitches higher (see below), which would explain his middling ground ball rate (42.8 percent) and HR/9 ratio (1.38).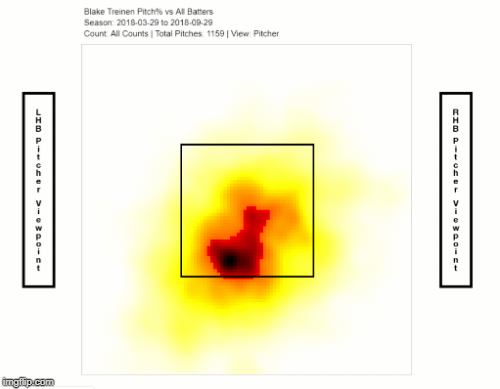 It was be easy to conclude that Treinen's struggles were partially related to the shoulder strain that shelved him briefly during the midseason. He wasn't especially effective upon his return, and by the time he was dealing with a stress reaction in his back in late August and September, he had a particularly tough time getting outs.
While we can't be sure that Treinen's difficulties were entirely health-related, getting his shoulder and back to 100 percent would seem to be a necessary, if not sufficient, condition for him to approach his 2018 level of success. At 31, Treinen is still young enough to make a comeback conceivable, assuming he can get healthy and correct what other issues may have been affecting him. He will probably be too risky to draft in most mixed leagues, but his progress is definitely worth tracking. Depending on his eventual landing spot, he could still have some potential for saves.
José Peraza
Peraza broke out as a top 10 fantasy shortstop in 2018, and the most suspect thing about that performance was his jump from five to 14 home runs. Yet in dropping back to a total of six home runs in 2019, power was still far from the most disappointing part of his production. The most immediate problem for Peraza was a relative lack of playing time. After racking up 683 plate appearances in 2018, he made only 403 trips to the plate this season. With the arrival of José Iglesias, Peraza was shifted from shortstop to second base, and after he batted .202 through the end of April, David Bell started to turn to other alternatives at the position — namely, Derek Dietrich and Kyle Farmer. Dietrich picked the right time to get hot, batting .304 with 12 home runs in May.
In late May, Peraza started to turn his season around, and he batted .268 over his final 242 plate appearances. Though he saw regular playing time for stretches, he never regained the job security he had in 2018. That could change depending on where he winds up in free agency, but that alone doesn't mean he will recover his fantasy value. Though Peraza increased his batting average over the final two-thirds of the season, his speed game disappeared. He stole three bases in six attempts and did not have a single infield hit. In contrast, Peraza recorded 32 infield hits between 2017 and 2018.
While Peraza's average sprint speed dipped from 28.8 to 28.0 feet per second, he was still in the top third in average sprint speed (min. 100 opportunities). So contrary to what his steal and infield hit totals might suggest, his speed is far from gone. Better yet, his xBA from May 28 forward was .290 — 22 points above his actual batting average. Peraza still has the ability to hit line drives and spray the ball around the field, and if he signs with a team that offers steady playing time and more opportunities to steal bases, he could reemerge as an option in 12-team mixed Roto leagues.
Kevin Gausman
Gausman was the other player non-tendered by the Reds, as they did not see fit to pay him what would have likely been more than $10 million in arbitration (per MLB Trade Rumors). That would have been a tidy sum for a pitcher who had merely good results in 14 relief appearances and one start (4.03 ERA, 1.16 WHIP) and who compiled a 6.19 ERA in 16 starts for the Braves. Yet SIERA liked Gausman's performances at both stops substantially more than ERA did. His 4.42 SIERA with the Braves was roughly in line with his previous marks, and he had a 2.89 SIERA with the Reds.
If Gausman reprises either the starter's role he had with the Braves or the long relief role he took on with the Reds, those SIERAs would suggest he could have some value in 2020 if they translate into actual ERAs. There was actually much to like about his 2019 season, as he demolished his previous career-high for SwStr% — and that's true even if we only look at his 13.4 percent rate with the Braves, as opposed to his 14.8 percent rate for the whole season. He was also better than ever at inducing swings on out-of-zone pitches (37.8 percent O-Swing%), and his 1.32 HR/9 was below the major league average. All of these trends can be tied to Gausman's increased use of his splitter.
High line drive rates at both stops inflated Gausman's ERA and WHIP, but there is not any particular reason to think his extreme 27.1 percent rate for the season won't regress towards his career 21.9 percent rate. Particularly if Gausman catches on as a starter somewhere, he could be a breakout candidate in his age-29 season.
Al Melchior has been writing about Fantasy baseball and sim games since 2000, and his work has appeared at CBSSports.com, BaseballHQ, Ron Shandler's Baseball Forecaster and FanRagSports. He has also participated in Tout Wars' mixed auction league since 2013. You can follow Al on Twitter @almelchiorbb and find more of his work at almelchior.com.