At the beginning of free agency, there were so many free-agent closers on the market. This left it very difficult to get a grasp on bullpens if you were drafting in November and December. One popular strategy for those who were drafting early was to grab one of the top four to five relief pitchers so you didn't have to worry about it. Recently there have been a few signings that could clear up some of these muddied situations. 
Brad Hand signed a one year $10.5 million dollar deal with the Washington Nationals for the 2021 season. In the grand scheme of things, this is tremendous for the Nationals because their bullpen is beyond scary, in a bad way. 
Overall Hand had a fabulous season in 2020 with a 2.05 ERA and 1.37 FIP. There has been some talk about his velocity, at the age of 30 his velocity had been decreasing for three years now. 
Brad Hand's Fastball Velocity
| Year | Velocity |
| --- | --- |
| 2018 | 94.1 |
| 2019 | 92.9 |
| 2020 | 91.8 |
When seeing this one might be concerned especially with his age and the fact that a consistent decrease in fastball velocity is never a good thing. While having a conversation with my good friend Rob DiPietro, host of the Pull Hitter Podcast, he told me to look at Hand's game log.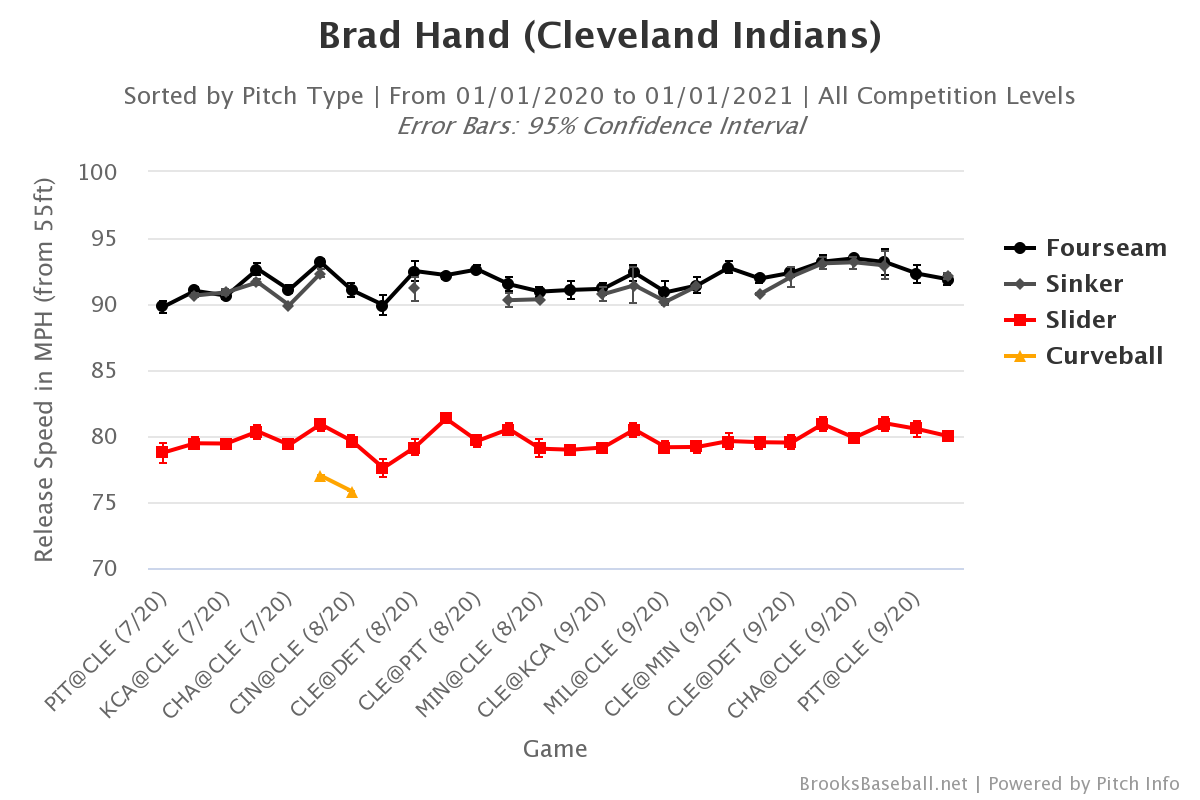 In September he was throwing 92/93 MPH on a consistent basis. That puts him back to his 2019 numbers. Also, the latest news on him is that he has spent a good part of the offseason working on gaining velocity for both of his fastballs. Hand should be just fine.
This signing affects the value of Tanner Rainey big time. It looked like it was his turn to take over the role but he will now be pushed into the eight innings. Rainey won't be completely useless for fantasy baseball because he will get a few save opportunities and provides a lot of strikeouts. As for Saves + Holds leagues he will be a lot more valuable. 
Archie Bradley signed a one year $6 million dollar contract with the Phillies a few weeks back. Bradley notched six saves in 2020 with a solid 2.95 ERA and 24.7% strikeout rate. Bradley relies on three pitches in his four-seam, curveball, and sinker. The four-seam has really good vertical movement and Bradley loves to place it high and tight into right-handed hitters. Bradley has solid "stuff" and could hold the closer role if need be.
In one of the latest Mining The News the Philadelphia Phillies said that no roles are set. They want to see the pitchers first then decide. That means it is a matter of who is pitching best between Bradley, Neris, and Alvarado. Alvarado has struggled for the past two seasons mainly due to the lack of command with his sinker. Neris has been a constant roller coaster going from a 5.10 ERA, to a 2.93 ERA, back up to a 4.57 ERA. Neris has been their guy for a few seasons now and with his amazing splitter, it will be hard to pull him from the closer role. 
Some type of committee might form, whether the Phillies want to admit it or not. Unless one of them dominates all three will likely see some save opportunities. If one had to guess, you would think they stick with Neris for now and let Bradley take over if Neris can't perform. 
Alex Colome recently agreed to a one year $6.25M dollar deal with the Twin. Colome has been a great pitcher for a very long time. His career ERA is 2.96 and that spans over eight seasons. The strikeouts won't be there but you get a relief pitcher who provides fantastic ratios (career 1.18 WHIP). Colome relies mainly on a cutter that has a career 52.2 GB% and 49 wRC+ against. It stumps opposing hitters and has been a reliable source for inducing weak contact.
The Twins relied on Taylor Rogers, Trevor May, and Sergio Romo for the ninth-inning role. This was mainly due to the struggles of Rogers who had a breakout campaign in 2019. To stabilize their bullpen they signed Colome and therefore Colome seems to be the closer. Rogers and even Tyler Duffey will definitely get their share of saves as well. Projections seem to have this one right with Colome acquiring 20 saves, Rogers 11, and Duffey 2. If Colome is as good as he was last year though, expect him to approach the 30 save range.
Joakim Soria signed a one-year $3.5 million dollar contract with the Diamondbacks. Soria impressed last year with a 2.82 ERA, 2.97 FIP, and 1.25 WHIP. The HR/FB% dipped from 13.0% to just 3.1% making his xFIP a scary 5.15. What's interesting is Soria has historically had a low HR/FB rate in the past. In 2018 and 2017 he had a 6.2% and 2.9% rate, meaning it is possible he replicates it.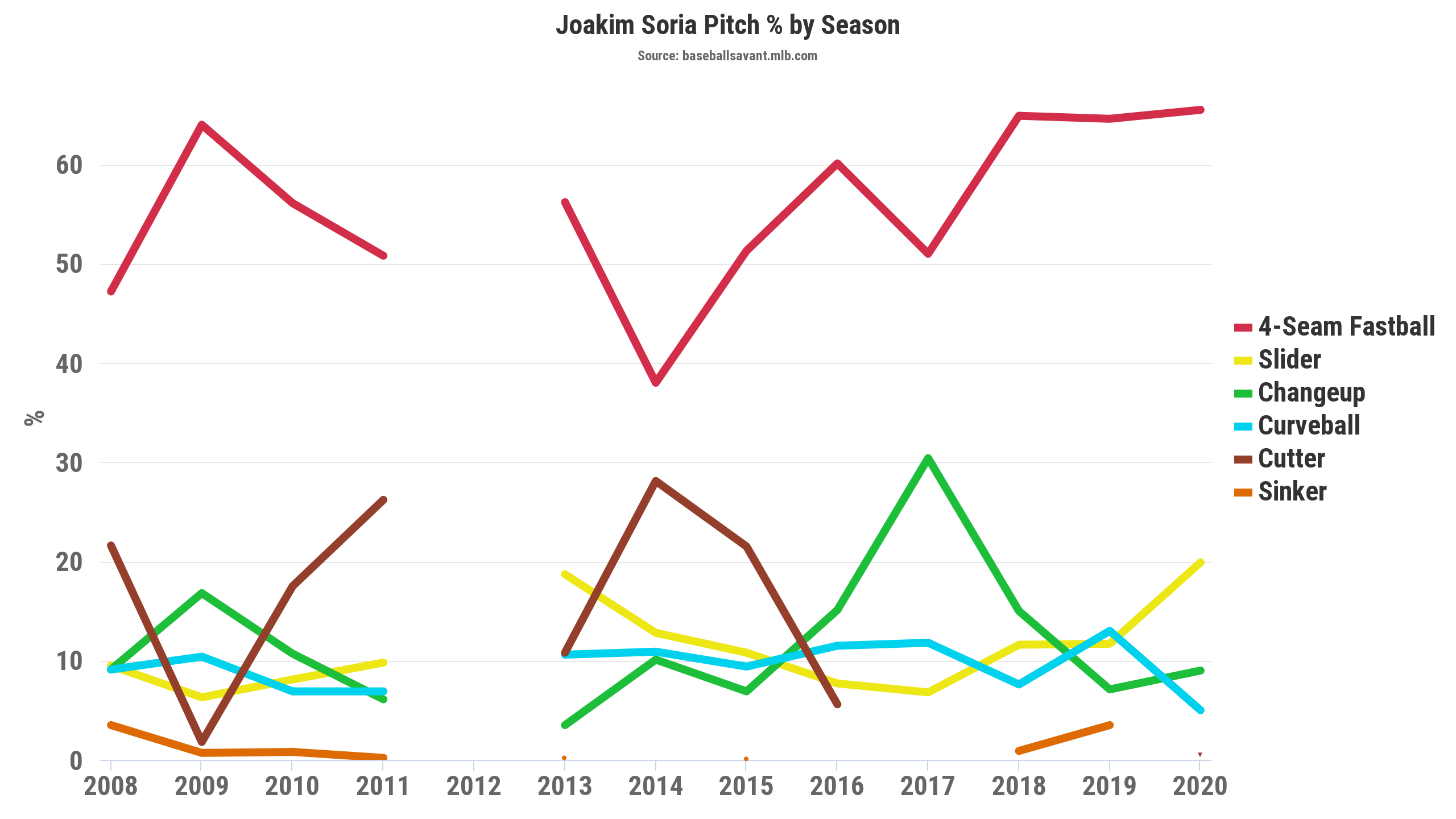 Soria used his four-seam more than ever in 2020 and it really helped set up his slider.  This lead to Soria having a better wOBAcon, Barrel%, and deserved ERA compared to 2019. 
The addition of Soria hurts the stock of Stefan Crichton. Crichton jumped into the Diamondbacks' closer role and garnered five saves with a 2.42 ERA, 3.42 FIP, and 1.19 WHIP. The sinker and curveball combination work well together but he does lack a pitch that gets opposing hitters to chase outside of the zone. This bullpen situation becomes very tricky. They signed Soria to a one year deal and he should be the closer coming out of the gate. But on a one-year deal and with the Diamondbacks likely not contending he could be traded at the deadline. This would work well for Crichton but maybe not Soria. This situation might be best to stay away from, but if you do want to dive in make sure it is at a bargain.
Anthony Bass signed a two-year deal with the Marlins becoming the clear closer option. Last season for the Blue Jays he grabbed seven saves while posting a 3.51 ERA. He isn't a big strikeout hitter but he excels at creating ground balls (62.3%). This hurts Yimi Garcia, a pitcher who had a fantastic 2020 season with a 0.60 ERA and 31.7% strikeout rate. The edge goes to Bass based on experience alone, but if Bass struggles it could be Garcia's role to grab.