If you've tuned in before, you know what this is about. If not: the Small-Sample Normalization Service (SSNS) seeks to, ah, normalize a player's performance in the context of his own previous achievements (or lack thereof). Most of us are human, and our humanity leaves us vulnerable to the biases that cloud rational thought and critical analysis. Such vulnerability is eagerly exploited by the small sample size, never more so than in April. While midseason small samples cower under the cover of hundreds more plate appearances, April performances have no such luxury.
A month's worth of playing time is certainly more worthwhile to assess than one week's worth, but 30 innings or 100 plate appearances can still be pretty volatile. Here are a few still-small samples that recently caught my eye.
All graphs pulled prior to yesterday's games.
Name: Byron Buxton, MIN OF
Most recent sample: 6 games
K%: 12.5%
BB%: 29.5%
EPL: 1
Assessment: Jim Sannes was the first I saw to acknowledge Buxton's recent gains. After walking only twice in his first 17 games, he walked seven times in his subsequent five while dramatically shaving his strikeout rate (K%).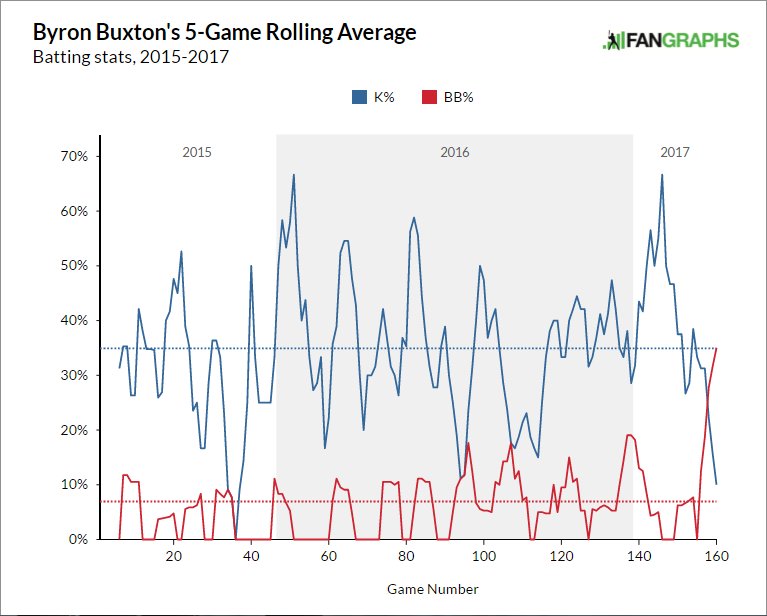 It comes in tow with a 88.5% zone contact rate (Z-Contact%) and 18.3% chase rate (O-Swing%). Those are great developments for a young hitter who couldn't hit a lick for most of the month. The only issue: it's only 24 plate appearances. It's such a dramatic difference, however, that it's nearly impossible to ignore. Unfortunately, his contact quality during this time has been far from optimal. If this is a legitimately new Buxton, whose future hit tool once graded out 'plus,' then there may be some growing pains in terms of making plate discipline and contact quality gel together. I'm not optimistic that it all comes together in 2017, but it's the first time I've ever had the faintest amount of optimism for the kid. Your window to buy on Buxton's lowest price may be closing.
AEPL: 2
(Buxton didn't walk yesterday. But, of course, not 10 minutes after I finished writing this, he friggin' demolished a Cesar Valdez offering. His 6-game ISO now stands .176 — decidedly better than .000.)
* * *
Name: Jonathan Lucroy, TEX C
Games played: 31
K%: 6.8%
BB%: 4.1%
ISO: .116 (.077 prior to last night)
BABIP: .226 (.203 prior to last night)
EPL: 5
Assessment: The positive: Lucroy is striking out only 7% of the time. The negative: prior to last night (because, like Buxton, he also went yard — maybe I should write about slumping hitters more often), he hadn't hit a home run in, like, three weeks.
Not only has Lucroy slumped like this before, but he slumped like this almost identically in early 2015. And in 2016, his breakout campaign in terms of power. Even if Lucroy can't hold a candle to his home run output last year, he can be massively valuable with a mid-teens homer count and a near-.300 batting average. His contact quality has lacked, but it mirrors his lack of power — something we should reasonably expect to rebound — thus far. For whatever reason, he just looks like a guy who always starts off slowly. With all that said, it's really his batting average on balls in play (BABIP) that's holding him down. The longer the slump, the stronger the rebound.
AEPL: 2
* * *
Name: Masahiro Tanaka, NYY SP
Games started: 6
K/9: 6.4
BB/9: 2.5
xFIP: 4.16
EPL: 4
Assessment: Tanaka's 4.46 ERA actually reflects some bad luck, but not much. Tanaka looks ineffective, and his annually declining strikeout rate is of obvious concern. But everything looks good under the hood. His velocity is there, he's peppering the zone, he's getting ahead in counts, and he's still getting hitters to chase. What gives?
The walk rate (BB%) looks bad, but it's incongruent with his peripherals. More pitches in the zone (Zone%) and first-pitch strikes (F-Strike%) than ever? Plenty of hacks on pitches outside the zone (O-Swing%)? It's bizarre. Not only could the walk rate improve, but his better-than-usual swinging strike rate (SwStr%), as evidenced in the graph above, suggests the strikeouts should surge, too. Maybe there's something I'm missing, but I have no idea what it might be. I mean, even his hard contact allowed (Hard%) would be the lowest of his career if the season ended today. (Seriously, am I missing something? Honest question. I'm eager to know.) Tanaka is a bit enigmatic now — the peripherals suggest a buy-low opportunity while the trends in outcomes suggest continued decline (or, if not decline, then declining effectiveness). For now, I'm in the former camp. You might not have a better time to pry him away from a nervous owner.
AEPL: 1
* * *
Name: Cole Hamels, TEX SP
Games started: 5
K/9: 4.1
BB/9: 3.3
xFIP: 5.18
EPL: 3
Assessment: If you're looking at Hamels' outcomes, he looks great. A 3.03 ERA! That's nice. Everything else, however, screams loudly of not only regression but also imminent danger.
Hamels has never looked this bad. I don't need to waste much more digital breath than Paul Swydan already did a few days ago. And I can assure you that my inclusion of Hamels here is not novel; I have only seen bad things written about Hamels this year on the ol' Twitter machine. One more thing, however: his perennially elite change-up was merely average last year. I'm wondering now if that was the writing on the wall. Combined with his inflated walk rate last year, it seems the prospect of decline was imminent. Now he can't get anyone to chase, and if he can't regain that skill, he's a ticking time bomb. It's possible this entire point is moot; he was scratched from last night's start and was flown back to Arlington, seemingly hinting toward a disabled list stint. All that would mean is your window of opportunity to sell on him will have closed even further.
AEPL: 5
Currently investigating the relationship between pitcher effectiveness and beard density. Two-time FSWA award winner, including 2018 Baseball Writer of the Year, and 5-time award finalist. Featured in Lindy's Sports' Fantasy Baseball magazine (2018, 2019). Tout Wars competitor. Biased toward a nicely rolled baseball pant.