For the last couple of seasons, I have been waiting for a Tyler Anderson breakout. Over the course of 2017 and 2018, he induced whiffs on 11.9 percent of his pitches, which is good for the 21st-highest SwStr% among the 91 pitchers who have thrown at least 250 innings over that span. As I seemingly write in every other column, it is well established that SwStr% is strongly correlated with strikeout rate, yet Anderson's 22.3 percent K% from the last two years ranks just 41st out of those same 91 pitchers.
The reason for Anderson's apparent underachievement is clear: he doesn't get many called strikes. The Rockies' lefty throws a lot of pitches in the strike zone, and he gets swings on those pitches at an unusually high rate. That helps his swinging strike rate, but the flipside is that he has frozen batters at a subpar 16.5 percent rate over his career.

Back in January, Alex Chamberlain identified the biggest K% outliers from last season by regressing strikeout rate against each combination of plate discipline outcomes (i.e., swing/no swing, contact/no contact, in zone/out of zone). Anderson came up as an underachiever in Alex's study, and so did several other pitchers who share his proclivity for good control and a high Z-Swing%, including Luis Castillo, Miles Mikolas and Dylan Bundy. Kevin Gausman's control wasn't on a par with these other pitchers, but he, too, had a low called strike rate (16.2 percent) and was tabbed on the list of underachievers.
Part of what has kept me hopeful for an Anderson breakout is an assumption that he could increase his called strike rate while continuing to get swinging strikes at a rate of around 12 percent. I had never actually tested this assumption…until now. Called strike rate may not correlate strongly with strikeout rate, but it turns out that it does correlate very well with itself on a year-to-year basis. For the 308 pitchers who threw at least 90 innings in consecutive years between 2014 and 2017, there was a Pearson's r of 0.65 (p < .0001) between a pitcher's called strike rate and his called strike rate for the previous season.
Discovering this was deflating to my dreams of Anderson cracking the 25 percent K% threshold in 2019. Owners who are targeting the likes of Castillo, Mikolas, Bundy and Gausman this year in hopes of a strikeout surge now also have a potential reason to be wary.
While the year-to-year correlation for called strike rate seemingly doesn't bode well for several of last season's biggest K% underachievers, it doesn't tell us exactly how rare it is for pitchers who underachieve in K% for one season to avoid that designation the following season. I set out to do this and began by regressing the K% for all pitchers with at least 90 innings in a season between 2014 and 2017 against their SwStr%. As expected there was a strong positive correlation (r = 0.83), and as you can see in the graph below, the biggest underachievers (as measured by vertical distance from the regression line) overwhelmingly had low called strike rates.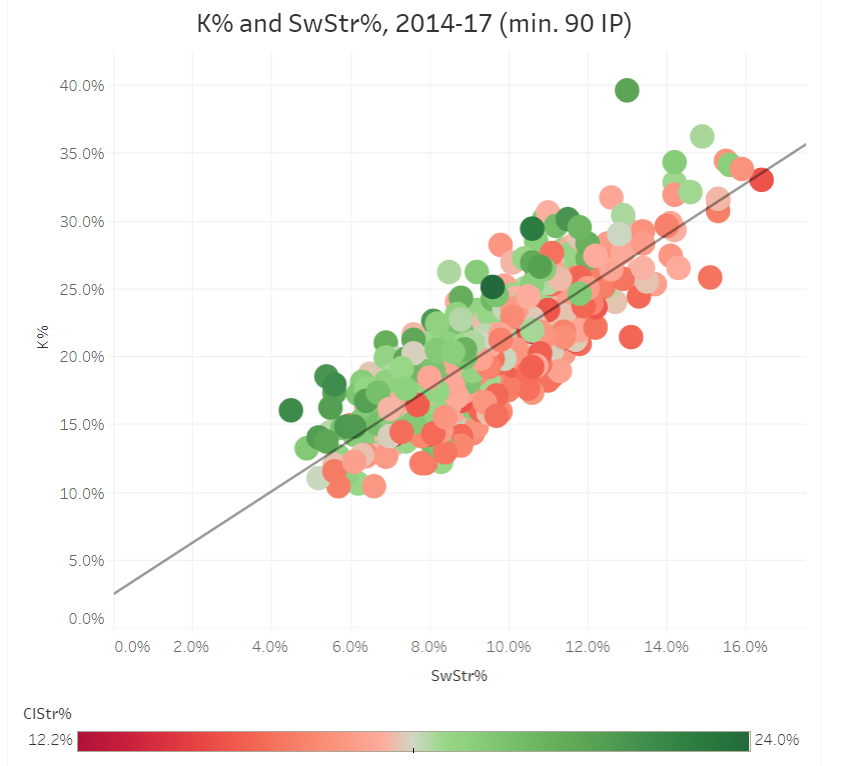 Then I calculated each pitcher's expected K% based solely on their SwStr%, and then calculated the difference between their actual K% and expected K%. Finally, I separated out the pitchers who underperformed their expected K% by more than 2.5 percentage points. These were the pitchers whose actual K% minus expected K% were at least one standard deviation from the mean of 0.0% difference.
There were 34 pitchers who were in this one standard deviation-plus group and pitched at least 90 innings in the following season. Of these pitchers, exactly half of them (a total of 17) fell more than 2.5 percentage points short of their expected K% again the following season. Only four of the 34 pitchers met or exceeded their expected K% the following season, and another two pitchers had a K% that fell less than 1.0 percentage point short of their expected K%. That still leaves a total of 28 pitchers (or 82.4 percent) who finished with a K% that was at least 1.0 percentage point below their expected K% one season after they were more than 2.5 percentage points below their expected K%.
Based on the precedent set by these pitchers, we can hardly expect the bulk of last season's K% underachievers to post a strikeout rate commensurate with their SwStr% in 2019. There may be a few exceptions to the recent rule, though. Joe Musgrove had a healthy 11.5 percent SwStr% in his first season with the Pirates, which typically would be associated with a 24.4 percent K%. His actual strikeout rate of 20.6 percent K% belies the fact that Musgrove actually got called strikes at a rate (17.6 percent) that was higher than the major league average (17.2 percent) last season. He was also better than average at getting foul balls, so Musgrove looks like a true outlier among K-rate underachievers. If we project him to reach last season's expected K%, Musgrove would figure to be a top 40 starting pitcher in 2019. That would make him quite the value, given that he is typically being drafted outside the top 60 starters.
Unlike Musgrove, Gausman was below-average at freezing batters, and that has been a long-standing pattern for him. His 11.3 percent SwStr% was just a shade below Musgrove's, yet his actual strikeout rate (19.1 percent) was 1.5 percentage points lower than his Pirate counterpart's. It was also three-to-four percentage points off his strikeout rates from the previous three seasons, even though his SwStr% was a career high. Gausman experienced a dip in his foul ball rate, which had been steady prior to 2018. We should expect him to fall short of his expected K% once again, but not by nearly as much as he did last year.
We may also want to cut Jaime Barria some slack after he came up more than four percentage points short of his expected K% of 22.5 percent in his rookie season. Barria did have a below-average called strike rate (16.6 percent), but after just 129.1 major league innings, we can't be sure that he has a proven disinclination to freeze batters. As a 22-year-old, he has an upside far beyond what last season's 18.3 percent K% would suggest.
Al Melchior has been writing about Fantasy baseball and sim games since 2000, and his work has appeared at CBSSports.com, BaseballHQ, Ron Shandler's Baseball Forecaster and FanRagSports. He has also participated in Tout Wars' mixed auction league since 2013. You can follow Al on Twitter @almelchiorbb and find more of his work at almelchior.com.