When I recently wrote about players I took in my TGFBI draft whom I was far more bullish on than the consensus, one in particular drew a comment from a reader. Buhners Rocket Arm wanted to know the following.
Is there a write-up where you justify Bauers as the 88th overall player on your board? It's likely you're the high-man within the entire industry on him.
Well, now there is.

And it turns out that, at least among industry analysts who post their rankings on FantasyPros, I did have Jake Bauers ranked the highest. In their Expert Consensus Rankings (ECR), Bauers holds down 195th place overall, but I had him 88th. No other analyst even had Bauers among their top 110 players. In comparing my overall rankings with the ECR, Bauers was the player for whom I had the largest positive gap, if I restrict myself to the top 276 players in ECR (in other words, the pool of players the experts generally consider worth drafting in standard 12-team mixed Roto leagues).
If you had asked me last summer to name the player for whom I would go the farthest out on a limb during the 2019 draft prep season, Bauers might have been one of the last people I would have guessed. I remember there being some hype around him when he was called up to make his debut with the Rays last June, but despite the speed and plate discipline he showed in the minors, I didn't understand the appeal of a pull-heavy first baseman who didn't display much home run power in the minors.
So why the change of heart? Bauers brought his pull tendencies with him to St. Pete, and that did put a damper on his batting average (.201 in 323 at-bats), but it also helped to produce much more power than I expected (11 home runs, 22 doubles, .183 ISO). Though it's counter-intuitive, Bauers hit with far more thump once arriving in the majors. As the graph below (from Minor Graphs) shows, his estimated flyball distance soared subsequent to his promotion, and he wound up finishing in the top 40 percent in average exit velocity on flyballs and line drives (min. 150 batted balls).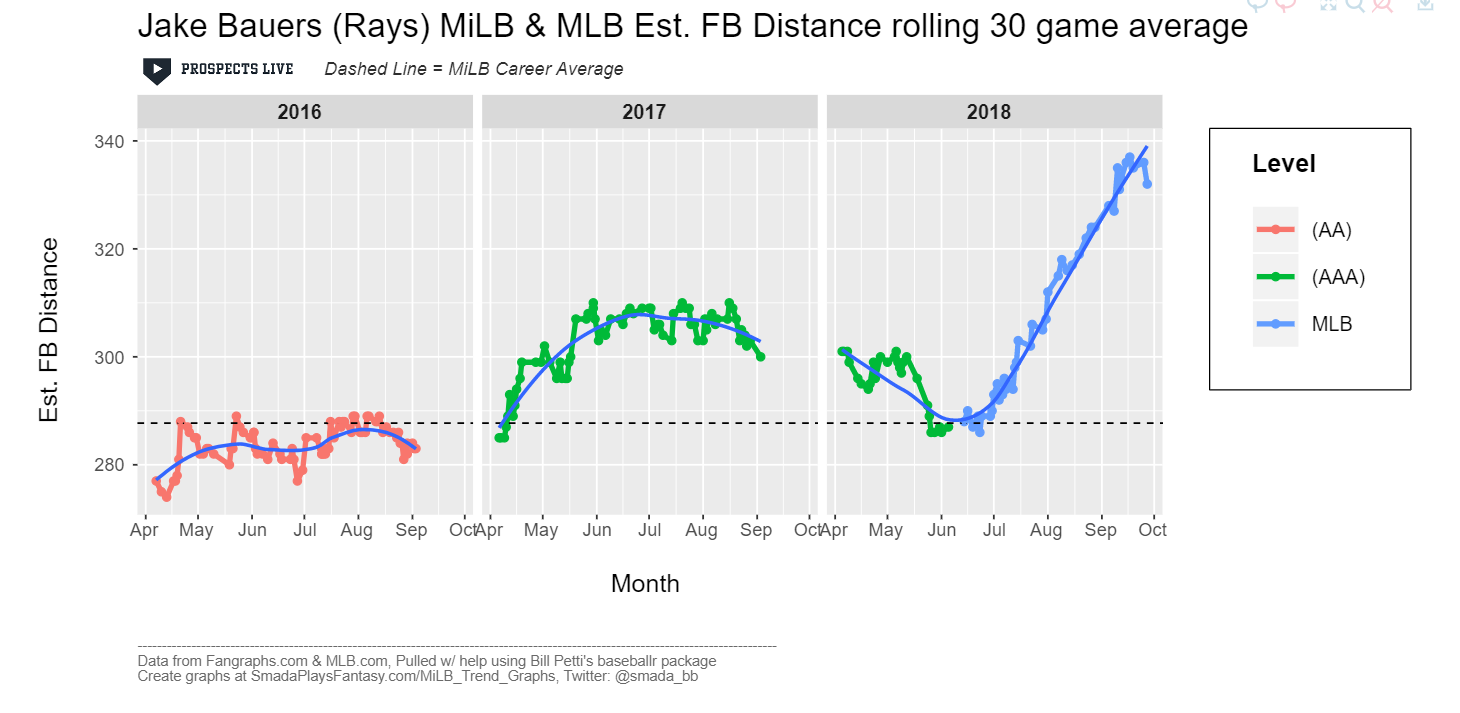 Even with the additional thump, Bauers would have fallen just short of a 20-homer season, had he been in the Rays' lineup from opening day forward. However, my expectation for Bauers to hit 20-plus home runs in 2019 may be conservative, given that he was traded to the Indians in December. That moves him out of one of the worst home run parks for lefties in the American League (Tropicana Field) into one of the best (Progressive Field). In the event that Bauers succeeds in his attempt to moderate his pull tendencies, the dramatic improvement in park factor should still keep him at or above the 20-homer mark.
A stronger all-fields approach would help Bauers to increase his batting average, but he should improve in that category even if he remains pull-heavy. Having had some time to adjust to major league pitching, Bauers ought to close some of the gap between his 26.8 percent strikeout rate with the Rays and his 21.2 percent mark at Triple-A Durham. He should also improve upon last season's .252 BABIP, which is extreme, even for his batted ball profile (high pull rate, flyball/ground ball neutral). Bauers could use his speed to mitigate the potential drag on his BABIP rate from pulling the ball.
I took a closer look at Bauers' profile in order to provide a defense of my ranking, but this is as much of a mea culpa as it is a justification. As is sometimes the case when I review a ranking that is far out of line with the consensus, this one turned out to be undergirded by a projection that needed some tweaking. While Bauers should fare better on balls in play, it was overly optimistic to project him for a normal BABIP in 2019. I also did not put enough stock in his poor stolen base success rate last year (6 for 12 with Tampa Bay, 10 for 16 with Durham). With a new projection for a .236 Avg (.276 BABIP), 22 HR, 79 RBI, 79 runs and 13 stolen bases, he falls from 88th in my overall rankings to 153rd.
Even while taking a much more conservative approach to his BABIP and stolen base projections, I still like Bauers more than the average analyst. It was a funny feeling, though, to be the "high" person on Bauers, and it turns out it was for good reason.
Al Melchior has been writing about Fantasy baseball and sim games since 2000, and his work has appeared at CBSSports.com, BaseballHQ, Ron Shandler's Baseball Forecaster and FanRagSports. He has also participated in Tout Wars' mixed auction league since 2013. You can follow Al on Twitter @almelchiorbb and find more of his work at almelchior.com.