I had some trouble figuring out whether to start Zack Greinke in my Ottoneu league tonight. By the merits of his fantasy stats, it should be an easy call. Greinke is the 10th-ranked starting pitcher in the format, and while his strikeout rate (24.4 percent) is merely decent, he racks up enough innings to compensate for that. With a .309 team wOBA against righties, the Nationals don't rank as a particularly fearsome matchup, but with Greinke qualifying as a fantasy ace, the Diamondbacks' opponent probably doesn't factor into many owners' decisions.
Yet in a game where the frequency of swinging strikes is critical to a player's value — whether it's a pitcher or hitter — it's hard to ignore Greinke's downward-trending SwStr%. It fell from 12.4 percent in 2017 to 10.8 percent in 2018, and while he has rebounded from similar drops before, this year it stands at just 9.3 percent. Digging a little deeper, the increase in contact is happening mostly on his pitches outside of the strike zone. Greinke's 84.7 percent Z-Contact% is 1.3 percentage points above last season's mark and o.1 percentage point below the major league median. While that's not especially encouraging, it's Greinke's 73.7 percent O-Contact% that is truly concerning. It's far worse than the median O-Contact% of 62.2 percent and six points higher than his rate from 2018.

Clearly it's important to miss bats when locating in the zone, and the scatterplot below tells that story. There is a strong positive relationship between wOBA allowed and Z-Contact% among the 458 pitchers with seasons of 70 innings and 300 batters faced between 2017 and 2019 (R-squared = 0.27, p < 0.0001).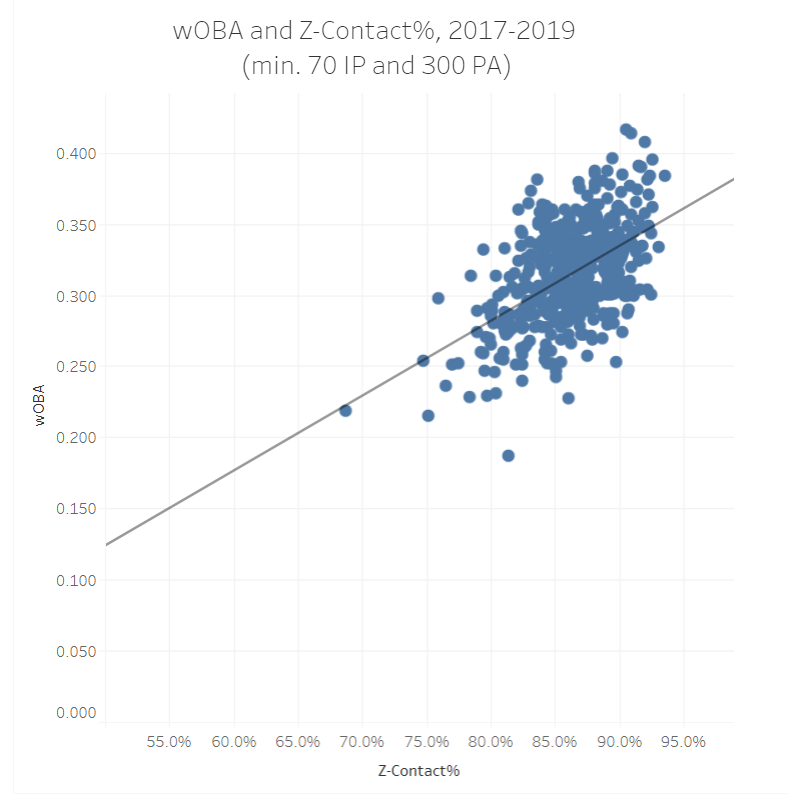 The correlation between wOBA and O-Contact% is not as strong, which makes some sense, since hitters making contact with pitches that should be balls are typically connecting with worse pitches to hit. Still, there is a fairly strong correlation between these measures (R-squared = 0.19, p < 0.0001).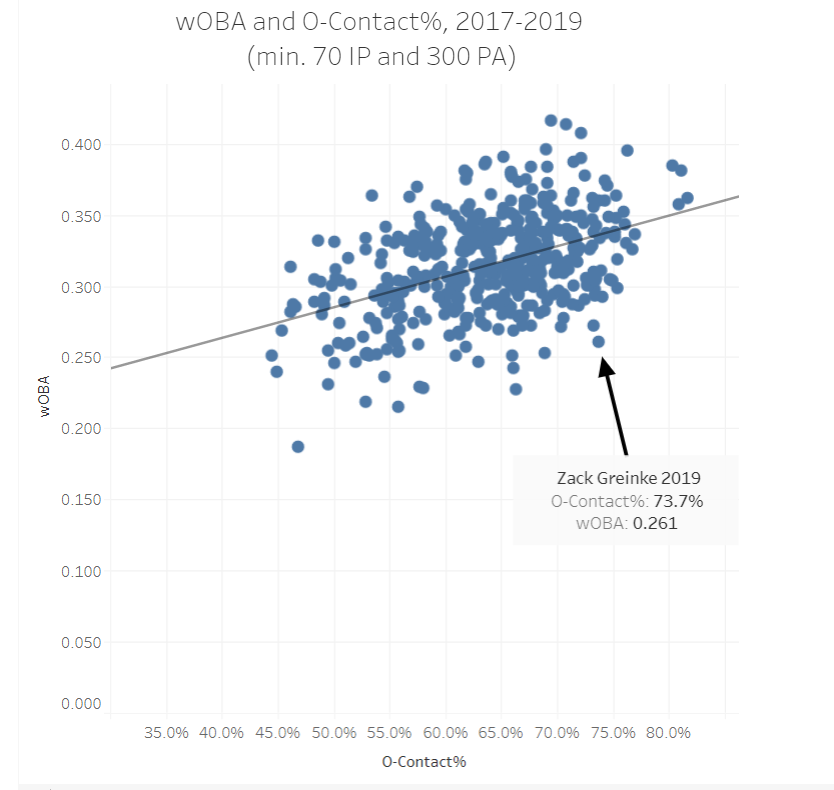 Among the 63 pitchers who have already thrown 70-plus innings and faced at least 300 batters this year, as well as the much larger sample of pitchers going back to 2017, this season's version of Greinke stands out as one of the biggest apparent wOBA overachievers. He has held opponents to a .261 wOBA, but pitchers with an inflated O-Contact% such as his would typically be allowing a .336 wOBA — a mark just shy of the one amassed by Jose Urena (.339) this season.
But just maybe Greinke is better than the average hurler at inducing really harmless contact on out-of-zone pitches. If so, it would actually be strategic for him to allow contact when he is out of the zone. His slider and changeup are both pitches that have had a consistently low Zone% over the years, and he is below 35 percent on both pitches this season. As shown in the table below, Greinke is allowing contact on both pitches when they are out of the zone at a much higher rate this season than last. It's not working to his advantage on his slider, as hitters are posting a .250 wOBA on the pitch when it's out of the zone this year, as compared to a .198 wOBA in 2018. It may be relevant that Greinke's slider is averaging just 82.8 mph in velocity, which is one full mph lower than it was a season ago.
Zack Greinke Slider and Changeup Stats, 2017-2019
| Season | Slider Zone% | Slider O-Contact% | Slider O-wOBA | Changeup Zone% | Changeup O-Contact% | Changeup O-wOBA |
| --- | --- | --- | --- | --- | --- | --- |
| 2017 | 27.1% | 46.6% | 0.179 | 26.6% | 57.0% | 0.224 |
| 2018 | 35.5% | 56.7% | 0.198 | 30.6% | 58.5% | 0.250 |
| 2019 | 33.3% | 67.2% | 0.250 | 30.2% | 66.7% | 0.098 |
SOURCE: Pitch Info, Baseball Savant
He has not experienced a similar loss in velocity on his changeup. In fact, the average velocity has inched up from 87.0 mph last season to 87.1 mph. What has changed is the location of his changeups against lefties. (Greinke is throwing it at a mere five percent rate against righties, as compared to his 36 percent rate versus lefties, per Brooks Baseball.) He is typically throwing his changeup farther away from left-handed batters, particularly away from the outer edge of the plate. Opponents have been able to make contact on those pitches, but perhaps the quality of contact has been especially poor. That would seem to be the case given the .098 wOBA that hitters have put up on his out-of-zone changeups this season.
.
If we look at what Greinke has accomplished against right-handed hitters this season, we see something closer to a picture of decline. With a plunging strikeout rate (from 25.9 to 22.8 percent), sagging ground ball rate (42.0 to 30.5 percent) and steady BABIP and HR/9, Greinke has an xFIP that has shot up from 3.34 in 2018 to 4.30. Against lefties, all of his indicators are moving in the right direction, including his BABIP, which is down to .219 from .274. Greinke's xFIP against left-handed batters is a sparkling 2.64.
Whether or not I start Greinke for a given outing could depend on how many lefties are slated to hit against him — that is, if I buy into the degree that his changeup has apparently stymied left-handed hitters. That's difficult to do, since Greinke has thrown a grand total of 190 out-of-zone changeups this year (though nearly all have been to left-handed hitters). He will have to contend with six right-handed hitters in the Nationals' lineup on Thursday night (including pitcher Erick Fedde), headlined by Trea Turner and Anthony Rendon. It's a bit of a dangerous proposition, but for now, I'm going to trust the surface results…and hope that, at the very least, he will neutralize Juan Soto and Adam Eaton.
Al Melchior has been writing about Fantasy baseball and sim games since 2000, and his work has appeared at CBSSports.com, BaseballHQ, Ron Shandler's Baseball Forecaster and FanRagSports. He has also participated in Tout Wars' mixed auction league since 2013. You can follow Al on Twitter @almelchiorbb and find more of his work at almelchior.com.