Just about every league has a Mike Soroka owner. Then again, the Braves' All-Star rookie landed at the break as a top 20 starting pitcher in Roto value. He has the fifth-lowest ERA (2.42) and 13th-lowest WHIP (1.05) among all pitchers with at least 80 innings, and 6.0 runs of support per nine innings has left him with a dazzling 9-1 record.
Soroka also ranks seventh in sinker usage with a 47.4 percent rate. His primary offering is, in general, a notoriously bad pitch for swings-and-misses and not especially good for limiting extra-base hits. As one would expect from a pitcher who uses a sinker nearly half the time, Soroka has been below average at getting strikeouts. While the major league average K% is 22.8 percent, Soroka has registered a 20.1 percent rate in the first half. When you consider that many of the below-average strikeout pitchers are left unowned in many leagues, Soroka has been something of a liability for strikeouts for fantasy owners.

The upside of throwing a lot of sinkers is the potential for getting grounders at a high rate, and Soroka has checked that box with a 57.0 percent ground ball rate. Because he gets chases at an above-average rate on both his sinker and slider, he has helped both his ERA and WHIP with a 5.8 percent walk rate. Yet while there is plenty to like about Soroka's profile, his heavy reliance on a sinker and the sagging strikeout rate that comes with it should make us wonder if it's time to sell high.
What we have to remember is that Soroka has established himself as a near-ace in spite of a low K-rate. If he is faking us out, then he is doing so on the basis of what is happening on batted balls. Looking at the trend from the last two-and-a-half seasons, as displayed below, Soroka's strikeout rate is almost exactly what we should expect it to be as predicted by his sinker usage rate. (The R-squared for the negative relationship between K% and sinker usage rate between 2017 and 2019 is 0.11, p < 0.0001.) If you were thinking that Soroka profiles a lot like Kyle Hendricks, you would be right. Last season, the Cubs' righty threw his sinker at a 44.3 percent rate, and his strikeout rate was just 0.3 percentage points shy of Soroka's current mark.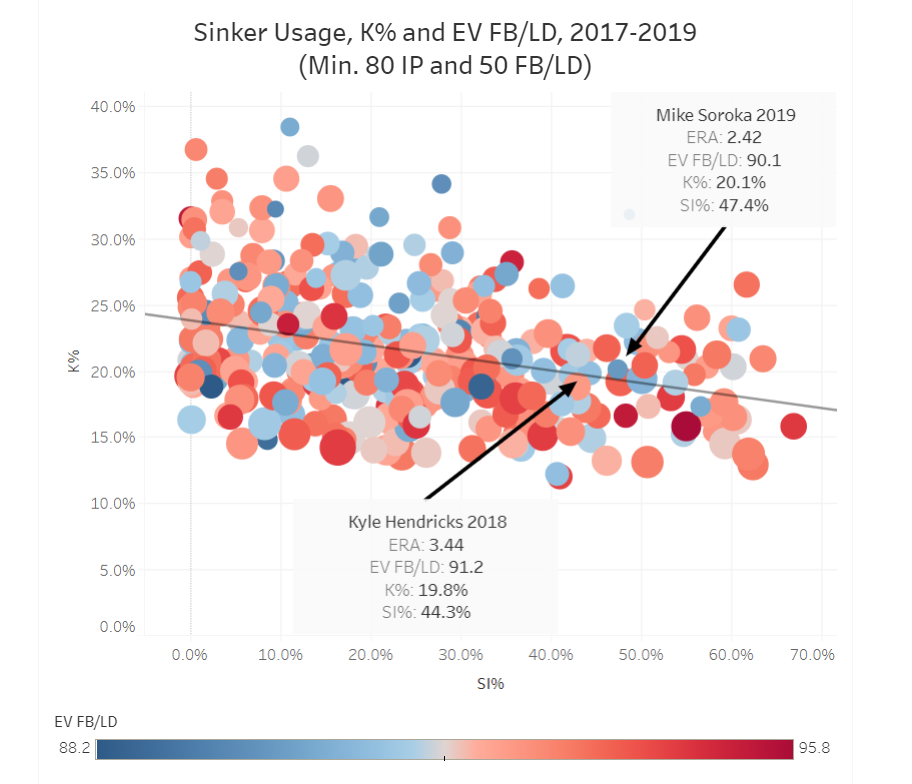 There is a difference between the two hurlers — besides the nearly eight-year gap in age and the more than five mph advantage Soroka holds in average sinker velocity. As good as Hendricks has typically been at limiting hard-hit flyballs and line drives, Soroka has been notably better this season. Of the 116 pitchers who have allowed at least 200 batted balls, no one has a lower barrel rate than Soroka's 2.2 percent. Only Noah Syndergaard, Kenta Maeda and Mike Minor have allowed a lower average exit velocity on flyballs and line drives (EV FB/LD). The graph color codes EV FB/LD for each pitcher with at least 80 innings thrown in a season since 2017, and while you can see there are a few who have posted even lower average exit velocities on flies and liners than Soroka, no one who has thrown a sinker more than 36 percent of the time has had an EV FB/LD that low. Also, no starter who has thrown a sinker more than one-third of the time has been as good at limiting EV FB/LD (in 2017, Chris Rusin posted an 89.9 EV FB/LD while throwing sinkers at a 35.7 percent rate).
(In interpreting the graph, also note that the size of the marks increases with ERA.)
At least for the last two-and-a-half seasons, Soroka has been unique among pitchers in his ability to induce grounders by way of heavy sinker usage and limit hard airborne contact at an elite level. A little bit of regression in his EV FB/LD would make him Hendricks' equal in that regard, but he has a long way to go to reach Hendricks' career ground ball rate of 48.1 percent (and even further to reach his 2019 rate of 41.7 percent).
Soroka's EV FB/LD helps us to understand how he has been able to allow just four home runs in 89.1 innings, but it doesn't explain his success on balls in play in general and on ground balls in particular. The .212 ground ball batting average that opponents have compiled against Soroka this season is 40 points below the major league norm, yet he has not been profiling as a pitcher who should excel at limiting ground ball base hits. His 84.6 mph average exit velocity allowed on ground balls is the same as the major league median (min. 200 batted balls), and his 53.4 percent ground ball pull rate is more than two percentage points below the major league median (min. 50 ground balls).
Given his low strikeout rate, Soroka has needed to be both lucky and good to crack the top 20 among starting pitchers. His fantasy owners can likely count on him to continue limiting long balls and receiving run support from a potent Braves offense. Yet as good as Soroka has been at managing contact (and Ben Clemens did an excellent job of explaining how he has been able to do that), he appears due for some regression from his .266 BABIP.
If I owned Soroka and were offered Hendricks for him, I'd turn the offer down. If I were able to get a strand rate victim like Syndergaard, Zack Wheeler or German Marquez for him, I would jump at the chance to get the extra strikeouts.
Al Melchior has been writing about Fantasy baseball and sim games since 2000, and his work has appeared at CBSSports.com, BaseballHQ, Ron Shandler's Baseball Forecaster and FanRagSports. He has also participated in Tout Wars' mixed auction league since 2013. You can follow Al on Twitter @almelchiorbb and find more of his work at almelchior.com.