Pitchers who are adept at getting swinging strikes but not strikeouts are one of fantasy baseball's mild annoyances. Many of us have used SwStr% as a shorthand for strikeout potential, but a few pitchers with high whiff rates fail to meet our expectations, usually because they get called strikes at a low rate. Prior to this season, Jake Odorizzi was one of those pitchers. Joe Musgrove (11.3 percent SwStr%, 19.3 percent K% in 2019) still is.
Eduardo Rodriguez does not fit this category exactly, but in the context of his past performances, he seems to be a strikeout underachiever this year. The Red Sox's lefty entered this season with back-to-years of a SwStr% above 11 percent, outpacing the major league average for starters by more than a percentage point in both campaigns. His strikeout rates were far above average: 25.8 percent in 2017 and 26.4 percent in 2018. Yet Rodriguez achieved these rates with below-average called strike rates, with a 16.7 percent mark in 2017 and a 15.3 percent rate last season.

If only Rodriguez could induce fewer swings on pitches in the strike zone and stay healthy for a full season, he could take a step closer to the strikeout elite. For some perspective, if he had decreased his Z-Swing% from 71.0 percent to 66.0 percent in 2018, he would have had a nearly identical plate discipline profile to that of Walker Buehler (27.9 percent K%), though with notably worse control.
As it so happens, Rodriguez has done almost exactly that this season. He is getting swings on pitches in the strike zone at a slightly below-average 66.6 percent rate. Rodriguez has also marginally increased his SwStr% to 11.7 percent, so how is it that his strikeout rate has dipped to 24.3 percent?
Two things have been sapping his K-rate. He is throwing even fewer pitches in the zone this season, so while he is getting a lower rate of Z-Swings, those two trends have canceled each other out. His strikes-thrown percentage of 62.9 percent is barely one-tenth of a percentage point above last year's rate. Also, his foul ball rate is well below where it has been previously. His career rate heading into this season was 19.7 percent, and his rate in 2018 was 19.6 percent, but this season, only 17.5 percent of his pitches have been fouled off (per Baseball-Reference).
It's not clear why the latter of these trends is happening. Not only is Rodriguez throwing fewer pitches in the strike zone, but according to Bill Petti's Edge% tool, he is throwing pitches in the heart of the zone at a 15.8 percent rate, which is 2.5 percentage points below his previous career low. He is also getting swings at a higher rate on his out-of-zone pitches, which would seem to be pitches that would be more likely to get fouled off. There has also not been any substantial change in Rodriguez's pitch mix or velocity.
If Rodriguez regresses to his prior rates of pitches in the zone and foul balls, but doesn't regress back to a higher Z-Swing%, we'll be looking at a potential strikeout rate breakthrough in the second half. It that happens and he stays healthy, he has a good chance to exceed 200 strikeouts and obliterate his previous career high of 150 strikeouts.
This is a big ask. Rodriguez's Zone% and foul ball rate are well off his typical norms, and while it's not unreasonable to expect regression in those areas, it's probably unreasonable to expect his lower Z-Swing% to stick. In looking at that metric for every pitcher who has thrown at least 80 innings in a season going back to 2016, the year-to-year correlation is highly significant (p < .0001, R-squared = 0.43, n = 312). That would suggest that this season's outlier doesn't stand a good chance of remaining an outlier through the second half.
If there is a hope that Rodriguez can maintain his season-to-date Z-Swing% rate, it's that he is varying his cutter location more than he did last year. The heatmaps below show that he has largely stopped throwing to the glove side of the plate this season.
That could be key, since Rodriguez's Z-Swing% on his cutter has fallen from 70.0 percent to 57.5 percent. The drop in the Z-Swing% appears to be closely tied to his change in pitch location. This heatmap depicting Swing% from 2018 shows that hitters were most prone to go after Rodriguez's cutter when it was in that glove-side location. When he pitched in the vicinity of that corner of the strike zone, Rodriguez usually went outside the zone's edge, but swings were typically just inside the zone.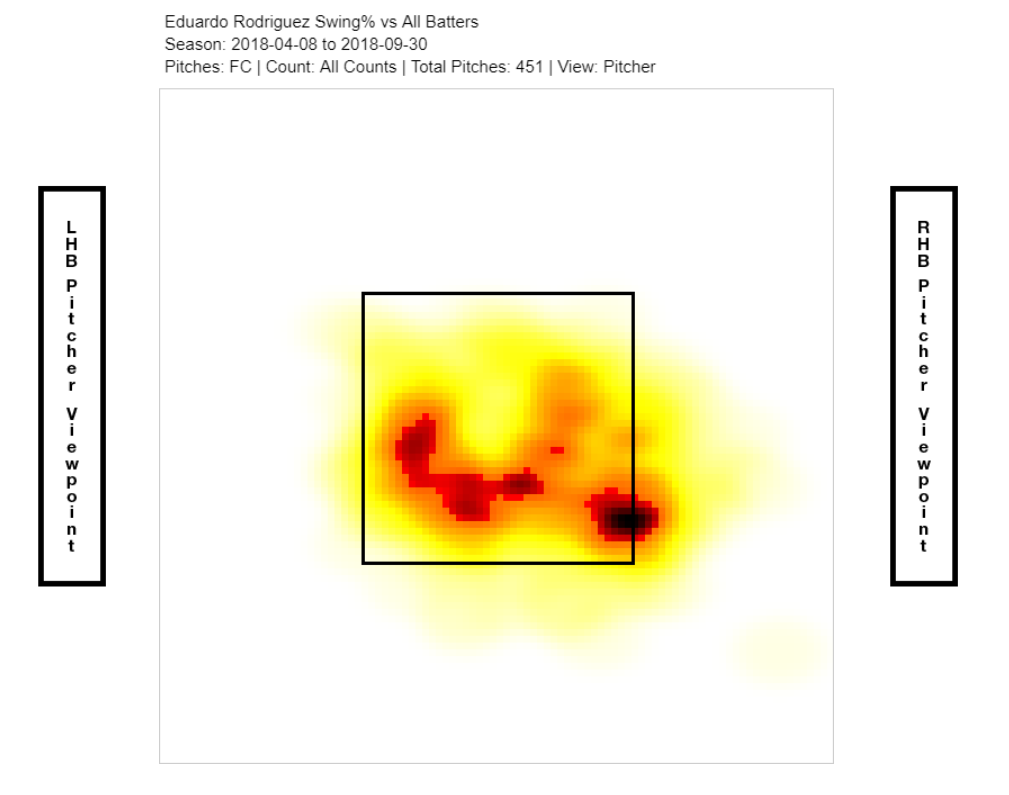 There are a lot of open questions here. Will Rodriguez continue this location pattern for his cutter? If so, will hitters adapt to his new approach? How much will this really matter to his strikeout rate? There are all sorts of reasons why Rodriguez could see his Z-Swing% regress and his strikeout rate stagnate. However, now might be a good time to trade for him and take the gamble that he is due for a second-half strikeout surge. His ERA (4.79) and WHIP (1.36) are at career highs, and that is partially due to a .326 BABIP that is almost certain to shrink, given his long-standing aversion to hard contact. (To this point, Rodriguez has allowed opponents to hit .266 overall this season, but his xBA is .238, according to Baseball Savant.)
If nothing else, Rodriguez looks like a strong bet to improve his ERA and WHIP, even if his strikeout rate is stable. For that reason alone, you should be able to get a return on what it would take to acquire him. A boost in strikeouts would just be gravy, but there is a reason to think that could be coming his way as well.
Al Melchior has been writing about Fantasy baseball and sim games since 2000, and his work has appeared at CBSSports.com, BaseballHQ, Ron Shandler's Baseball Forecaster and FanRagSports. He has also participated in Tout Wars' mixed auction league since 2013. You can follow Al on Twitter @almelchiorbb and find more of his work at almelchior.com.