The Braves continued the upgrading of their bullpen, which they began at this year's trade deadline, by signing Will Smith on Thursday. In inking the lefty to a three-year, $40 million deal with a fourth-year team option, they added a reliever who struck out 96 batters over 65.1 innings and recorded 34 saves for the Giants in 2019. Smith's ex-teammate (and now new teammate), Mark Melancon, was effective as the Braves' closer down the stretch this season, but I was probably not alone in assuming that Smith would go into spring training as the team's new closer.

That assumption was quickly debunked, as the organization announced that they plan to keep Melancon in the ninth-inning role. With Smith having served as the Giants' closer all season and Melancon getting less than two months in that role for the Braves, it's hardly surprising that Smith outearned Melancon in 5×5 Roto leagues. Smith ranked seventh in value among relievers, while Melancon didn't even crack the top 50. Even if we take saves out of the equation, Smith was clearly the superior reliever. He had the much higher strikeout rate, which translated into a sizable advantage in ERA, WHIP and wOBA allowed.
2019 Indicators for Will Smith and Mark Melancon
| Reliever | K% | BB% | HR/9 | ERA | WHIP | wOBA |
| --- | --- | --- | --- | --- | --- | --- |
| Will Smith | 37.4% | 8.2% | 1.38 | 2.76 | 1.03 | 0.261 |
| Mark Melancon | 23.9% | 6.3% | 0.53 | 3.61 | 1.32 | 0.292 |
Admittedly, this comparison is not entirely fair, as Melancon was a much better pitcher over the season's final three months than he was for the first three months. He started to throw more strikes, and that enabled him to be extremely stingy with walks. From July 1 forward, Melancon recorded a 2.3 percent BB%, which was the fourth-lowest rate for any pitcher who threw at least 30 innings over that stretch. He also increased his called strike rate, which helped him to post a 26.7 percent strikeout rate over the final three months, closing the gap with Smith somewhat. These improvements coincided with Melancon getting more vertical movement on his curveball, as depicted in the graph below.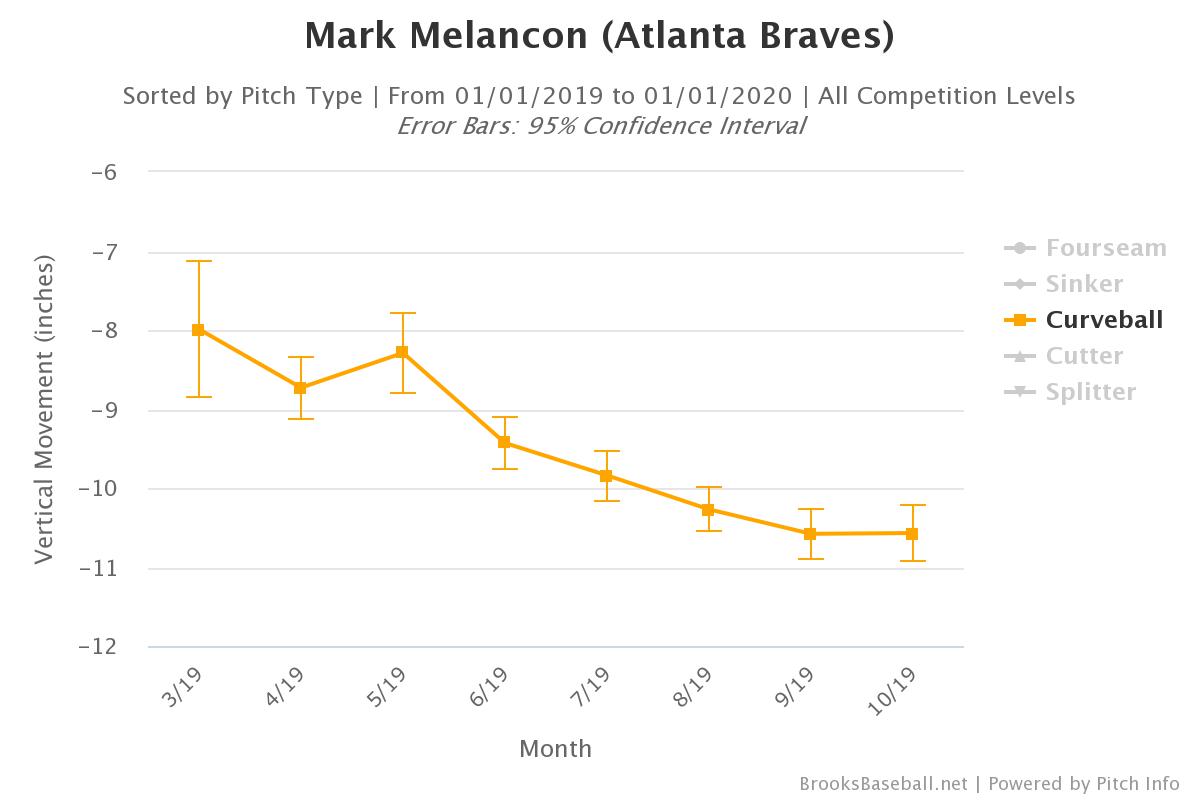 Even earlier in the season, Melancon got his ground ball mojo back, as his 62.1 percent ground ball rate was the highest of his career. His ability to keep the ball on the ground kept him immune to the effects of the rabbit ball, as Melancon allowed just four home runs in 67.1 innings. His continued avoidance of homers, along with the improvements noted above, led to Melancon allowing a modest .235 wOBA from July forward. That's lower than Smith's mark for the entire season, as well as for the same time period.
Because Smith has a much better chance of contributing to the strikeouts category, fantasy owners are likely rooting for him to overtake Melancon as the Braves' closer at some point next season, assuming the team sticks to their stated plan. Yet, if the latter-half-of-2019 version of Melancon shows up in 2020, Smith may not get a chance to close next season.
It's difficult to know how to treat a highly-skilled reliever who is not slated to close when draft day arrives. This is especially true when the reliever who is the closer has a good enough skill set to keep the job. As we can see by looking at this season's best relievers, most of whom did not begin the season as a closer, there is no single clear outcome for a pitcher like Smith. Using xwOBA as a catch-all indicator of skill, here are the 10 relievers who threw at least 750 pitches who were tops in 2019.
Lowest Reliever xwOBAs in 2019
Minimum 750 pitches
Of these 10 relievers, only Yates, Hader and Giles started the season as their team's closer. Of the remaining seven, Pagán, Hendriks and Lugo were the only ones to have at least a share of the closer's job for an extended period. In all three cases, they replaced an incumbent closer who had underperformed, and in the case of Pagán, injuries to José Alvarado and Diego Castillo also played a role in his promotion to a higher-leverage role. Four of the top 10 relievers, then, had little to no work as a closer. Báez, Stephenson, Pressly and Gallegos combined for five saves, with Pressly getting three of them. Each compiled a lower xwOBA than the closers they sat behind on the depth chart, and two of those closers — Raisel Iglesias and Carlos Martinez — had xwOBAs above .280.
As talented as relievers like Báez, Stephenson, Pressly and Gallegos are, there are no guarantees that a high level of skill will lead to closing for them. That can be true whether they set up for an elite closer or even a merely decent one. All of this is to say that we can't count on Smith to take over closer duties from Melancon next season, even if we are certain that he will be the better reliever. If the Braves don't change course between now and draft day, it's probably best to value Smith similarly to how we would value Pressly or Nick Anderson — as an extremely talented reliever who is probably next in line if the incumbent slumps or gets hurt. I would give Smith a slight bump over these two, as I see Melancon as having a greater chance of underperforming than either Roberto Osuna or Pagán, but I won't be ranking him inside my top 200 players overall.
Statistical credits: FanGraphs, Baseball Savant, Brooks Baseball.
Al Melchior has been writing about Fantasy baseball and sim games since 2000, and his work has appeared at CBSSports.com, BaseballHQ, Ron Shandler's Baseball Forecaster and FanRagSports. He has also participated in Tout Wars' mixed auction league since 2013. You can follow Al on Twitter @almelchiorbb and find more of his work at almelchior.com.