I'm bending the rules a bit to include Taylor Rogers in our Half Season Heroes series. He spent all of 2018 in the Twins' bullpen, appearing in 72 games and tossing 68.1 innings. However, he wasn't really the same pitcher he was in August that he was in April. Rogers did not start throwing a slider until May 31, and two-and-a-half months later, his curveball went from good to nearly unhittable. While Rogers was still a work in progress around the time of the All-Star break, fairly early on in the second half, he had transformed into a dominant reliever — arguably the most dominant reliever in the majors. It's this version of the lefty who will be the focus of this column.

Rogers pitched frequently in middle relief during the first half, but after introducing his slider, he glided into the All-Star break on an up note. Between his first appearance with the slider and the break, Rogers registered a 1.83 ERA. That primed him for a higher-leverage role in the second half, during which he compiled an 0.94 ERA, 0.66 WHIP, 35 strikeouts and 13 holds over 28.2 innings. After Fernando Rodney was traded to the Athletics, Rogers figured into the Twins' closer mix, picking up two saves.
He gave up runs in two of his first four appearances after the break, but then Rogers was done with allowing opponents to score after that. He did not allow so much as an unearned run over his final 26 innings of the season. Over this two-month span, Rogers allowed 10 hits (eight singles and two doubles) and three walks, striking out 29 batters, and yielding a .147 wOBA. No pitcher who threw at least 20 innings over that period allowed a lower wOBA, and he bested Ryan Pressly and Blake Treinen for top honors. How low is a .147 wOBA? Chris Davis was the qualified hitter to record the lowest wOBA in 2018, and he still managed to put up a .239 mark.
As mentioned above, a notable difference between early-season Rogers and late-season Rogers was the addition of a slider, and he threw it more often after the break (17.3 percent) than before (10.5 percent). He threw more four-seamers and curveballs as well, while dropping his sinker usage from 53.1 to 38.4 percent. It certainly helped that Rogers cut back on the pitch that was his worst in terms of inducing chases and avoiding contact on pitches outside of the strike zone.
Rogers particularly excelled in latter of those skills. Only four qualified relievers out of 166 had a lower second-half O-Contact% than Rogers' 40.6 percent, and of those four, only Jeurys Familia had a higher O-Swing% than Rogers' 32.8 percent. From August 14 forward, he was particularly effective at denying contact on out-of-zone pitches, shaving his O-Contact% down to 37.5 percent. And just take a look at how much more often Rogers veered near the lower edge of the zone with his curveball over the season's final month-and-a-half as compared to the rest of the season.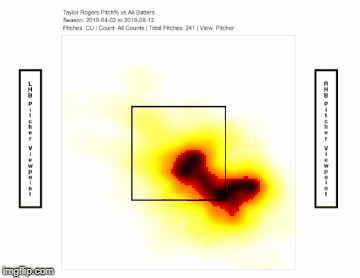 By staying away from the heart of the strike zone, as well as from the extreme inside against righties, Rogers avoided locating his curveball in areas where opponents were more likely to make contact.
While the change in location helped Rogers to make his curveball even harder to hit, it had actually been a much-improved pitch all season long. He got more vertical and horizontal movement on it in 2018 than he did in 2017, and even during the first three-quarters of 2018, he was getting more whiffs while lowering opponents' Avg and Iso on the pitch. Rogers just hit an even higher gear late in the season when he started to locate his curveball more often below the strike zone.
Avg, Iso and SwStr% on Taylor Rogers' Curveball
| Time Period | Avg | Iso | SwStr% |
| --- | --- | --- | --- |
| 2017 | 0.224 | 0.209 | 14.4% |
| 2018 before Aug. 14 | 0.159 | 0.023 | 17.1% |
| 2018 from Aug. 14 forward | 0.095 | 0.000 | 30.7% |
SOURCE: Brooks Baseball
I spoke with Rogers back in mid-September when he was in the midst of his scoreless innings streak, as I was curious as to how he was able to not only make his improvements last for nearly a full season, but also to build on those improvements as the season went on. He said that both the introduction of his slider and the changes to his curveball resulted from work he did with Twins bullpen coach Eddie Guardado. Rogers noticed that his curveball worked better after he started to increase his arm extension upon releasing it. Guardado taught him that when "(you) find the way you want to shape (a pitch), if it's repeatable, then go with it."
So Rogers went with the increased arm extension when throwing his curveball, and for him, that meant practicing it as part of his throwing routine from flat ground. Before he would even start throwing, Rogers would visualize how he would want to shape his curveball's path. He found this to be an important practice, as he couldn't always remember how he threw the pitch when it was working well. Then once he started his flat ground sessions, he would aim to replicate the downward action that he pictured in his mind.
It's not always easy for a pitcher to repeat the mechanics that have led to success. (Recall Carl Edwards Jr.'s explanation for his late-season struggles with control.) Rogers appears to have found a process that at least allowed him to sustain — and build upon — a high level of success for the bulk of this past season. If he can carry that level of production over into next season, at minimum, he could be one of the most valuable non-closing relievers in fantasy. He could be an Adam Ottavino type, posting a K-rate above 30 percent and getting a handful of saves — and with fewer walks to boot. If Rogers actually worked his way into the closer's role, he could be one of the more productive closers in fantasy.
Al Melchior has been writing about Fantasy baseball and sim games since 2000, and his work has appeared at CBSSports.com, BaseballHQ, Ron Shandler's Baseball Forecaster and FanRagSports. He has also participated in Tout Wars' mixed auction league since 2013. You can follow Al on Twitter @almelchiorbb and find more of his work at almelchior.com.